.
Garden Diary - April 2018
---
If you have any comments, observations, or questions about what you read here, remember you can always Contact Me
All content included on this site such as text, graphics and images is protected by U.S and international copyright law.
The compilation of all content on this site is the exclusive property of the site copyright holder.
---
April
---
Cherry Trees at Branch Brook Park, Part II
Tuesday, 17 April 2018
---
There's more than just cherry trees in flower. So much to see, admire, enjoy at Branch Brook Park in the brief cherry blossom season. And afterwards there are scenic paths to stroll around the lakes. Joan and I noticed an assortment of interesting shrubs, and perennials such as the very fragrant mountain mint, Pycnathemum virginianum. Athletic fields for the sports minded and their audience: soccer / football fields, baseball fields and basketball courts, tennis courts, a roller skating center, as well as playgrounds for the younger set. Well and good, but we are here today, and here for the cherry blossoms on the thousands of trees.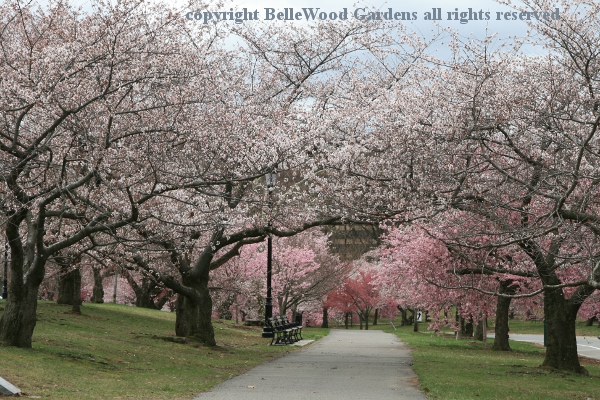 Magnificent cherry trees right by the welcome center parking lot.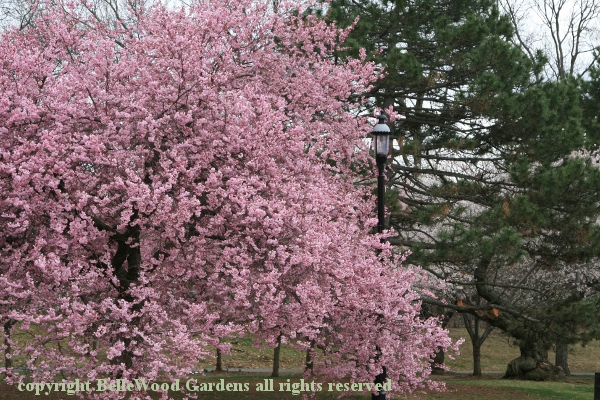 The dark needles of this pine tree serves as a lovely backdrop.
There are more than just flowering cherry trees, in fact there are 78 other varieties of trees. For example, we noticed a venerable river birch, Betula nigra, in the eastern portion of the park, quite the largest we have ever seen. Its tag is numbered 1044 E. Could it be an original from Olmstead's design of the park in the late 1860s?
As can be expected, with 27 different varieties of cherry trees there is an extended flowering period. The single white varieties are first, and may bloom as early as March if the spring weather is mild. Others flower through May, ending with the double pink varieties. But the peak bloom season is in mid-April. The trees though, are not labeled as to species and / or cultivar. Oh well, this is a park and not a botanical garden.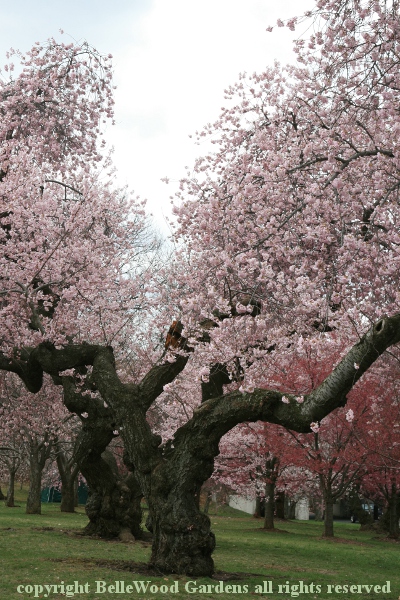 Here's an ancient cherry tree with a gnarly
trunk, massive branches, crown of flowers.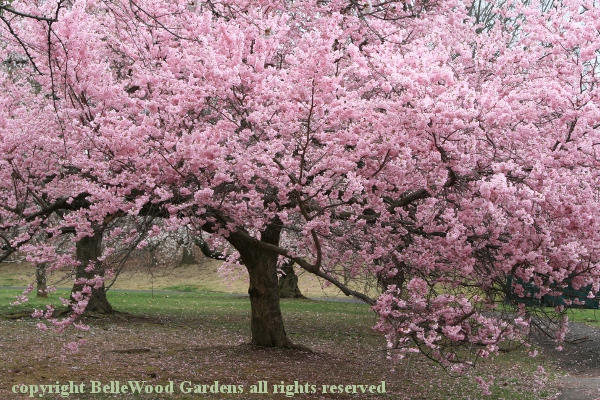 This tree has a smaller trunk but an even wider spreading crown.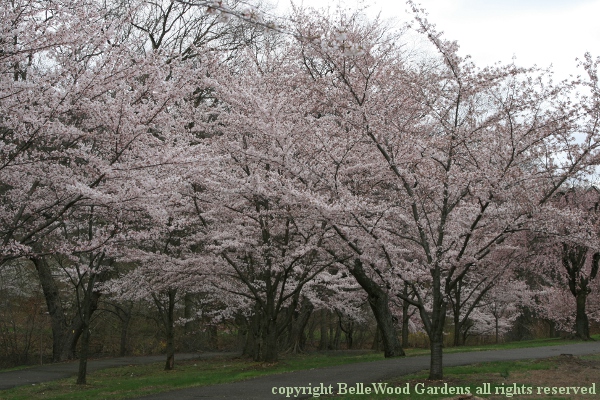 It's wonderful to see this grove of younger trees. There was a point back in 2004 when an inventory revealed only 1,000 cherry trees remaining in the park. Twelve years later, in 2016, the final planting phase brought the number to over 5,000 cherry trees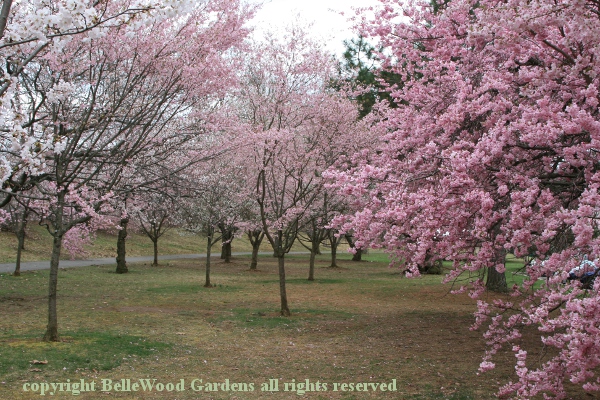 New trees are planted in several areas of the park's 360 acres.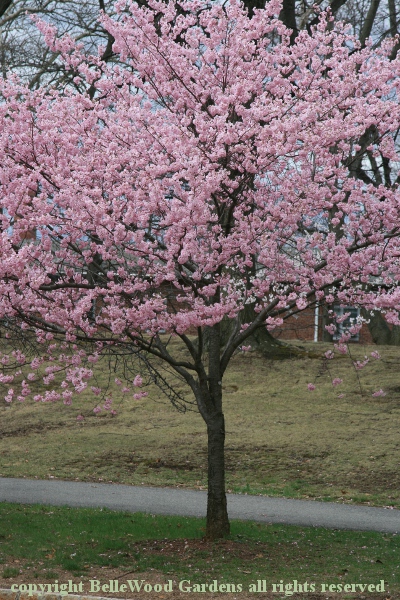 And they are so beautiful when viewed overall,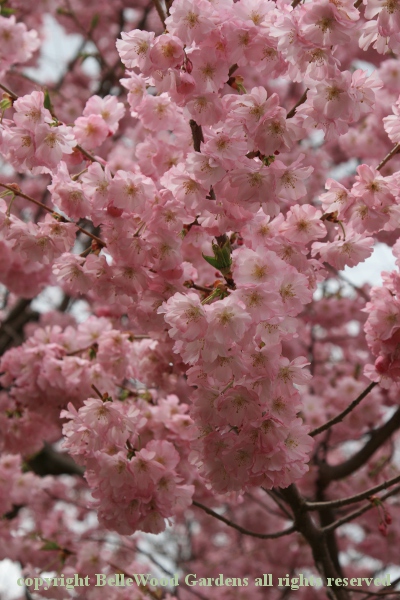 admired as a froth of pink on a branch,
even closer up, just a cluster of flowers.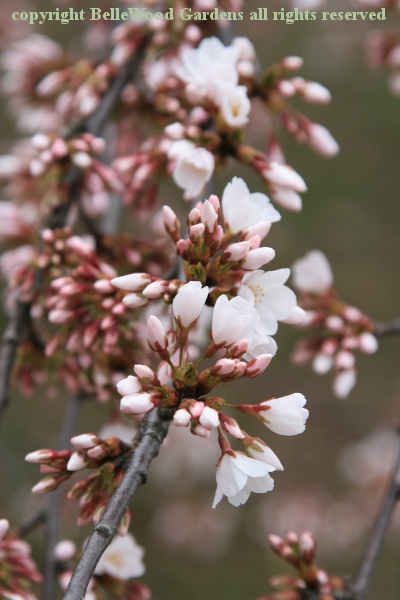 A tree with single white flowers, just starting into bloom.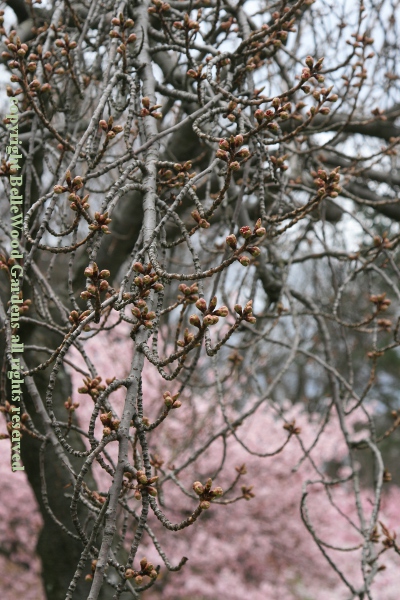 Another still in tight bud, not even a hint of color.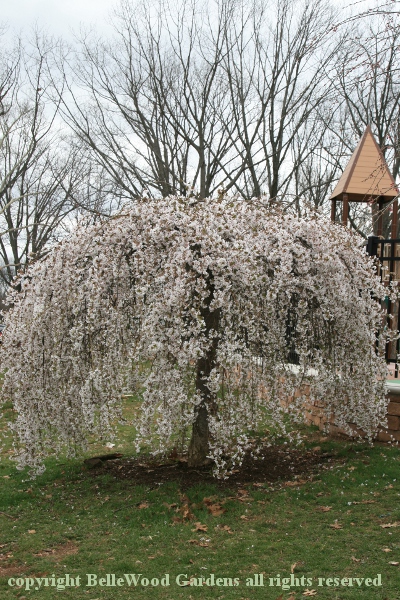 A magical little tree wearing a veil of white,
its weeping branches arching to the ground.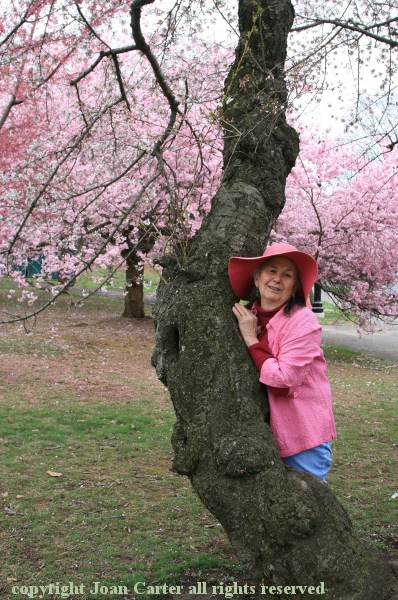 Happy am I, with today's wonderful visit to
Branch Brook Park in cherry blossom season.
---
Back to Top
---
Back to April 2018
---
Back to Book Reviews 2018
---
Back to the main Diary Page