.
Garden Diary - May 2018
---
If you have any comments, observations, or questions about what you read here, remember you can always Contact Me
All content included on this site such as text, graphics and images is protected by U.S and international copyright law.
The compilation of all content on this site is the exclusive property of the site copyright holder.
---
May
---
Design Your Garden Toolkit
by Michelle Gervais
Wednesday, 30 May 2018
---
Have you ever come home from a garden center with a pot (or several), then wandered around the garden trying to decide where to plant. Perhaps worse, have you looked at established plants in your garden and decided that some rearrangement was necessary. Alas, plants are not as easy to rearrange as the furniture. And they may not appreciate moving over there when they have settled in over here, resenting all that digging, delving, and root disturbance. If it is trees that are under discussion it may require heavy equipment. Which means damage to anything growing between pavement, tree to be moved, tree in new location. It just gets worse and worse. Better to design a garden before planting, rather than afterward. "Wait!" you say. "Those small circles on a sheet of graph paper don't look anything like a garden to me." Take heart.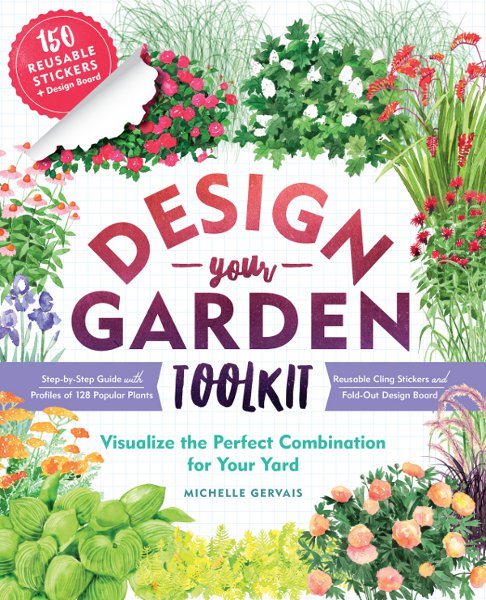 Design Your Garden Toolkit by Michelle Gervais is a creative way
to visualize the perfect plant combinations for your garden. In fact
it says so right on the cover. How do they expect you to do that?
Open the book.
There's a heavy plastic folder attached to the cover on the left. Ignore that for the moment.
Looks like a book on the right, with pages of text. Design-Your-Garden Step-By-Step Guide.
Introductory page of how to use the toolkit, playing with plants. Michelle discusses some of what she calls keys to designing a beautiful garden: harmony and contrast, color and how to use it effectively, texture, flower and foliage size and shape, and more. After all that, she wants you to meet the plants, nearly 80 of them.
"So what," you grump, "I've seen books like this before and I still don't get how I'm supposed to pick and choose plants, put them together, and have it be a beautiful garden."
Just calm down. Remember that folder?
It has stickers, lots of stickers. Of plants
large & small, 14 pages worth, to be exact.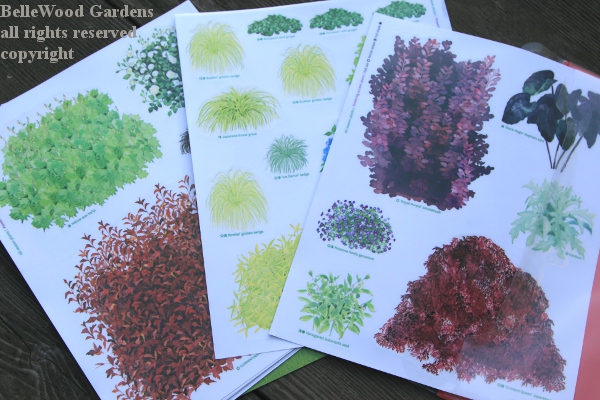 Mostly perennials, a few shrubs, a couple of tender perennials. And they are reusable so redesign is easy if you want to make changes.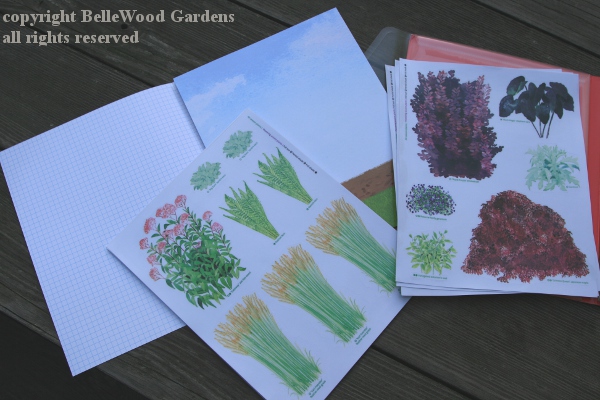 Some are provided in pairs or triplets. There are even a very few accent stickers: a a large blue container, a birdhouse on a post, a couple more. There is also a large laminated fold-out design / work board on which to arrange the stickers, dirt and sky on one side, and a grid (like graph paper) on the other.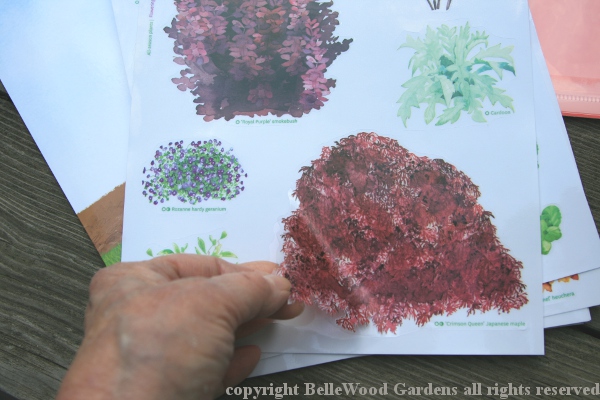 The idea is that you gently peel a sticker off the page and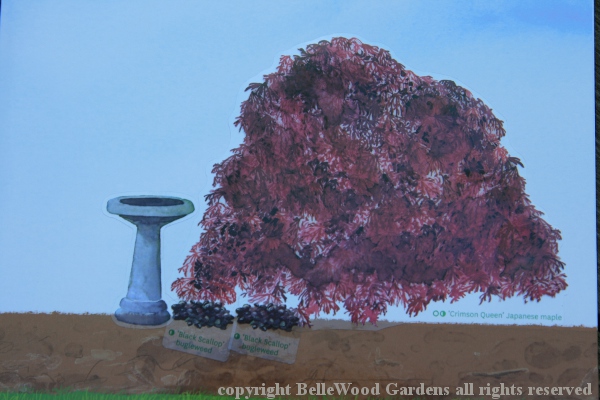 create a garden. One nice touch - each plant sticker has its name in small green type on the sticker so you don't have to try and remember what you were playing with.
One quibble, most of the foliage plants have leaves other than green - gray / silver, chartreuse, purple. Green is a perfectly attractive, useful color for garden plants.
While the diversity of plants stickered here have suggested hardiness range anywhere from a low of 3 to a high 10, I feel that this fun little sticker book is most useful for novice gardeners in zone 5 to 8. It would be wonderful if there was a supplemental sticker package with additional plants - annuals and bulbs, perhaps - available as a separate purchase. A clever way to explore basic garden design before actually buying plants and then digging in the dirt.
Published by Storey Publishing, North Adams, Massachusetts, 2018
ISBN 978-1-61212-922-8 Soft cover, $19.95
A review copy of this book was provided by the publisher.
---
Back to Top
---
Back to Book Reviews 2018
---
Back to May 2018
---
Back to the main Diary Page