.
Garden Diary - March 2018
---
If you have any comments, observations, or questions about what you read here, remember you can always Contact Me
All content included on this site such as text, graphics and images is protected by U.S and international copyright law.
The compilation of all content on this site is the exclusive property of the site copyright holder.
---
March
---
Succulent Care and Cultivation at Wave Hill
Saturday, 24 March 2018
---
I'm going to Wave Hill today. Why? One, I'm tired of looking at my snow covered garden and figure that a garden in Riverdale / the Bronx will be more Spring-like. Second, they're featuring a cooking with cactus demonstration.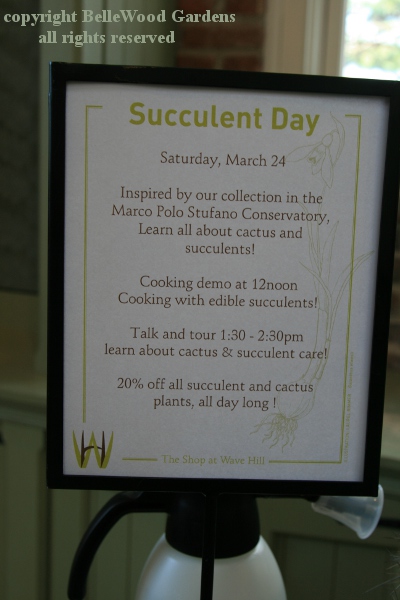 And there is also another lecture on how to
grow and care for succulents and cactus.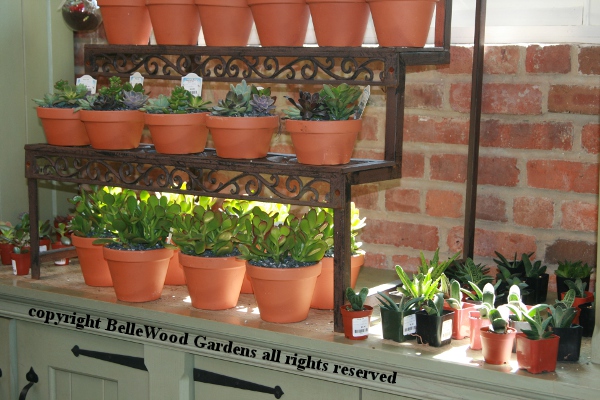 There's a modest selection of succulents for sale at a 20% discount.
Wave Hill staff expected a dozen, maybe 15 people would attend. Instead there were 75! People sitting on chairs, people perched on cupboard countertops, people standing at the back.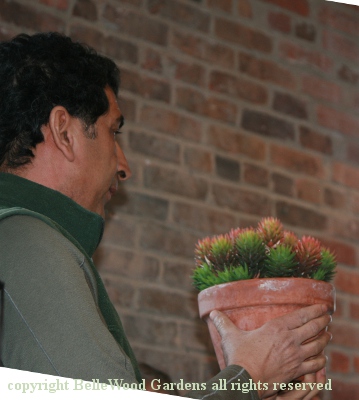 Harnek Singh, who cares for the succulent and cactus collection
spoke to us about the plants. This is a pot filled with haworthia.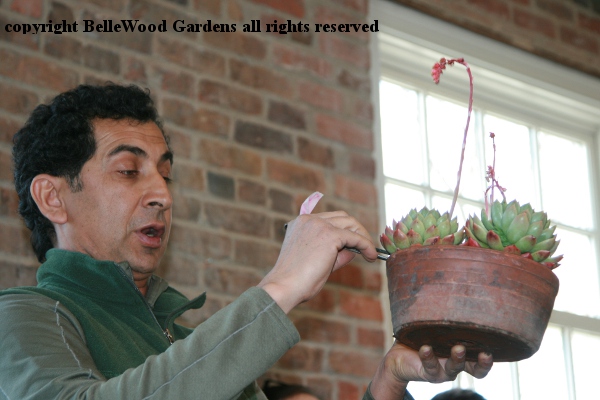 He used tweezers to clean away shriveled old leaves at the base.
It's important for more than just good looks, as insects hide there.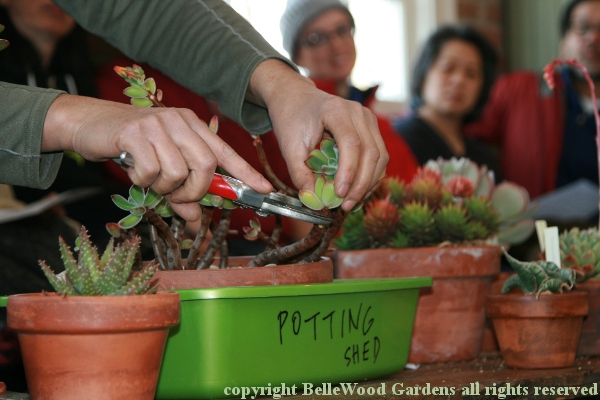 Taller succulents can be cut back to shape them, and for propagation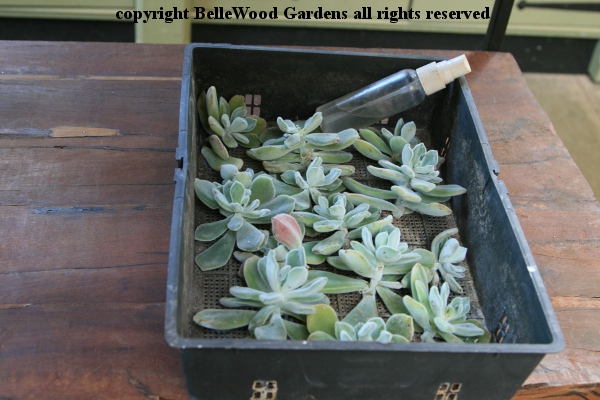 He showed us a flat of succulent cuttings, callused over and
ready to pot up in a quick draining soil mix. But don't water yet.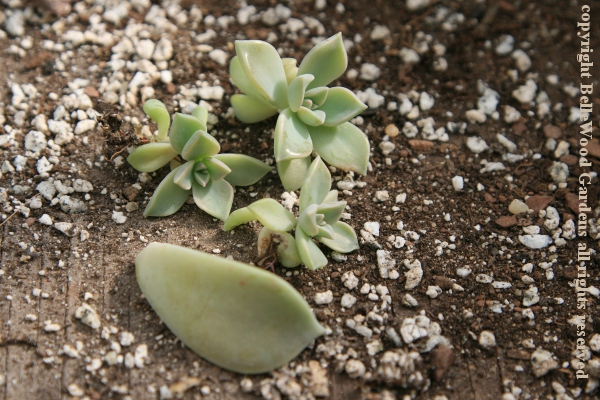 I have some at home - fleshy leaves fall off a GraptopetalumI have.
Left dry, they'll make new little plantlets, to grow on for summer.
My introduction to succulents was from Dr. Gerald (Jerry) Barad, doyen of the cactus and succulent society. He traveled the world, collected type specimens of new species, cultivated and propagated cactus and succulents in his tennis-court-size "hobby" greenhouse, and every year he won baskets of blue ribbons at the Philadelphia Flower Show.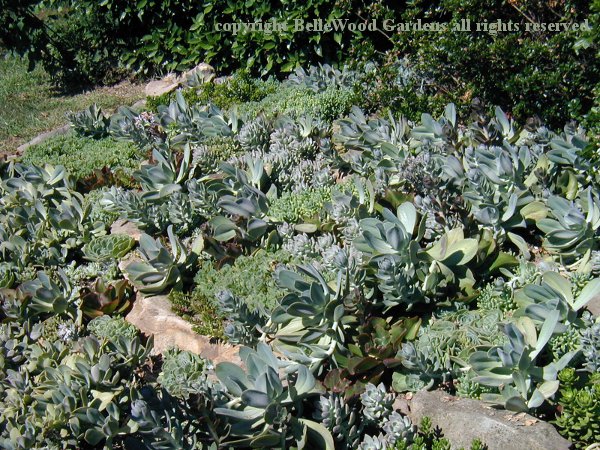 In addition, every fall he took cuttings of a diversity of succulents,
kept them in trays in the greenhouse. Then, in Spring, he would
plant a garden. California in New Jersey. He's gone. I miss him.
The Marco Polo Stuffano greenhouse at Wave Hill is rather more
modest in size. The long exhibition wing to the right is filled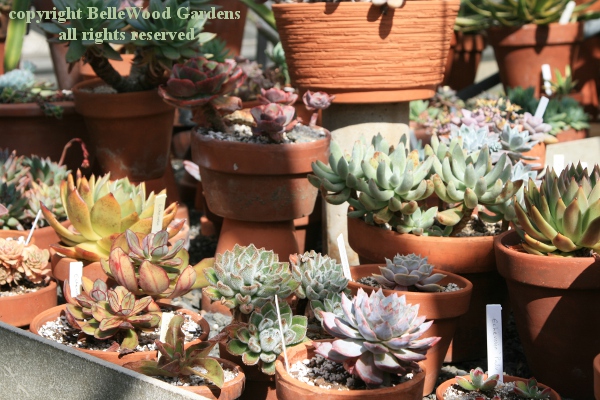 with a diversity of succulents and cacti, beautifully displayed.
And after the lecture we get to take a tour through,
with knowledgeable people to answer our questions.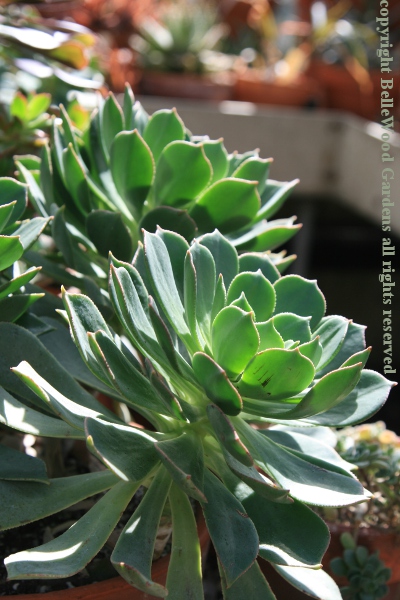 Echeveria are lovely, diverse, and good for beginners.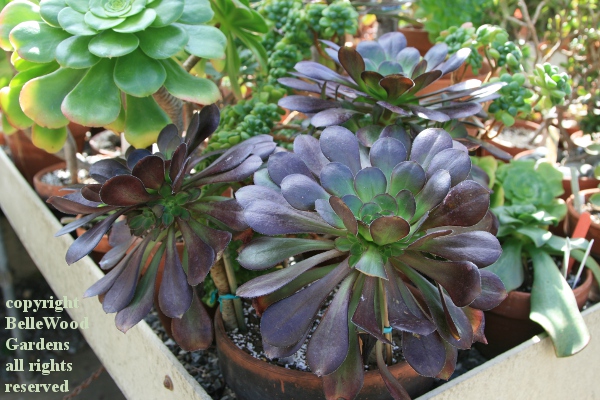 As well as green, Aeonium come in a bronze-black version too.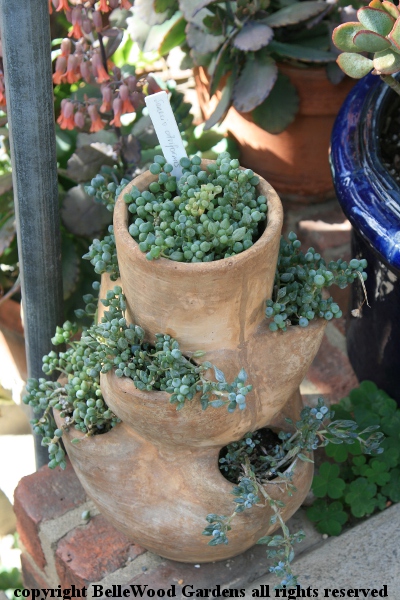 I admired this strawberry jar with a trailing
succulent spilling from the openings.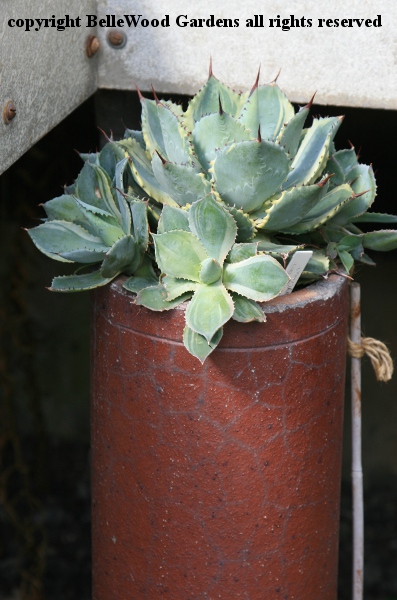 As well as familiar clay pots displayed on
the benches, glazed sewer pipes are used
to elevate some plants for better viewing.
Here, a dwarf agave is lifted off the floor.
.
If you were unable to come to Wave Hill for this event here's
a book to help you get started at home Success with Succulents
.
A good day at Wave Hill. Excellent lunch at the Cafe at Wave Hill House - I had a small cup of roasted winter squash soup, and a winter warmer sandwich of roasted cauliflower, grilled radicchio, whipped ricotta, sweet pepper jelly on a wild hive bread roll. There was a lecture about cooking with cactus. And as you can see, all sorts of little bulbs in full bloom out on the grounds. I'll be coming back.
---
Back to Top
---
Back to Book Reviews 2018
---
Back to March 2018
---
Back to the main Diary Page