.
Garden Diary - March 2018
---
If you have any comments, observations, or questions about what you read here, remember you can always Contact Me
All content included on this site such as text, graphics and images is protected by U.S and international copyright law.
The compilation of all content on this site is the exclusive property of the site copyright holder.
---
March
---
Cooking with Cactus at Wave Hill
Saturday, 24 March 2018
---
Wave Hill is a superb public garden in Riverdale (or, as Marco Polo Stuffano, former horticultural director used to insist, it's in the Bronx!) This spring and summer they're featuring once a month culinary lecture/demonstrations. Since there is a wonderful collection of cacti and succulents in the greenhouse (which is named for Marco), that will be the focus for March. It sounds interesting so I marked my calendar and made my plans.
Clearly, this is something meant to happen. When
I was at an Asian market last Monday what did I see but
pitahaya blanca, red dragon fruit, Hylocereus undatus, which has pink-skinned fruit with white flesh. This is the most commonly seen dragon fruit. Native to South America, today there are orchards of this cactus grown in Thailand. The white flesh has little black seeds, similar to kiwi. Scoop flesh from red rind and cube for a tropical fruit salad.
The market was also selling pitaya amarilla or yellow pitahaya, Hylocereus megalanthus (also known as Selenicereus megalanthus) which has yellow-skinned fruit with white flesh.
But I didn't see red fleshed dragon fruit. The color of pitaya roja, Hylocereus costaricensis, (also known as Hylocereus polyrhizus) comes from natural pigments known as hylocerenin and isohylocerenin. Perfectly safe to eat, they can cause pseudohematuria, a harmless reddish discoloration in urine and feces (as beets also do.)
But now it is Saturday. Joan and I are in our seats
in Wave Hill House, ready for the lecture by
David Heredia, chef for Great Performances.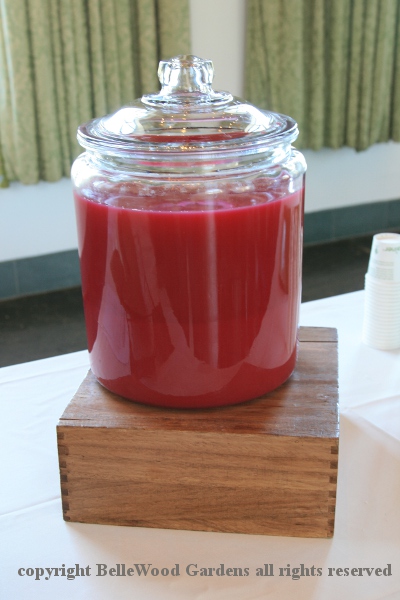 First of the two recipes presented to us is agua fresca de savila y pitaya roja
Staying with the cactus theme, it's a fresh beverage prepared from
red cactus fruits, aloe vera, light blue agave syrup, and cactus water.
These are cactus fruit at the Asian market.
Five red ones are needed for the recipe.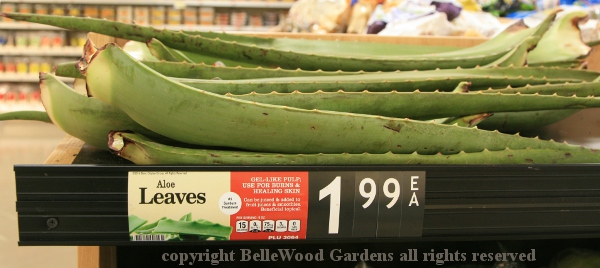 And one aloe vera leaf. Aloe is also useful for treating burns
and sunburn. I asked a young woman at the supermarket
who was buying a leaf how she prepared it. Turns out that
she uses it on her hair. Many different uses for this succulent!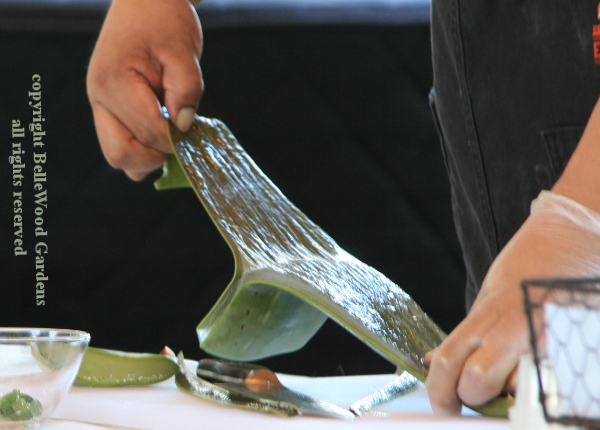 To prepare, closely trim the serrated edges with a sharp knife.
Then, from one side, peel off the outer green skin from the aloe.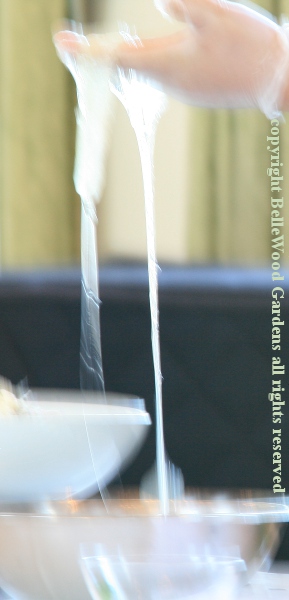 Scoop out gel and put in blender.
Prepare prickly pear fruit (also called tuna) by cutting off top and bottom, slit through middle, and peel off skin. Plastic gloves are a good precaution - the spines are removed before they are offered for sale but hair-fine glochids are still there, still an irritant. Add to blender and blend for 2 to 3 minutes. Strain, to remove seeds. In a gallon size jar add prickly pear & aloe blend, 2 quarts of cactus water, and one cup of agave syrup to sweeten. Serve with ice cubes, and garnish with cilantro. Agua fresca needs to be stirred if it sits for an hour or more. Can be refrigerated for 3 or 4 days.
Samples were handed out to the audience, duly tasted. Now on to the second recipe.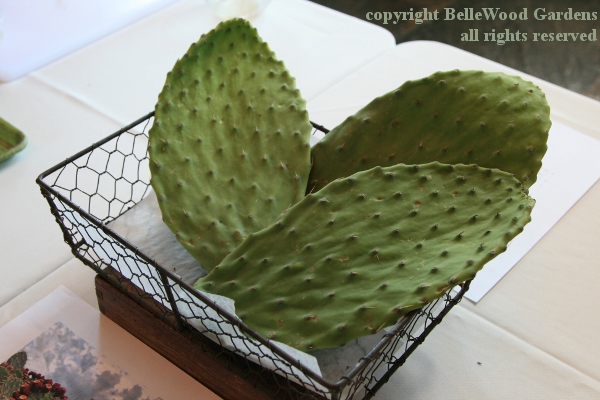 This will be ensalada de nopales asados, grilled cactus pad salad.
The cactus pads, nopales, must first be carefully cleaned. Hold the pad down with a fork, trim away the edges, and then carefully shave off the spines and glochids. Lightly brush with oil and then grill on medium heat for about 7 minutes on each side, until the pads turn dark olive-brown color, you can see the grill marks, and the pads are wilted. Cut to desired size - for this salad 2 inch wide strips will do nicely, we are told.
For 15 prepared cactus pear pads the recipe calls for two thinly sliced red onions. Gently toss with the juice of one lime and a pinch of salt. Dice 8 Roma tomatoes, not too fine. Roughly chop 8 ounces of cilantro.
In a large bowl mix grilled, sliced cactus pads, diced tomatoes,
red onions, and chopped cilantro. Add 8 ounces queso fresco,
or more, to your preference. Garnish with sprigs of cilantro.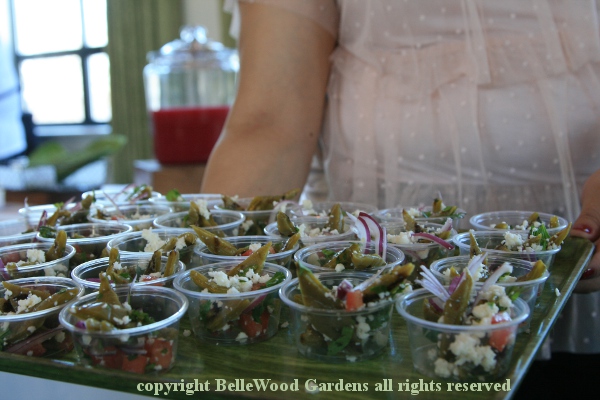 Samples are lined up on a tray, to pass out to the audience.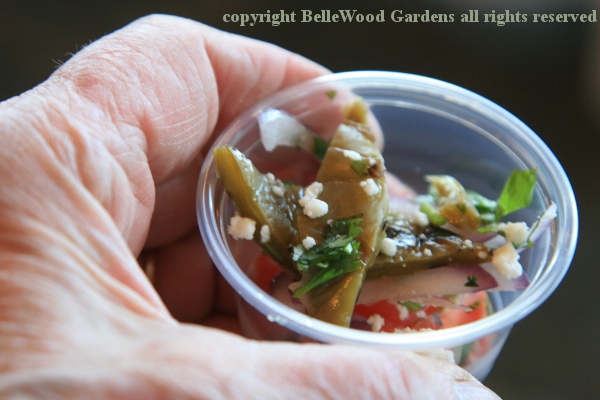 Flavorful, and attractive, and in the colors of the Mexican flag
- red, green, white. Printed recipe pages were handed out to us.
There's an afternoon lecture about succulent care and cultivation, with a greenhouse tour of the Wave Hill collection of cacti and succulents afterwards.
And as you can see, all sorts of little bulbs in full bloom out on the grounds.
The next culinary demonstration will be cooking with maple syrup, on Sunday, April 29. It will begin with an explantation of how maple syrup is made, followed by preparation of maple-flavored dishes. Lectures are included with admission to Wave Hill.
---
Back to Top
---
Back to Book Reviews 2018
---
Back to March 2018
---
Back to the main Diary Page