.
Garden Diary - June 2018
---
If you have any comments, observations, or questions about what you read here, remember you can always Contact Me
All content included on this site such as text, graphics and images is protected by U.S and international copyright law.
The compilation of all content on this site is the exclusive property of the site copyright holder.
---
June
---
Soirée at Colonial Park Rose Garden
Wednesday, 20 June 2018
---
We do it every year right around now. "We" being the Watnong chapter of the North American Rock Garden Society. And "it" is our evening soirée. The group provides the main course, members bring sides and salads and dessert. Where we hold the event changes every year - occasionally a member's home and garden, more often a public park or garden.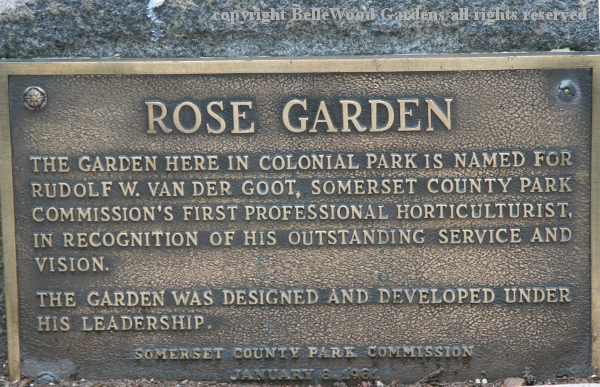 This year it is the Rudolf W. van der Goot Rose Garden in Colonial Park in Somerset, New Jersey. I have never been to Colonial Park. Apparently, going by the main roadway and all the parking lots, it is huge. The rose garden has its own parking lot.
No pavilion but the weather is, so far, cooperating. Members brought folding tables for our alfresco meal. Almost a picnic, we have assorted sandwiches from Panera and salads from members. I brought corn and black bean salad with diced sweet red pepper and red onion, and a green chutney (more of a salsa) made with diced yellow onion, finely cut mint and cilantro, a little jalapeño pepper, and lemon juice to embellish it. Dessert was a very light angel food / chiffon cake with fresh strawberries and real whipped cream.
After which our group is given a guided tour by the garden's head rosarian.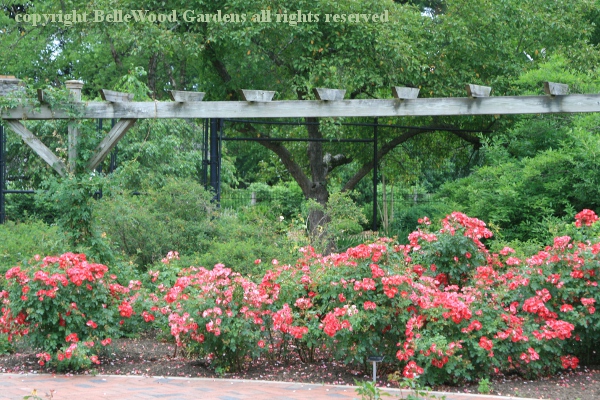 Fenced for protection from deer, the one acre garden has a formal design laid out in three sections. The wide walkways paved with brick or with bluestone encourage slow strolling to admire the well labeled roses. There is also a small circular water lily pool in the front garden, its geometric beds developed from the original perennial and annual gardens of the Mettler estate garden.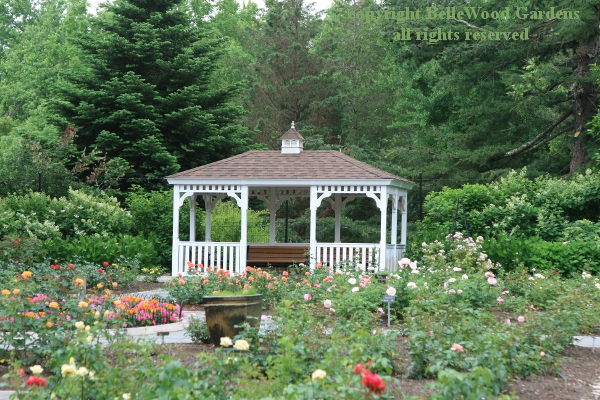 There's also a gazebo off to one side.
The front garden contains hybrid tea roses, grandiflora, and floribunda roses.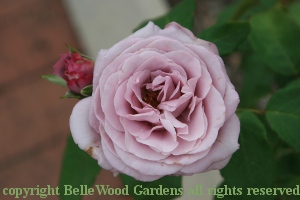 .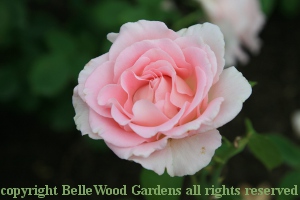 .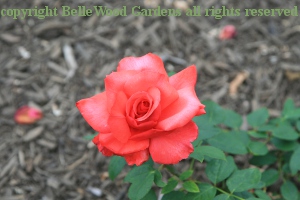 Four of the hybrid tea roses. Clockwise from top left:
'Neptune', 'Heirloom', 'Dolly Parton' and 'Falling in Love'.
The middle section (which van der Goot created in the 1970s) was designed in formal European style. There is trelliswork that supports a variety of climbing roses.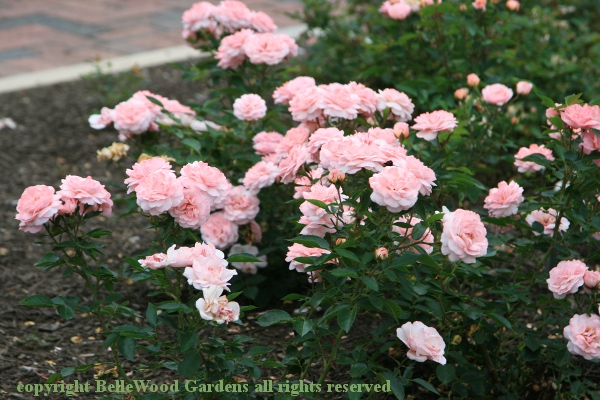 The central walk is lined with polyantha and groundcover roses.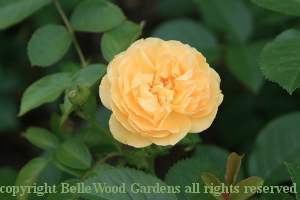 .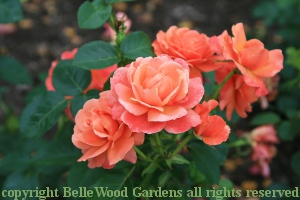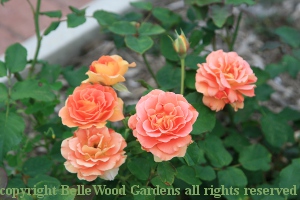 .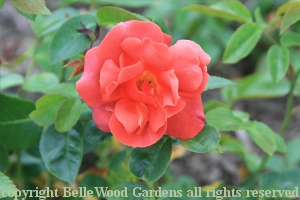 Four of the floribunda roses. Clockwise from top left:
'Julia Child', 'Easy Does It', 'Hot Cocoa', and 'Brass Band'.
The third and last section of the rose garden is laid out in the manner of a formal Dutch rose garden. Compact, it invites the visitor to take closeup views of the roses. Around the perimeter are more heirloom and other rose species, including some native to New Jersey.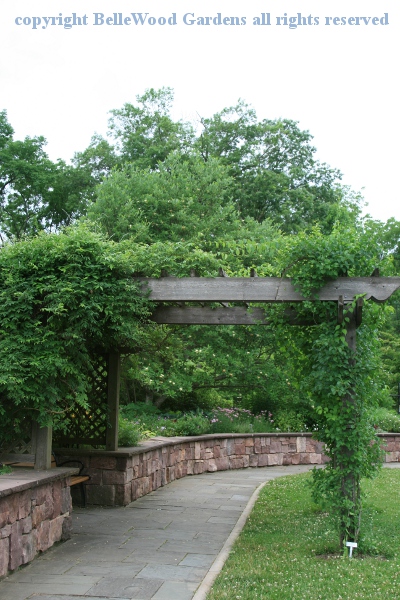 And beyond the Dutch garden is the Sensory and Fragrance garden. Raised beds feature perennials, herbs such as lavender, tender perennials such as scented geraniums, annuals like sweet alyssum, and more.
Do I recommend it? Yes, if you come in June or September when the roses are at their peak. They are well grown, with organic methods of disease and pest control employed with a few exceptions. Cultivars are planted in multiples, to good effect. Roses are labeled with their cultivar name, type of rose, and date of introduction. After all, you'll be visiting an award-wining rose garden: in 2016 the Rudolf W. van der Goot Rose Garden was given the Award of Excellence by the World Federation of Rose Societies.
Located at 156 Mettlers Road in Somerset, New Jersey, the Rudolf W. van der Goot Rose Garden is open daily from 8:00 a.m. to sunset, except Wednesday, noon to sunset. Entrance is free, however donations are appreciated.
---
Back to Top
---
Back to June 2018
---
Back to the main Diary Page