.
Garden Diary - December 2018
---
If you have any comments, observations, or questions about what you read here, remember you can always Contact Me
All content included on this site such as text, graphics and images is protected by U.S and international copyright law.
The compilation of all content on this site is the exclusive property of the site copyright holder.
---
December
---
A British Kind of Christmas Dinner
Tuesday, 25 December 2018
---
What's for dinner? In the 1843 England of Charles Dickens "A Christmas Carol" it was a goose that the Cratchits had for their Christmas eve dinner, roasted in the baker's oven: "There never was such a goose. Bob said he didn't believe there ever was such a goose cooked. Its tenderness and flavour, size and cheapness, were the themes of universal admiration." At that time, turkey was an exotic bird, too expensive for families such as the Cratchits to purchase. When Scrooge, reformed and changed by the visits of Christmas past, Christmas present, and Christmas yet to come, he sends a gigantic prize turkey to the Cratchits on Christmas Day.
Turkey is, today, readily available. Goose is rarely seen. I wanted something special for our Christmas eve dinner. Looking in the freezer, I found a venison backstrap, just the size for a meal for two of us.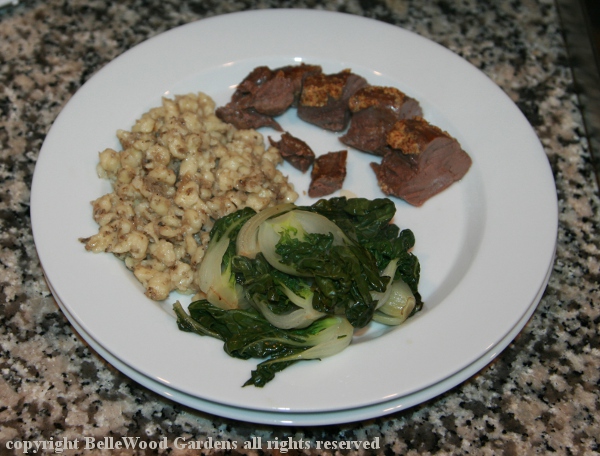 Seared in a cast iron pan, rubbed with coarse mustard, finished
in a hot oven. Served with spatzle tossed with 4 mushroom medley
and quickly braised baby bok choy, for a delicious and easy meal.
Christmas dinner is next. I indulged, and bought a standing rib roast.
There are various options suggested for roasting this cut. I decided to
let it stand at room temperature for a couple of hours. Start roasting
at a high temperature, then finish at a lower one. Tent with foil to rest.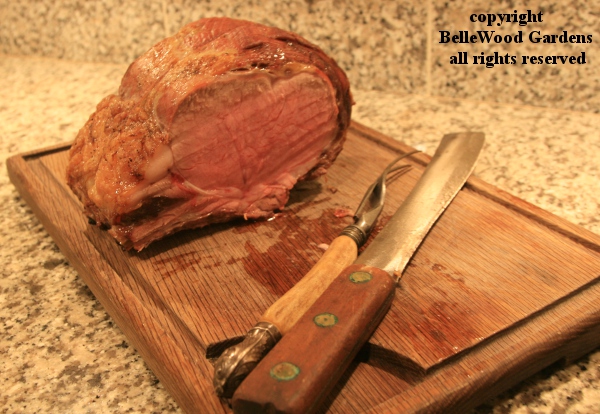 The result was beautiful - medium rare, and very little loss of juices.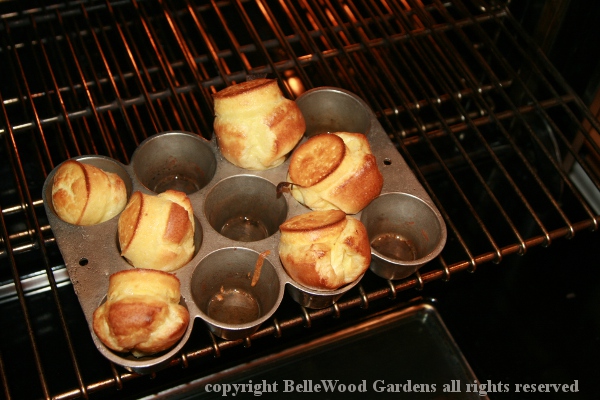 Of course, Yorkshire pudding is obligatory with a standing rib roast.
Yorkshire pudding may be served as a starter, a side dish, or dessert. My recipe was two eggs, beaten well, with an equal volume of milk and all purpose flour. Beat well and refrigerate for several hours. Take roast out of oven to rest. Turn oven up to 450 degrees Fahrenheit, preheating popover pan with a little rendered lard in each compartment. When lard sizzles, remove pan and fill compartments 2/3 full of the batter. Back in oven for approximately 20 minutes and Do. Not. Open. Oven. while the six puddings bake. Wonderful, and wonderfully easy. No idea why I was previously intimidated.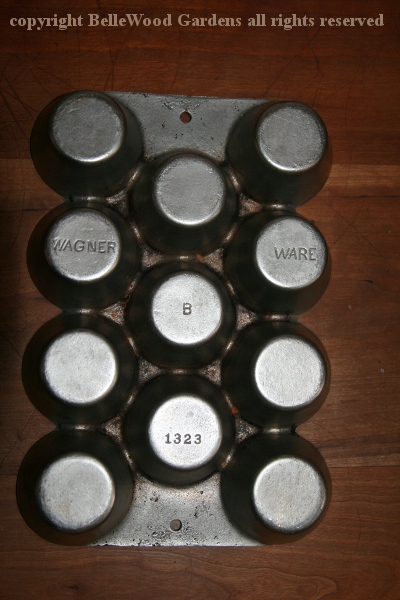 I must have bought this at a yard sale. It's a pre-1930s Wagner Ware cast iron popover pan #1323 B in silverlite finish, a nickel-plate finish Wagner Ware used until 1930, then discontinued it.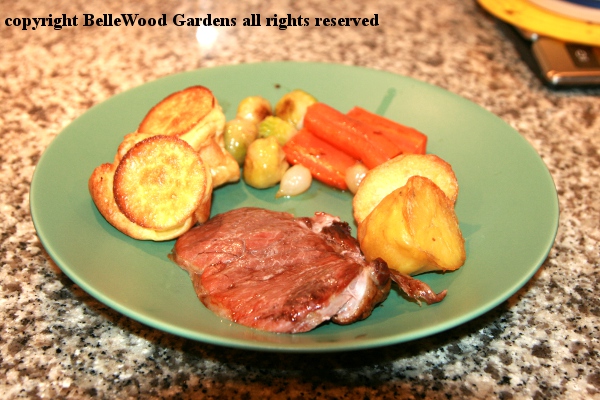 Plated up. Roast beef, Yorkshire pudding, oven roasted potatoes,
braised Brussels sprouts, braised carrots and little pearl onions.
Yummy! But then there's the leftovers. What to do with leftovers. . .
The next night we had a sort of beef pot pie thing-y - cubed some of the roast beef, smallish cubes. Sliced up leftover carrots, chunks of leftover oven roasted potato, added green peas and gravy. Topped with spoonfuls of drop biscuit batter. Quite nice. Next, I think, will be hash.
---
Back to Top
---
Back to December 2018
---
Back to the main Diary Page