.
Garden Diary - November 2018
---
If you have any comments, observations, or questions about what you read here, remember you can always Contact Me
All content included on this site such as text, graphics and images is protected by U.S and international copyright law.
The compilation of all content on this site is the exclusive property of the site copyright holder.
---
November
---
Autumn Color at Willowwood Arboretum
Saturday, 10 November 2018
---
It may be somewhat cold. And windy. With even a few snowflakes in the forecast. I need to go to Willowwood Arboretum to pick something up, and as long as I'm there a quick perusal of the seasonal display is certainly appropriate.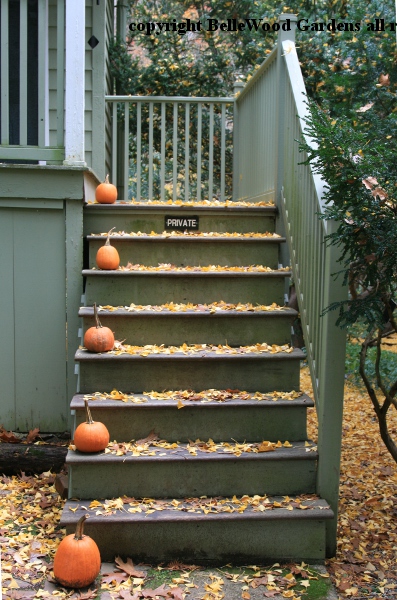 The pumpkins are still holding down the steps which
are now embellished with a scattering of gingko leaves.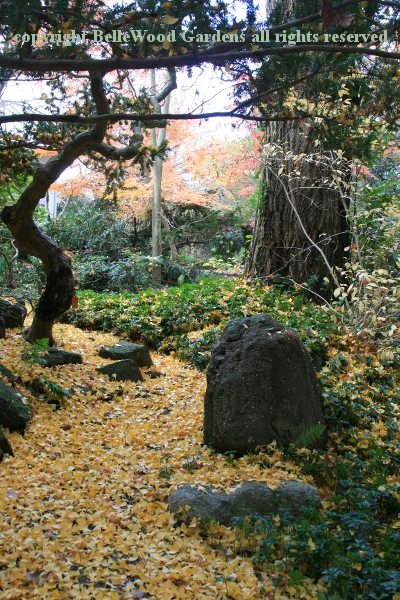 Gingko trees have this habit of turning yellow, holding on to their leaves, then dropping them all at once in the course of a day. This path is so coated with leaves that it looks like a yellow river.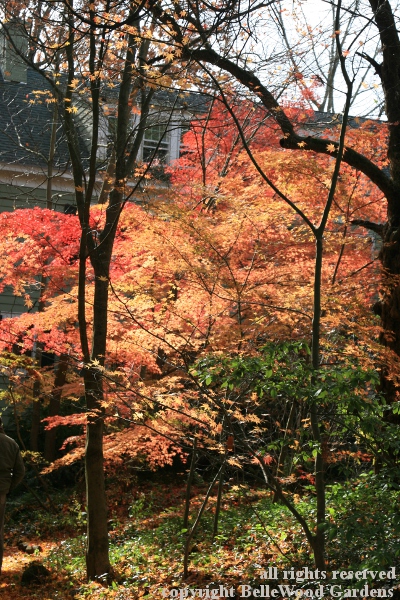 A bonfire of red and orange Japanese maple leaves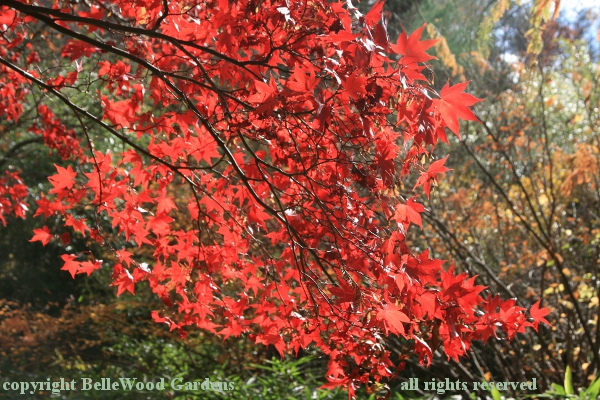 In Japan, momijigari, is a beautiful tradition - going to admire seasonal autumn color. The word comes from two Japanese words: momiji meaning "red leaves" or " maple tree" and kari, "hunting".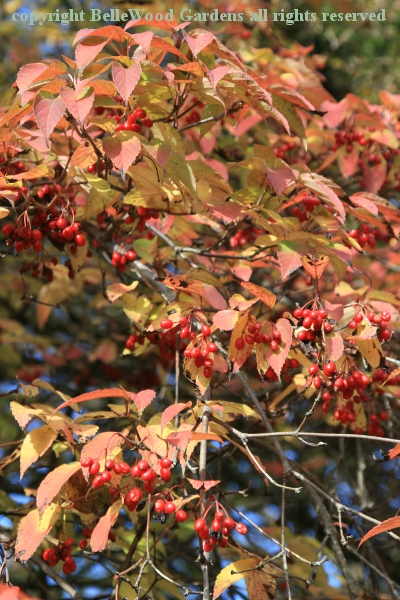 Autumn berries also flaunt their bright red color, advertising
to birds and critters - "come eat me," and disperse their seeds.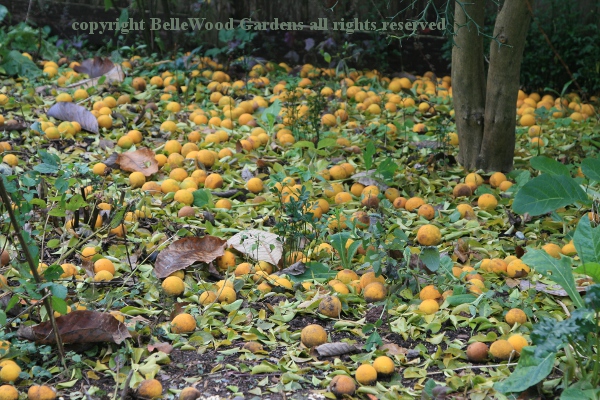 Just last month the golden fruits of Poncirus trifoliata, hardy orange, were
still decorating the tree and not carpeting the ground beneath it. However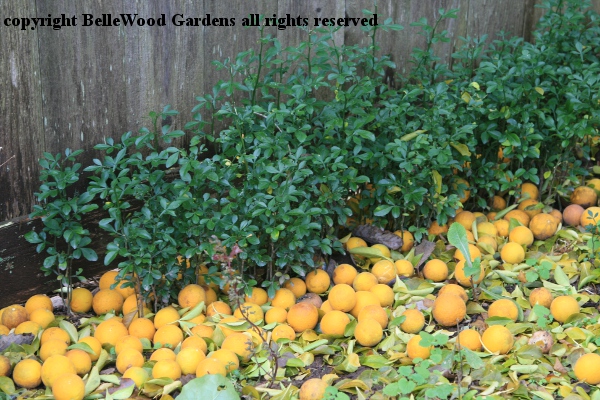 it is clear that germination is excellent. Last year's fruits must have
also piled up against the fence, rotted, then sprouted in profusion.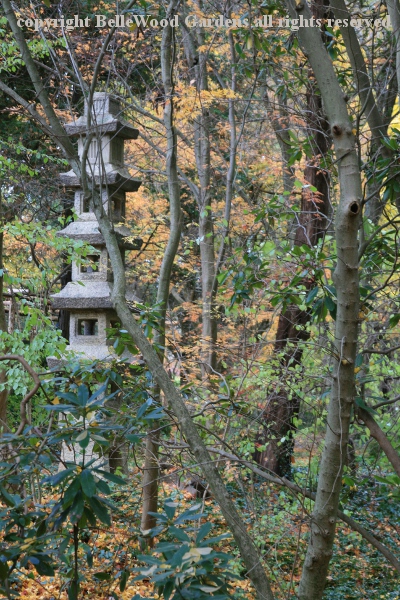 The pagoda stands tall, a rigid, vertical accent compared
to the organic lines of various branches that scrawl across it.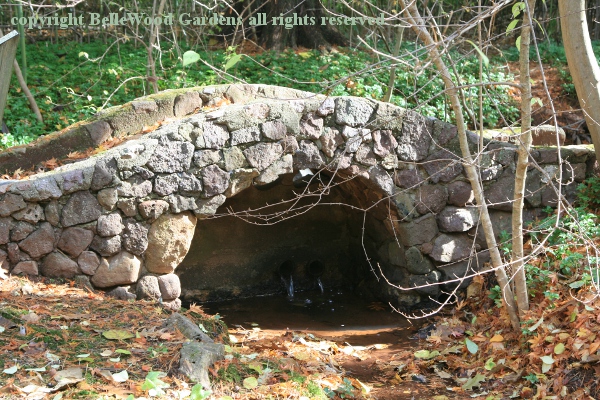 Water dribbles and splatters through its channel under the little stone bridge.
I don't recall ever seeing it frozen . . . perhaps this movement protects it.
UPDATE: Thursday, 15 November 2018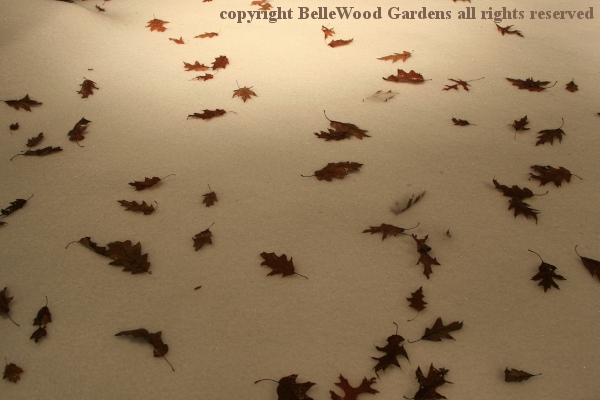 This is at BelleWood Gardens. Not even a week later. The wind is pulling
oak leaves off the trees, strewing them over the snow. Six inches! of snow.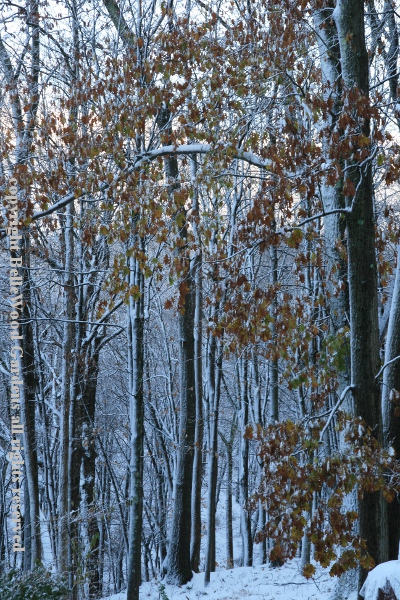 And the following morning it looks like this. Winter.
---
Back to Top
---
Back to November 2018
---
Back to the main Diary Page