.
Garden Diary - May 2018
---
If you have any comments, observations, or questions about what you read here, remember you can always Contact Me
All content included on this site such as text, graphics and images is protected by U.S and international copyright law.
The compilation of all content on this site is the exclusive property of the site copyright holder.
---
May
---
A Visit to Willowwood Arboretum
Saturday, 5 May 2018
---
This is a hectic time of year for gardeners. There are all the usual springtime garden maintenance routines of planting and weeding and propagating and, and, and . . . . So of course it makes perfect sense for me and my friend Joan to take a day off and go visit a garden. Recharge our horticultural batteries, so to speak. I decided that a visit to Willowwood Arboretum in Chester Township would be just right. The insanely hot weather (I mean, really, 92° Fahrenheit on May 3rd) is pushing flowering trees into hurried bloom. Crab apples in bloom should reward our excursion. Plus, there's a bonus - Bamboo Brook Gardens are right next door, so to speak. We'll visit both.
The portion of the meadow that was burned over earlier this season has already greened up. On the opposite side of the road there are large blocks of daffodils in bloom in the greensward.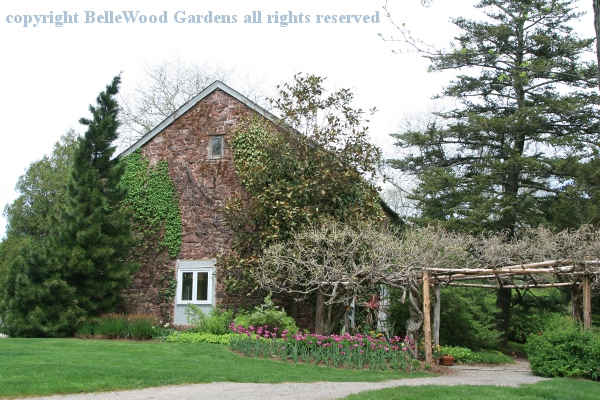 Park the car, exit the car, and look towards the wisteria arbor
loaded with buds. This is Wisteria frutescens, our native species.
Not quite yet in bloom. Darn, we'll have to make another visit.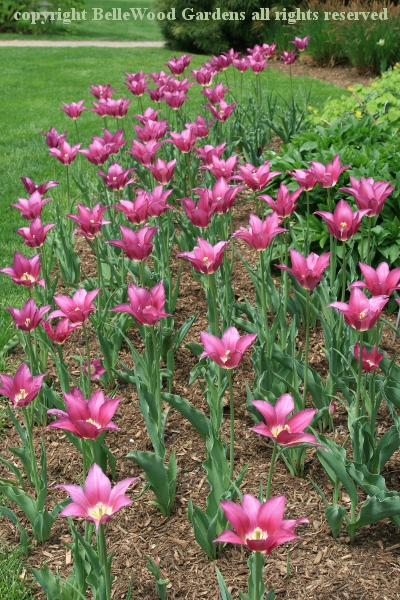 There's a curving display of lily flowered tulips.
And pots of several different viridiflora tulips.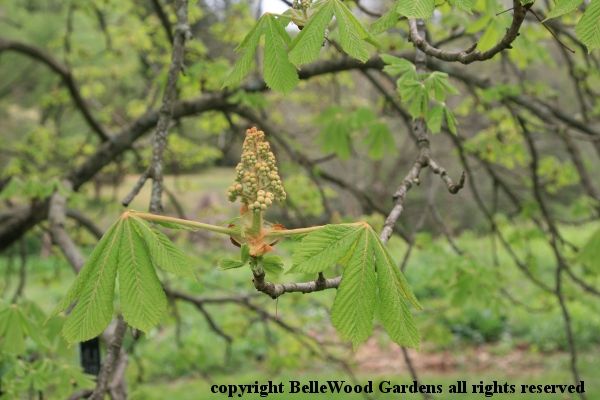 Nice. But - this is an arboretum. Arboreta have their focus on trees.
Trees know who they are, but we may not. Some I recognize. And
Joan knows more than I. But the wonderful thing at Willowwood is
that they label! Trees & shrubs have small copper accession labels.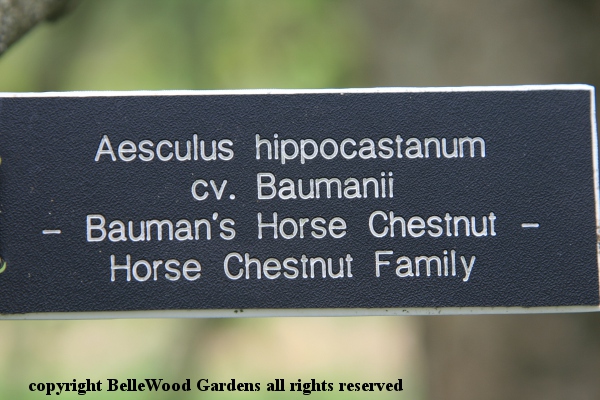 Plus, there are easy to read engraved labels with both the Latin
name and also the common name. Here's an example. It's for the
horse chestnut in the previous image. So we and the tree know.
Willowwood has several collections that explore the diversity within a genus. Magnolia is one such. With the unseasonably hot weather most have already bloomed and dropped their petals. This is 'Betty', a cross between M. liliiflora 'Nigra' and M. stellata 'Rosea'. One of the Little Girl Series developed at the National Arboretum in the mid-1950s these magnolias flower about 2-4 weeks later than M. stellata and M. ×soulangiana, so there is less risk of damage to the flowers from late spring frosts. That aside, the flowers are beautiful, larger than those of star magnolia yet not so massive as the saucer magnolia (less mess when they drop, in other words.)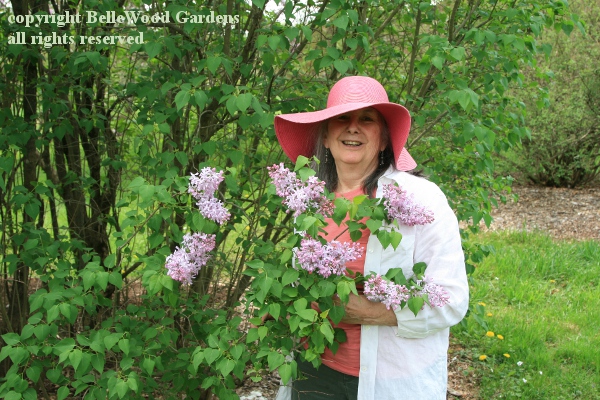 image courtesy Joan Carter
Lilacs are another featured collection. Joan and I happily sniffed
our way to those in full bloom, sampling the delicious fragrance.
There will be a lilac party to benefit the arboretum starting at 4:30 p.m. on Sunday, 20 May. As well as touring the lilac collection, the event will be held under the tent and in the stone barn, with live music, wine tasting, an open bar and wonderful hor d'oeuvres to sample. Check out the silent auction which this year has a few special surprises in addition to lots of interesting and rare plants ready to go in your garden. Call 973 615 4841 for more information.
Willowwood is a casual place. Not chaotic, mind you, but there are paths and trails and the ability to wander on your own, making discoveries as you go.
A cedar arbor frames a path that leads through the woods, where
off to the side there is a well, a mirror of water.
There's water in the garden, a rivulet running through the woods where Japanese maples and stewartia are so pleased with their location that they self-sow. A charming little one-person-wide stone and concrete arched bridge takes you across the water. (Though there are places where you may, just as easily, step across.)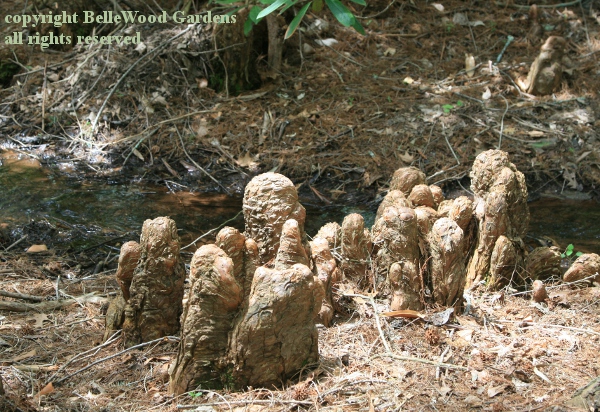 Not a family of gnomes but cypress knees, the funny growths that bald cypress, Taxodium distichum, produce. There are several sizeable specimens of this tree. They are happily growing in a wet area. They are growing where the streamlet approaches the driveway through the garden, where masses of Petasites carpet the ground. The water widens to a modest pond where there are some mature Japanese maples.
Their sinuous branches make an architectural support
for a tender curtain, a veil, of unfolding spring leaves.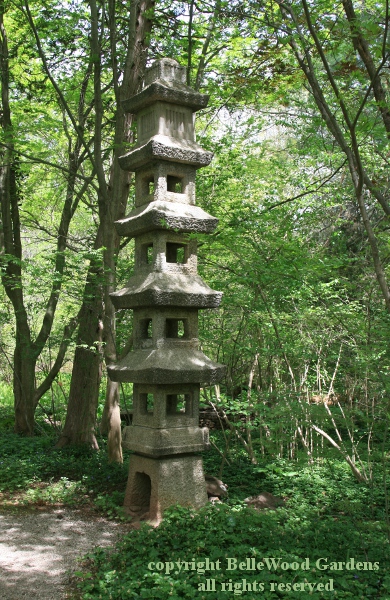 Along a different path, leading away from
the back porch there is a quite tall pagoda.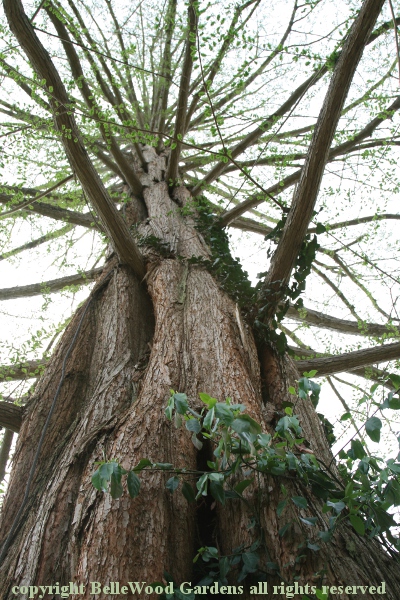 The pagoda, stately on its own, is puny when compared to this Metasequoia which is more than 98 feet tall. It is, in fact, the New Jersey state champion sequoia. There are other New Jersey champions here but, as John Beirne, the arboretum's director told me, for some of them that's because Willowwood has the only specimen in the state.
There's another collection, of flowering quince, Chaenomeles,
beautifully in bloom, scattered here and there on the grounds.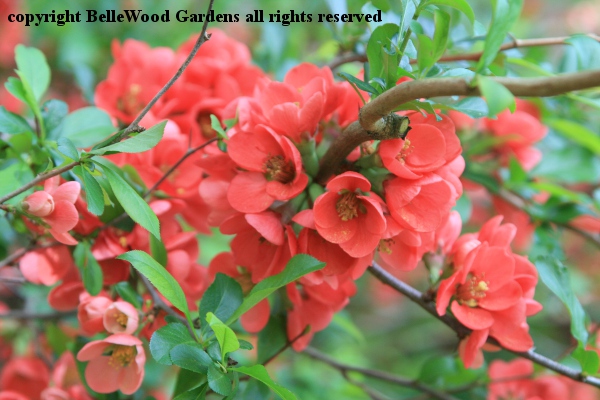 These rose pink, and a peachy orange, are near the restroom.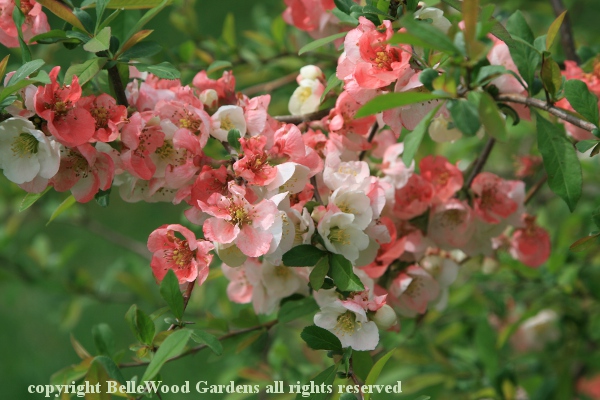 This pink-white one is in the meadow near the lilacs, being visited
by a hummingbird. It is labeled as 'Cameo', but I am dubious.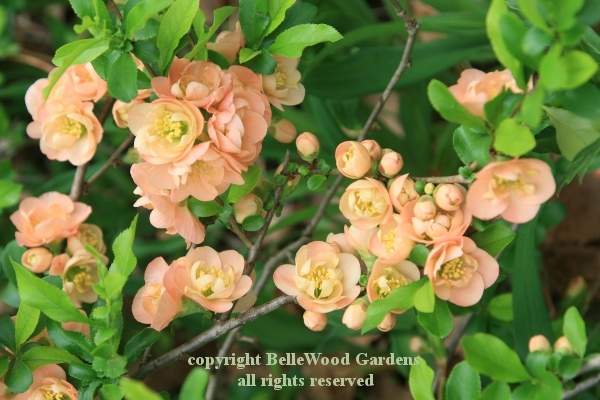 This is 'Cameo' as I grow it, here at BelleWood Gardens.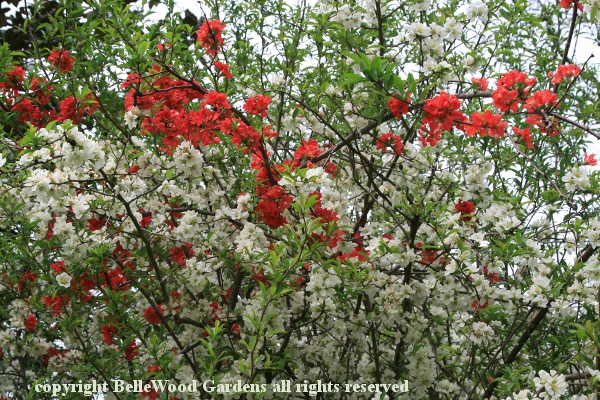 Possibly there a reversion involved? A different, white flowered quince has produced a branch with vivid red flowers, with rather vigorous growth indicating it might want to take over. I was not aware that this is something quince sometimes do.
And the white form is very pretty. How clearly quince reveals its
Rosaceous family relationship to cherries and peaches.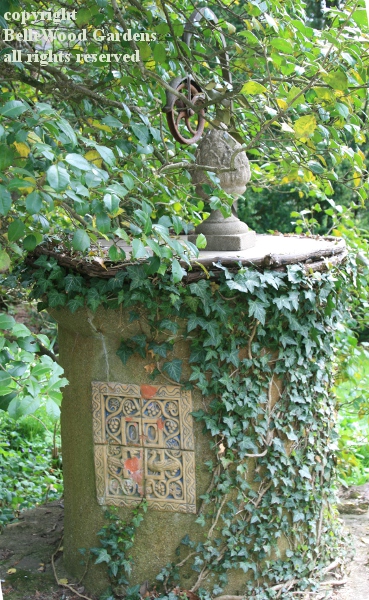 There is a somewhat more organized garden with proper planting beds, across the driveway. Before you reach the openwork iron gates (which I've never seen closed) a well house shyly lurks amid the shrubbery. Ivy tendrils are clipped back to better display four decorative tiles.
There's always something interesting and beautiful to see at Willowwood. If we'd come a week or so ago the magnolias and cherries would have been in peak bloom. In another week or so the horse chestnuts will be in flower. But Joan and I are here today, and very happy with what is in bloom now.
---
Back to Top
---
Back to May 2018
---
Back to the main Diary Page