.
Garden Diary - December 2017
---
If you have any comments, observations, or questions about what you read here, remember you can always Contact Me
All content included on this site such as text, graphics and images is protected by U.S and international copyright law.
The compilation of all content on this site is the exclusive property of the site copyright holder.
---
December
---
Winter Quarter Day
Thursday, 21 December 2017
---
Deciduous trees, even the oaks, are bare. The snow has melted. I'm raking leaves off the lawn and dumping the fallen leaves into the compost bin to begin to decay. Tuesday I made two trips = 4 tubs of leaves down the driveway. Wednesday I collected 8 tubs full. Paul hooked the cart to the ATV and took 4 down in one trip. I loaded 3 tubs on the hand truck and took them down while he collected wood from the very large branch that snapped off and fell across the lower parking area. Good thing the snow had melted, no cars were parked down there or there could have been some serious damage.
The non-migrating geese etch their skeins across the sky, after dawn breaks and before darkness falls. Thursday is the winter quarter day, the hibernal solstice. Shortest day / longest night. Dawn breaks at be 5:41 a.m. Eastern Standard time. Sunrise comes over an hour and a half later, at 7:20 a.m. Sun sets at 4:36 p.m., and darkness descends at 6:14 p.m. That's 9 hours and 16 minutes of daylight.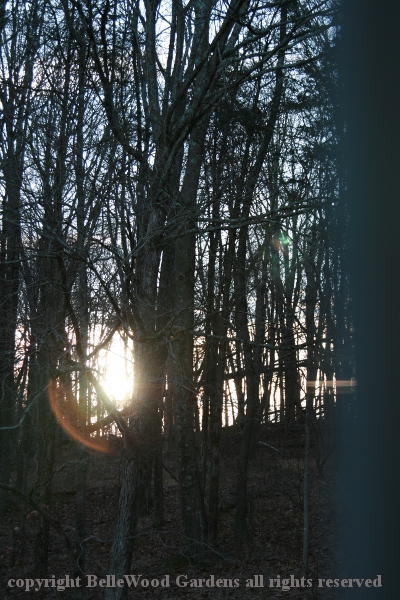 It takes longer for the sun to rise over the hill behind the trees.
There will be scant difference, the next few days. But it will
increase, brighten, turn towards ever lengthening days.
They'll just be colder, as the earth cools in hibernal season.
---
Back to Top
---
Back to December 2017
---
Back to the main Diary Page