.
Garden Diary - February 2017
---
If you have any comments, observations, or questions about what you read here, remember you can always Contact Me
All content included on this site such as text, graphics and images is protected by U.S and international copyright law.
The compilation of all content on this site is the exclusive property of the site copyright holder.
---
February
---
A Visit to Well Sweep Herb Farm
Saturday, 11 February 2017
---
It is a fortunate thing that February is the shortest month. By now I am restless, ready for winter's end. I want swelling buds on the trees, early flowers in the garden, and bird song welcoming the morning. But this year? Not quite yet. So as I was reading the Tohickon Garden Club's January newsletter and noticed that Well Sweep Herb Farm was offering greenhouse tours. I promptly marked my calendar and planned a visit. Good thing I called to find out if I needed to register though, because the second of today's tours had already filled. But graciously, a third tour, at 3:30 p.m., had already been scheduled. Rearranged my schedule and off I went, passing by the snowy fields.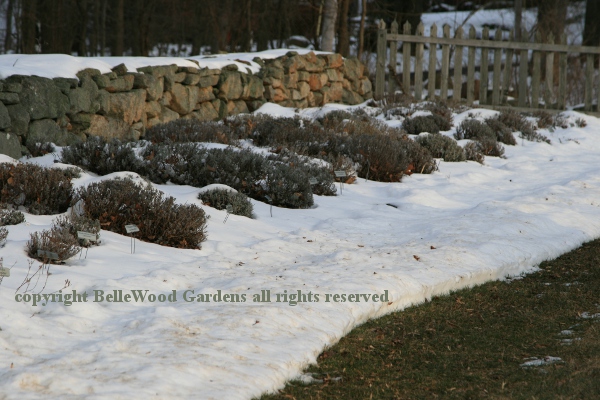 The gardens, like this display bed of lavender, are hibernating.
There is a relatively modern root cellar, by-product of excavation for
a swimming pool many years ago. Had to pile the dirt somewhere.
A room was built of concrete blocks,
dirt floor, and soil heaped over it.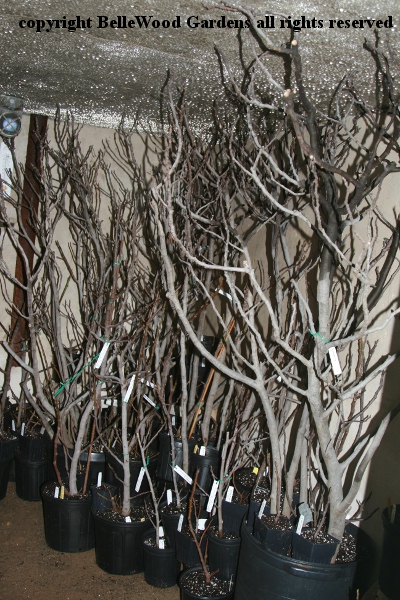 Currently it is being used to store
potted fig trees. And carrots, boxed in sand.
We met in the gift shop where the tour began with a brief description of the herb farm, and a sweet sample of the honey made by bees that are kept there. Then it was off to the two greenhouses.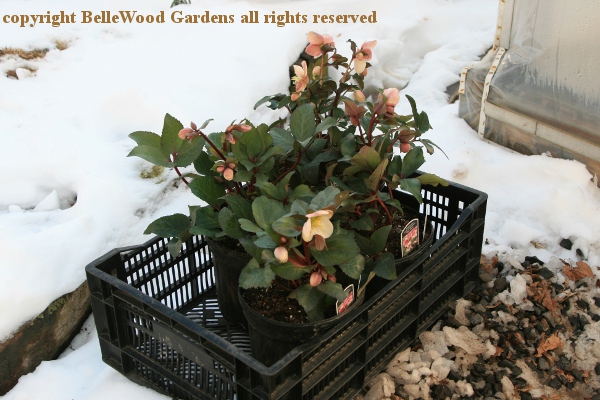 Our group walks around to the door for one of the greenhouses,
passing a crate of potted hellebores that will be at the flower shows.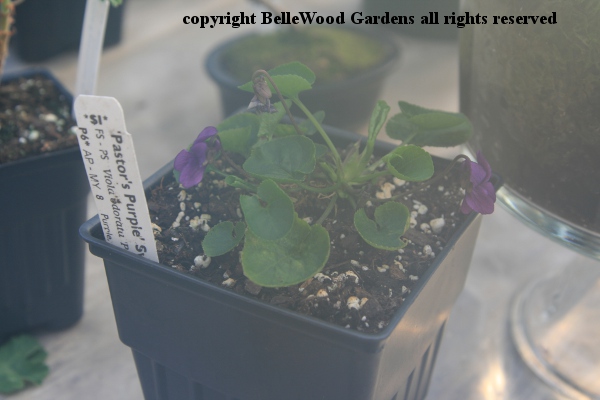 Into the greenhouse. Of course the first thing is - camera lens fogs up.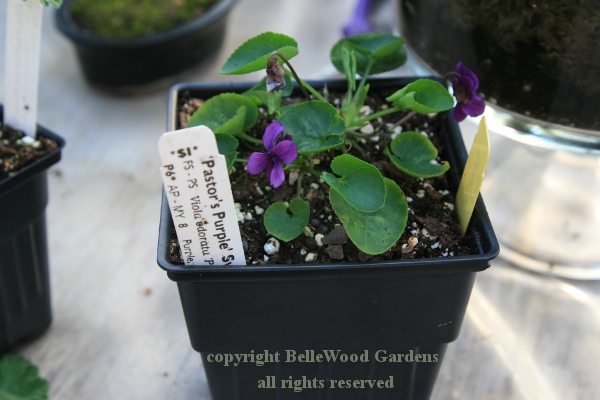 Eventually after repeated wiping the lens is clear and
I take this picture of sweet violet, Viola odorata, in bloom.
We were shown a variety of herbs and given leaves to pass around, crush, and enjoy their aromas: bay leaves, a variety of scented geraniums, several mints, bay rum plant, (Pimenta racemosa), kaffir lime leaves, and more.
It's a jungle in there: luxuriant banana plants in flower, all sorts of citrus in flower and fruit such as Ponderosa lemon, a frankincense tree, and more.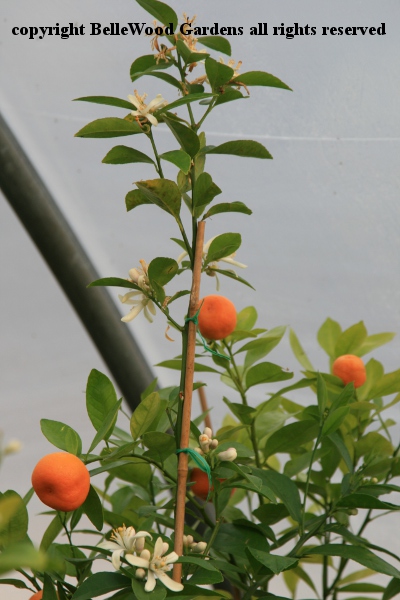 We got to sample the fruit of this calamondin.
The flesh is tart but the peel is sweet.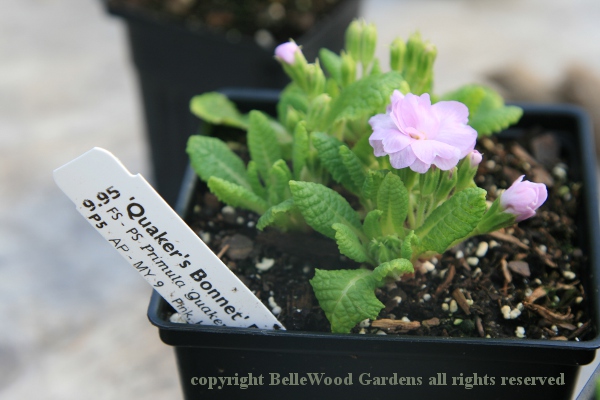 As well as a wide selection of fragrent geraniums, mints, and more
there are some "just for pretty" such as this double primrose.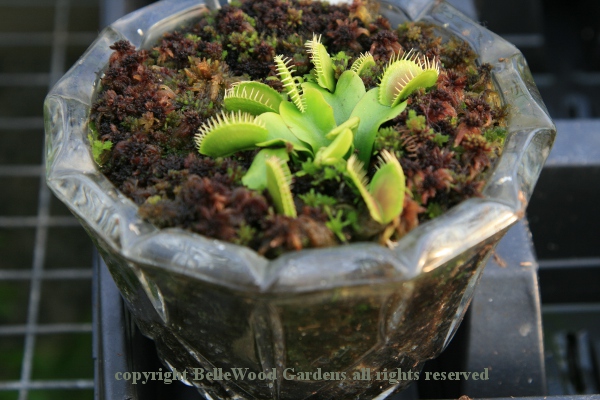 A surprising selection of insectiverous plants: sarracenia, drosera, and
this Dionea, Venus fly trap, handsomely grown in a glass bowl.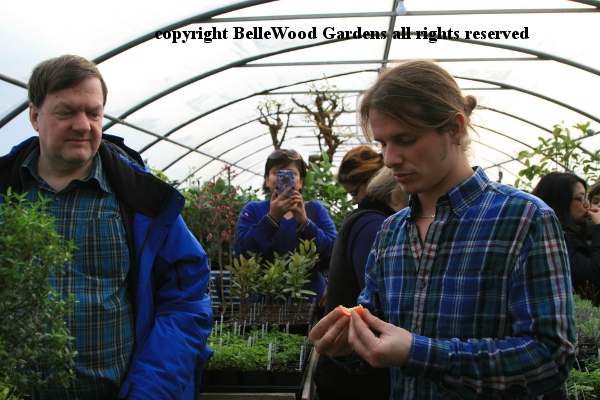 It's a family affair. Patrick, third generation of the Hyde family, was our informative guide. He offered many explanations and stories of where the herbs came from, and how they were used.
Look here if you want to look for other Saturday events from greenhouse tours to craft workshops such as building a fairy house, to the dates for New Jersey and Philadelphia Flower Shows where Well Sweep Herb Garden will be exhibiting.
Winter isn't over yet but events such as this help me along until it is gone.
Back to Top
---
Back to February 2017
---
Back to the main Diary Page