garden club
.
Garden Diary - August 2017
---
If you have any comments, observations, or questions about what you read here, remember you can always Contact Me
All content included on this site such as text, graphics and images is protected by U.S and international copyright law.
The compilation of all content on this site is the exclusive property of the site copyright holder.
---
August
---
Picnic at the Cross Estate Gardens
Saturday, 5 August 2017
---
Have you ever noticed how often garden clubs involve food? At the New Jersey Mycological Association's autumn Fungus Fest there's a cooking demo with - what else - mushrooms. It might be a little something before a garden club meeting, to accompany the coffee and tea. The Watnong chapter of the North American Rock Garden Society features two culinary meetings, to be sure, both are held in gardens. There's an evening soirée in spring and a summer picnic. Members supply appetizers and desserts, the chapter provides the entrée. Remarkably, the weather usually cooperates. Today's picnic is at the Cross Estate Gardens in Bernardsville, New Jersey.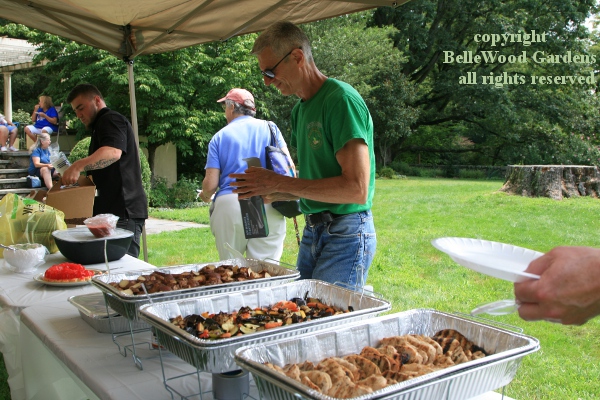 Lunch is served: healthy chicken cutlets (no heavy cream sauce).
a delicious medley of roasted vegetables, and new potatoes.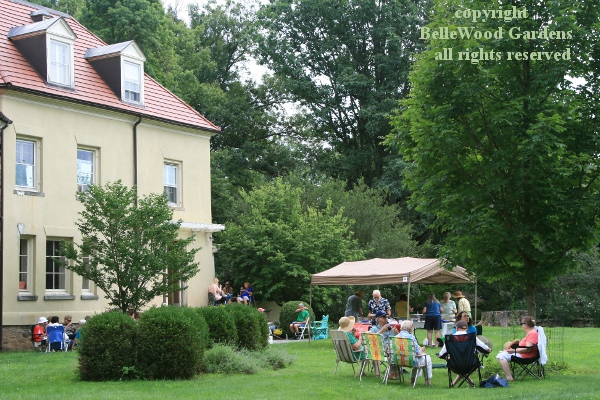 Appetizers and entrée are enjoyed as petite dejeuner sur l'herbe.
Plates filled, people form convivial small groups in shady places.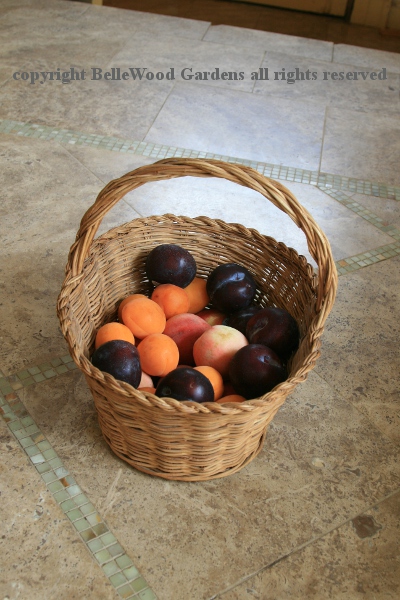 Desserts are provided in a lovely enclosed sunporch with tiled floor.
Someone brought a basket of peaches, plums, nectarines, and apricots.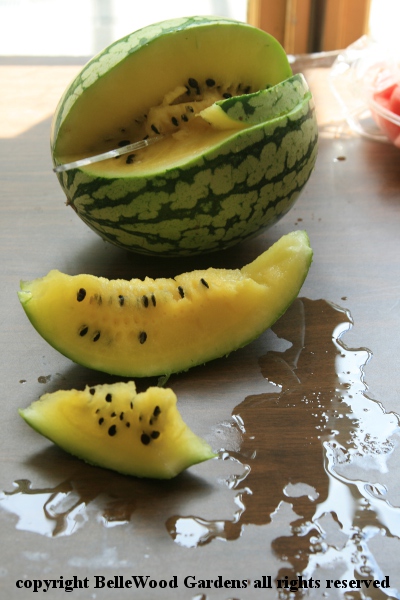 The usual brownies and other cakes and cookies.
There's a luscious small yellow watermelon.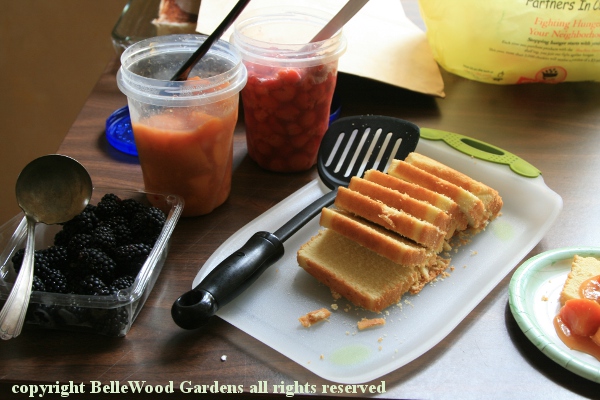 I spent Friday prepping for my offering, a dessert a la BelleWood.
It's a buttercrust pound cake and seasonal fruits, lightly poached.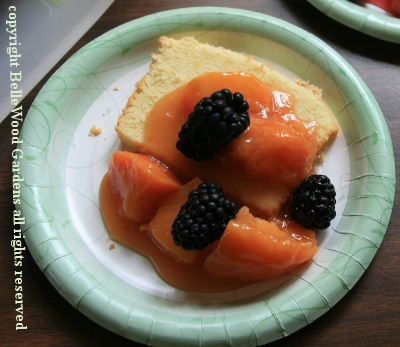 .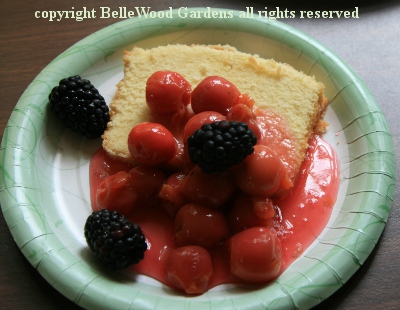 Local peaches with a little sugar, vanilla extract, and brandy.
Local sour cherries with some sugar, almond extract, and brandy.
And fresh blackberries, for looks and flavor, embellish the fruits.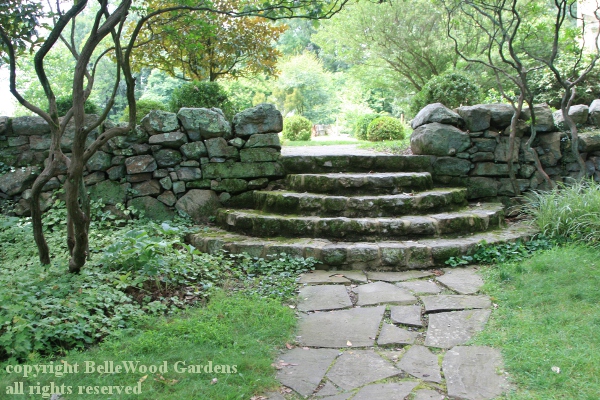 There's wonderful stonework featuring some free-standing walls
(a bit wobbly in places,) flagstone paths, and these lovely steps.
And something even more remarkable, also built of the local
granite. Be patient, I'll tell you that story just a little later.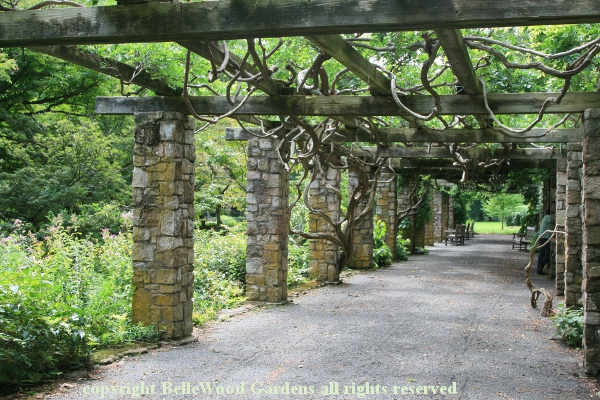 Sturdy and precise stone columns support a wisteria arbor.
It is here that the Wednesday morning garden volunteers
enjoy their midmorning coffee, tea, and pastry break. Nice!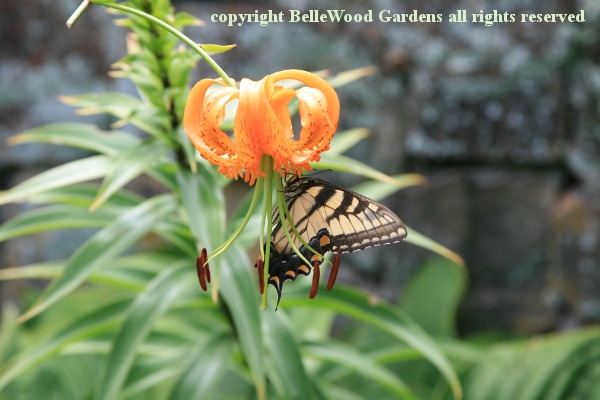 A tiger swallowtail enjoying a nectar break on an orange lily.
Lured by the sound of water I found this
charming fountain in the walled garden.
Masses of summer flowers, white phlox
and dark eyed golden daisies of Rudbeckia.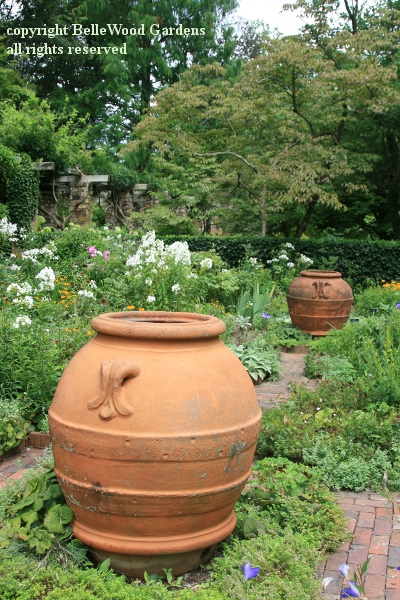 Two large pithoi accent the flower beds and brick paths.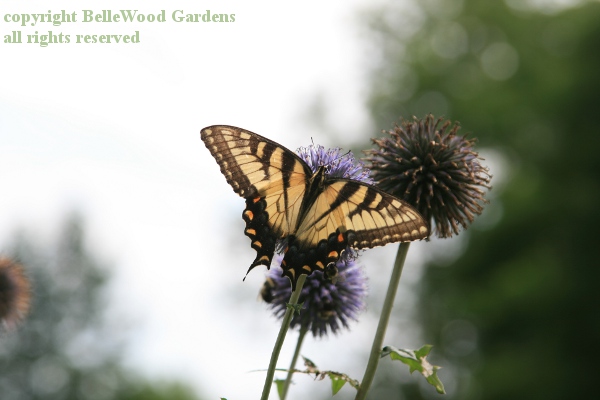 Another tiger swallowtail on Echinops.
Once upon a time, early in the 20th century, Mr. and Mrs. John Anderson Bensel assembled some 300 acres for their summer home. Calling their country property "Queen Anne Farm," they built a 23-room stone house. Mr. Bensel was an 1884 graduate of Stevens Institute of Technology, as a civil engineer. His various jobs included at the New York Aqueduct Commission, the Pennsylvania Railroad and the Philadelphia Water Department. In 1898 he was appointed the Chief Engineer for the New York City Dock Department. No surprise that water, its source and its pressure, was a consideration at his family's summer villa.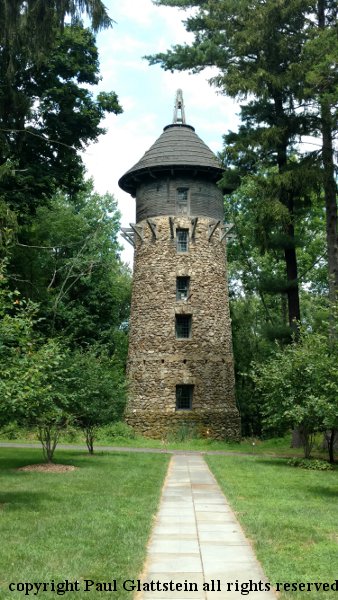 He had a five-story stone water tower built,
capped with a wooden windmill.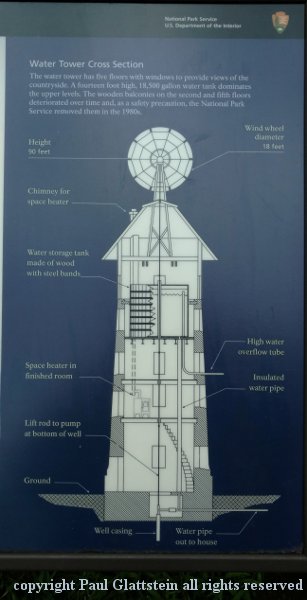 An engine in a separate pump house fed well water into the tower, providing suitable pressure to the house. Several years after Mr. Bensel's death in 1922 the wooden windmill was broken in a storm, sometime in the mid-1920s. Once widowed, Mrs. Bensel rarely visited the property. W. Redmond and Julia Appleton Newbold Cross bought the property in 1929, renaming it "Hardscrabble House." At some point after their purchase the water tower was electrified and today continues to provide water to the house and grounds.
An abandoned playhouse, its door swollen
and coming apart, the floor inside carpeted with
drifted, fallen, autumn leaves. The patio in front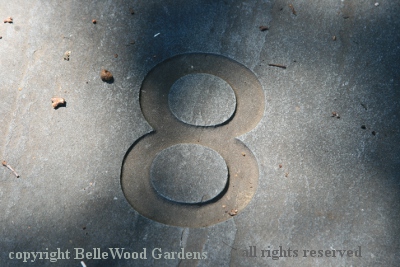 was intended for hopscotch, the numbers
engraved into the stones. Is there, faintly,
an echo of childish voices, and laughter?
Instead it is today's summer visitors, and their picnic.
---
Back to July 2017
---
Back to the main Diary Page