.
Garden Diary - March 2017
---
If you have any comments, observations, or questions about what you read here, remember you can always Contact Me
All content included on this site such as text, graphics and images is protected by U.S and international copyright law.
The compilation of all content on this site is the exclusive property of the site copyright holder.
---
March
---
The Vegetable Butcher
by Cara Mangini
How to Select, Prep, Slice, Dice, and
Masterfully Cook Vegetables from Artichokes to Zucchini
Friday, 3 March 2017
---
Enter the supermarket and there you are in the produce section. Colorful piles of apples and oranges, heaps of broccoli crowns. Along the wall, brightly lit, are an array of greens - lettuces, collards, kale, moving along to celery, carrots, mushrooms, and peppers. Keep going, and there are bags of pre-cut collards, pre-cut lettuce and coleslaw. Now-a-days, there are tubs of veggies, already pre-cut for you.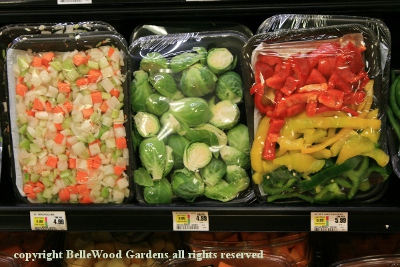 The idea, I suppose, is convenience. From the right: sliced red, yellow, green peppers; cut Brussels sprouts; and mirepoix (diced celery, carrot, onion to be slowly sautéed and used as the flavor base for soups, stews, and sauces.)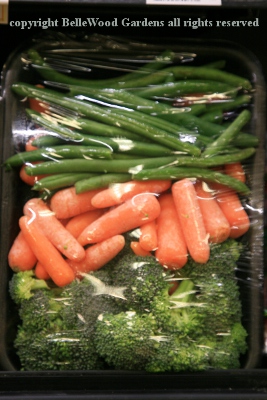 A combo pack of green beans, broccoli, and baby carrots.
Those baby carrots offered to children (and adults) as a snack?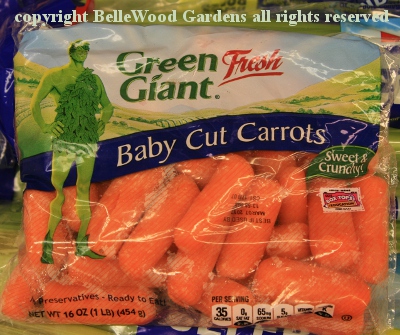 Most of them are manufactured. To make baby-cuts, large sweet carrots are machine cut into 2-inch sections, then scraped down to size, their ends rounded by the same process.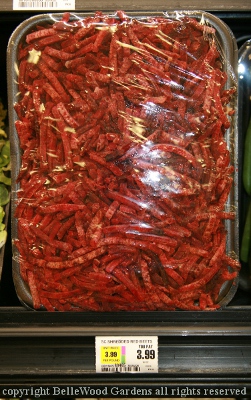 Shredded beets. They look kind of dried out.
These are not cut in-house, somewhere in the back of the store. I found out that it was not cost effective so the precut vegetables, already in their little tubs, are delivered to the store along with the boxes of whole peppers, broccoli crown, bunches of beets, and all the other "intact" produce. Buy what you need, bring it home, and then it is up to you to peel, slice, dice, shred, or otherwise cut the vegetables to suit the needs of the recipe you intend to cook.
Intimidated? You needn't be afraid. Now there's a book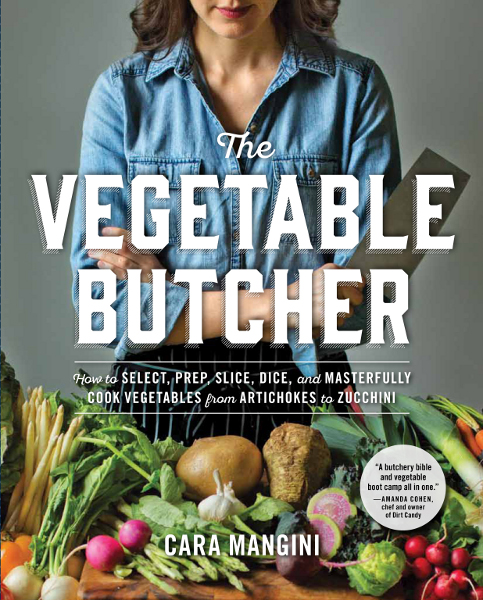 Most of us probably feel competent about choosing and using "the usual suspects." I doubt anyone freezes in panic when faced with a carrot or a cucumber. There are, however, tricks and tips to every trade as The Vegetable Butcher shows us, so even a cucumber has options - shaping "boats" by remove seeds from a mature cucumber, or the technique of lightly salting and weighting cut up cucumber to reduce bitterness. So far, so good. But how confident do you feel about that knobby exterior of celeriac, or winter squash with its very sturdy rind?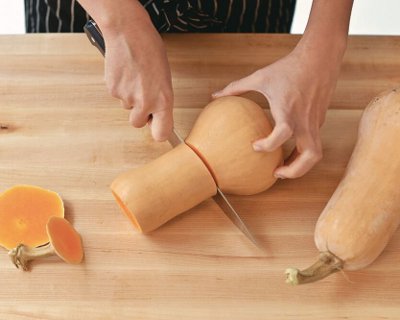 from The Vegetable Butcher by Cara Mangini (Workman Publishing).
Copyright © 2016. Photographs by Matthew Benson
The book begins with advice on selecting, storing, and cleaning the vegetables. Next, knives and their care (including cutting boards.) A few pages about basic cuts: trimming, peeling, chopping, mincing, cutting ribbons. Slicing, matchsticks, grating, shredding. Good text design with nice use of bullets and minimum of boldface words. Now we get to the basics of knife work, with pictures. A visual guide to basic cuts: of carrot-shaped conical vegetables into coins, oblong slices, sticks, matchsticks, and dice. On to zucchini-shaped cylindrical vegetables. Round vegetables. Leafy greens and herbs.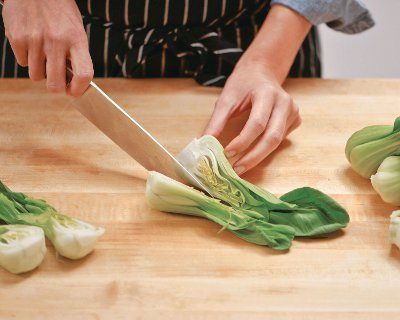 from The Vegetable Butcher by Cara Mangini (Workman Publishing).
Copyright © 2016. Photographs by Matthew Benson
And now to the meat - or rather I should say, the vegetables of the book.
If you thought a book that discusses 53 vegetables seems meager let me assure you it is not, because each vegetable receives such thorough and loving coverage. There are entries for standard vegetables such as carrots and cabbage and potatoes. Leafy vegetables like lettuce and arugula and nettles. Even an entry for wild greens now making their way into the stores: dandelion, purslane, sorrel, watercress and others. An entry for mushrooms, neither vegetable nor fruit but so very welcome in the kitchen. Tomatoes and avocados, fruits we think of as vegetables make their way in. And a handful of the entries focus on a group. Collard, for example, includes kale, mustard greens, and Swiss chard, three other hearty greens so there are actually a larger number.
Each vegetable starts with a full color page with information on selecting, recommended varieties, best season, storage, and good partners. All good information but there seems to be a plethora of partners and not all sound equally excellent to me. Next comes butchery essentials, well written and well illustrated. Favorite cooking methods. And a recipe, or several recipes starting with favorite basic cooking methods and finishing with something more elaborate. Take, for example, onions, that basic standby in our pantries. Grill or roast or pickle onions, roast pearl and cipolline onions or glaze them. Make caramelized onion and balsamic jam. Or ramps, that forager's spring delight now found in farmers markets, and make a wild ramp pesto. Or a ramp and asparagus risotto. Just the name says "Spring" to me.
This is not a vegan cookbook, as it does include dairy and eggs in some recipes. I like the couple of pages at the back of the book grouping recipes (alphabetically) by season. There's a thorough index, so helpful when you are searching for a particular vegetable or a specific recipe.
Here's a sample recipe. Enjoy.

from The Vegetable Butcher by Cara Mangini (Workman Publishing).
Copyright © 2016. Photographs by Matthew Benson
Turkish Carrot Yogurt Dip
Makes about 2 1/2 cups
I learned to make this in Turkey in a sun-soaked kitchen in a house perched on a hill overlooking the Mediterranean. At home in the spring and summer, I make it often. It is a snap to pull together and dip into while you sip an after-work glass of wine or a cold beer. It turns a standard crudités tray into something special for large gatherings. (You won't believe how many requests you get for the recipe.) Try it with heaps of raw baby rainbow carrots, sugar snap peas, whole or halved radishes, and quickly blanched cauliflower, or with a crisp salad of tomatoes, cucumbers, and feta. I always serve it with triangles of pita bread, or with pita chips seasoned with sea salt. To add a little heat, drizzle the top of the yogurt with Chile Oil (page 61) in place of olive oil.
1/4 cup extra-virgin olive oil, plus extra for finishing
3 medium to large carrots (10 to 12 ounces total), peeled, shredded on the large holes of a box grater
1/3 cup pine nuts (or 1/3 cup finely chopped walnuts)
3/4 teaspoon fine sea salt, plus extra as needed
2 cups low-fat or full-fat plain Greek yogurt
1 to 2 garlic cloves, finely grated on a Microplane, pressed, or crushed into a paste
Heat the oil in a large skillet over medium-high heat. Add a pinch of the carrots to the oil to test it: The oil is ready if the carrots sizzle. Add the remaining carrots and cook, stirring frequently, until they begin to soften, about 6 minutes.
Add the pine nuts and salt. Reduce the heat to medium and continue cooking, stirring occasionally, until the carrots are completely soft and browning and the pine nuts are golden, another 5 to 6 minutes. Stir in the garlic and cook until it is incorporated and fragrant, another 30 seconds to 1 minute. Let cool briefly to warm.
Place the yogurt in a medium-size bowl. Stir in the warm carrot mixture, and season with salt to taste.
Transfer the dip to a serving bowl, and drizzle the top with olive oil. The dip will keep, in an airtight container in the refrigerator, for up to 5 days.
Notes: You can easily adjust the yield based on the quantities you have on hand and the number of people you are serving. The ratios do not need to be exact. Add a little more yogurt or throw in an extra carrot and a little more oil. Just make sure to let the carrots sizzle for a good long while, until they are soft and browned at the edges. When summer squash are in season, shredded zucchini makes an excellent addition. Swap 1 small zucchini for 1 carrot.
from The Vegetable Butcher, by Cara Mangini. Published by Workman, New York, New York, 2016 ISBN: 978-0-7611-8052-4 Paper over board, $29.95
A review copy of this book was provided by the publisher.
---
Back to Top
---
Back to Book Reviews 2017
---
Back to March 2017
---
Back to the main Diary Page