.
Garden Diary - August 2017
---
If you have any comments, observations, or questions about what you read here, remember you can always Contact Me
All content included on this site such as text, graphics and images is protected by U.S and international copyright law.
The compilation of all content on this site is the exclusive property of the site copyright holder.
---
August
---
Fungi Fest in Purgatory
Saturday, 19 August 2017
---
There was an elaborate mushroom focused dinner at the Purgatory Lodge on Friday. The event was sold out, and we'd had a long day travelling. Something easy and nearby sounded appealing. The four of us agreed on a pizza. Down to the plaza and what do I spy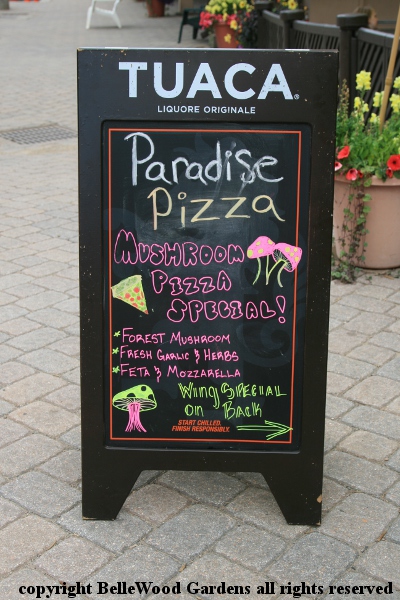 but a Paradise Pizza signboard offering wild mushroom pizza!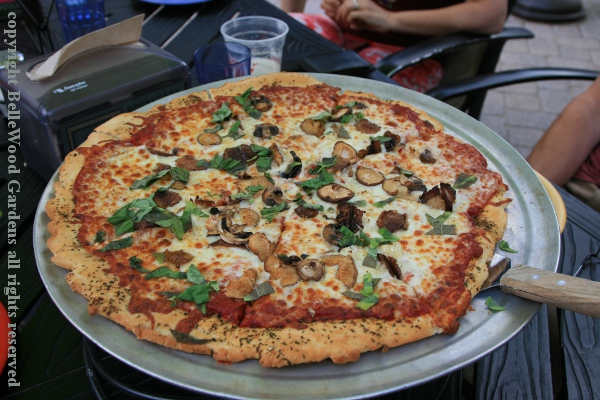 My choice, but I had help eating it. Shiitake, fresh sage - nice.
I came promptly down the mountain from the mushroom foray because at 1:00pm this afternoon there's a mushroom and wine festival. On Saturday afternoon Purgatory Lodge invites five local restaurants to participate in the culinary showcase featuring mushroom-inspired dishes. Their own chefs from Purgy's also participate in the festival, with their own mushroom dish and a mushroom dessert. And wine pairings suggested by the chefs and the Durango Wine Shop.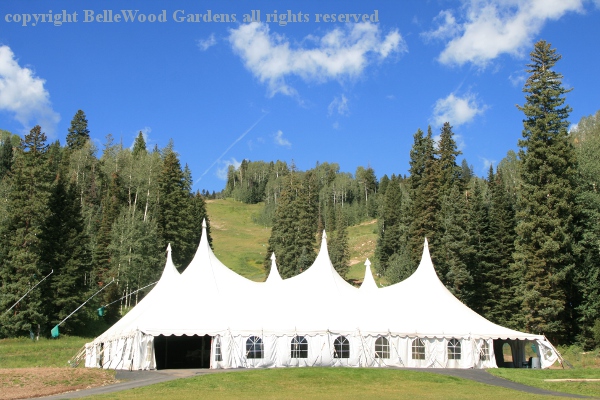 The fungi food fest is being held in the big white tent. Wine and
entreé-ish things to the right, lighter fare to the left, people have
tables and chairs in the middle, and band on a stage at the rear.
I start on the left side. Each restaurant is listed by name on a card handed
to each participant. Wines are also listed - wine 1, wine 2, and so forth.
Take a sample or a pour, and your card is appropriately checked off.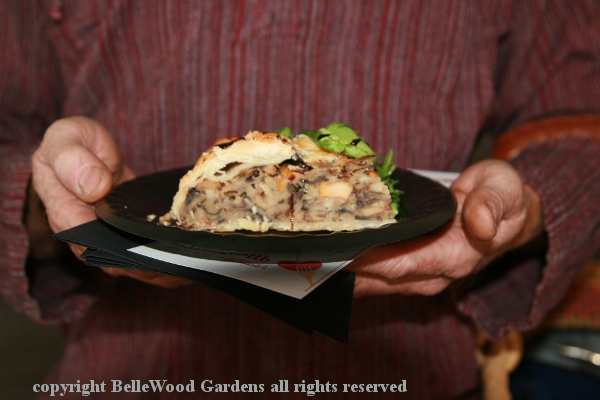 Seasons Grill is offering a generous serving of flavorful, well
filled rustic mixed mushroom tart, embellished with a drizzle
of a balsamic vineger reduction, greens on the side. Tasty.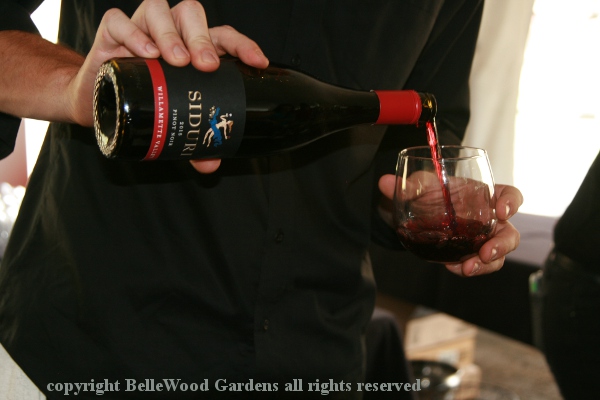 A nice pour of Siduri pinot noir, suggested to accompany it.
Cyprus Cafe has a wild mushroom tartlett wrapped in a flaky pasty,
with chevre and fresh herbs. This seemed a little bland to me, and
the greens were baby lettuce rather than herbs.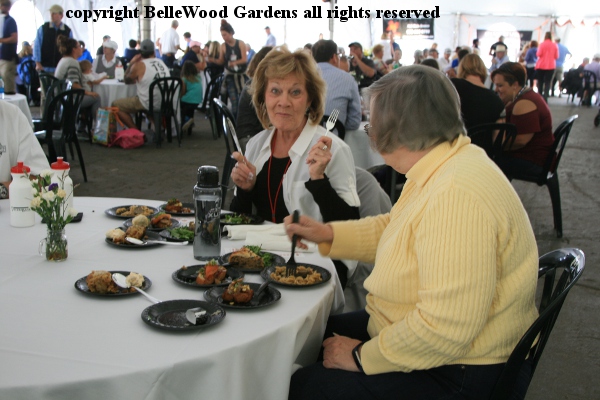 Happy diners, ready to sample diverse fungi-inspired offerings.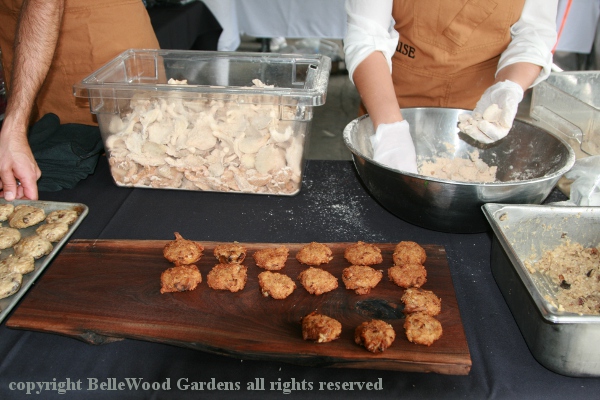 I was very impressed with the Ore House Restaurant offering. Theirs was the most complex, and the only one almost completely prepared on site. A deep fryer was set up outside the tent for the little risotto cakes and oyster mushrooms that were then assembled, plated, and garnished.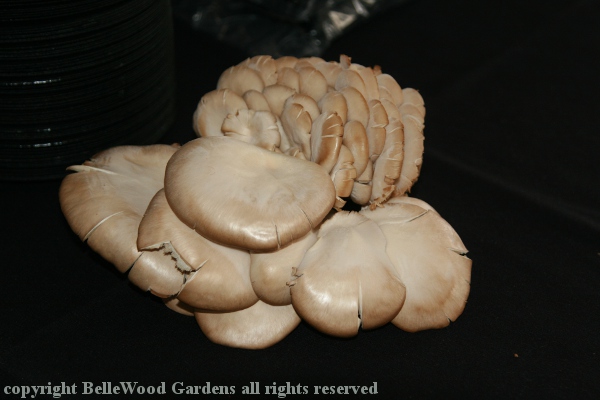 Fresh oyster mushrooms, as decoration at the serving station.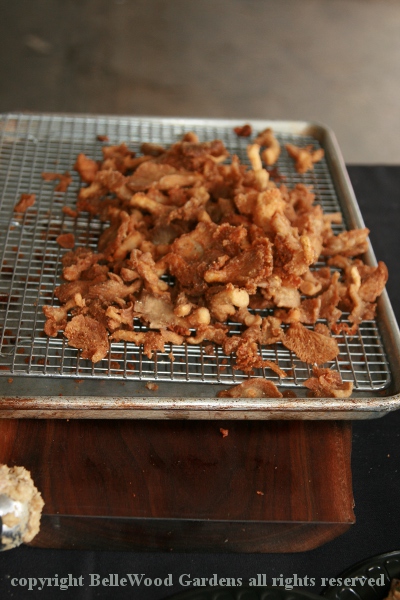 As you can see in the first Ore House image, the mushrooms are
gently tossed with a dry coating, excess shaken off, then deep fried.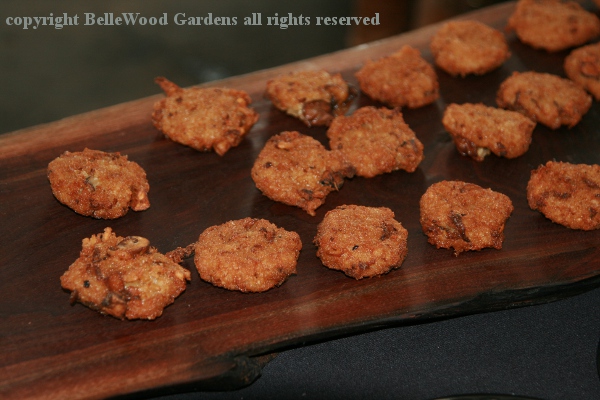 Risotto shaped into little cakes, then deep fried.
The risotto was prepared off site. Let me explain why. At these high elevations, up the mountains of Durango and at Purgatory Resort, air pressure is less than what most of us are familiar with. Water boils at temperatures below 212 degrees Fahrenheit, and evaporates more quickly too. Eggs, for example, take longer to hard cook. White rice requires 15 to 25% more water than I am accustomed to, and also needs a somewhat longer cooking time. Only prudent to have the risotto prepared, ready to shape and then deep fry.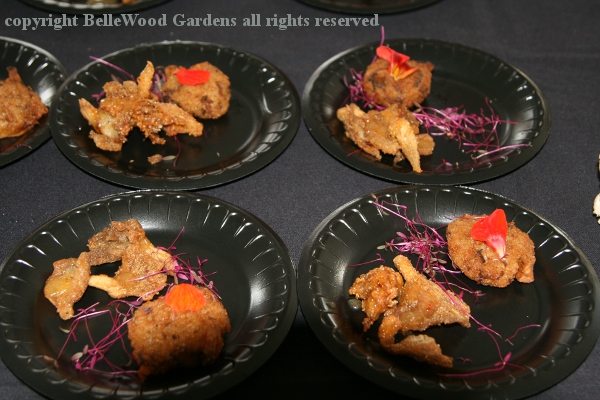 Completed, each little deep fried risotto cake is paired with
deep fried oyster mushroom, then garnished with threads of
purple orach and a red rose petal or two. I liked this the best.
Something quite different from East by Southwest, a fusion restaurant that offers food prepared using traditional Japanese and contemporary cooking methods and techniques.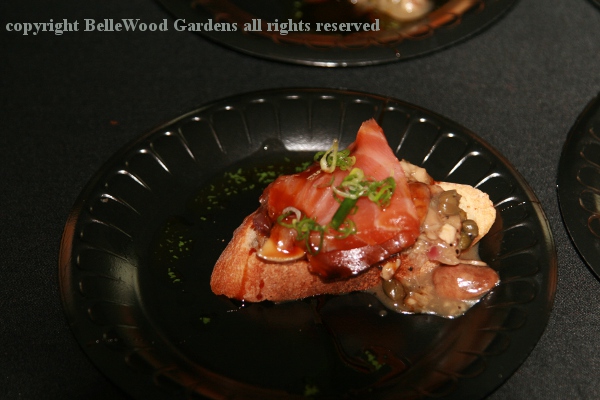 Here we have cold smoked ocean trout with wild mushroom escabeche, served on a crostini base. The fish was quite good. Escabeche is a technique where the food is prepared with oil, vinegar, white wine, and seasonings. These mushrooms - oysters, I think - were somewhat slimy. Something with more substance, like a porcini or a portabella, might have been nicer. And the crostini was very crunchy, too thick in a pairing with the delicious, delicately textured fish and very soft mushrooms.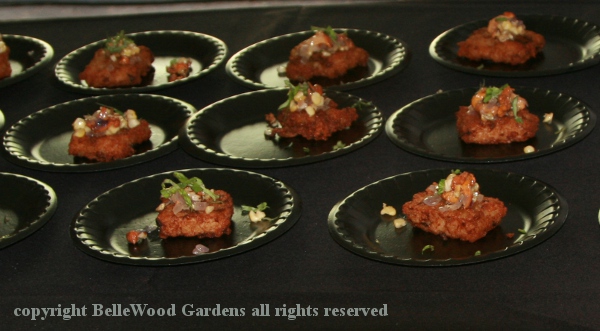 Eolus served a porcini mushroom risotto cake topped with
chanterelle summer salad. A favorite of mine, summer corn
and chanterelles. Here, also shallots and chiffonade of greens.
Purgy's offered a stroganoff (same issue as rice, cooking pasta at elevation is not easy) with a medley of shiitake, wood ear, oyster, porcini and lobster mushrooms with a tidbit of elk tenderloin. The stroganoff and its sauce were very tasty, the tidbit of elk was chewy.
Purgy's dessert incorporating mushrooms: bread pudding with chanterelle mushrooms and palisade peaches, topped with sriracha whipped cream. Not sure what the mushrooms added, other than their presence.
What an excellent, mushroom-filled day.
The next day, Sunday 20 August, we dropped down into Telluride after crossing from Ouray on Black Bear Pass trail. More about that in another entry. But what did I see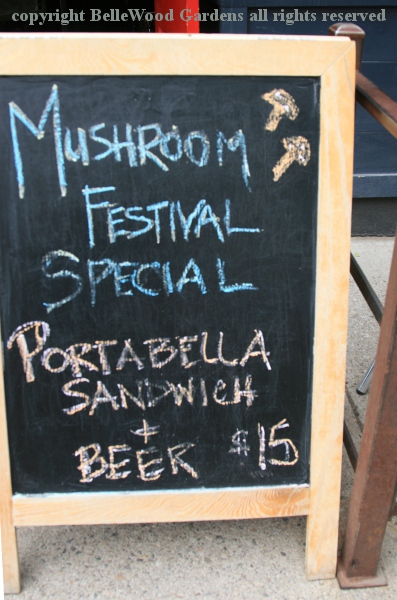 but more mushroom festival signs. Am I haunted?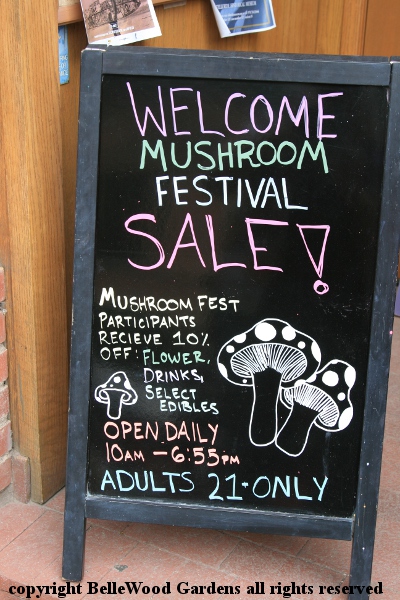 Don't know, but I'm having a good time.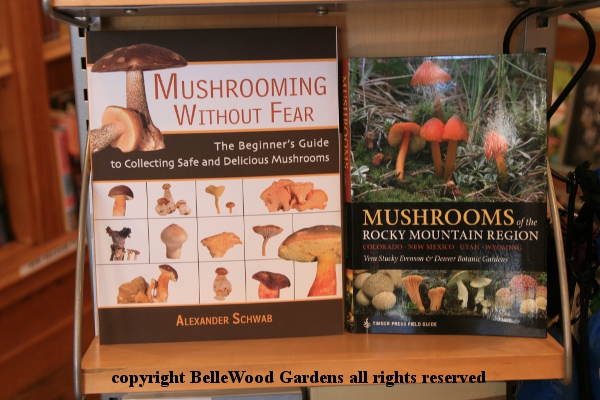 "Foraging" in a grocery store is one thing. Go with experienced guide
as we did yesterday, into the forest. Even then, a reliable guide book
such as these is a good idea. Found in Durango at Maria's Bookshop
---
Back to August 2017 which includes links to all the Purgatory entries
---
Back to the main Diary Page