.
Garden Diary - August 2017
---
If you have any comments, observations, or questions about what you read here, remember you can always Contact Me
All content included on this site such as text, graphics and images is protected by U.S and international copyright law.
The compilation of all content on this site is the exclusive property of the site copyright holder.
---
August
---
Dinner at the Dalton Ranch Golf Club
Tuesday, 22 August 2017
---
It's like this: the week before we came to Purgatory Mira was socializing there with a couple of girlfriends from their high school days. Planning to go to the Bar D Cowboy Chuckwagon dinner, they were kind of early. Driving down the road, they noticed the sign for the Dalton Ranch Golf Club. Which mentioned that "Public welcome." So they stopped in for drinks.
Now we're here, and going to the Bar D for dinner. This time it was deliberately planned that we'd leave early and stop off for drinks. Not that any of us play golf. Rather, that - viewed from the terrace - the setting is especially lovely.
Golf course, ponds, mountains, and puffy white clouds.
I enjoyed the view and a glass of very nice Malbec.
---
Thursday, 22 August 2017
---
We fly home early tomorrow. Today is for packing. Easy, in that there are no choices to be made - if it was packed to leave home, it gets packed to take home. Plus some extras, such as some skeins of yarn from Yarn Durango, a couple of very nice Guinness beer glasses from the Irish Embassy Pub - the usual sort of vacation accretions. Mira and Steve are packing up for storage at Purgatory and their two day drive home.
The plan is to go out to dinner at a ranch offering hamburgers from their grass-fed beef. But an afternoon thunderstorm makes an outdoor meal seem less than inviting. We decide to try the golf club, find out if their dinners are as good as their drinks.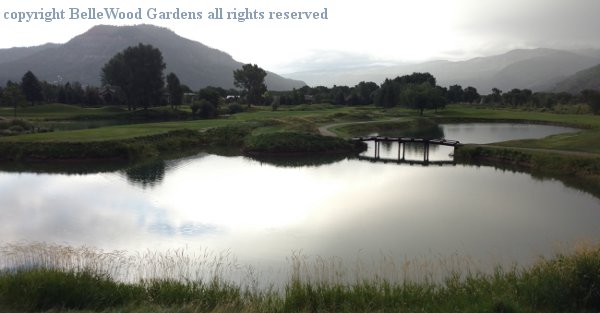 The sky is clearing, somewhat. We're seated in the Swing Restaurant.
Same wonderful view as previously. I borrow Paul's phone for pictures.
The Malbec I had a couple of days ago was so nice that I had another this evening.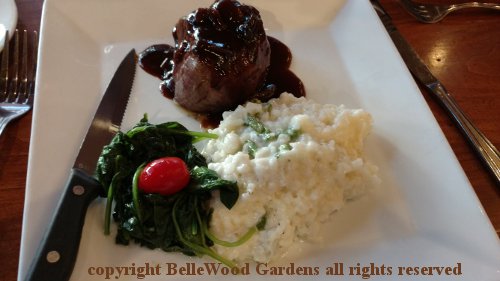 Deciding to skip an appetizer to plan on dessert I choose
the petit fillet, medium rare, with wild mushroom sauce glace
with asparagus risotto and steamed spinach. Excellent.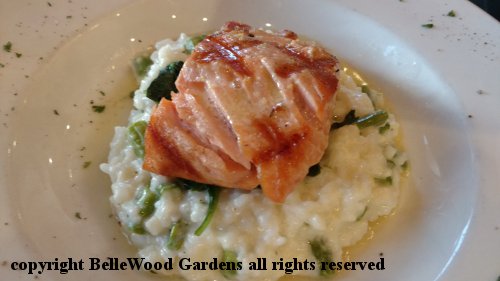 Paul has the Atlantic salmon, also a good choice.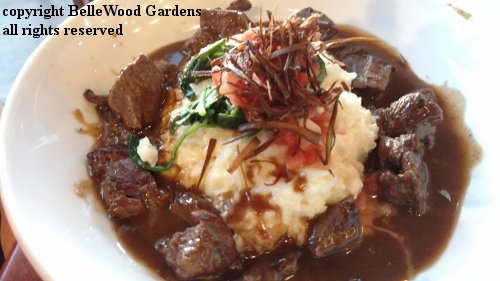 Steve chose tournadoes. The tobacco onions as a topping
look interesting. Risotto seems standard for all of us.
Mira also had the petit fillet, different sauce (4 to choose from),
also risotto, and a different vegetable among the several choices.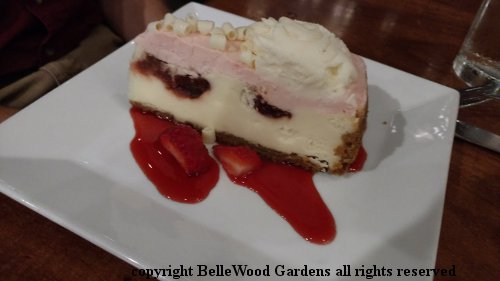 Desserts were pleasant, if not as superlative as the entreés.
Mira and Steve shared this photogenic strawberry cheesecake.
A very lovely conclusion to a fantastic vacation. Not purgatory, but paradise.
---
Back to August 2017 which includes links to all the Purgatory entries
---
Back to the main Diary Page