.
Garden Diary - May 2017
---
If you have any comments, observations, or questions about what you read here, remember you can always Contact Me
All content included on this site such as text, graphics and images is protected by U.S and international copyright law.
The compilation of all content on this site is the exclusive property of the site copyright holder.
---
May
---
Soirée at the Presby Memorial Iris Garden
Saturday, 6 May 2017
---
Once a year the Watnong chapter of NARGS (North American Rock Garden Society) has an evening soirée for members. The chapter provides the dinner's main course while members bring appetizers and dessert. Sometimes we gather at a member's garden, other times in a public garden such as Bamboo Brook or Buck Garden.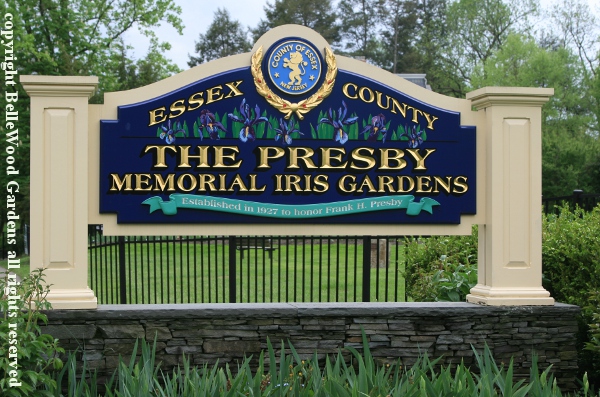 This year it will be at the Presby Iris Garden in Upper Montclair, New Jersey.
Established in 1927, that makes 2017 their 90th anniversary, and the celebration is being held in this, the merry month of May. The garden contains 1,500 varieties, nearly 14,000 iris plants. Our soirée is on the early side. Peak bloom is mid-May through the first week in June, with minor weather related variations. On weekend afternoons in May volunteers will be serving cookies and lemonade on the porch of the Garden's historic Walther House in celebration of the big anniversary. Iris dug from Presby's vast collection will also be for sale on weekends starting next Friday from 10:00 a.m. to 3:00 p.m. But we're here now.
Early party goers stroll the borders, perusing the early flowering
dwarf bearded iris that now are in bloom. (Food isn't out quite yet.)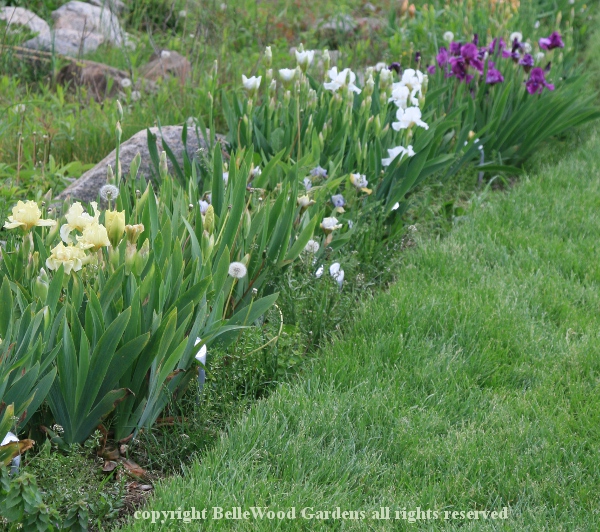 Iris, goddess of the rainbow. And iris bloom in a rainbow of colors.
I start chatting with Suzanne, communications / donor manager at Presby. She asks if I taught at Rutger's recent home gardeners school. Turns out that Dennis, also Presby staff, had taken my made for the shade class. (Perhaps my other two subjects - backyard chickens and a Japanese touch for your garden - were too far afield.) Suzanne said that at their plant sales it was shade plants that were quickly sold. Due, no doubt, to the numerous trees and shady gardens of Montclair and environs.
And then the small world syndrome kicks in. Dennis tells me that last year they got an e-mail from a man in Italy. He attached an image and asked if they could identify the iris cultivars.
This picture.
And they could not figure out where the man had been standing to get the picture. There wasn't any planting in the garden that resembled it. Staff was involved, volunteers were queried. Was a puzzlement. Dennis spent hours at the conundrum. Then he was online and found the image. It's one of mine. The original was taken back in May 2007. The borders have undergone at least two renovations since then. Myself, I suspect the Italian iris fancier found the image in a May 2015 Great Gardens of New Jersey entry I put up.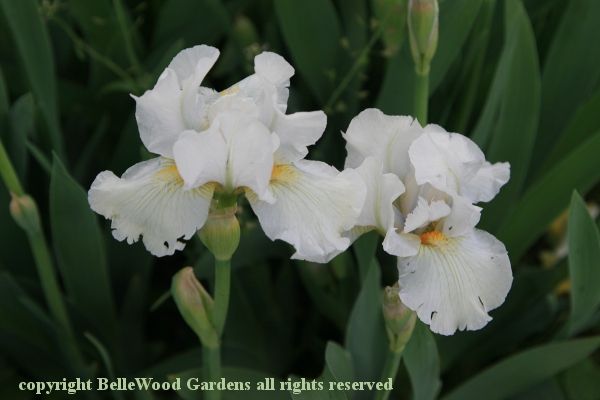 Presby Memorial Iris Garden is a dual purpose place. You can visit
the rainbow on the hill to admire beautiful flowers, like 'Snow Gnome'.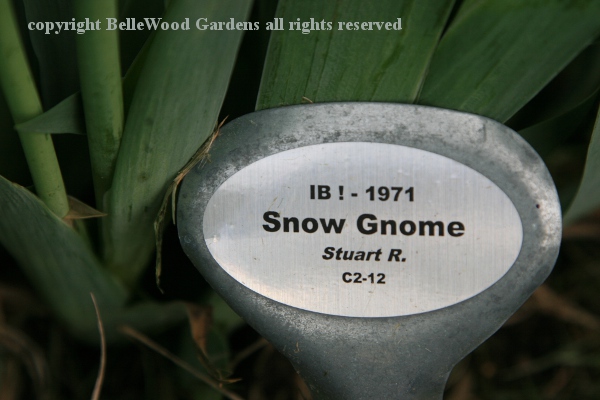 It is also a place to learn. There are informative labels for each iris
with year of introduction, cultivar name, and breeder's name.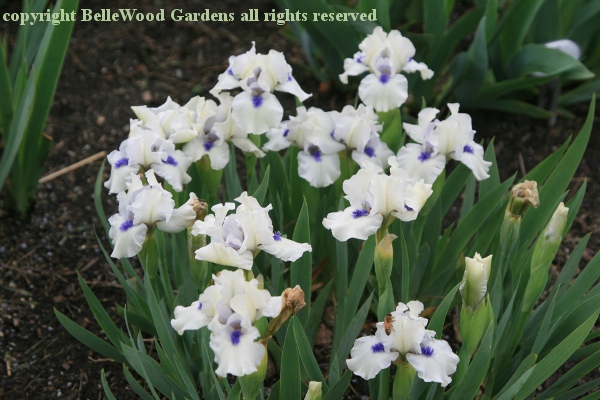 'Bluebeard's Ghost'. Charming group, sweet in a closeup look.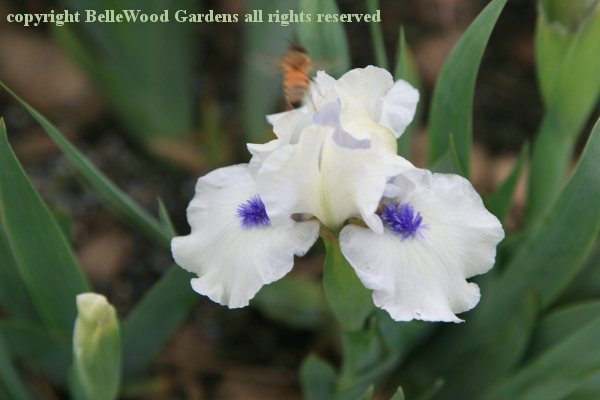 Dwarf bearded iris not only flower earlier, they are self-supporting
and don't require staking as do some taller, heavily flowered cvs.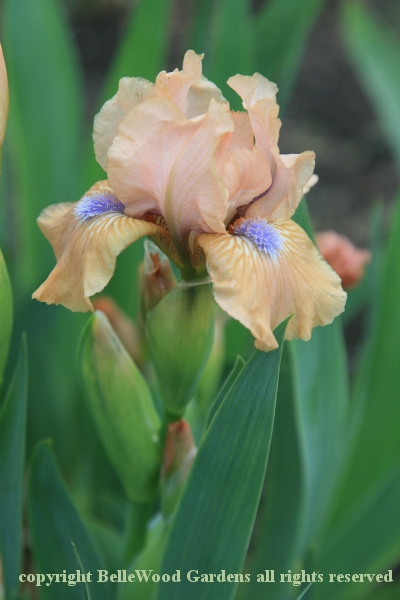 'Cocoa Pink' also has a blue beard on its falls.
Love the butterscotch pink color.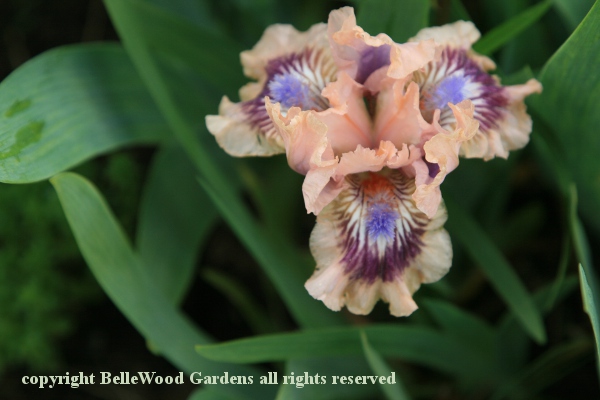 Then there's 'Frisk Me'. Sort of the same color scheme plus some
white and wine purple accents. But the flower is flatter, more open.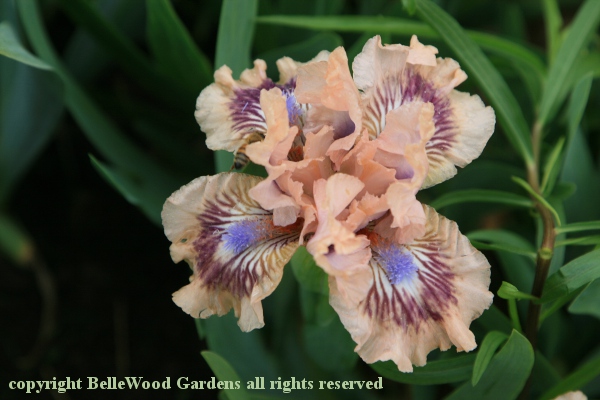 And, in amongst the group there were two with quatrefoil flowers.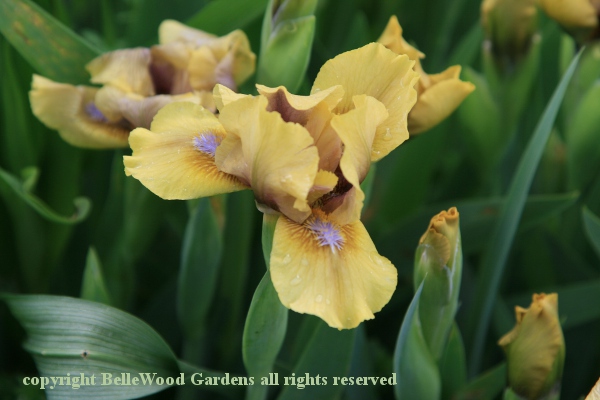 Buttery yellow 'Wheat Fields' has a barely blue beard with dainty
brown penciling. Their purpose - the beards guide insects to pollen.
Remember Iris, goddess, rainbow. Here's 'Grapesicle',
soft violet and lavender, dewed with raindrops.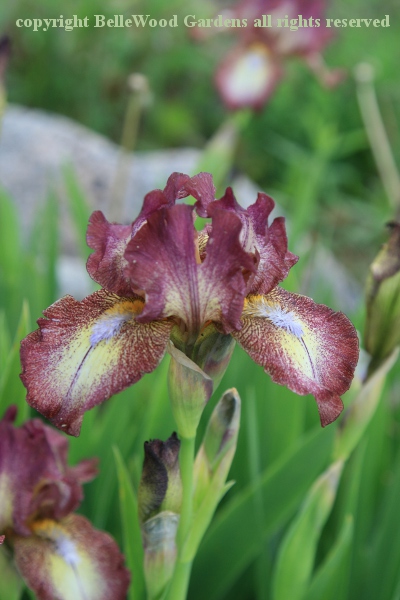 'Pot Luck'. Interesting color(s) - let's say it is mauve with
pale yellow that speckles / freckles its ruffled petals.
Then there's 'Plicutie'. The name is a pun on
plicata, referring to an iris with darker margin
color on a white ground color. Cute indeed.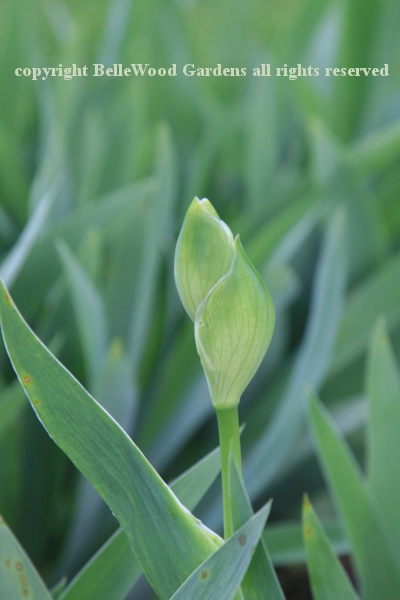 As I pass the beds of tall iris their buds offer
an enticing promise of flowers yet to bloom.
---
Back to May 2017
---
Back to the main Diary Page