.
Garden Diary - May 2017
---
If you have any comments, observations, or questions about what you read here, remember you can always Contact Me
All content included on this site such as text, graphics and images is protected by U.S and international copyright law.
The compilation of all content on this site is the exclusive property of the site copyright holder.
---
May
---
Plant: Exploring the Botanical World
Monday, 20 June 2017
---
How long does a flower last?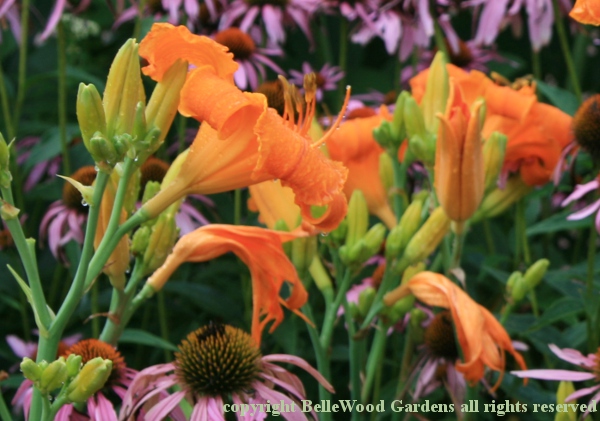 If it has the common name of "daylily" - probably not very long.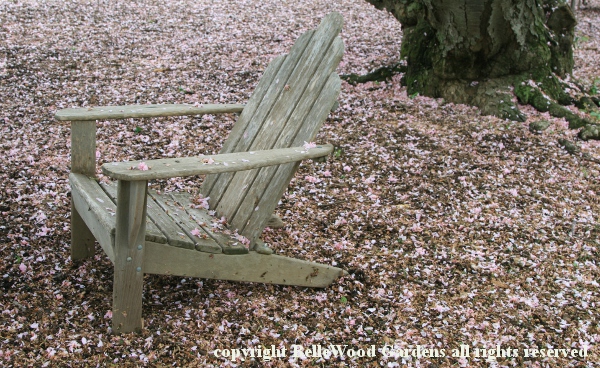 In Japan, it is the very fragility, the ephemeral nature of
cherry blossoms that is cherished and appreciated.
The seasons turn in their cycle and we must wait until a flower's time comes again. Pressed, dried flowers are flattened from their living form, and also fade to monotones of beige and brown. How to preserve their beauty?
Some years ago I curated an exhibition in the William D. Rondina and Giovanni Foroni LoFaro Gallery at the LuEsther T. Mertz Library of the New York Botanical Garden on Buried Treasures: The Nature and Art of Bulbs. It was necessary for me to spend hour after hour in the rare book room, paging through historical volumes to find the images I wanted for the display. One book I knew I wanted to include was Carolus Clusius' Rariorum Plantarum Historia, published in 1601. I chose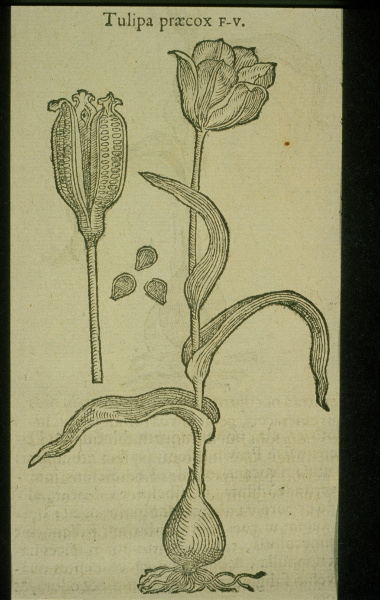 from Historium Rariorum Plantarum of Carolus Clusius
courtesy of the LuEster T. Mertz Library of the New York Botanical Garden
this woodcut illustration of a tulip. Notice that the illustration presents the growing tulip in two different seasons, both in spring flower and later in growth cycle, with enhanced seeds and pod to present details, and also its underground bulb. Since the early 17th century time frame is pre-Linnaean, it is identified merely as "very early tulip." From the original woodcut to a 35mm film image, then scanned.
I made a visit to the Netherlands to do research for The American Gardener's World of Bulbs, my first book about bulbs. The friend with whom I was staying took me to the Frans Hals Museum in Haarlem. Which is where I saw Judith Leyster's painting of De Vroege Brabantsson tulip. Upon my explanation, request, and payment of a modest fee, I received a 35mm image of her painting. Which also I subsequently had scanned.

courtesy of Frans Hals Museum, Haarlem, the Netherlands
De Vroege Brabantsson tulip, painting by Judith Leyster, 1643.
So many plants. Beautiful plants. Seasons turn and the flowers come and go in my own garden. I cannot grow everything. Some plants want it warmer / colder, wetter / drier, sunnier / shadier, different. Plants can be admired in pictures. Today, with smart phones, everyone is snap-shooting away. But a camera does not see what my eye / mind sees. An artist offers their impression, an interprtation of the flower. What is revealed, in display of the exquisite diversity of the natural world of plants. Come, let us explore.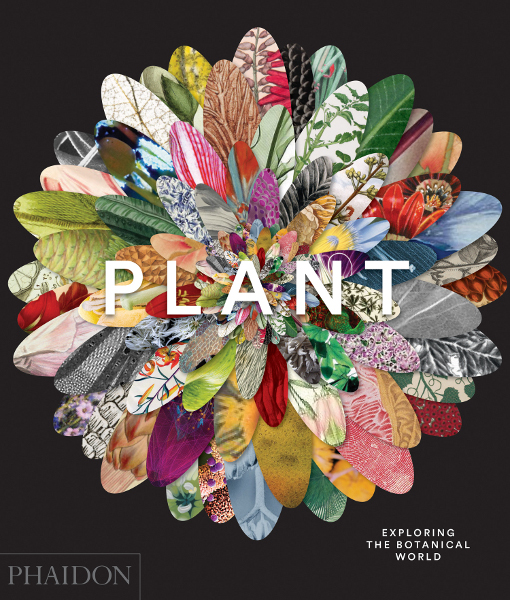 Excerpted from Plant: Exploring the Botanical World
Phaidon Press Ltd. Copyright 2016.
Exploring the botanical world through the pages of Plant
not only takes us to foreign shores but travels through time.
Somehow the Phaidon editors managed to cull the options and possibilities to a modest 300 artworks. Modest I say, tongue firmly in cheek, because they offer everything from watercolors and electron micrograph scans to copperplate engravings, close-up photographs, seed packets and stone carvings. It is a weighty book with 352 pages, each 11 3/8 by 9 7/8 inches, that demands a slow review. You need not go page by page. I found it delightful to skip about, never quite sure what familiar plant or unknow beauty might be revealed. Sit at a table as you turn the pages - this is not a book to flip through one handed.
Here are a few images to provide an inkling of the wide time span, artists prehaps known to you and others sure to be unfamiliar, each offering a glimpse of the breadth and depth of illustrations presented in Plant. Fascinated with the images I looked for further information about some of the artists.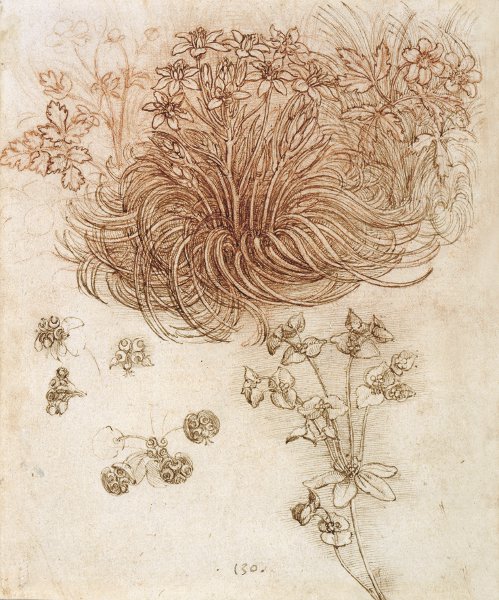 Excerpted from Plant: Exploring the Botanical World
Phaidon Press Ltd. Copyright 2016.
Leonardo da Vinci, Star of Bethlehem (Ornithogalum umbellatum), wood anemone (Anemone nemorosa) and sun spurge (Euphorbia helioscopia), c.1505-10, pen and ink with red chalk on paper, 19.8 × 16 cm, Royal Collection Trust, London. Picture credit: Royal Collection Trust © Her Majesty Queen Elizabeth II, 2016 / Bridgeman Images (Plant, page 223)
Nothing further need be said.
.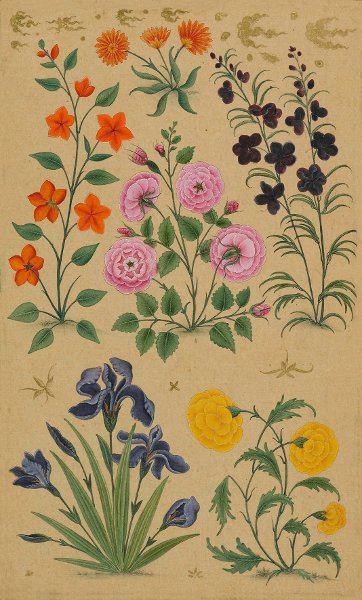 Excerpted from Plant: Exploring the Botanical World
Phaidon Press Ltd. Copyright 2016.
Mohammad Khan, page from Dara Shikoh Album, c.1633,
opaque watercolour and gold on paper, 16.9 × 10.1 cm, British Library, London.
Picture credit: public domain / British Library (Plant, page 262)
Mohammad Khan was the eldest son of emperor Shah Jahan, he of the Taj Mahal. The Dara Shikoh album is a collection of paintings and calligraphy Mohammad Khan assembled and gave to his beloved wife Nadira Banu Begum in 1641-42.
.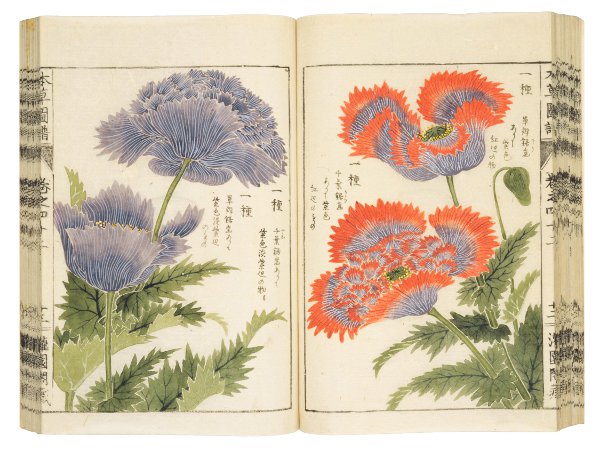 Excerpted from Plant: Exploring the Botanical World
Phaidon Press Ltd. Copyright 2016.
Iwasaki Tsunemasa, Papaver somniferum, from Honzō Zufu, 1920-22,
woodblock print and manuscript on paper, 26 × 33 cm, The National Diet Library, Tokyo.
Picture credit: Courtesy the National Diet Library, Japan (Plant, page 32)
Iwasaki Tsunemasa (1786 - 1842) was a Japanese botanist, zoologist, entemologist
who also happened to be a samurai in service to the Tokugawa Shogunate.
.

Excerpted from Plant: Exploring the Botanical World
Phaidon Press Ltd. Copyright 2016.
Pierre-Joseph Redouté, Rosa centifolia: Rosier à cent feuilles, 1820, hand-coloured stipple engraving, 23 × 32 cm, Lindley Library, Royal Horticultural Society, London.
Picture credit: The Art Archive / Eileen Tweedy (Plant, page 10)
While he did paint other plants what everyone remembers is Redouté and roses.
.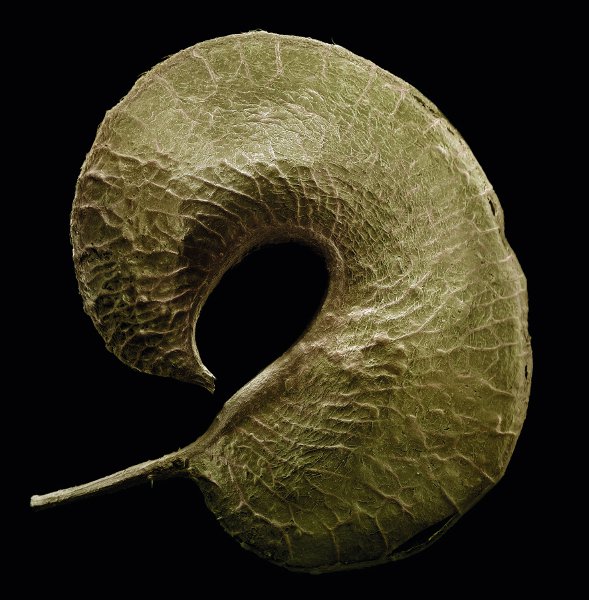 Excerpted from Plant: Exploring the Botanical World
Phaidon Press Ltd. Copyright 2016.

Albert Lleal Moya, Fruit of moon trefoil (Medicago arborea), 2013,
photograph, 35 × 35.5 cm, private collection.
Picture credit: Cultura RM Exclusive/Albert Lleal Moya/Getty Images (Plant, page 119)

From his web site: "Perhaps because I grew up on an urban area, curiosity taught me to discover wildlife under flowerpots and large oceans in a drop of water."

.

Have I caught your attention? I certainly hope so. This book will not offer suggestions on what to grow or how to cultivate it. It is intended to share the wonderful world of plants, the awe and passion people have found in the botanical world. This is a book of exploration to which you and I can return again and again.

Published by Phaidon Press Ltd. 2016
ISBN: 978-0-7148-7148-6, Hardcover, $59.95

A review copy of this book was provided by the publisher.
---
Back to Top
---
Back to Book Reviews 2017
---
Back to June 2017
---
Back to the main Diary Page