Garden Diary - September 2017
---
If you have any comments, observations, or questions about what you read here, remember you can always Contact Me
All content included on this site such as text, graphics and images is protected by U.S and international copyright law.
The compilation of all content on this site is the exclusive property of the site copyright holder.
---
September
---
Open Days - Bird Haven Farm
Saturday, 9 September 2017
---
Plans changed. It was supposed to be like this - this weekend is the Garden State Sheep Breeders annual sheep and fiber show. I have something planned for Sunday, would attend on Saturday, meeting two friends there. But Saturday is also the Garden Conservancy's Open Days for this part of New Jersey. So I would go to one garden in the morning, and get to the sheep and fiber show right at midday. Sounds good, right? Except my infuriating GPS calmly claimed "No Match Found" when I input the garden's address. Decided to drive to the general area and see what might happen.
Aha! Came to one of the yellow "Open Garden" signs. Followed the arrows as the signs appeared at road junctions. And came to a garden. Except it wasn't the one out of half a dozen that I has intended to visit. But since I was here, of course I would visit. Serendipity is a wonderful thing. As it turned out I very much enjoyed my unplanned visit to Bird Haven Farm.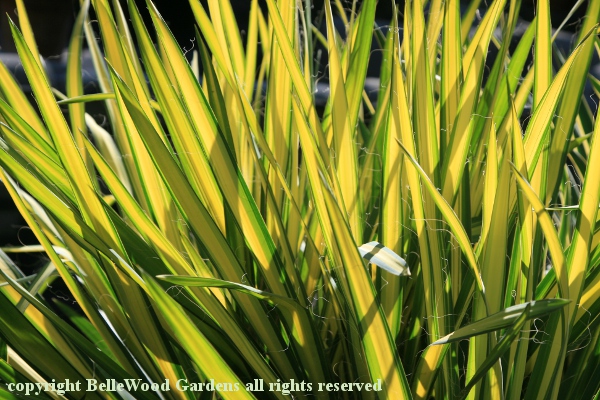 Sun streams through the sky, tempered by some puffy clouds and
moderated by gentle breezes. It transilluminates Yucca 'Golden Sword'.
Stone is used throughout the garden, some in formal walls and
others rough, as this rustic wall to supporting the change in grade.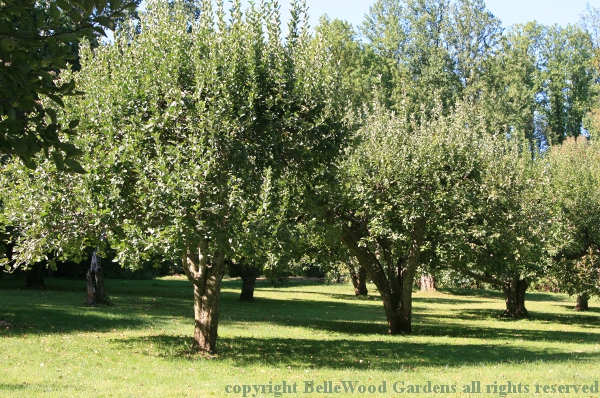 Continuing around the house to the right I reach the Upper Orchard.
The trees are heavily laden with apples.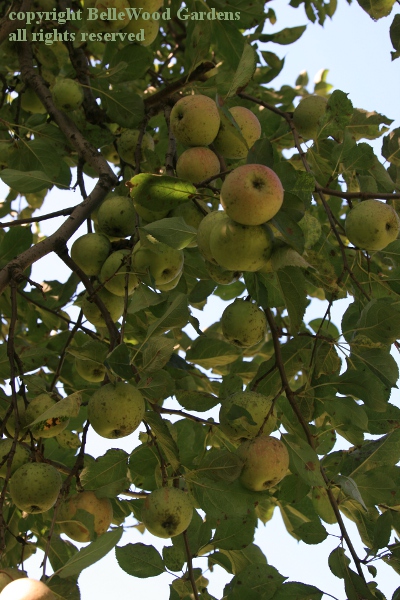 .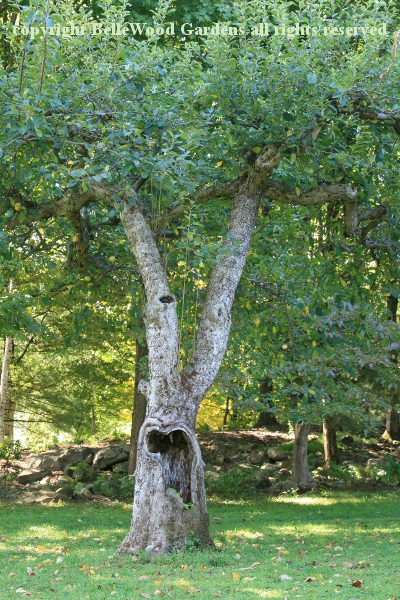 They are old trees, respected not just for their fruit
but for the character they provide to the landscape.
Reaching the far end of this orchard I find some peach trees. With hard green fruit still on them. But it is so late in the season, how can this be? They are 'Iron Mountain', an heirloom variety listed by the American Pomological Society in 1909. There's not much information on-line but what I did find informs me that this freestone peach, native to New Jersey, has pale green skin and greenish white flesh. It is said to be a bit dry, but incredibly sweet in a good year, and excellent for cooking. It matures in early October, very late for a peach. Fascinating! And beyond the peaches are some dwarf 'Pink Pearl' apples, and berry bushes.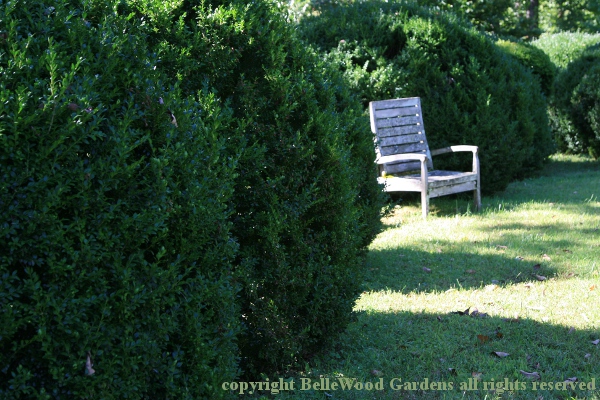 Up a slight rise are some billowing mounds of boxwood in curving
lines. Gray, lichen speckled, mismatched chairs, a bench, and table.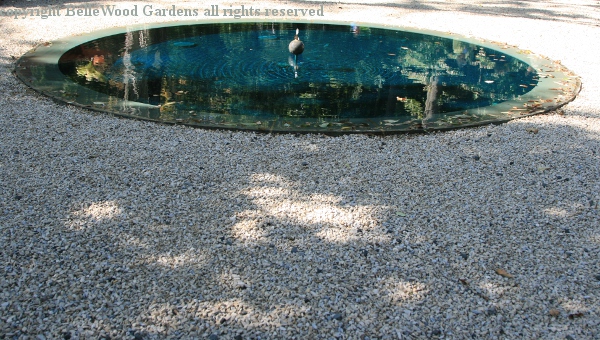 Cross back, past the orchard, now heading towards the houses.
There is a large gravel forecourt / terrace with a shallow pool,
a simple spill of water creating ripples in the blue-green surface.
A pair of curving stone walls lead in to the vegetable garden.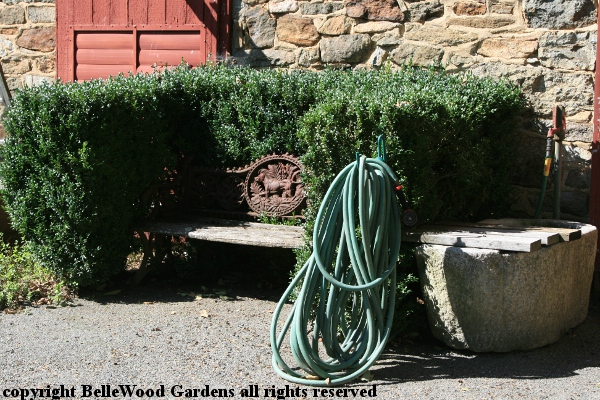 Still life, with magnificent stone trough, bench, hose. And boxwood.
More than a mere potager, the vegetable garden
includes plants grown for their beauty,
such as Gossypium herbaceum 'Nigrum'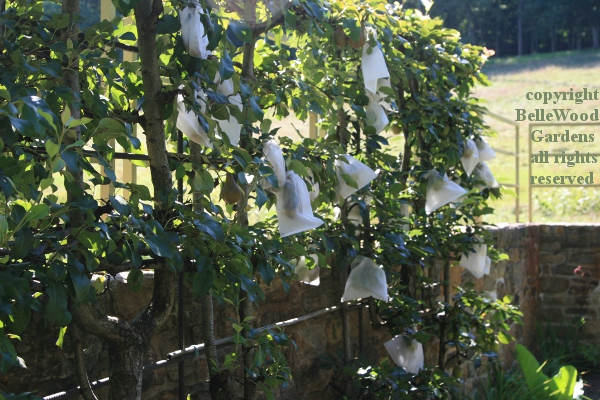 Espalliered pear trees are framed along the garden wall,
the ripening pears carefully bagged for protection from
birds and shield bugs that would damage the fruit.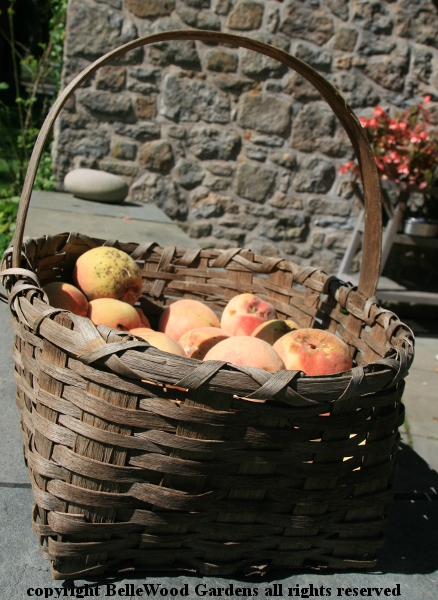 A basket of peaches.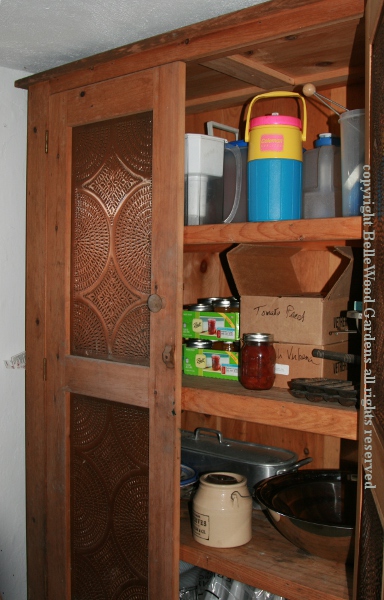 With all this largess - apples, pears, peaches, berries -
summer is saved in a jar. There is a jam cupboard
inside the stone spring house at the terrace edge.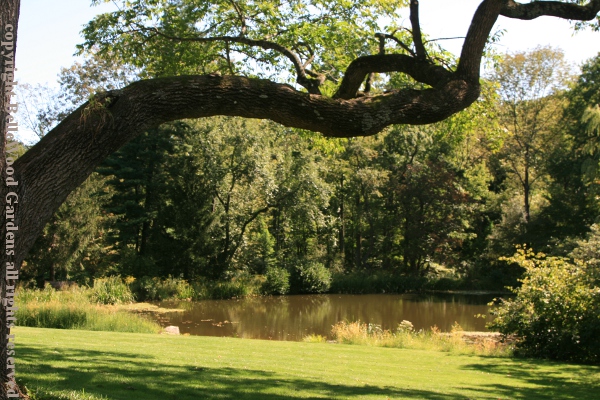 There's more to Bird Haven Garden I did not get to explore: a rustic gazebo off in the woods, a bog garden, a lower orchard. Perhaps, next year, the garden will be open again. And I will come for an intentional visit, and not a serendipitous, unanticipated, delightfully accidental one (but sometimes, sometimes those are the best.)
---
Back to September 2017
---
Back to the main Diary Page