.
Garden Diary - February 2017
---
If you have any comments, observations, or questions about what you read here, remember you can always Contact Me
All content included on this site such as text, graphics and images is protected by U.S and international copyright law.
The compilation of all content on this site is the exclusive property of the site copyright holder.
---
February
---
Orchids at the New York Botanical Garden
Thursday, 16 February 2017
---
The same, yet different. That's this year's orchid show at the New York Botanical Garden. Fifteen years of a late winter orchid exhibition provides the "sameness" while Thailand, this year's theme, is the difference. What a splendid choice: Thailand is home to 1,200 native orchid species and for more than a century has been a leading hybridizer / producer of cultivated orchids for export.
There's still some snow in shady corners along the walk from the parking lot. Up the steps to the Enid Haupt Conservatory's grand entrance. In to the Palm Court . . .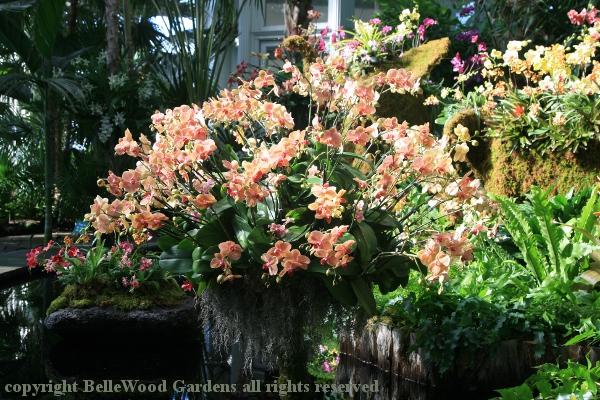 and the reflecting pool mirrors a riot of orchids in bloom.
Two topiary elephants sport howdah-like displays of orchids.
(The Thai elephant is the nation's official national symbol.)
Mossy elephant, stuffed with sphagnum.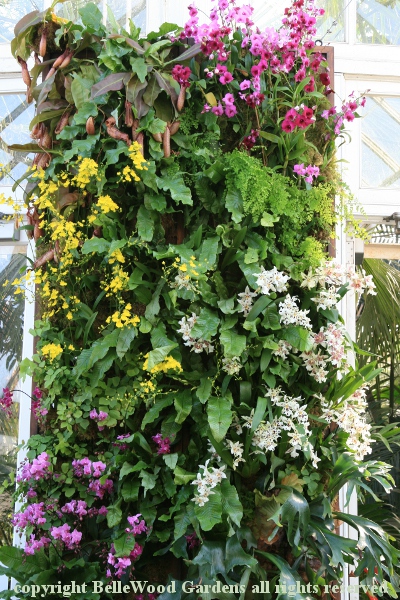 A tapestry of orchids and ferns fills the space between
the Seasonal Exhibition Galleries two entry doors.
I scarcely notice though because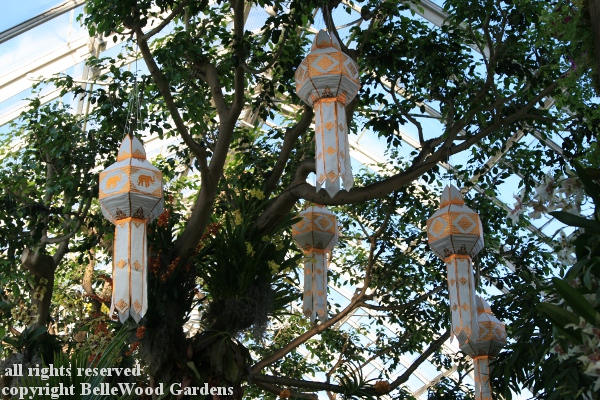 I am fascinated by the fortunate 9 lanterns suspended overhead in a tree.
See their gold elephants. These lanterns have electric lights, not candles.
Odd numbers because (other than 13) they are auspicious, 9 very much so.
Stroll down the central walkway only to be stopped again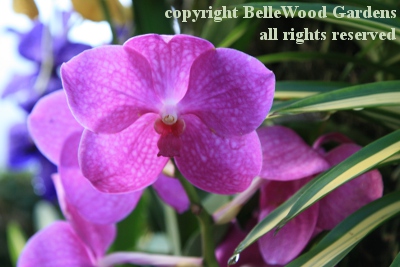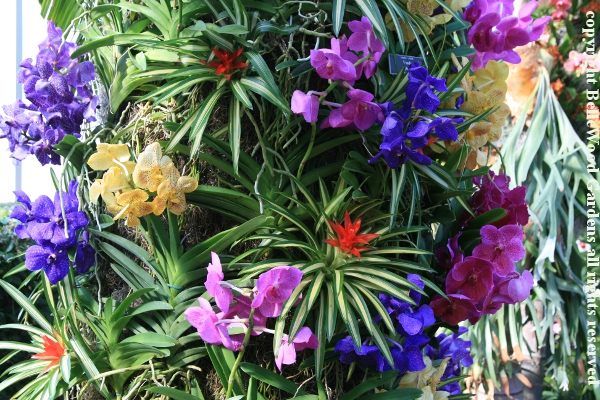 by stunning display of vanda orchids. Such flamboyant color!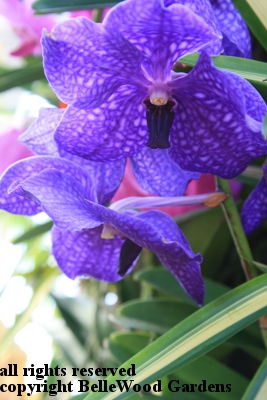 .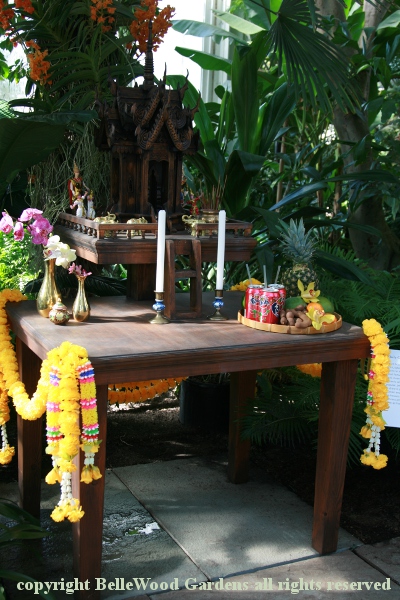 Traditional to Thai gardens, there are two spirit houses
as part of the display. Raised on a platform or column and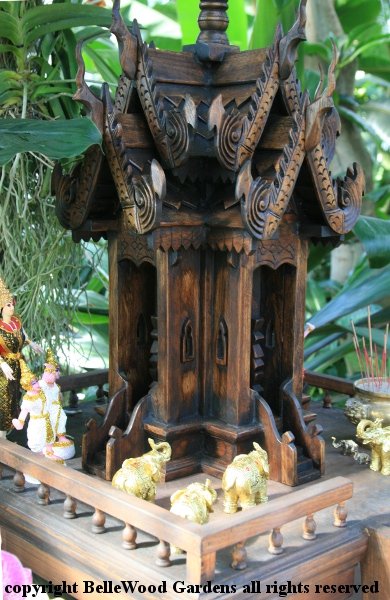 typically made of wood, a spirit house looks like a miniature temple.
It is for the use of the phra phum, the spirit of the land,
who was there before people came.
votive offerings to assuage the spirit of the land are made every morning. Flowers, food, and drinks, and also little figurines representing servants, dancers, elephants. Dancers to entertain him, elephants to transport him. What shall I leave for the spirit of place . . . some pocket change and a whispered wish for Spring's arrival.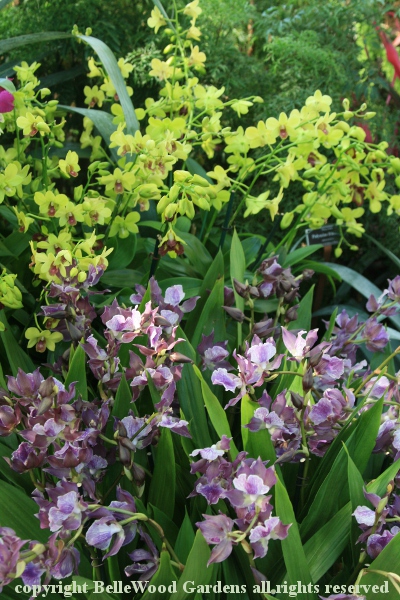 They can do strange things when breeding orchids. For example: xZygonisia Cynosure 'Blue Bird' has Aganisia cyanea and Zygopetalum Skippy Ku as parents. Whatever. Beautiful color.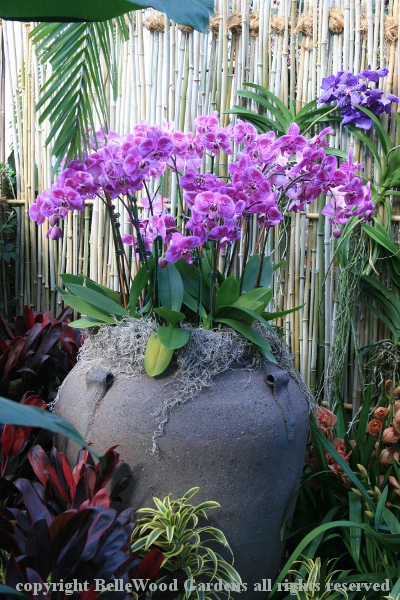 An large pottery urn, as might be found in a Thai garden, surmounted by phalanopsis orchids and backed with a simple three by three pattern woven bamboo fence.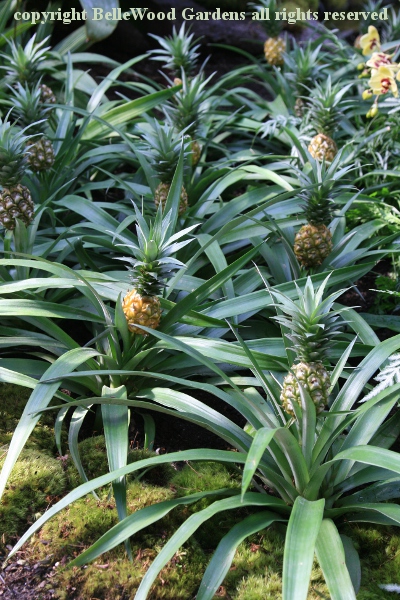 Overlooked on my first walk through, noticed on my second.
A field of miniature pineapple plants. So charming.
And everywhere beautiful orchids in colors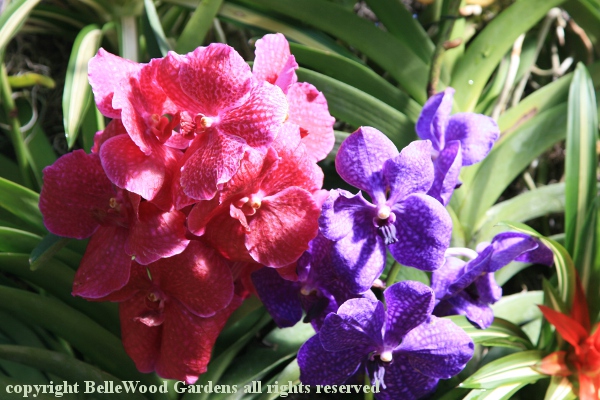 intense and vivid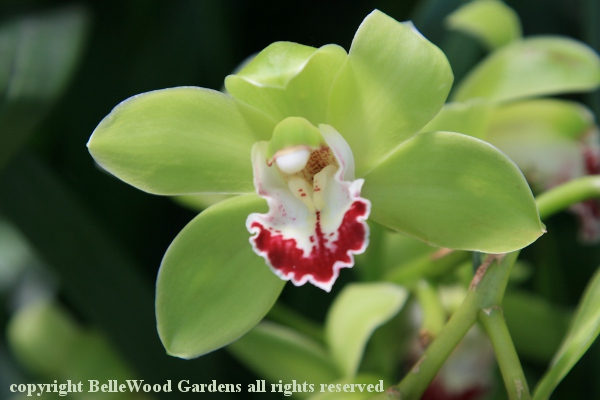 soft and subtle Cymbidium Lovely Valley 'Peace in the World'.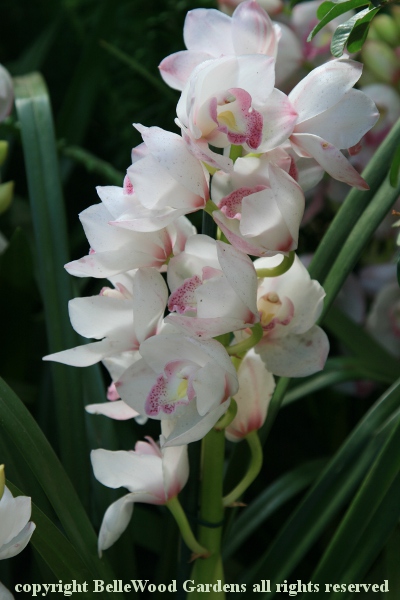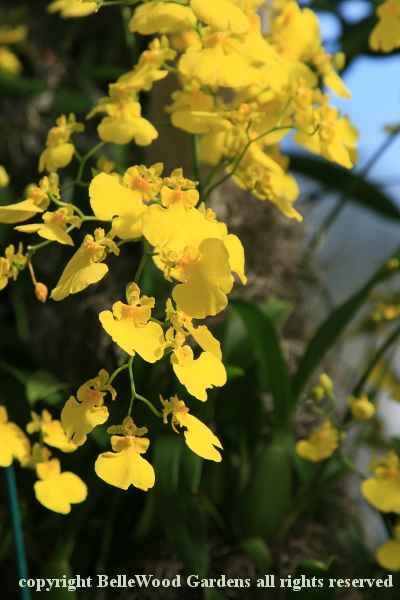 sunny and bright xOncidesa Sweet Sugar 'Lemon Drop'
.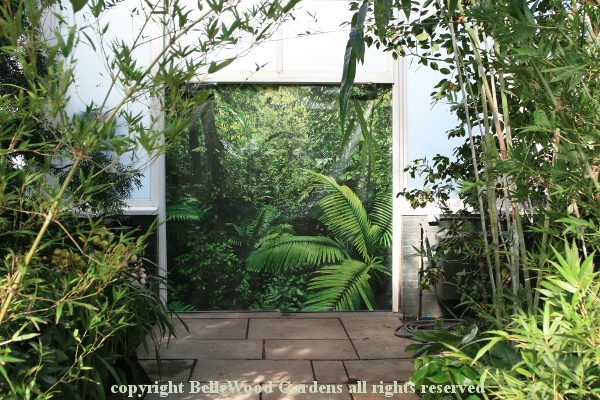 It seems that the jungle goes on and on. Have they enlarged
the Conservatory? No. It is a mural over the pair of doors
that lead outside. It was decided that the white doors were boring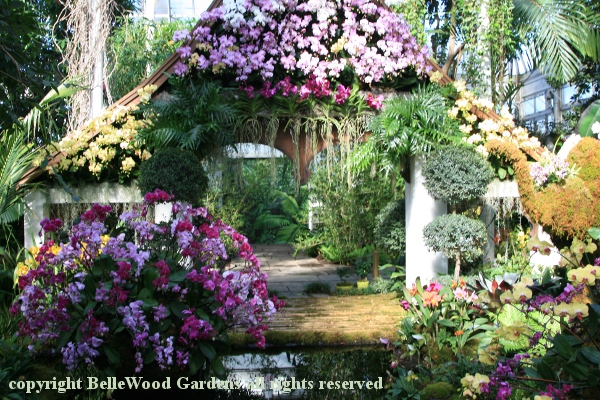 and would spoil the distant view through the pavilion's façade.
The structure, called sala in Thai , is used as a meeting place.
Though open on all sides, it protects people from sun and rain.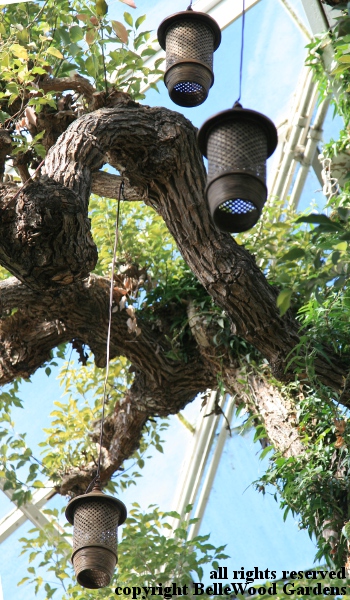 Nine more khom loi, sky lanterns, symbolically
bring good luck as they carry away bad fortune.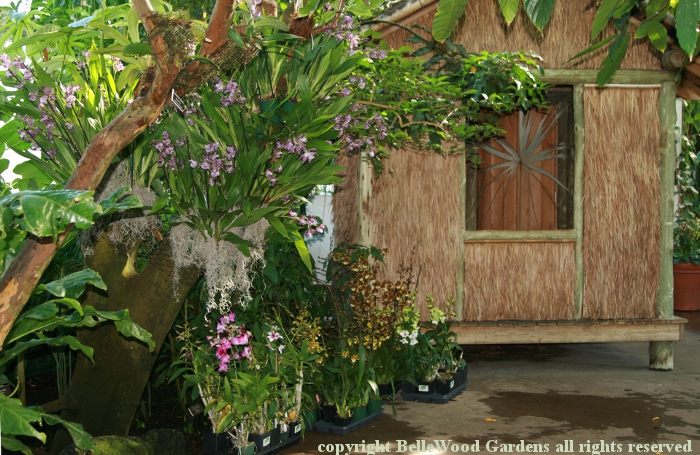 And in the permanent collections, in the galleries across the Palm Court, there are more orchids interspersed with tropical trees and shrubs and perennials. Pots of orchids near a thatched hut, awaiting installation.
Today is the media preview, tomorrow is members day, and the public viewings begin on Saturday, 18 February and continue until 9 April 2017. There are weekday show tours, weekend roaming guides. Orchid evenings (just imagine the khom loi softly glowing). Dance performances. Film screenings.
After visiting you are now enraptured with orchids? The Shop in the Garden has an orchid display of its own - only these are all for sale. Orchid expert Q&A also in the Shop, on Saturdays and Sundays from 1:30 to 4:30 p.m. Orchid care demonstrations on Saturdays and Sundays at 2:30 and 3:30 p.m. in the Conservatory GreenSchool area.
All-Garden Pass tickets start at $20 for adults and $10 for children 2 to 12, and differ during certain peak times and weekends. The Garden strongly recommends advance timed tickets, which are available here The Garden can be reached by car, and there is a Metro-North Railroad stop just across from the Garden.
Back to Top
---
Back to February 2017
---
Back to the main Diary Page