.
Garden Diary - November 2017
---
If you have any comments, observations, or questions about what you read here, remember you can always Contact Me
All content included on this site such as text, graphics and images is protected by U.S and international copyright law.
The compilation of all content on this site is the exclusive property of the site copyright holder.
---
November
---
Press Preview for the Holiday Train Show at the New York Botanical Garden
Monday, 20 November 2017
I know I say this every year, but this year's holiday train show at the New York Botanical Garden is superlative. Paul Busse and his crew from Applied Imagination have done another wonderful job. Every year there are a few new buildings, some tweaks and embellishments. What makes this year so terrific is the placement of structures old and new. For example, museums are grouped together rather than scattered about. The same for Central Park.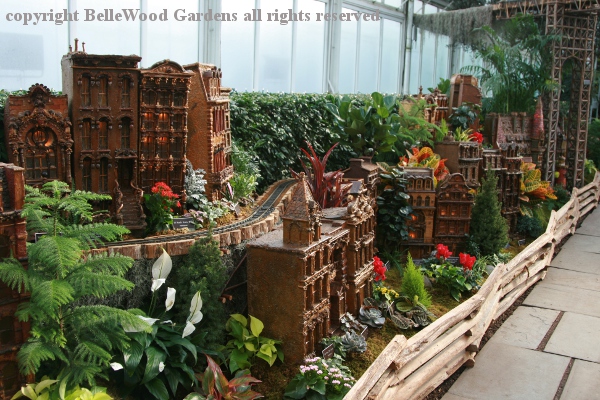 A wonderful "neighborhood" of row houses lining
the display gallery's central flagged walkway.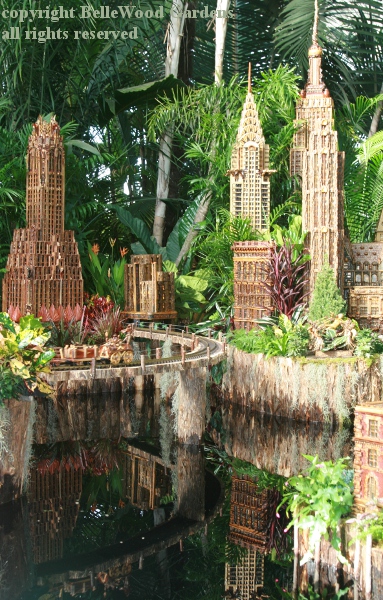 Iconic New York buildings are now reflected
in the dark waters of the Palm Court Pool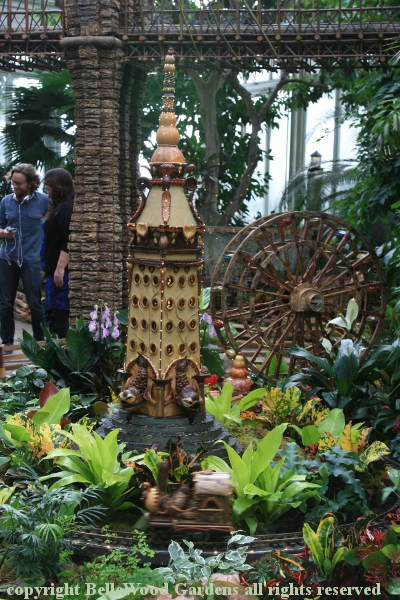 while Coney Island has taken its former place under
the large dome of the seasonal gallery display space.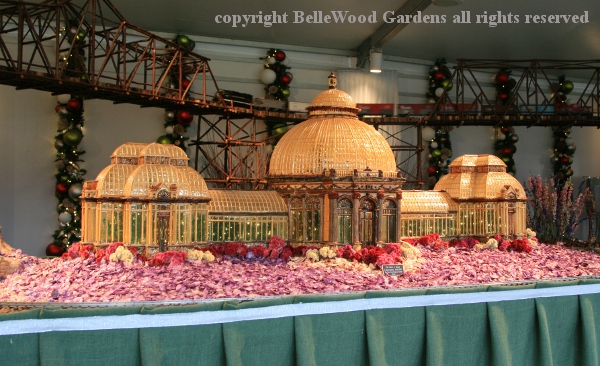 How fractal, to be inside the Enid Haupt Conservatory and
also look at the conservatory in the holiday train show.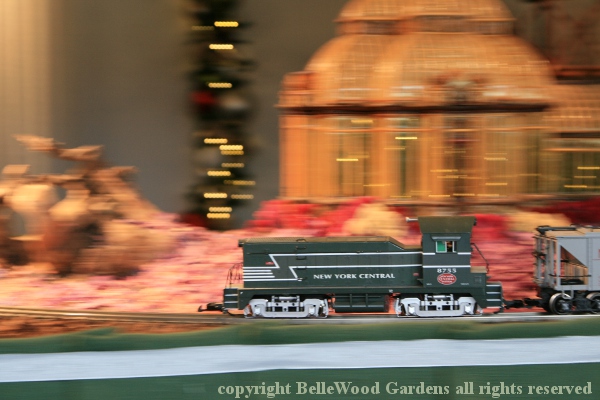 I think there are even more trains this year than previously
with the haunting sounds of train whistles as they clack
on tracks, some at ground level, others elevated, or high on bridges.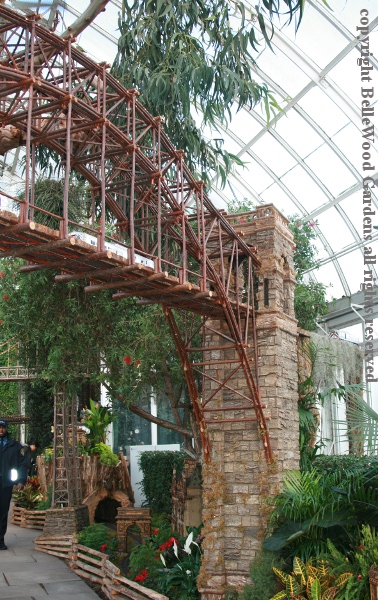 Hell's Gate Bridge, new this year. The train show bridge, that is. Opened in 1916 and originally named the New York Connecting Railroad Bridge or The East River Arch Bridge, it is a 1,017-foot steel through arch railroad bridge crossing the East River connecting Queens to Randall's Island.
Built in 1907 at Fifth Avenue and 77th Street
in Manhattan, Senator William Andrews Clark's
mansion was, for some reason, demolished in 1927.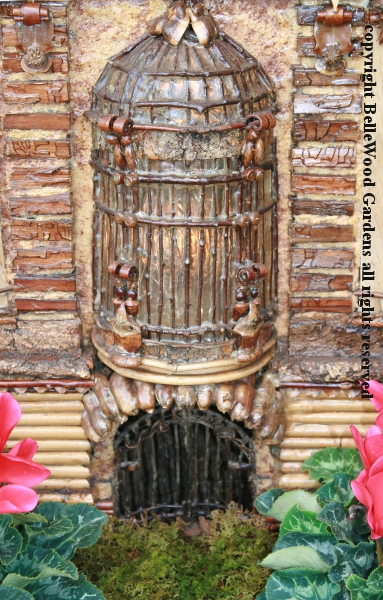 The closer you look, the more intricate the details.
Charmingly rustic, this is the Swedish Cottage Marionette Theater in Central Park, built in 1876. And on Tuesday, November 22, children can come here to see "The Three Bears Holiday Bash" - a variety show with puppetry, music, and dance. There will be two performances , at 10:30 and 11:30 a.m. [$8 children, $12 adults]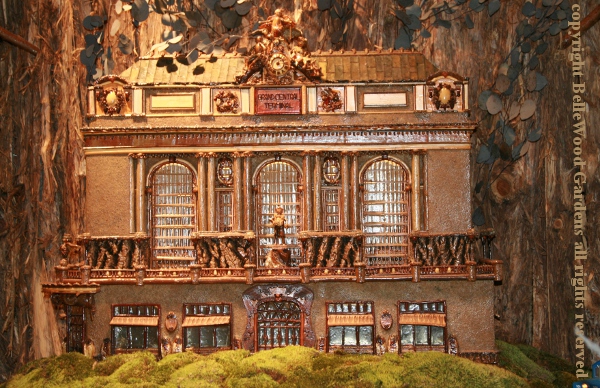 Grand Central Station.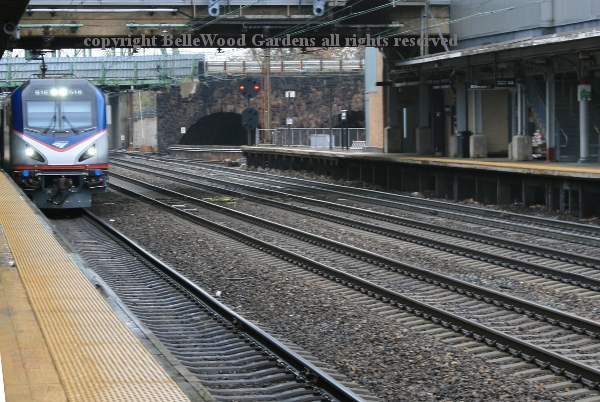 Update: Paul and I took Amtrak from Trenton, New Jersey to
Massachusetts for Thanksgiving this year. And I learned that
Northeast Corridor passenger trains cross the East River on
the Hell's Gate Bridge!
For those of you in the New York City area, do make a visit to the holiday train show.
Open November 22, 2017 through January 15, 2018, The New York Botanical Garden is open Tuesday through Sunday, and Monday, December 11 & 18, and January 1 & 15, 10:00 a.m. to 6:00 p.m.
with extended Saturday hours until 7:00 p.m. November 25-January 13, Friday, November 24 and December 26-December 30.
The Garden is closed all day on November 23 for Thanksgiving, and December 25 for Christmas, closing at 2:00 p.m. on November 29, and 3:00 p.m. on December 15 & 24.
All-Garden Pass tickets start at $23 for adults and $10 for children ages 2-12) and differ during certain peak times and weekends. Advance timed tickets are strongly recommended and are available tickets on-line or look here for more information. You can arrive by car or take Metro-North which has a stop right across the street from The Gardens.
All Aboard for the holiday train show. You'll be glad that you did.
---
It's Coming - The Holiday Train Show at the New York Botanical Garden
Thursday, 16 November 2017
Intimations of the holiday season. No, I'm not referring to the artificial Christmas trees that have been invading the big box stores beginning around Halloween. Much more welcome is the return of the holiday train show at the New York Botanical Garden. Opening on Wednesday, 22 November 2017 through Monday, 5 January 2018, fantasy and magic return with G-scale trains zipping around on close to half a mile of track, passing 150 fantastical models of New York City buildings made from seeds and pods and cones, leaves and twigs, mushrooms and more. Old favorites - Grand Central Terminal, the original Yankee Stadium, and new renditions of the Empire State Building (now with changing internal lighting schemes), the Chrysler Building, and a new replica of the General Electric Building, in addition to a replica of St. Bartholomew's Church.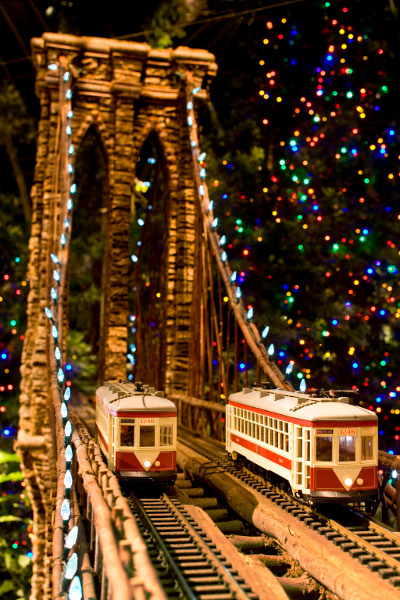 Robert Benson Photography
image courtesy of the New York Botanical Garden
Familiar bridges, substantial enough for people to walk beneath.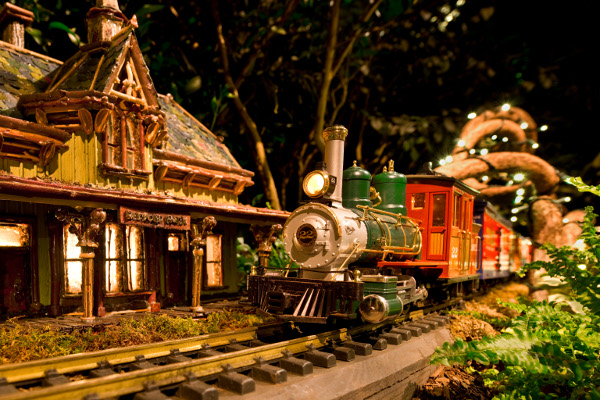 Robert Benson Photography
image courtesy of the New York Botanical Garden
The trains will soon be pulling out of the station. Make your plans
and order tickets on-line. It's a wonderful event for all ages.
---
Back to Top
---
Back to November 2017
---
Back to the main Diary Page