.
Garden Diary - December 2017
---
If you have any comments, observations, or questions about what you read here, remember you can always Contact Me
All content included on this site such as text, graphics and images is protected by U.S and international copyright law.
The compilation of all content on this site is the exclusive property of the site copyright holder.
---
December
---
Gifts for Gardeners: A Calendar, Daily Planner, Garden Journal reviewed
Friday, 15 December 2017
---
How good is your memory? Mine is variable - I know it rained but just when and how much is guesswork. The snowdrops were in bloom early last Spring, but when exactly was that? Know I meant to plant more daffodils this fall but don't recall just where and what variety. The answer is - put it in writing. Stray scraps of paper flutter away, become lost. Better is to make a habit of daily entries. And the easier it is to do this, the more likely you are to follow through. Here are three options for the gardener on your gift list, and for you.
Easiest of all is a calendar. Select one with large units for each day so there's room to write down the necessary information.You'll want to jot down a brief mention of the day's weather, perhaps what's in bloom, and new purchases for the garden. A calendar can be an aide memoir too, page ahead and pencil in reminders to fertilize specific plants, order seeds for the vegetable garden, bulbs for fall planting.
Any calendar would work, but motorcycles or little puppies aren't quite the thing
for a gardener. Instead, how about
the 2018 eponymously named Foraging and Feasting calendar
from the two who gave us the book. A wall calendar,

each month has a full color botanical illustration, well labeled
with informative details, text describing habitat, and culinary uses.
Published by Botanical Arts Press, LLC. Accord, NY 121404.
Copies may be ordered from www.BotanicalArtsPress.com
Price $15.95. Also available on-line from the usual vendors.
Maybe there's no wall space, and you want something close to hand. Apparently your desk is neater than mine, so a daily planner remains accessible rather than buried under more recent arrivals. Let me recommend Floret Farm's Cut Flower Garden Daily Planner.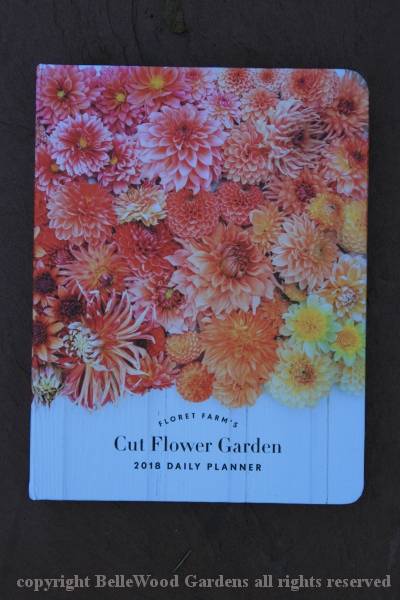 Each week has a two page spread: four days on the left, three on the right, and space for notes.. Spiral bound, that means it opens and lays flat. Each month starts with an illustration of a bouquet or flowers from their book. Next, a page listing garden activities - paired columns: one for mild climates and another for cold climates. At the bottom of the page is space for you to write in important things to do. The planner finishes with three pages where you may write thoughts, comments, observations for the year in review. List price under $20.
.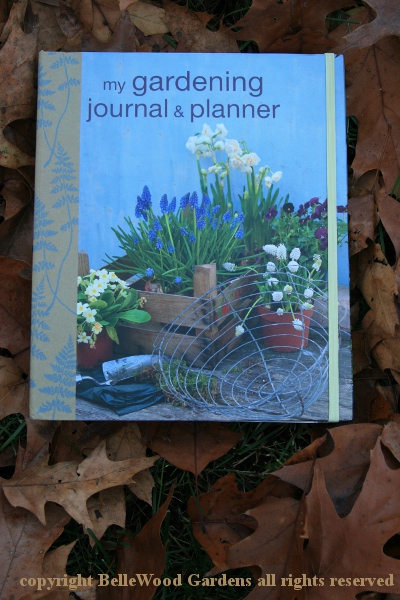 Moving up another level is "My Gardening Journal & Planner" a personal organizer from Cico Books. Divided into six tabbed sections: flowering plants, trees and shrubs, vegetables, fruits, herbs, and getting organized, there's space on each page to write down information that's helpful to remember. And each section divider has a file pocket where you could tuck in . . . receipts, labels, empty seed packets. For flowering plants this is the plant's name; variety planted; seeds sown, germination period, and planted out; location; comments. Each sections finishes with one or more note pages. Getting organized has a monthly calendar with week one, week two, etc for more notes specific to your garden needs and interests. At the end is space for names and addresses to add useful contact details and favorite suppliers and / or garden centers. Available on-line for just under $20.
Get a gift for yourself, or for the gardener in your family. But remember, as attractive as each of these items happen to be - calendar, daily planner, journal - they are only as useful as the specifics that the gardener adds to them.
Review copies for these items were provided by the publishers
---
Back to Top
---
Back to December 2017
---
Back to the main Diary Page