Garden Diary - September 2017
---
If you have any comments, observations, or questions about what you read here, remember you can always Contact Me
All content included on this site such as text, graphics and images is protected by U.S and international copyright law.
The compilation of all content on this site is the exclusive property of the site copyright holder.
---
September
---
Garden State Sheep Breeders Sheep and Fiber Festival
Saturday, 9 September 2017
---
There's something for everyone at the Garden State Sheep Breeders 23rd Annual Sheep & Fiber festival. There are breed competitions, some earning points on the national level. A junior showmanship class for children up to 8 years old. The shepherd's lead, where competitors wear something they knit / crocheted / wove / felted, with extra points if the animal you lead is the one who provided the fleece. A fleece show, a skein show. Sheep dog herding demonstrations. Sheep shearing demonstration. And more yarn that you could ever have imagined, barns full of yarn.
So whatever your interests there's something to inform / amuse / entertain you whether you like sheep, something to share with the younger family members, enjoy learning about the farming life, or want to add to your yarn stash.
I arrive just in time for the judging of the Jacob sheep ram lamb
competition. An ancient breed thought to have originated in
Syria about 3,000 years ago, Jacobs have random patches,
color on white. Both ewes and rams have two or four horns.
There are breed exhibitors in Barn 1. They display a couple of their breed's sheep, have an informational display with text, fleece, yarn, and someone patiently answering questions.
For example, here's a basket of Jacob fleece,
at the Swayze Inn Farm display.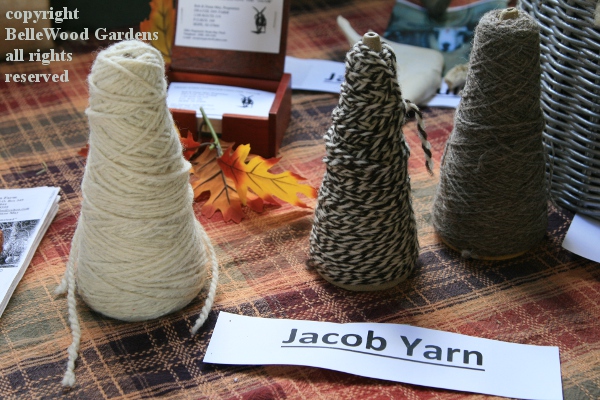 Cones of spun Jacob yarn, exhibiting single color and tweed.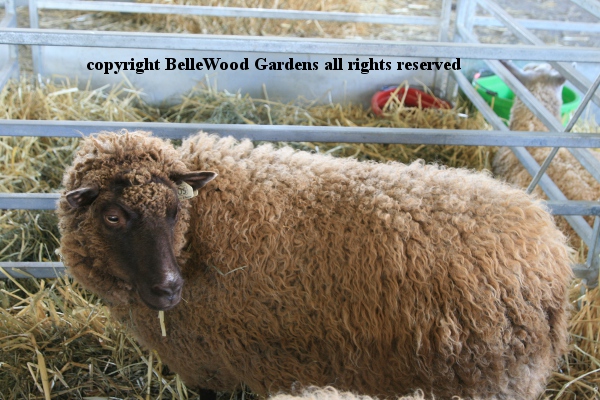 There are sheep, so many breeds of sheep. I especially liked
this Shetland ewe. She has a sweet face. Full disclosure -
she is from a neighbor's flock of very lovely wool sheep.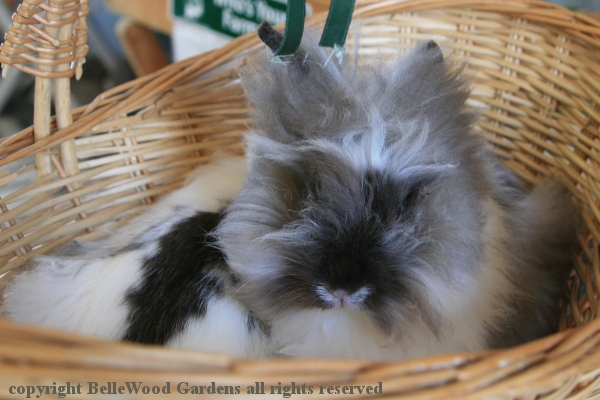 A young rabbit in this basket, an angora rabbit. Actually, there are
two in here. A vendor of angora yarn has them to see, touch. And sell.
But before we get to yarn, the sheep must be sheared. (After which
the fleece must be skirted, cleaned, combed, and spun. Another story.)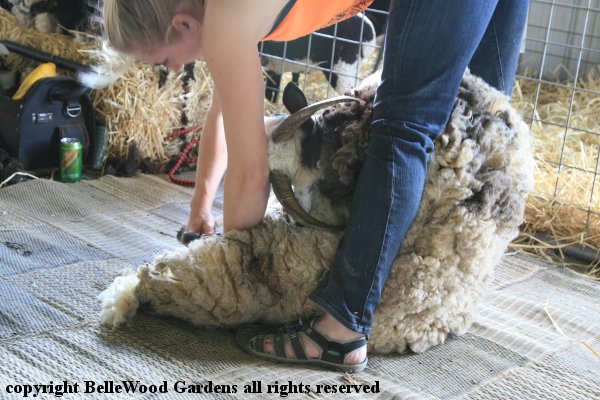 Christine is a professional sheep shearer. Travels from farm to farm,
shearing sheep. Most she does in one day is 90, but that's exhausting.
She flips this Jacob over on its backside and gets to work, clippers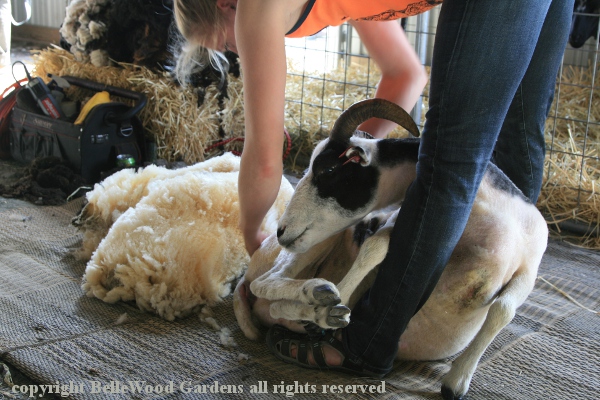 buzzing away. And in just 7 minutes he's clipped and she's done.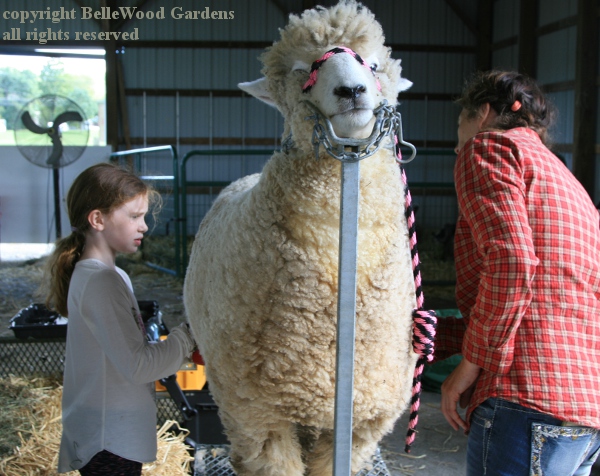 Shearing for the show ring is different. For one thing, the sheep
goes in a fitting stand, head fastened in a cradle. Clipping is done
by hand, with sheep shears. (I use them in the garden, on weeds.)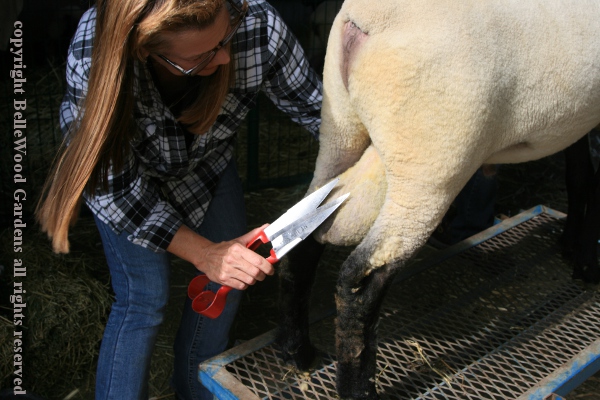 I guess the sheep become accustomed to it. But all the men
who were watching this one seemed to wince as she was
tidying up fuzzy bits on the ram's testicles with those sharp
pointy clippers. Steady hands, concentration, quiet ram.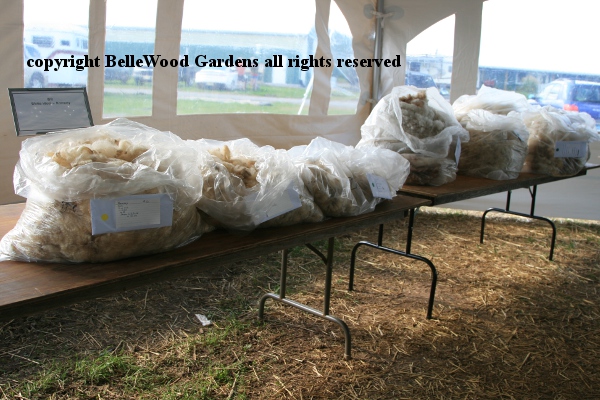 There's a competitive class for fleece - breed, color, crimp. Some
are just for show, other fleece may be for both show and sale.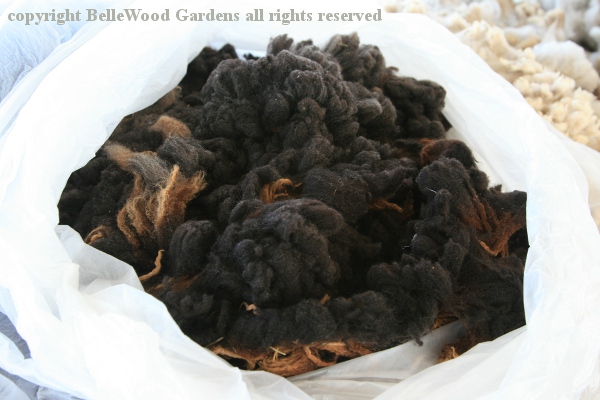 Here's a CVM (that's short for California Variegated Mutant) Romeldale
fleece. Took the blue ribbon for its section. Weighed 5.5 pounds,
and is for sale for $77. The honey brown locks are sun bleached.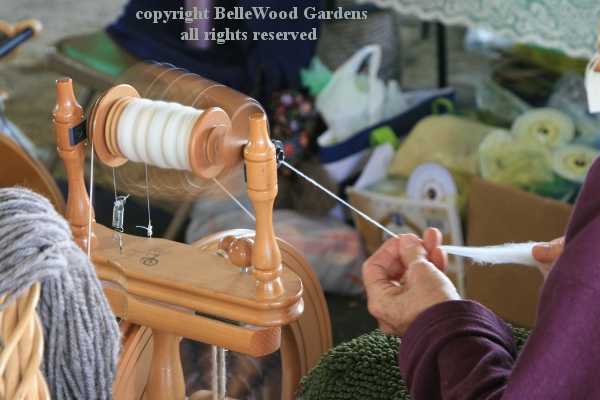 The North County Spinners have ongoing weaving demonstrations
on both days. They are sponsoring a skein contest also.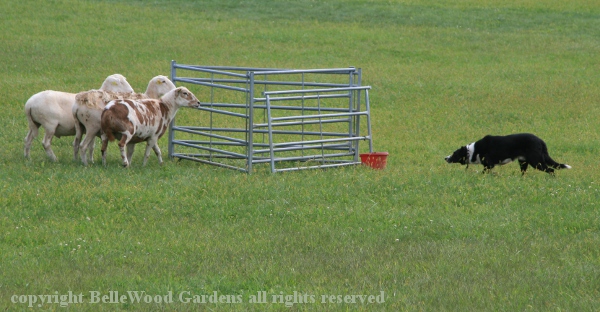 As well, sheep dog herding demonstrations three times a day.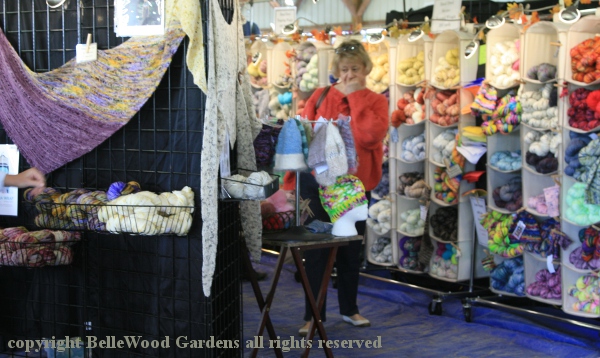 So much yarn - she looks bemused. Small wonder - there are 86 vendors,
both local and anywhere from Maine and Massachusetts down to Maryland.
Just remember SABLE - Stash Acquisition Beyond Life Expectancy. Only
too much is enough when it comes to knitters and their yarn acquisitions!
Visiting gardens this morning I saw this terra cotta urn at Jardin de Buis.
Small wonder that sheep and goats inspire artists, while their fleece
inspire spinners, becomes yarn for knitters and crocheters to create.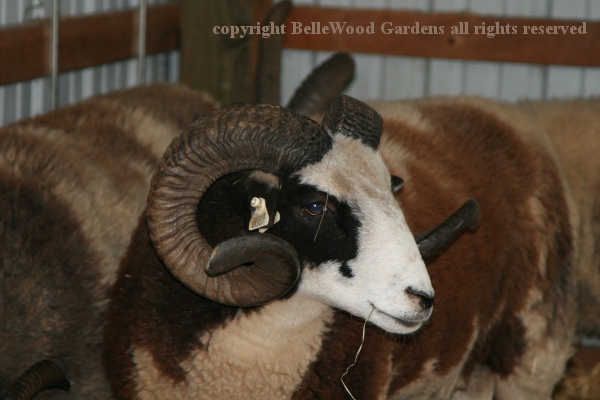 This afternoon it is the real deal, with living creatures such as
this handsome Jacob sheep ram with spiraling, curling horns.
An excellent afternoon at the Garden State Sheep Breeders Sheep and Fiber Festival.
---
Back to September 2017
---
Back to the main Diary Page