.
Garden Diary - April 2017
---
If you have any comments, observations, or questions about what you read here, remember you can always Contact Me
All content included on this site such as text, graphics and images is protected by U.S and international copyright law.
The compilation of all content on this site is the exclusive property of the site copyright holder.
---
April
---
Garden Writers Region II DuPont Triple Play
Mt Cuba Center - Plant Trials
Friday, 28 April 2017
---
It's the last Friday in April and feels warm enough for August. Forty-five Garden Writers Association members (from as far afield Georgia and Tennessee - they probably think the weather is fine) have registered for the Region II DuPont Triple Play event. We're going to Nemours, Mt Cuba Center, and Winterthur in Delaware, three estates of DuPont families now open to the public.
Opened to general admission back in 2013, Mt Cuba is a garden filled with delightful plants of native origin. Their focus: the study of the Piedmont flora and promoting the use of native plants by home gardeners. Since 1988 their Plant Introduction Program has brought such outstanding selections as Solidago sphacelata 'Golden Fleece' introduced in 1989, Symphyotrichum laeve var. laeve 'Bluebird' (formerly Aster laevis) introduced in 1994, and Symphyotrichum novae-angliae 'Purple Dome' (formerly Aster novae-angliae) introduced in 1989, three plants popular even with gardeners who might neither know nor care about their native origins.
Plant trials have been conducted on asters, echinacea, monarda, baptisia, coreopsis both annual and perennial, and heuchera. A trial for helenium is just beginning. Upcoming will be another study on echinacea, as it is felt that there are distinct changes in currently available cultivars since the original trial that began a decade ago.
Their statement: "We conduct research on native plants, evaluating them for beauty, ecological benefits, and pest resistance. Species and cultivars of a selected plant are grown side-by-side, allowing our researchers to develop unbiased results and highlight plants best suited for the mid-Atlantic region. The Trial Garden is maintained with the home gardener in mind. Plants are watered as needed during the first year in order to get them established, but afterwards they are left on their own. Pesticides are not used unless there is a serious threat to the entire trial's survivability.
"Perennial plant trials usually run for a period of three years to ensure the plants experience a variety of weather conditions. It is our policy to replace dead plants after the first winter in order to compensate for poor establishment or initial plant quality. However, no replacements are made during subsequent years. Each taxa is evaluated weekly and assigned a rating based on a scale of 1-5 (see below). This rating takes into account many factors including habit, floral display, disease resistance, hardiness, and foliage quality. The average of theses weekly ratings is then used to calculate the final score displayed on this website."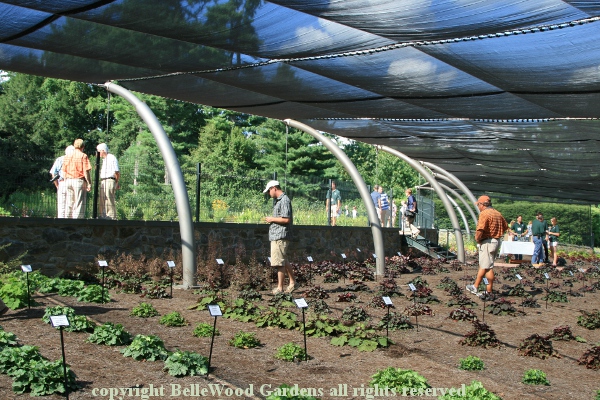 The trial garden has both full sun and shade house conditions. Here's an image from 2012 at the trial garden's opening, offering a good look at the structure of the shade house.
The three year study on phlox will conclude this year. This trial has a focus on 100 selections of the 7 considered most garden worthy. Native from Alaska to New Mexico, some such as Phlox paniculata have long been a popular garden perennial. I have used woodland phlox, both evergreen, spreading, P. stolonifera and wild sweet William, P. divaricata, for decades, in my gardens in Connecticut and here in New Jersey.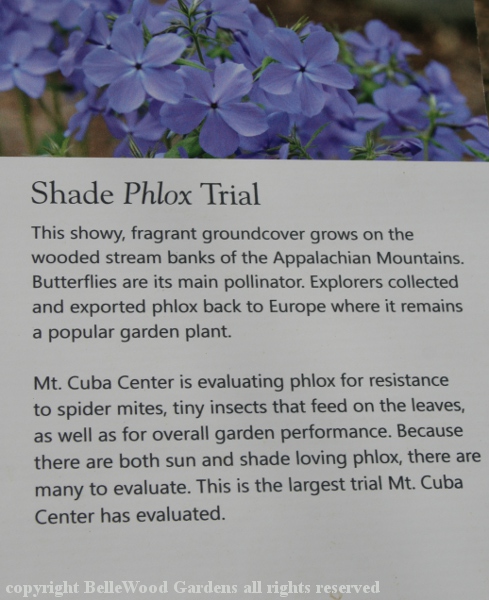 It will be interesting to read the research report when it becomes available.
The trial plants are offering a handsome display to today's visitors.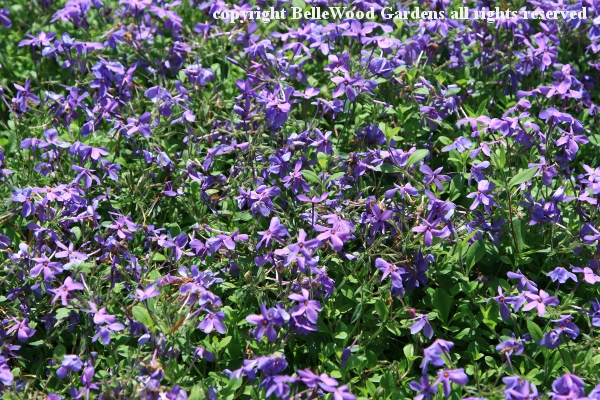 Phlox stolonifera 'Fran's Purple', named for Fran Lubera
who was an avid rock gardener in Connecticut.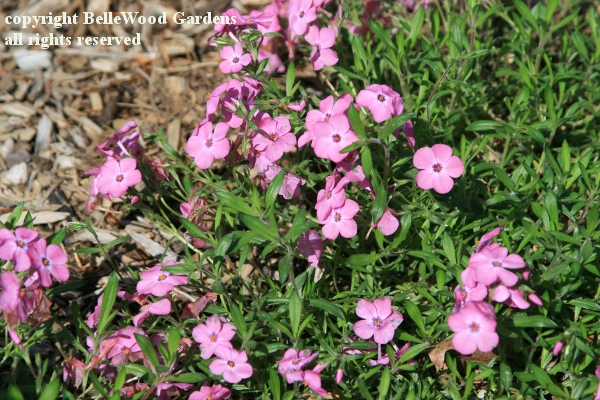 P. ×procumbens is a name applied to the hybrid between
sunloving P. subulata and P. stolonifera. This cultivar is
'Pink Profusion', by Jim Ault at the Chicago Botanic Garden.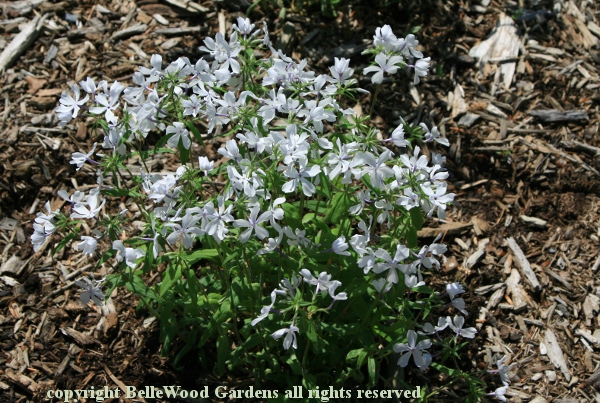 Phlox divaricata 'White Perfume'. This species often has a sweet fragrance.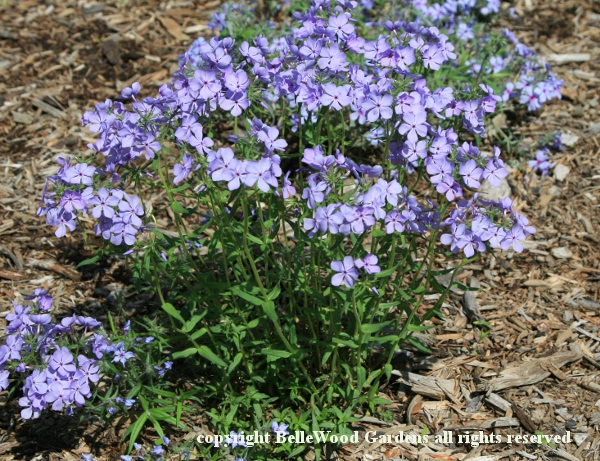 Phlox 'Chattahoochee' from northern Florida. Dr. Wherry considered the original
introduction to be P. divaricata ssp. laphamii, and it is so labeled here.
Phlox divaricata 'Charleston Pink' - appears nicely floriferous, but floppy.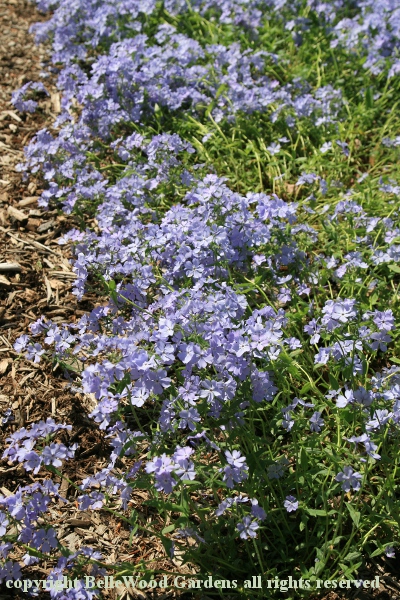 Phlox divaricata 'London Grove Blue'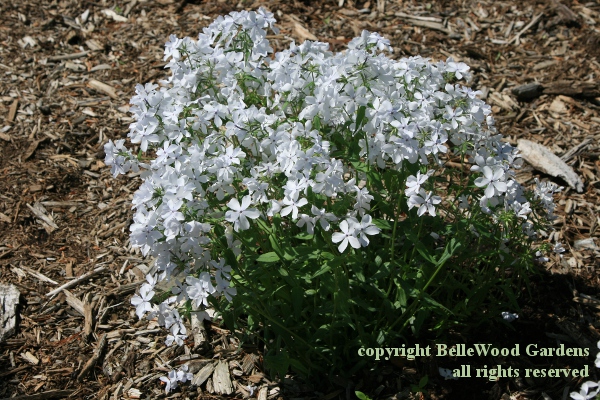 Phlox divaricata 'May Breeze'
At our lunchtime lecture about the plants trials it was mentioned that sometimes plants from different sources would have varying characteristics, perhaps in height, more or less sturdy stems, intensity of flower color, etc. Genetics, don't you know . . .
Phlox divaricata "May Breeze'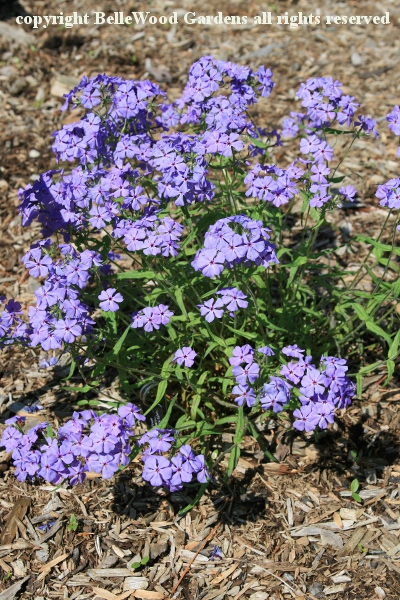 Phlox divaricata 'Mary Helen'
Phlox divaricata 'Blue Moon'
What a great opportunity to see and compare these woodland phlox.
---
Back to April 2017
---
Back to the main Diary Page