.
Garden Diary - April 2017
---
If you have any comments, observations, or questions about what you read here, remember you can always Contact Me
All content included on this site such as text, graphics and images is protected by U.S and international copyright law.
The compilation of all content on this site is the exclusive property of the site copyright holder.
---
April
---
Garden Writers Region II DuPont Triple Play
A Prologue: Henry Foundation for Botanical Research
Thursday, 27 April 2017
---
It's like this. GWA (that's Garden Writers Association) Region II is having a DuPont Triple Play event on Friday. We'll be going to Nemours, Mt Cuba, and Winterthur. I thought about when I'd need to leave home to reach Nemours for the 8:00 a.m. start time. Then called my friends Liz and Rick to see if I could come a day early and sleep over. Not only did they say yes, they upped the ante. "The Henry Foundation for Botanical Research is having their Members opening reception for their plant sale from 4 til 7:00 pm. If you would like to go, you are included in our invitation (your reputation precedes you). It will feature "Native, New and Noteworthy" plants." Better and better! And even more better, Liz asked, "Oh, and how soon do you have to head back home on Sat. morning? Scott Arb is having an Arbor Day Open House 9 am til noon. we could pop over there for awhile. I need to pick up our free tree distribution. Let me know how these plans sound." These plans sound excellent!
Mary Gibson Henry sounds like a fascinating person.
The Henry Foundation for Botanical Research is in Gladwyne, Pennsylvania, near the Schuylkill River. It was founded in 1948 by Mary Gibson Henry, a noted botanist and plant explorer. The Henry Foundation showcases the native plants she collected in her annual, biannual, or more numerous yearly expeditions to remote areas of the West, Midwest and Southeast. Most often these were family affairs - one Canadian expedition on horseback to a very remote region included her husband, two sons and two daughters ages 14 to 21. Or, perhaps friends would join the expedition. In later years she botanized in a Lincoln Continental that her husband had specially outfitted for her collecting purposes. Often she would either fly to the destination, meet the car and driver, and fly or take the train home. If the wheelman was used, it would be just for the purpose of retrieving plants and herbarium press for the return home. In her last year, when she was 82, she made five collecting trips and that was not unusual.
Recognizing that horticultural enthusiasts need to keep their strength up, the attending members have brought refreshments - bowls of vegetables and dips, smoked whitefish spread with crackers, cheeses. And numerous bottles of wine. Fortified, we exit the library / lounge and look at the sale.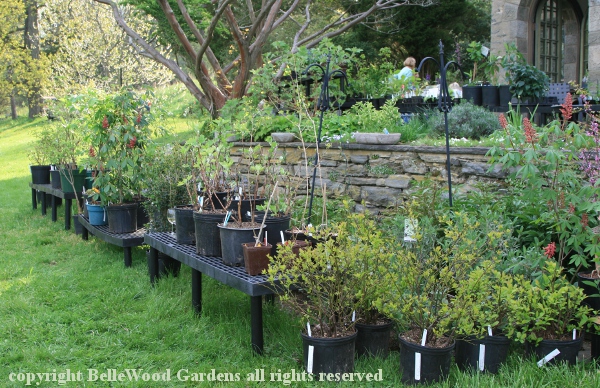 There are herbs, heirloom tomatoes, perennials, and shrubs.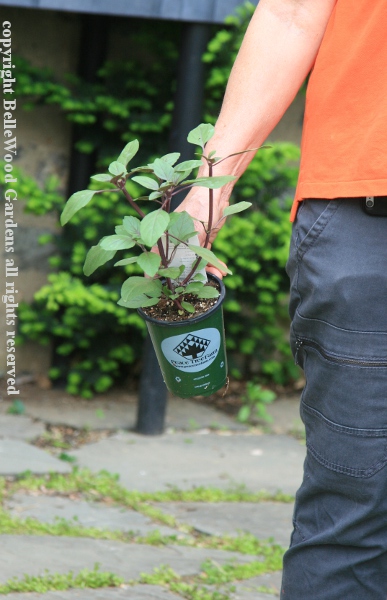 Clearly, this is the pot that's been chosen.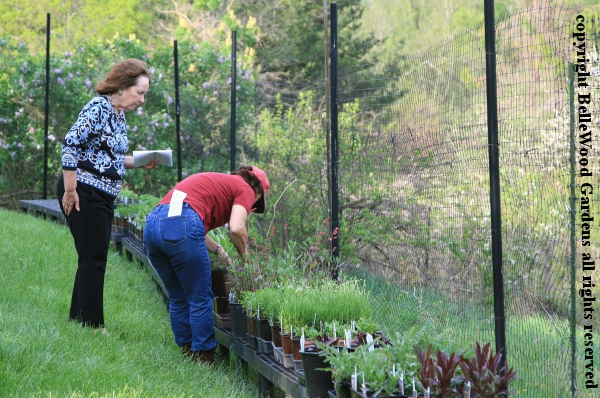 But sometimes it is not so easy to decide.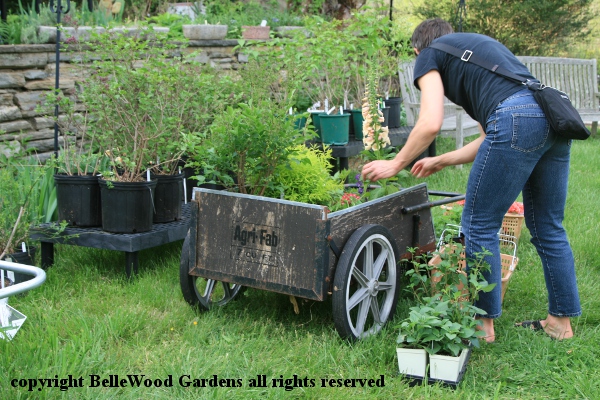 And then it's a matter of fitting one more pot into the cart.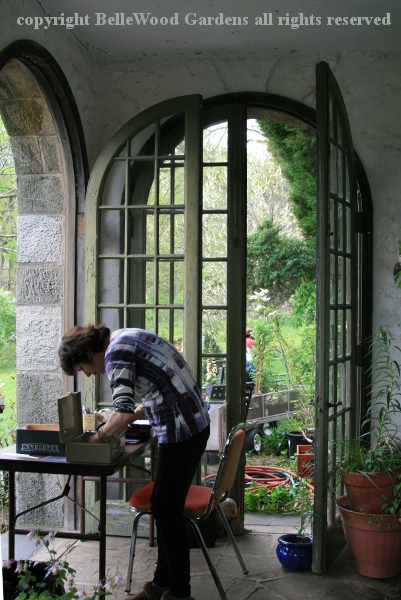 No matter, the cashier is very patient.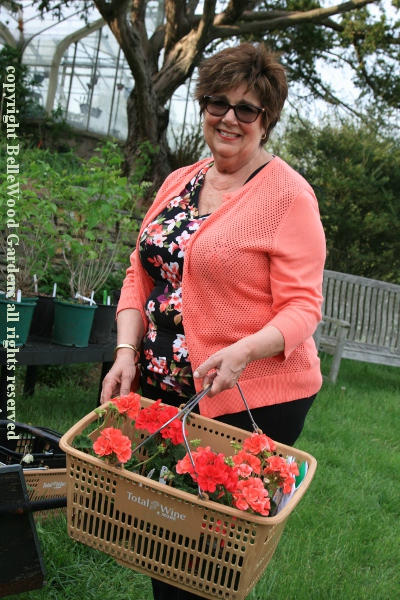 Don't you appreciate the color coordination
of her outfit and her plants.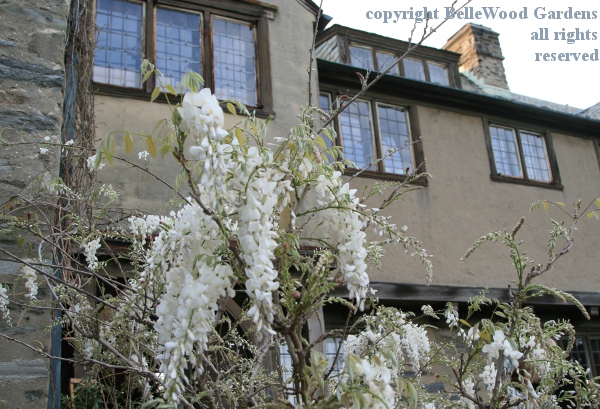 Outside the sunroom and cashier is a vintage white wisteria.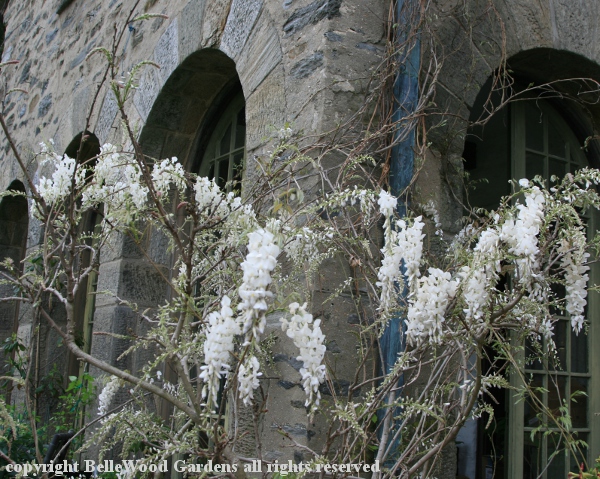 I think the stone is wissahickon schist.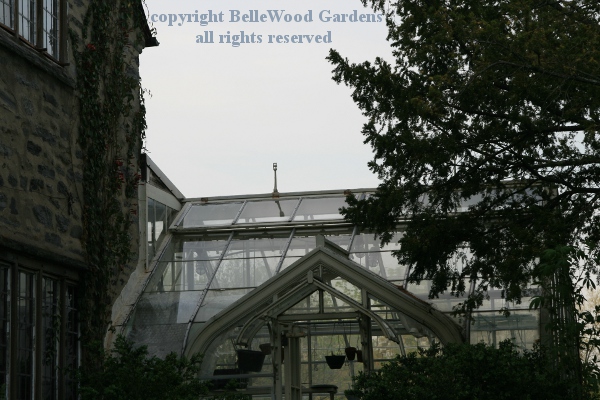 Mary Henry had a greenhouse, for winter,
in which she grew Amaryllidaceae.
And everywhere is something to see, and enjoy.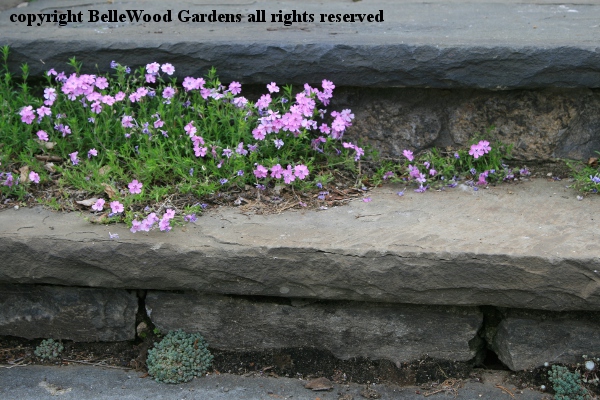 Plants tucked into the steps from terrace down to lawn.
Phlox subulata in the above image, sempervivum below.
.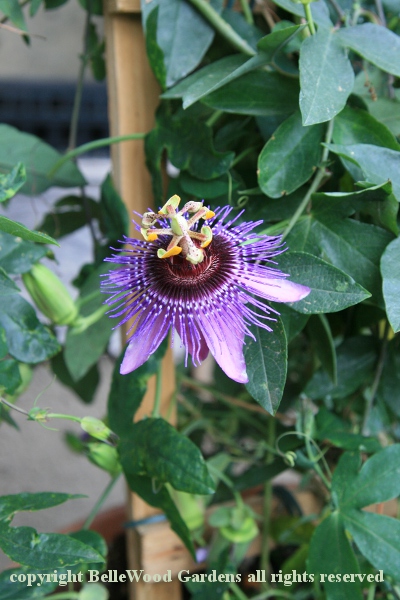 A passion flower in bloom. How appropriate.
Mary Henry was passionate about plants.
---
Back to April 2017
---
Back to the main Diary Page