.
Garden Diary - September 2017
---
If you have any comments, observations, or questions about what you read here, remember you can always Contact Me
All content included on this site such as text, graphics and images is protected by U.S and international copyright law.
The compilation of all content on this site is the exclusive property of the site copyright holder.
---
September
---
Fungus Fest
Sunday, 24 September 2017
---
Mushrooms. Think about it. Mushrooms appear in your lawn, on a log, under trees, on trees. Little brown ones, shelf-like orange ones, white speckled red ones . . . many, many different kinds. Members of the New Jersey Mycological Association are fascinated with mushrooms. They think everyone else should be fascinated too. So once a year they offer a Fungus Fest at the Frelinghuysen Arboretum in Morristown, filling the auditorium with all sorts of informative displays. The two downstairs classrooms are also well worth visiting.
For example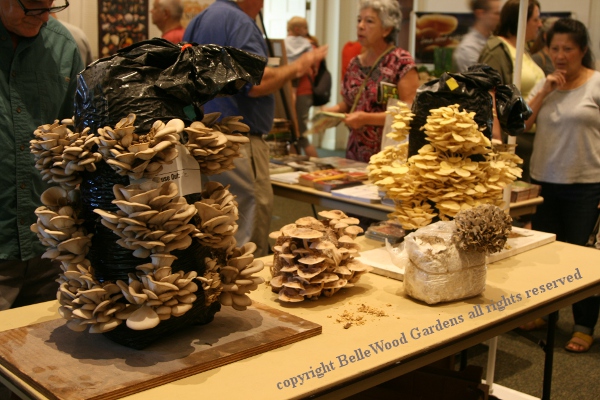 Upstairs there is a display of deliciously edible mushrooms easily
cultivated at home for fun and flavor. Interested? Downstairs,
at certain times, someone demonstrates how to do this.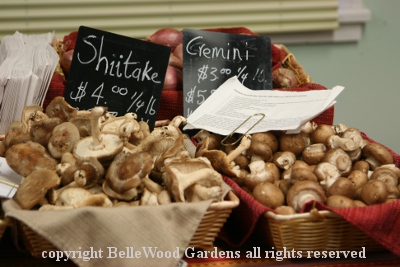 . . .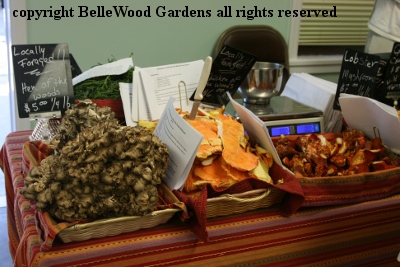 Intimidated? There's someone downstairs who is selling a diversity
of edible mushrooms, both cultivated and wild foraged.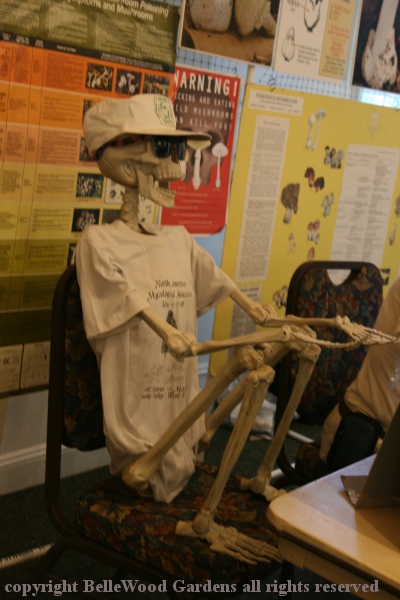 It is important to identify what you forage.
Mistakes can have unfortunate consequences.
At Fungus Fest one whole end of the auditorium is dedicated to identification.
People are encouraged to bring their mushroom-y discoveries to the Pre-Sort area.
Some are easy to i.d., others more difficult. But they will, in the end, be named.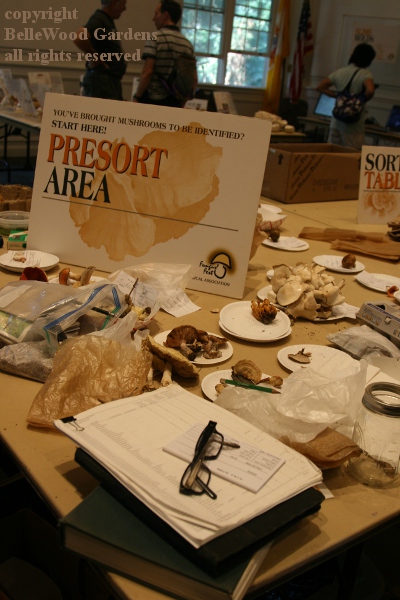 .
Spore prints are one aid in identification.
Some mushrooms are quite suitable for crafts.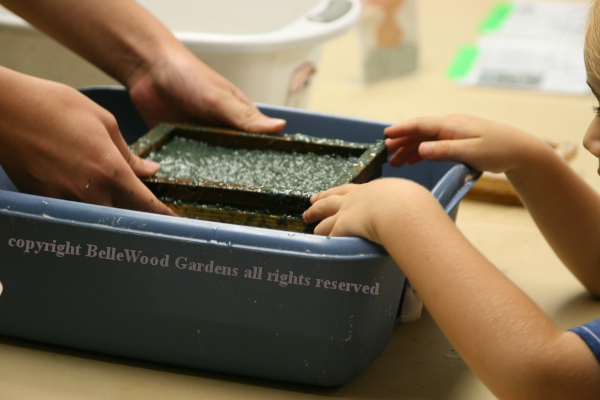 Children especially enjoy paper making. It's somewhat messy . . .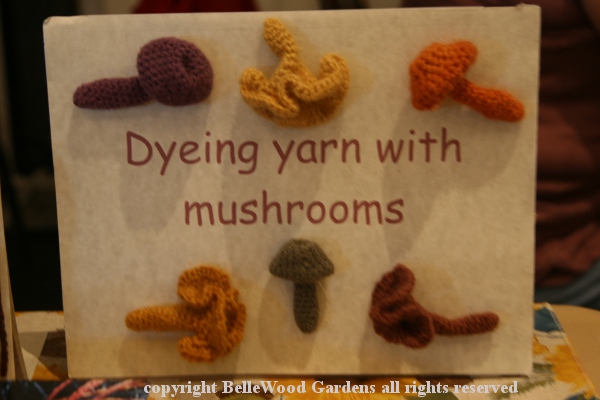 There's a wonderful display of dyeing yarn with fungi. From yarn
to techniques, sample skeins. I really like the range of purples
to lavender, but the yellow to orange to red orange are pleasing too.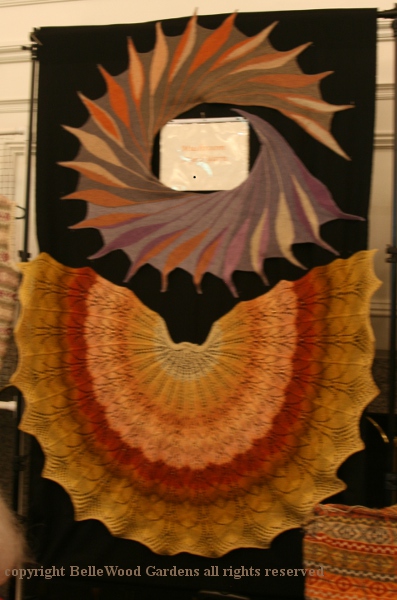 and two exquisite shawls, their yarn mushroom dyed.
Many members of the New Jersey Mycological Association are passionately interested in any fungi, edible or not. I am what they refer to as a "pot hunter" because I only care about deliciously edible mushrooms I might forage for, here in New Jersey. But perhaps I am not alone. A popular Fungus Fest event is mushroom cooking, with tasting samples.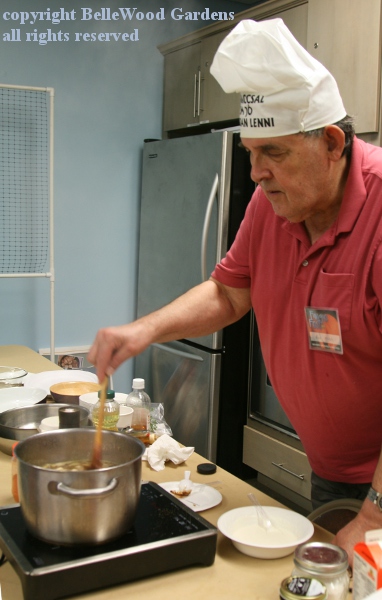 Bob Hosh, our inimitable gombafej (chef de champignons to non-Hungarians) stirring
a pot of delicious soup: vegetable stock base with shiitakes, carrots, celery root, and cream.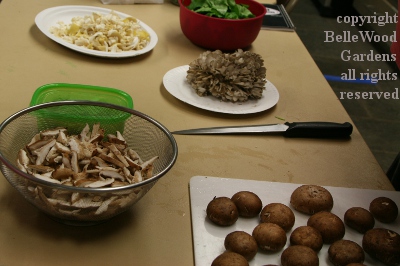 Mushrooms cleaned, prepped, ready to cook.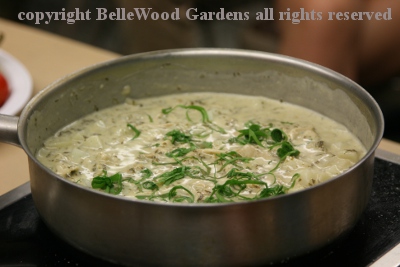 A delicate side dish: yellow oyster mushrooms with sorrel,
potatoes, and heavy cream. Good to accompany fish
Another excellent dish: hen of the woods mushroom
with braised cabbage and noodles.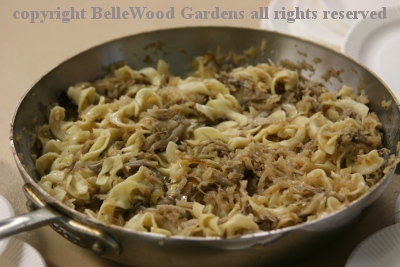 Luke Smithson, vice-president of the mushroom society and
executive catering chef for Jamie Hollander Catering made
these quick, easy appetizers: crostini, whipped fresh ricotta,
lightly toasted pignoli, sautéed shiitake and cremini.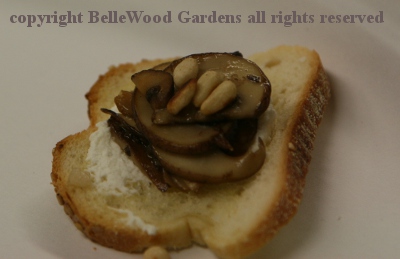 .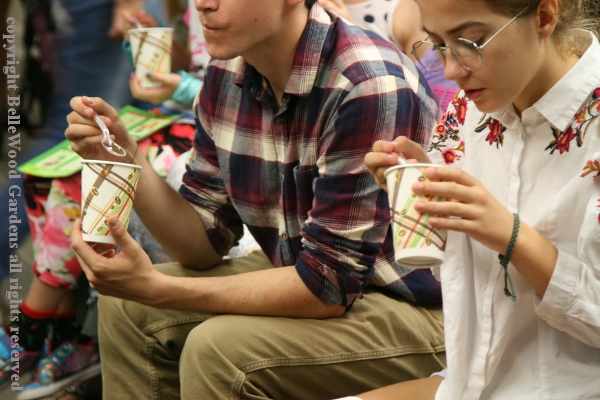 The throng of taste testers each got a generous spoonful or so of each dish.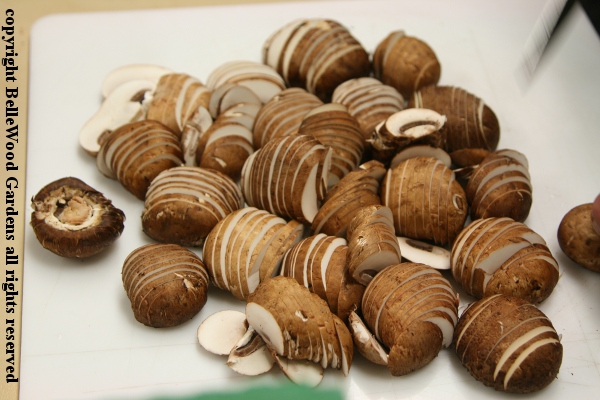 Fresh cremini are lovely mushrooms, readily available at the grocery store. Start with these. Explore other cultivated mushrooms such as shiitake, king trumpet, and more. Join the New Jersey Mycological Association and learn to forage - safely - in the wonderful world of wild mushrooms.
---
Back to September 2017
---
Back to the main Diary Page