.
Garden Diary - August 2017
---
If you have any comments, observations, or questions about what you read here, remember you can always Contact Me
All content included on this site such as text, graphics and images is protected by U.S and international copyright law.
The compilation of all content on this site is the exclusive property of the site copyright holder.
---
August
---
Fairy Houses: How to Create Whimsical Homes for Fairy Folk
by Sally J. Smith
Thursday, 17 August 2017
---
Many places seem to have pixies and nixies, brownies and tomten and other small folk who live outdoors. Some are friendly to humans, others are mischievous. Leave a saucer of milk for the brownies. And everyone knows about fairies. There's a song, and also a poem - do you know it? It begins, "There are fairies in my garden." Fairies like pretty things, glittery things, and quiet. What they also need is somewhere to live. Built not of plastic, nor chipboard, but a natural dwelling with moss and leaves, bark and twigs. There is, it seems, an architect for high end fairy houses offering detailed instructions for elaborate dwellings, some for the garden and some better kept in a studio (where the fae will be invited to come dwell.)

image courtesy Cool Springs Press
Fairy Houses: How to Create Whimsical Homes for Fairy Folk, by Sally J. Smith
Some fairies live in the forest in country casual accommodations. You need to open your eyes to the options and possibilities. For example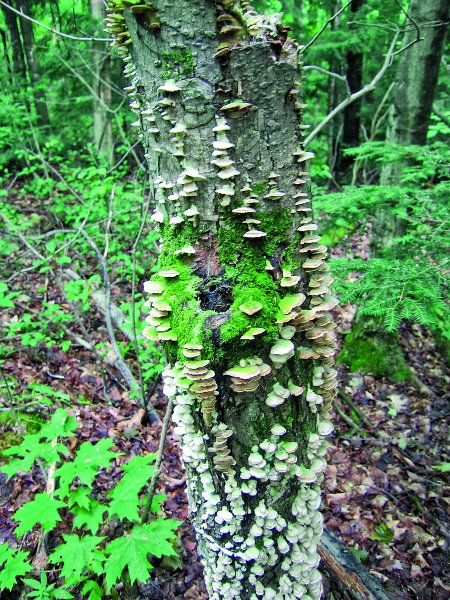 you spy a small dead tree, covered with mushrooms and some moss.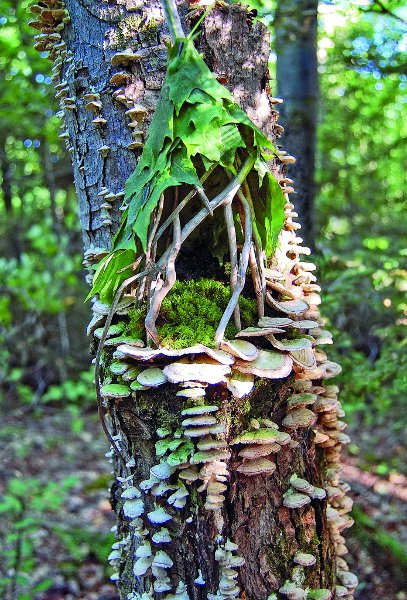 Under Sally Smith's construction efforts, adding a few twigs,
and a handful of leaves it becomes a charming fairy house.
Her primary focus, though, is on enchanting dwellings, beautifully detailed with towers and turrets, bay windows and porches. In thorough detail she provides a wonderfully illustrated fairy house builder's bible and how-to book. Some are intended for dwellings placed outdoors, in the garden or natural landscape. Others, more delicate, are studio pieces that might invite the wee folk to come share your home. After all, a fairy house shows the fae that you believe in them. It also shows that you are making efforts to extend your hospitality. It should be constructed of mostly natural materials.
Ready to start? Not quite so fast as leaping forth into the woods picking up twigs and stuff. First, you need a tool kit. The two page spread (outdoor kit / indoor kit) in "Fairy Houses" includes lots of stuff which you probably already have, with some duplicated items in the two kits. Next, building materials: twigs, bark, fungi, and more, also illustrated and described. Exploring further afield she includes bits and baubles for finishing touches - silk ribbon, glass and acrylic beads, sequin trim, beautiful papers, and much more.
Forget any idea that these are instant gratification projects. Windows, for example, could have a mullion, or an infill of a leaf decayed to a fine tracery of veins. One example she shows has freshly harvested hazel leaf draperies. But taking your time is a good thing, offering an opportunity to revise your design as you go along, perhaps finding interesting (and suitable) new material on a stroll through the forest. Always collect material when and where you find it. If not a current project, for the next / another one.
Perhaps the idea of starting off with an impermanent, meant-to-be-temporary dwelling fells reassuring. Some are what might be considered pop-ups, temporary dwellings made with impermanent materials. Besides, you can take a photograph to preserves the memories. I was delighted with the a colorful, pop-up tea house created with three flowers - a daffodil base, its cup concealed in an upside down red tulip, roofed with another yellow daffodil. Or, how about this tiny house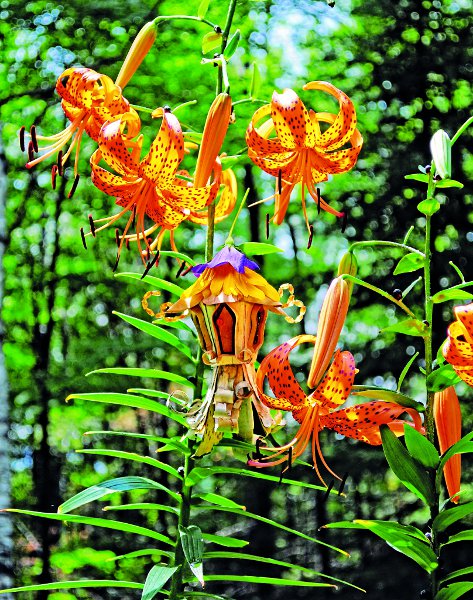 Image courtesy of Cool Springs Press
with sunflower and platycodon roof, nestled among tiger lilies.
Just wait until you look at the completed houses, wonderfully detailed and intricate. Will there be a bay window or a balcony . . . Hinged doors should open outward, because human hands are too large to fit through. Shall the roof be firmly attached or removable, something that allows a look inside. Finishing / furnishing / decorating the interior of your fairy house adds elegant styling. Wallpaper not only embellishes, it strengthens the walls. If there is a bay window, then doesn't it suggest a window seat be added (easier to accomplish, she points out, before the bay window is attached to the house.)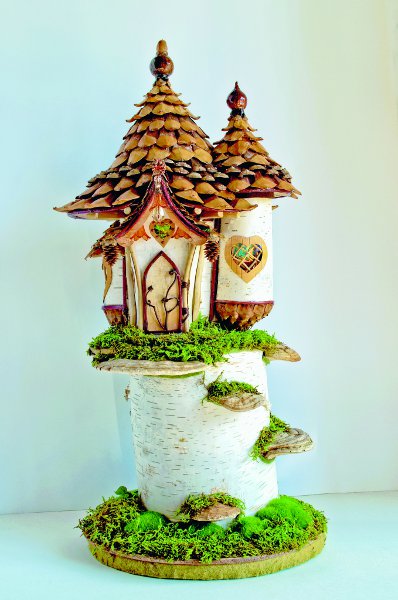 Image courtesy of Cool Springs Press
Consider an option for nighttime enhancement (I nearly wrote that that as "enchantment," which, now that I think of it, is also true!) LED battery operated tea lights are relatively simple. Battery powered micro LED string lights take "a fair degree of patience and care" but add a mystical, magical effect.
Just about anything, it appears, is suitable as building material. Reminiscent of Andy Goldsworthy's snow and ice sculptures is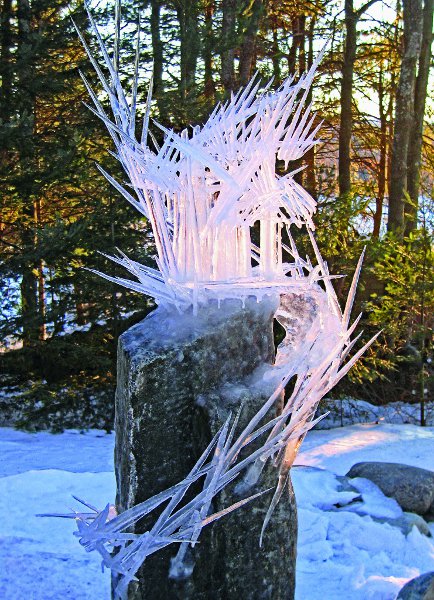 Image courtesy of Cool Springs Press
a winter pop-up structure (do fairies go ice skating?) - Ice Queen's Palace.
Does this awaken your inner child, love of nature, meditative walks in the forest?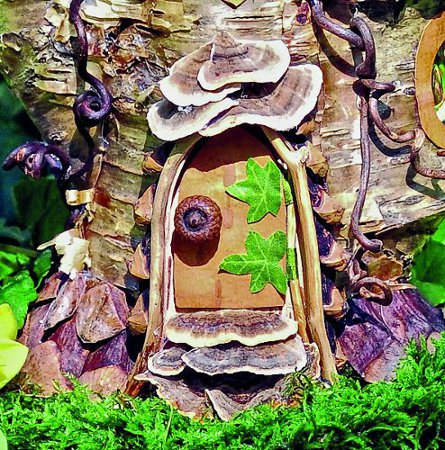 Image courtesy of Cool Springs Press
Then come, open the door and walk into the magical world of building fairy house.
.
Published by Cool Springs Press, Minneapolis, Minnesota, 2017.
ISBN 978-1-59186-672-5. Hardcover, $30
A review copy of this book was provided by the publisher
---
Back to Top
---
Back to August 2017
---
Back to Book Reviews 2017
---
Back to the main Diary Page