.
Garden Diary - July 2017
---
If you have any comments, observations, or questions about what you read here, remember you can always Contact Me
All content included on this site such as text, graphics and images is protected by U.S and international copyright law.
The compilation of all content on this site is the exclusive property of the site copyright holder.
---
July
---
Fairy House Trail in Millburn, New Jersey
Thursday, 27 July 2017
---
Along a trail in Millburn, New Jersey's South Mountain Reservation, I learned, there are fairy houses in the woods. Intrigued, I decided that today was the day to make my expedition.
Millburn itself is definitely on the urban side. Plunked right into Millburn and sprawling into Maplewood and West Orange are the 2,112 acres of the nature reserve. I made my entrance at 197 Glen Avenue. There's an unpaved parking area. The South Mountain Fairy Trail is off to the left, closer to the road. If you peer at the park map, the dotted line towards the top is the Rahway / South Mountain Fairy Trail. Off to the right just beyond the line of cars is a wide path that leads to generous picnic area with tables and benches, and a porta-potty.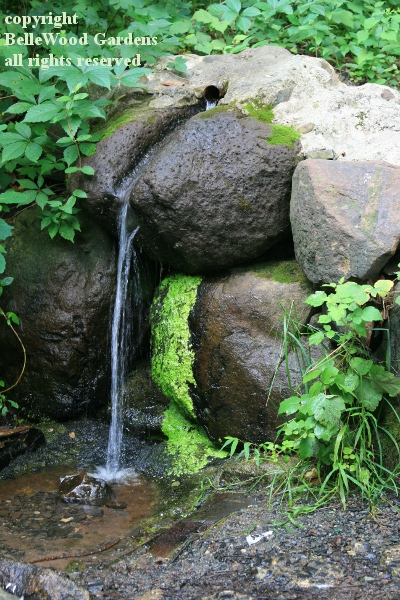 Which is where I found this, following the sound of water music.
Turned around and started down the bare, packed dirt trail for the South Mountain Fairy Trail through open forest with large uprooted trees (Superstorm Sandy?) and more recent blow downs to either side. It will be easy to follow, with white paint markers on trees.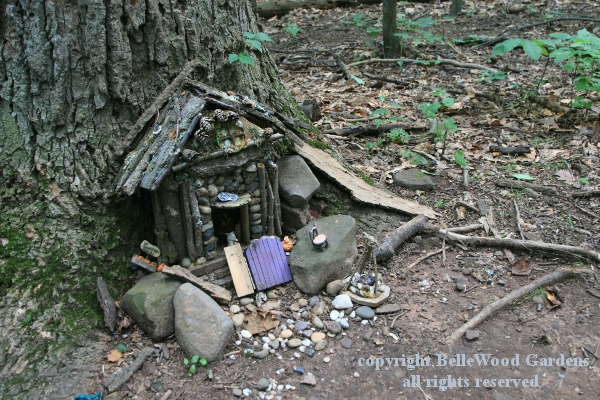 A charming little natural, rustic cottage with a vivid purple door.
Some cottages are right next to the trail, others more discretely
off to the side. Look to your left, look your right to find them.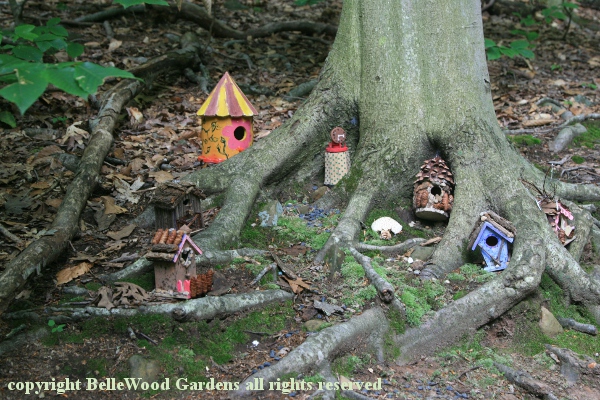 A little village, with cottages nestled among the roots of a beech tree.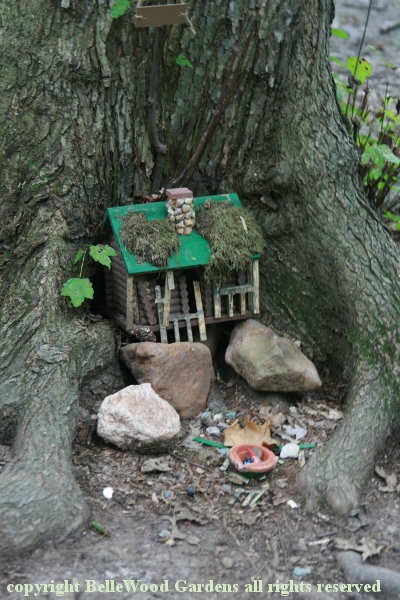 And another cabin, with a mossy roof.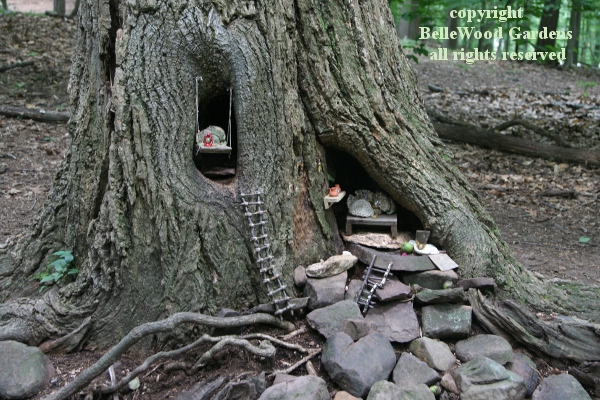 Ladders are relatively common, assisting littlest fairies to reach
an upper room or, here, a darling swing big enough for two.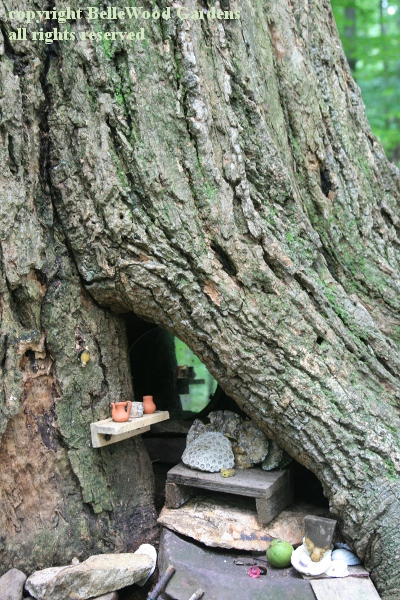 A closer look at the kitchen, with a mirrored back wall.
This young visitor was peering into the Fairy Wishing House -
place a coin inside and make a wish. I did too, won't say what
I wished for. Because, if you tell your wish won't come true.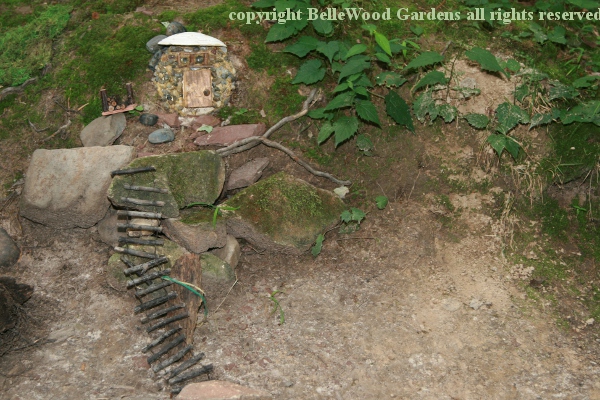 Ladder leading up to a door for a house nestled in a mossy bank.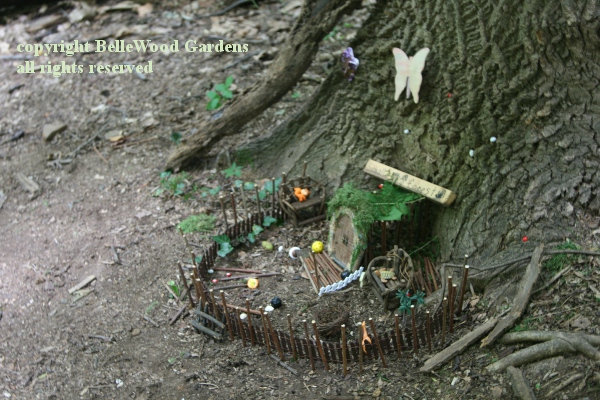 A simple, carefully made fence encloses the dooryard of a fairy house,
with some casual furniture on which to sit, relax, and enjoy the summer.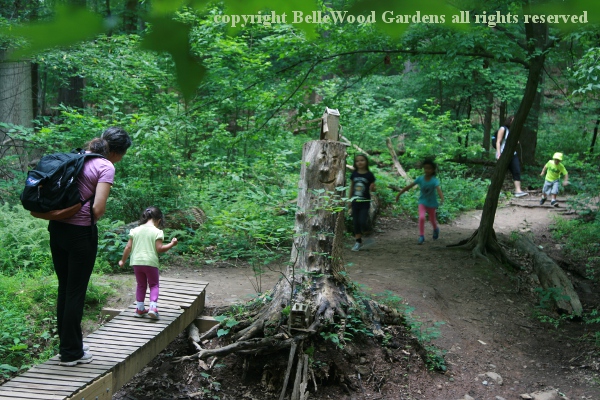 Crossing the stream - there's a muddy ford or a nice sturdy bridge.
It's so lovely to see a mother and child, or a couple of friends and their children, even a small group, and everyone enjoying an outing in the woods and visit to the fairy house trail. Any dogs were always leashed. Clearly a much loved place for the return visitors, and likely to become such for first timers.
And just across the stream, up on a tall stump, is a little mill.
Perhaps the fairies use it to grind moonbeams into sparkles.
The path is well maintained but remember - this is not a park.
It is a nature reserve. The ground is uneven. Fallen trees remain.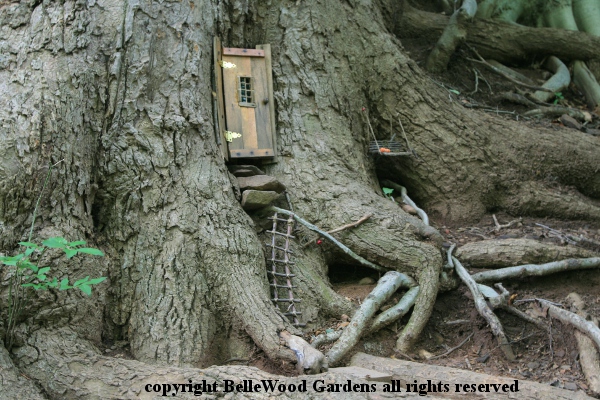 Tucked into the tree is an entry door, with a ladder to reach it.
Most of the fairy houses have been built by Therese Ojibway. Her charming structures and dainty furniture inspired others. Some were more in tune with the naturally crafted, woodland materials. Others went for commercially available stuff. It became necessary to put up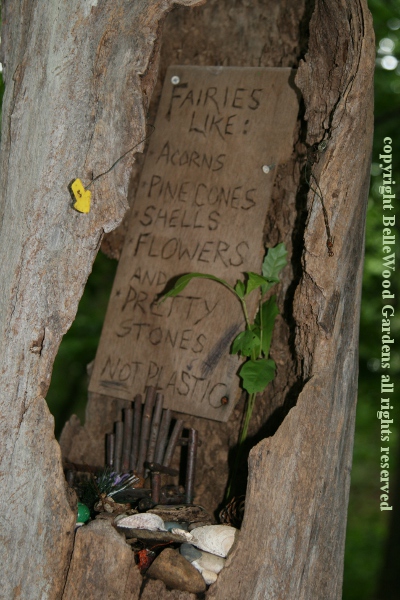 a notice board reminds potential builders what the fairies like.
No plastic, no chipboard or such. I saw one prefab house swollen
from rain. Ugly. Instead, use acorns, pinecones, bark and twigs,,
flowers and pretty stones, moss and mushrooms and shells.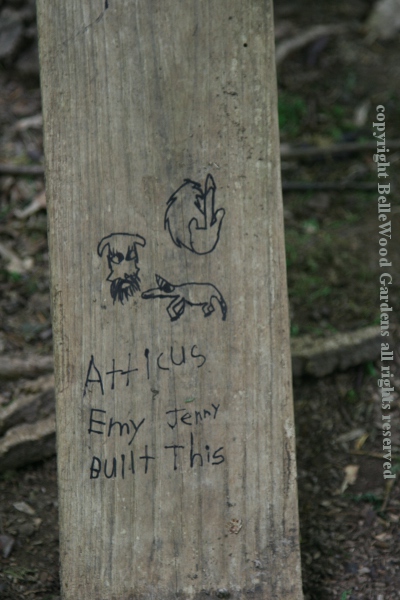 One group of proud house builders left a signboard.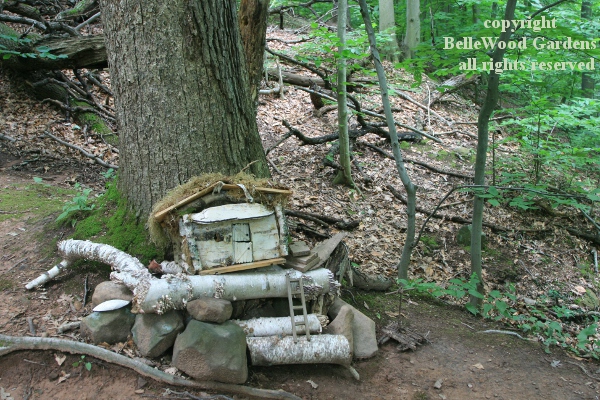 This white birch log cabin is simpatico, but coarse in scale.
A mirrorlike stream purling over rocks. Boys were throwing stones
into the water. Shrug. That's what boys do.
I walked about half a mile down the trail, turned around and doubled back. Amazing how the reversed direction offers a different view, showing some things I'd missed on the way out. A very pleasant hour and a half. I think perhaps I'll come back in the autumn, when leaves are turning and just beginning to fall. Winter, when trees are bare but not when snow covers the trail.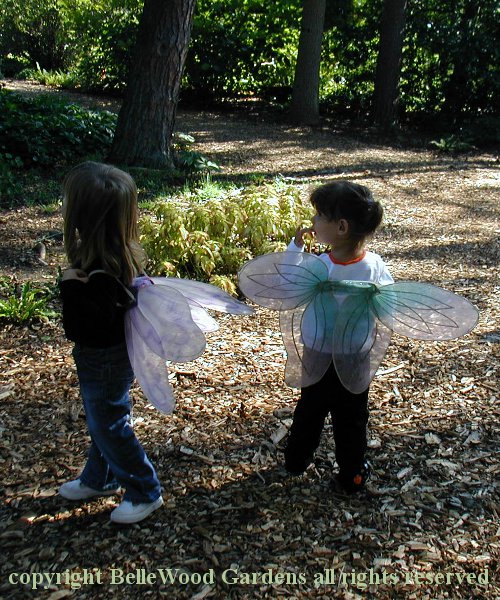 It was a dozen years ago and far away that I saw these two little fairies in a woods.
Perhaps, some day, I'll see them again. Or so I hope. But today, I saw their houses.
---
Back to July 2017
---
Back to the main Diary Page