.
Garden Diary - December 2017
---
If you have any comments, observations, or questions about what you read here, remember you can always Contact Me
All content included on this site such as text, graphics and images is protected by U.S and international copyright law.
The compilation of all content on this site is the exclusive property of the site copyright holder.
---
December
---
Christmas Dinner, with Three Updates
Monday, 25 December 2017
---
Once upon a time it would have been ham for Easter, turkey for Thanksgiving (of course that's the American Thanksgiving), and (when beef was not so expensive) a standing rib roast for Christmas.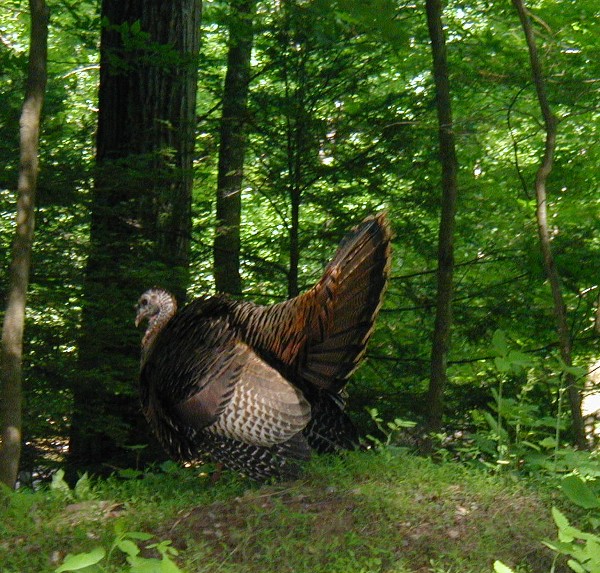 America, where the wild turkeys were discovered, then brought
to England in the early years of the sixteenth century.
A traditional Christmas dinner. What shall be served? It depends on where you are, and when you are. Once upon a time Christmas was a rather minor festive event in England. Then came Charles Dickens and his 1843 novella, A Christmas Carol. The Cratchits were feasting on a roast goose, cooked in the oven of the baker around the corner. Then Mr. Scrooge, rehabilitated by the ghosts of Christmas Past, Present, and Yet-to-Come, anonymously sends them a turkey for Christmas Day. It was the big, prize turkey at the poulterer's shop, too expensive for folks to buy but a lure to bring them into the shop for the purchase of a more affordable goose.
We were in Massachusetts for Thanksgiving - 16 people and a 21 pound turkey. But now it's Christmas and there are just the two of us. So this is what I prepared / plated / served for us.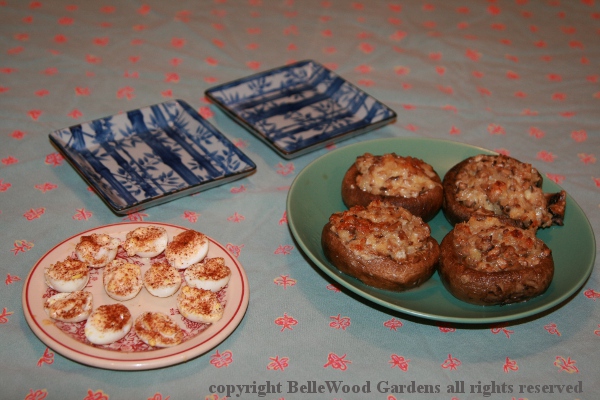 Appetizers.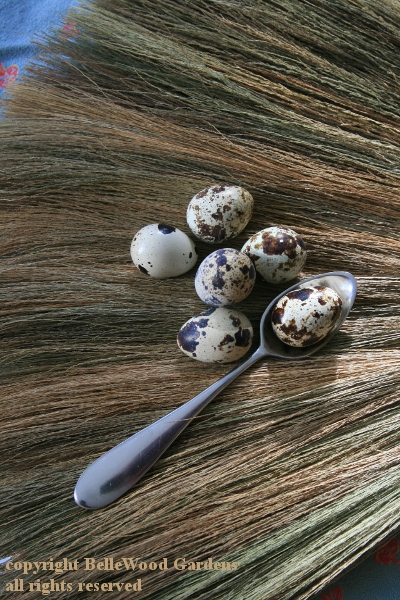 The supermarket sells quail eggs, tiny little speckle shelled eggs.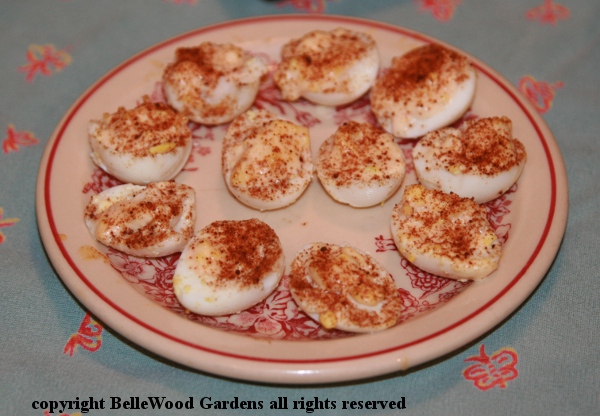 Quickly hard cooked, easily shelled, not so easy to scoop out the yolk.
But then easy to mash and make deviled eggs.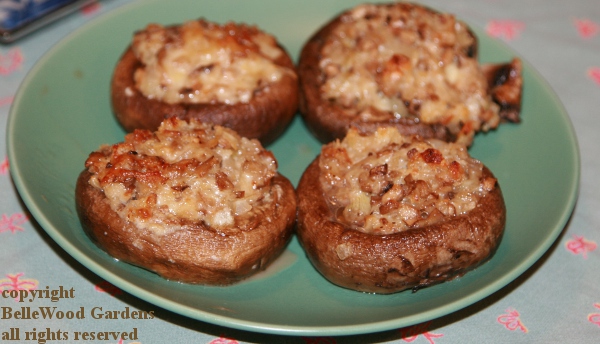 Then supersized stuffed mushroom caps. I made four - two would have been sufficient. Remove the stems and dip the mushroom caps in melted butter to coat on all outer surfaces. Finely chop the mushroom stems and half a modest size onion. Sautée. Off heat add some bread crumbs, about three tablespoons of whipping cream, freshly grated Jarlsberg cheese, and grated Parmesan cheese. Stuff caps and grill in toaster oven.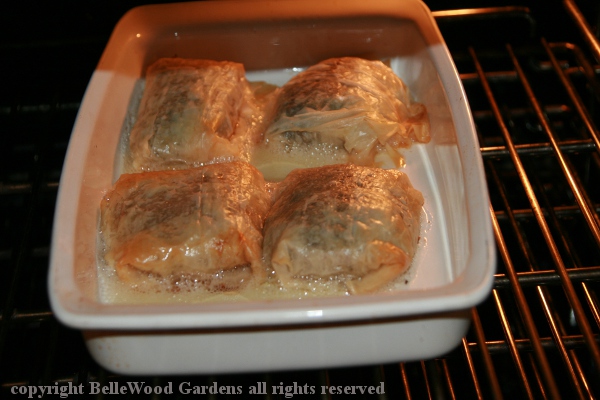 The centerpiece of our entrée might be called fillet of venison á la Wellington. I took a venison back strap from the freezer a couple of days ago and slow defrosted in the refrigerator. I cut four 3 to 4 ounce pieces, seared in a hot skillet and then cooled. While they chilled I made duxelles from two cups of finely minced fresh shiitake and white mushrooms, and one cup of finely minced onion, sautéed until soft and then finished with a sherry reduction. Allowed to cool. For each venison fillet piece I took four sheets of phyllo, each well brushed with melted butter. A final layer of duxelles, venison laid on top, phyllo wrapped over it. Finished in a medium hot oven.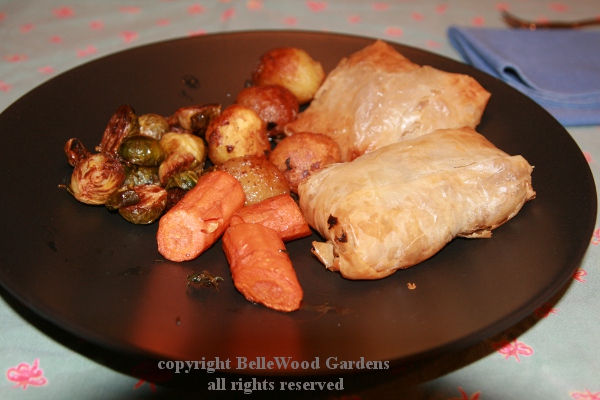 And the vegetable to accompany the venison - oven roasted carrots, parsnips, and Brussels sprouts. Also pan roasted fingerling potatoes. Knowing that dessert would follow we each managed to eat only one phyllo-wrapped venison packet. A nice Australian Barossa , 95% Shiraz balanced with just 5% Voignier to accompany the meal.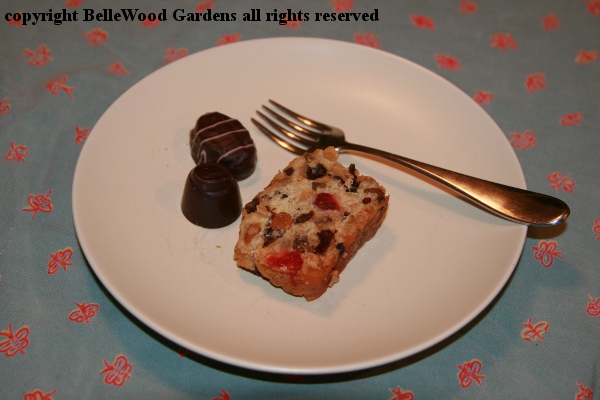 Dessert - after a digestive pause - of fruitcake and
chocolates from Minettes, a local chocolatier.
---
Update: Wednesday, 27 December - not quite the week in review but . . . for dinner we had the two remaining fillet of venison á la Wellington and the remaining stuffed mushroom caps, gently reheated in a 225 degree Fahrenheit toaster oven, accompanied by carrots braised in stock and microwaved frozen green beans topped with slivered almonds. Quite nice.
Second Update: Saturday, 30 December -
I grilled the remaining uncooked portion of the venison fillet under the infrared broiler of my Wolf range. Braised Brussels sprouts, and reheated the last portion of the braised carrots. Made spatzle, and coated with thickened stock for a light gravy. Also quite nice.
Third Update: Sunday, 31 December -
Here we go. Venison again!? Yes. This time with a French twist.
First, I made crepes. It's not really difficult. Just
plan ahead so batter sits for at least 2 hours
before you start making them in a hot pan.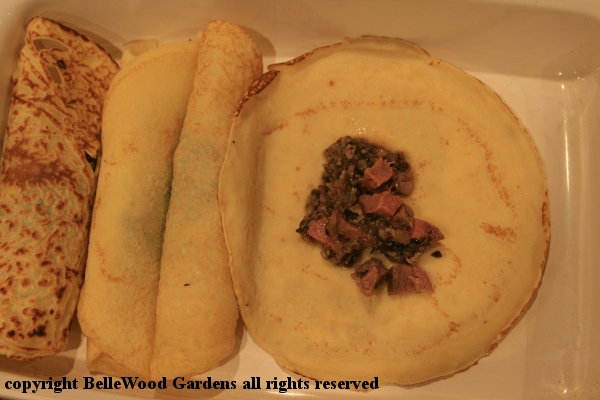 I cubed yesterday's leftover venison fillet and
mixed it with duxelles and a little stock, then
wrapped the filling in a crepe. Again and again.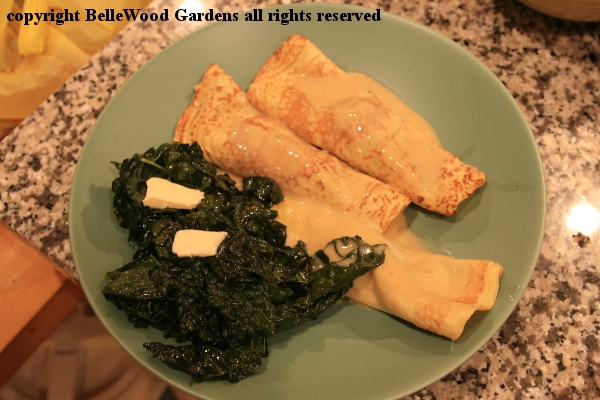 Make a simple sauce with rich stock, a little sherry, egg yolk, and heavy cream. Careful - don't want yolk to curdle. Plate, nap with sauce. Side dish of braised Nero di Toscana kale.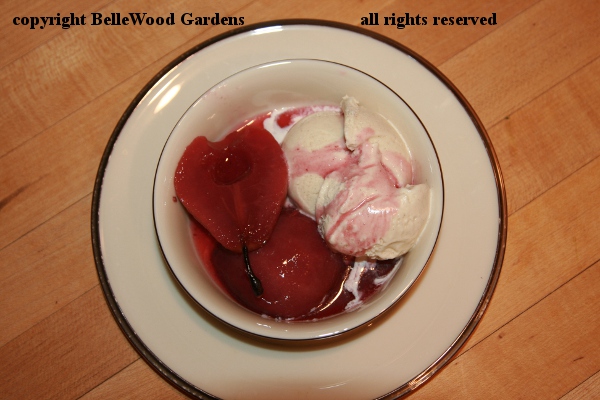 Dessert is forelle pears poached last autumn, using some red wine and liquid from cranberry preserves. French vanilla ice cream to accompany it.
Excellent, excellent meal.
---
Back to Top
---
Back to December 2017
---
Back to the main Diary Page