.
Garden Diary - October 2017
---
If you have any comments, observations, or questions about what you read here, remember you can always Contact Me
All content included on this site such as text, graphics and images is protected by U.S and international copyright law.
The compilation of all content on this site is the exclusive property of the site copyright holder.
---
October
---
Autumn Visit to the Fairy House Trail
Friday, 27 October 2017
---
It's nice to have the flexibility to change plans. We were going to go the Millburn yesterday afternoon but the partly cloudy weather changed to completely overcast with a couple of tiff-tuff, drizzles of rain. Friday looked like a better choice. And indeed it was. Clear skies, light breeze, mild temperatures. Good, good, good. Let's go in the morning, and bring a picnic. Which is what we did - a thermos of soup, quick stop at the IGA for a pita sandwich of ham, Swiss cheese, black olives, sweet pickle, and honey mustard. Also a couple of SnapDragon apples and chocolate chip cookies.
I had made a trip to the Fairy House Trail last July, and wanted to see it in autumn. The pleasant weather and a picnic, and Paul joined me for the outing.
Now that school is in session we had the fairy house trail to ourselves. I'm sort of sorry that there were not enthusiastic small visitors as before.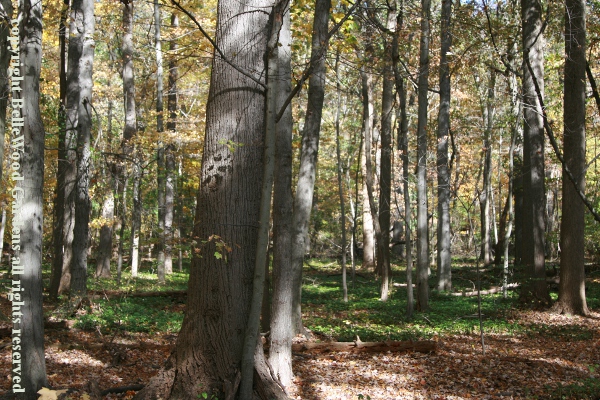 The forest is not groomed. If a tree falls it is left to rot. Should
it block a trail only the trail wide piece of trunk is removed.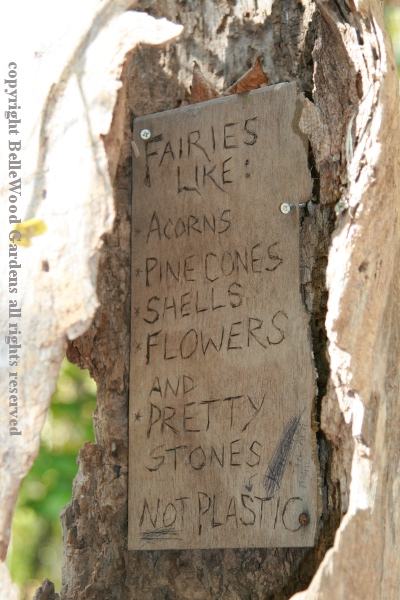 There's a sign with guidance to what fairies like.
A little dish with acorn and a hemlock cone.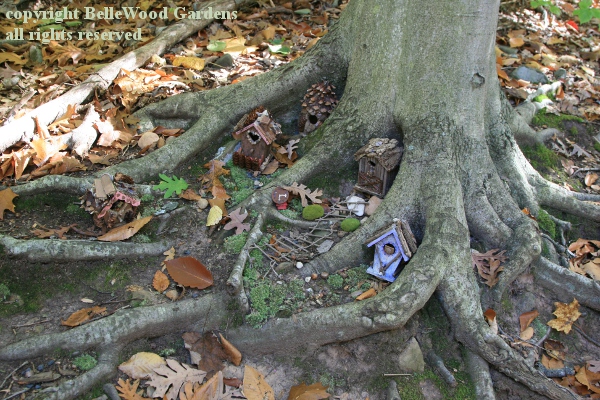 There were some fairy houses that I remember from July's visit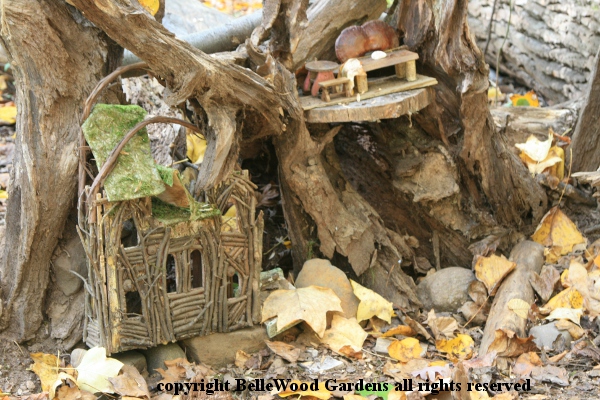 and there are some new ones too.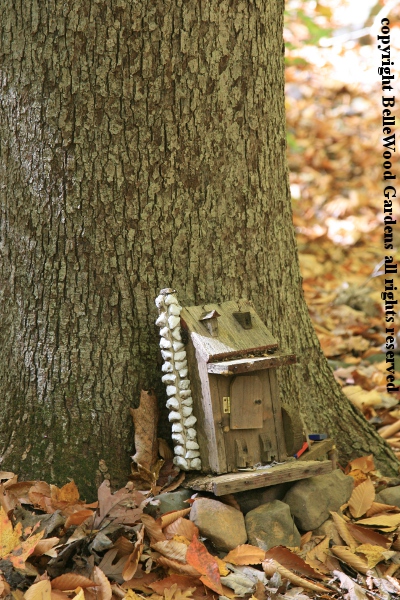 Houses are mostly near the trail, often nestled up against a tree. The trail is an in-and-out, not a loop. You'll see different house on your coming and then going back on the trail. And wonder how you missed them . . .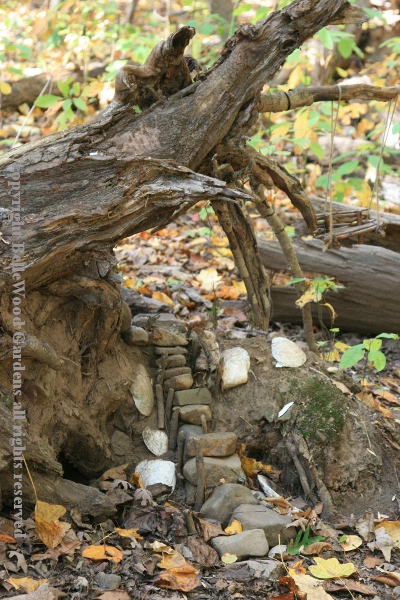 This huge upended stump with roots outthrust
has a stone staircase off to one side.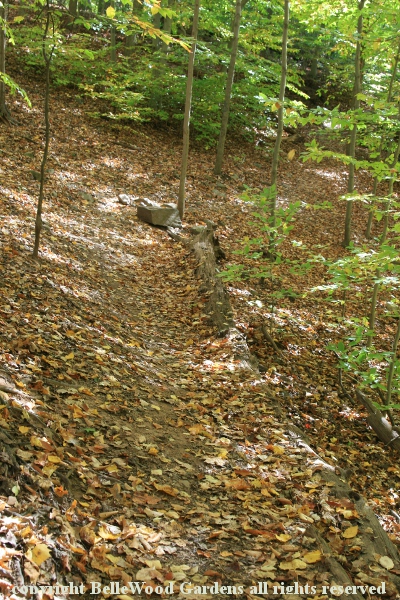 The trail is easy to follow, even now when it is strewn with leaves. A white blaze painted on an occasional tree is helpful too. But keep in mind there's no pavement, no handrails. Flipflops are not suitable footwear to walk the fairy house trail.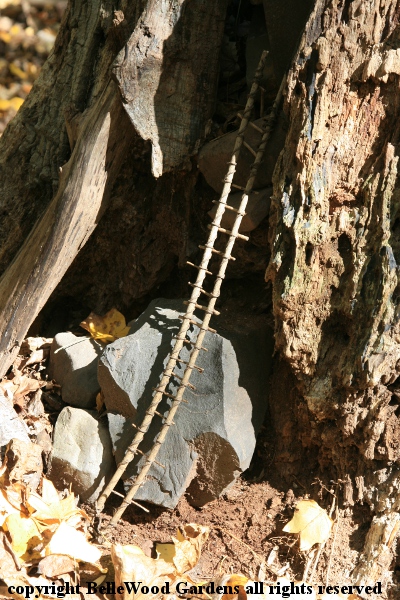 There can be a tall ladder when a fairy house
is built in a hollow up in the tree.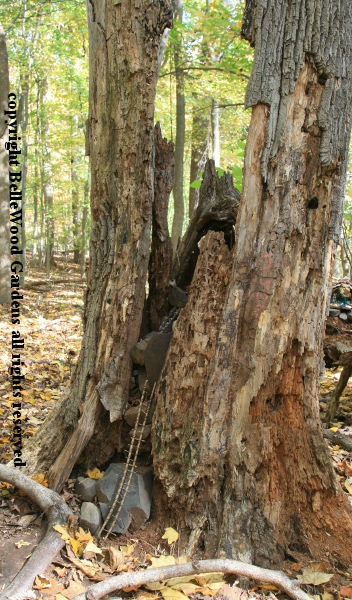 The ladder remains but the house does not.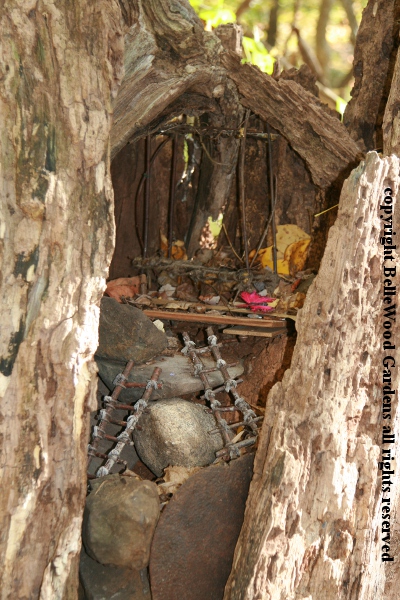 Or, two small ladders to reach the second story.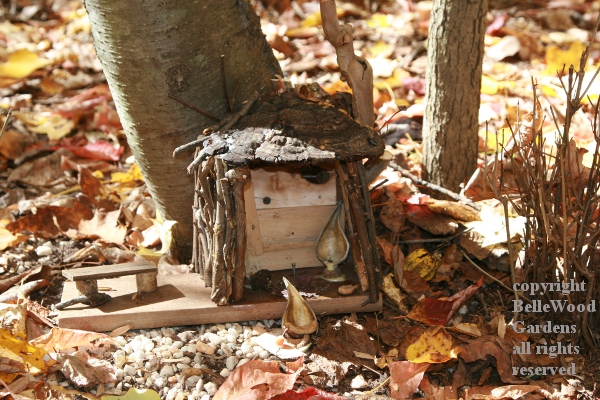 A bench outside the house, to sit while weaving moonbeams
beside a rustic fairy house with sturdy bracket fungus roof.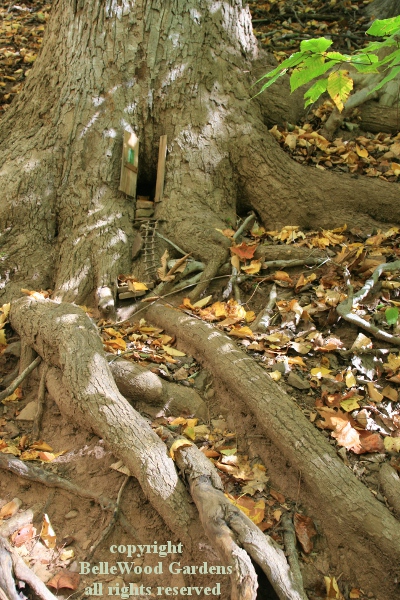 Climb up the ladder, open the double doors,
and into the house in the heart of the tree.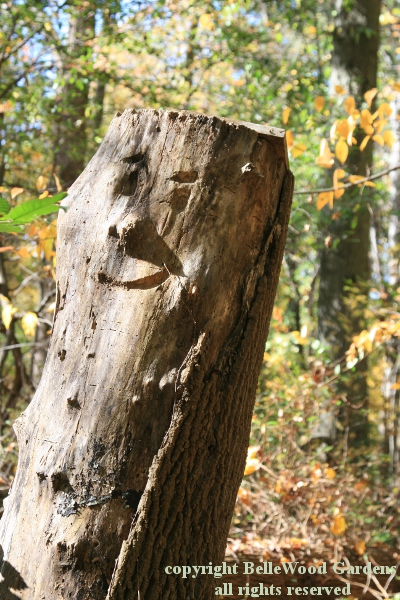 Did you see fairies? I think that they mostly
come out at night. The smiling tree spirit
will tell them about our visit after dark.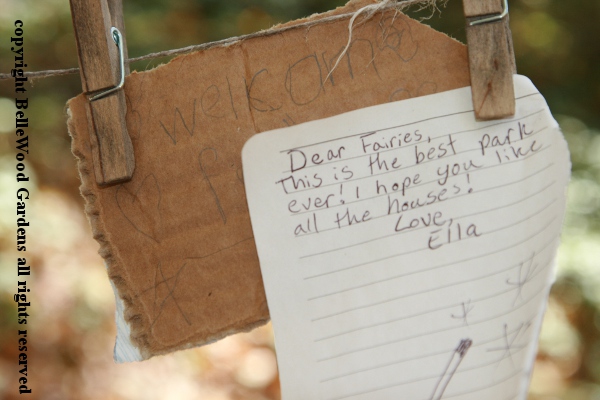 Someone left an appreciative note for the fairies. Dear reader,
if you can come and visit too. There's a peacefulness. And magic.
---
Back to Top
---
Back to October 2017
---
Back to the main Diary Page