.
Garden Diary - November 2017
---
If you have any comments, observations, or questions about what you read here, remember you can always Contact Me
All content included on this site such as text, graphics and images is protected by U.S and international copyright law.
The compilation of all content on this site is the exclusive property of the site copyright holder.
---
November
---
Autumn Crafts
Wednesday, 15 November 2017
---
It's a tradition. The November meeting of the Tohickon Garden Club is a make-and-take. The club provides cut flowers and the accoutrements - floral foam, plastic bowls, etc, and members make flower arrangements to take home for their Thanksgiving table centerpieces. Thanksgiving is also the reason our meeting is a week earlier than usual.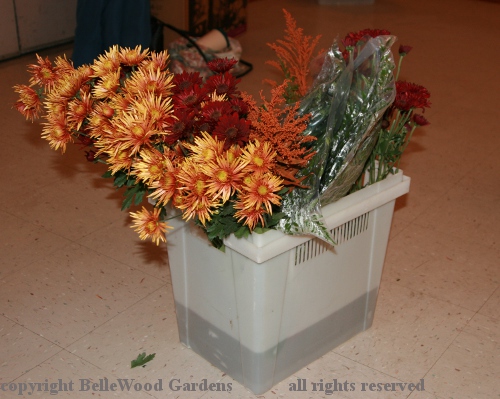 Buckets of flowers in rich autumnal colors are provided.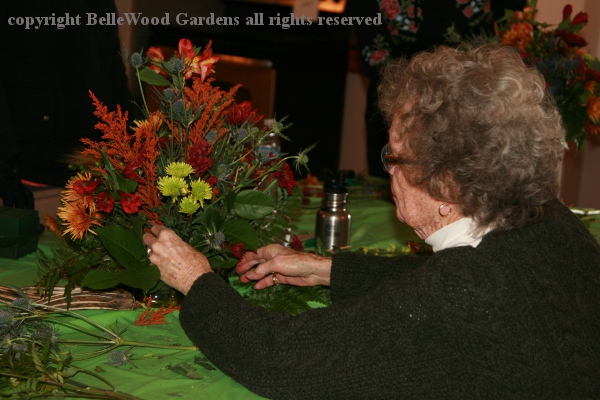 It's interesting how individual each arrangement becomes.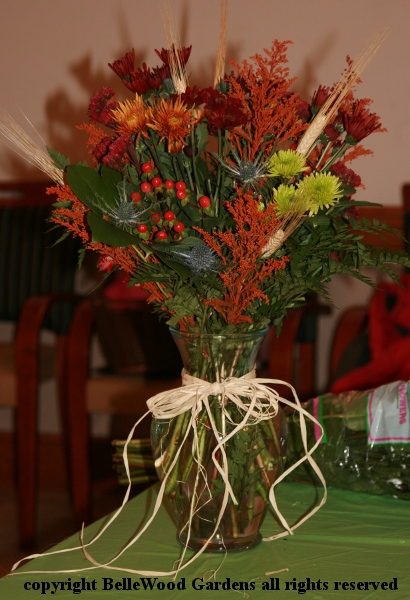 Flowers, foliage, berries, and wheat, with raffia embellishment.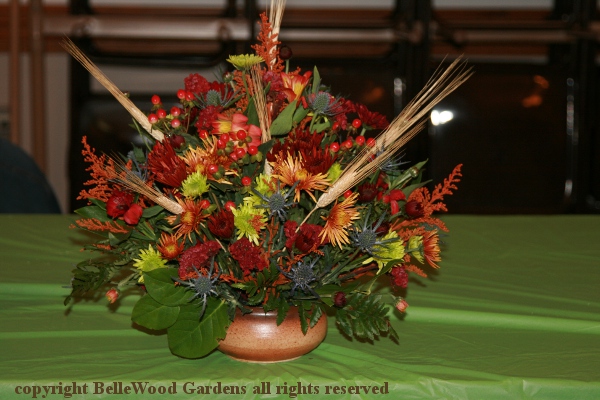 .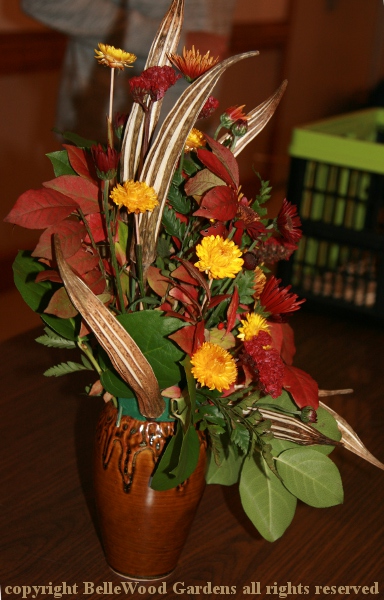 Ann brought a box of dried okra pods
harvested from an end-of-season CSA.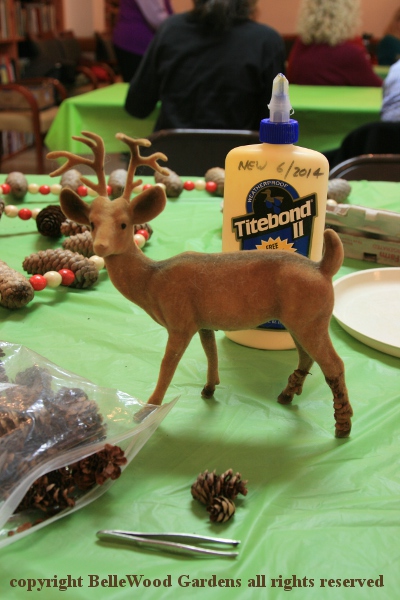 I don't do flower arrangements, so brought some craft-y things to share, such as this little plastic deer to be covered with individual hemlock scales, fastened on with carpenter's glue. It needs to be done piecemeal, so the glue has a chance to dry before you flip the deer around. I've just started on his hind legs.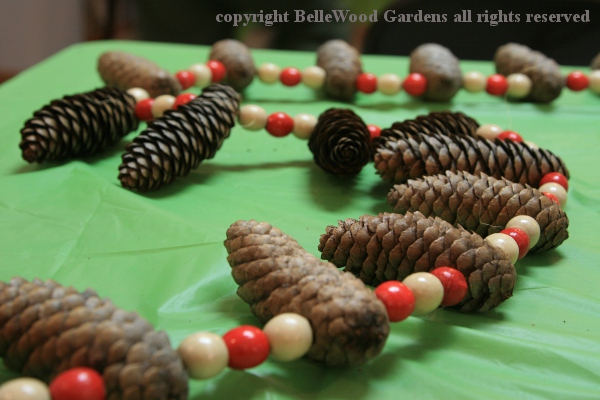 Or, a sort of Swedish garland of spruce cones and wooden beads.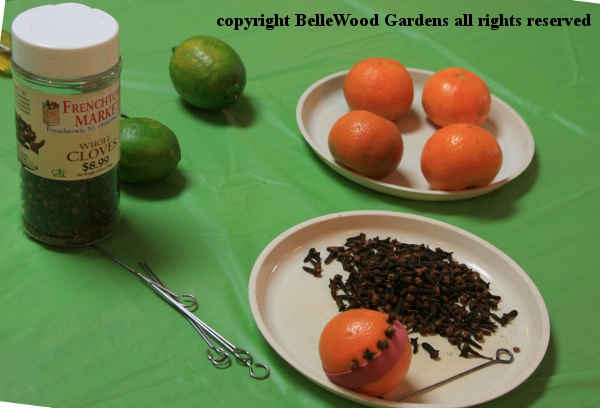 The real holiday tradition is a pomander ball. One woman said
she remembers making these in first grade. Ah, memories . . .
Lovely fragrance, easy to craft - pomanders are a nice addition to the winter holiday season. You'll need minimal ingredients - just small citrus such as a clementine, some whole cloves, and a nail or turkey lacer to poke holes. Why not make several and share with family and friends.
It goes like this: poke a hole in the citrus, shove in a clove. Repeat until clementine / lime / lemon is covered with cloves. Toss in a plastic bag with ground cinnamon. Remove pomander. Place in an airy place to shrink and dry. Really, it's that simple.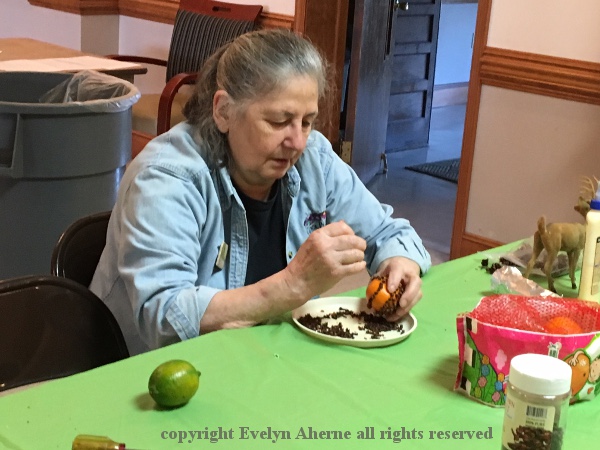 Things to keep in mind:
1. It is very expensive to buy small containers of cloves at the supermarket. Asian or Indian grocery stores sell large amounts that are often much more reasonably priced
2. If you poke the holes too close together the fruit may split, which is not good.
3. A large navel orange takes more cloves than you think. I use small clementines, lemons or limes. A kumquat is too small.
4. Citrus is better, but you could also use large crab apples.
5. If you think you might want to add a ribbon, start your pomander with a wide rubber band wrapped around the long dimension. Insert a line of cloves along each side of the rubber band. Remove when done, and it will give a clear space for the ribbon. A pomander will last for a year or more. Refresh the fragrance with another dusting of ground cinnamon, perhaps with some ground cloves added.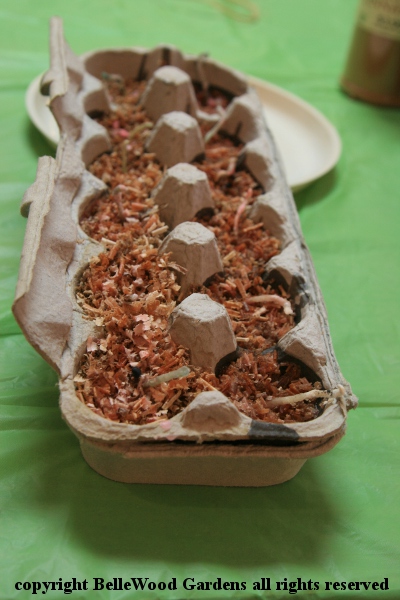 And oh yes, one more autumn craft - fire lighters. Take a pressed fiber egg carton and fill each compartment with wood shavings or dryer lint. Melt ugly old partly burned candles (take a metal can, pinch down one side for a pouring spout, and set in a pan of hot water.) Pour melted wax into each compartment and set aside to cool. To use, just rip off one unit, set under kindling. Embellishments might including adding candle fragrances as you melt the wax - bayberry or pine are nice at this time of year. And if you salvaged the wicks from the melted candle stubs you can trim them to an appropriate length, then stick them into the wood shavings / wax for easy lighting.
A flower arrangement or simple seasonal crafts, something you've done yourself to add to the season's festivities.
---
Back to Top
---
Back to November 2017
---
Back to the main Diary Page