.
Garden Diary - December 2017
---
If you have any comments, observations, or questions about what you read here, remember you can always Contact Me
All content included on this site such as text, graphics and images is protected by U.S and international copyright law.
The compilation of all content on this site is the exclusive property of the site copyright holder.
---
December
---
Atlock Farm Winter Celebration
Saturday, 3 December 2017
---
Now that it is December all sorts of seasonal / holiday events are filling up the calendar. Today is a winter celebration at Atlock Farm, 545 Weston Canal Rd, in Somerset, New Jersey 08873. I'm not sure how many years I've been here for the event. Numerous, to be sure.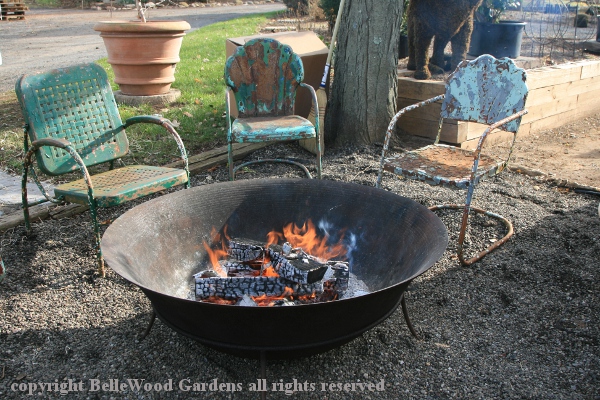 There's a wonderful fire pit, warming the air. Today, it happens
to be mild. Doesn't matter. The fire is seasonally welcome.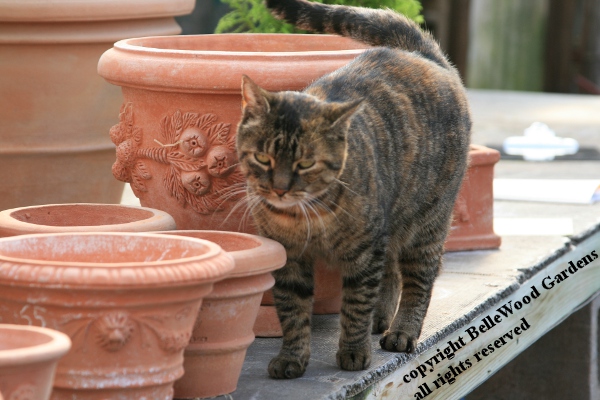 Atlock Farm is known for its cats. This is Peanut, strolling amidst
Seibert & Rice Impruneta terra cotta pottery, today on sale here.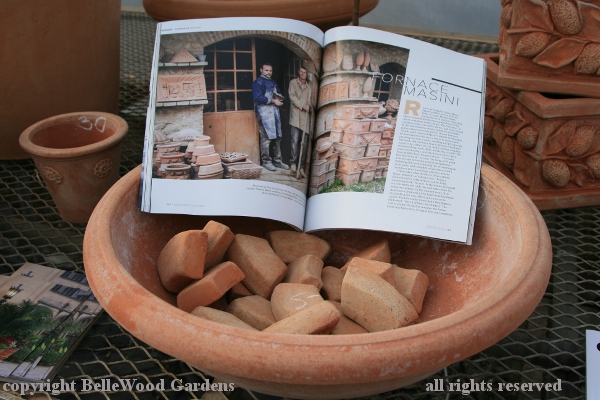 Last year Seibert & Rice was profiled in Garden Design magazine.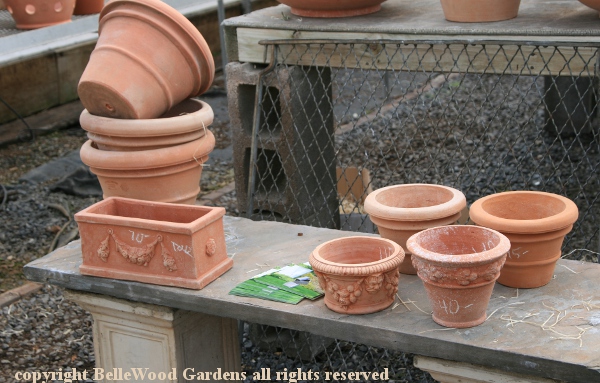 Part of the traditional first Saturday in December winter celebration
at Atlock Farm, Seibert & Rice hauls in planters and pots of all sizes.
Small ones are easy to move. Large,
very large ones, not so easy to bring here.
Today is not merely the Atlock Farm Winter Celebration, and the Seibert & Rice sale. It's a Garden Conservancy Open Days event, with a n Experts in the Garden presentation. Atlock Farm is renown for topiary, created on the premises since 1987. And Ken Selody with show us how it's done.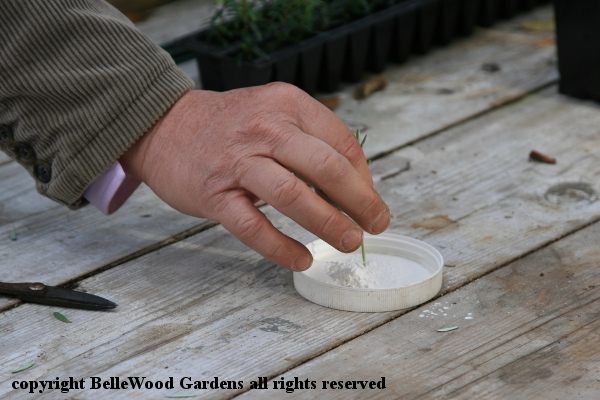 Take a small cutting. Myrtle is good, as are other plants. Tip some rooting hormone out of its container and just dip the cutting's base into it. Less is best - you're not basting a chicken.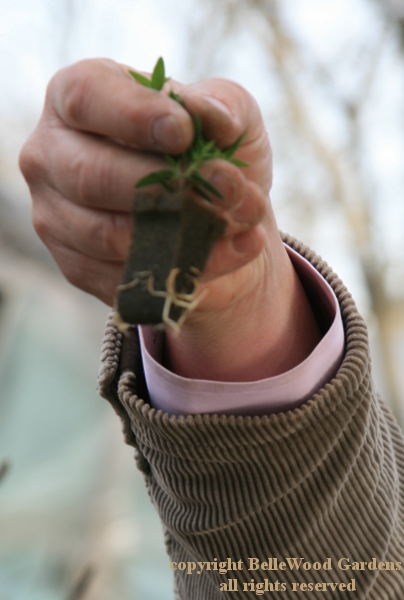 Ken uses small foam blocks. As you can see, the cutting
can easily root right through the foam block.
It takes a couple of years for the cutting to reach a display-worth size. During that time it will be tied to a support stake with raffia, lower shoots will be rubbed off. And when it reaches the desired height it will be allowed to form a bushy "head."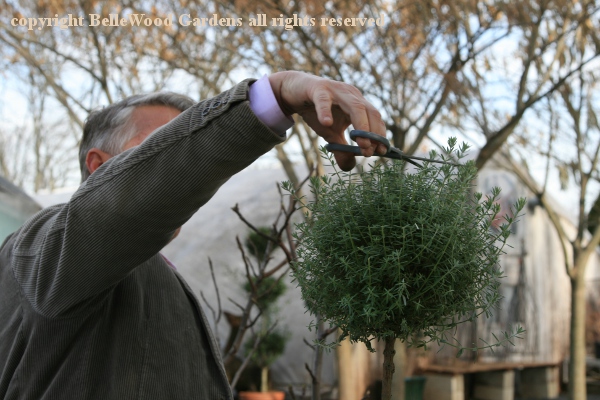 This will need pruned periodically. Do this on the perimeter, so you can keep sight of where you are cutting - do it right in front of yourself and errors will happen. That's not the end of the world, as you might fear. Plants do, in many cases, grow back.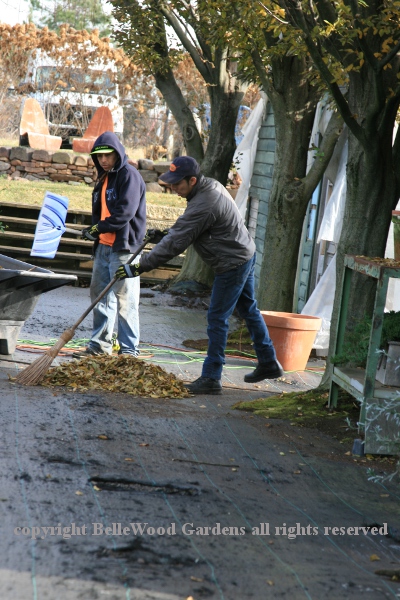 Maintenance is ongoing. The various trees, Ken told me, drop their leaves sequentially - clean up from one and another then starts to discard its foliage. The leaf blower was too noisy for his presentation so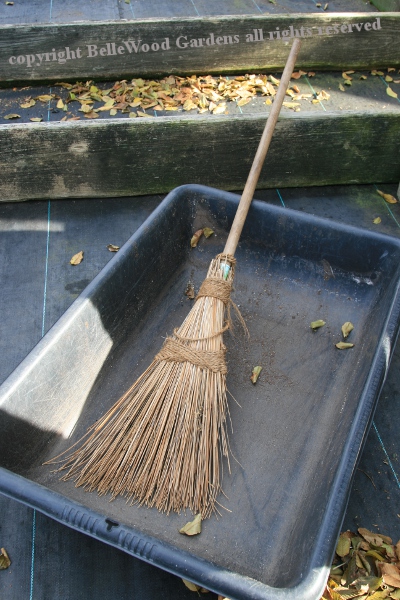 he had the men use a besom.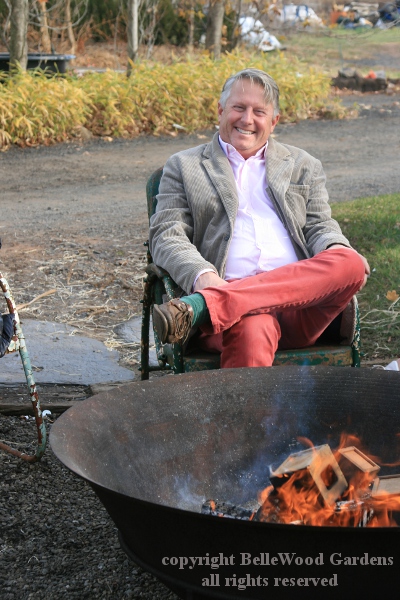 All done. Time to relax by the fire pit.
Another excellent winter celebration.
---
Back to Top
---
Back to December 2017
---
Back to the main Diary Page