.
Garden Diary - November 2016
---
If you have any comments, observations, or questions about what you read here, remember you can always Contact Me
All content included on this site such as text, graphics and images is protected by U.S and international copyright law.
The compilation of all content on this site is the exclusive property of the site copyright holder.
---
November
---
Holiday Train Show
at the New York Botanical Garden
Monday, 14 November 2016
---
Once upon a time - are you old enough to remember? - the evergreen holiday tree in the living room would have a Lionel train endlessly chugging around on tracks set up in a circle. Very plain vanilla. Something very special and more elaborate started back in 1992 when the very first Holiday Garden Railway Exhibit was displayed at the New York Botanical Garden. Year by year it has evolved into something ever more magical and wonderful, a beloved tradition for parents and children. Now, 25 years later, grandparents and grandchildren still enjoy the magic.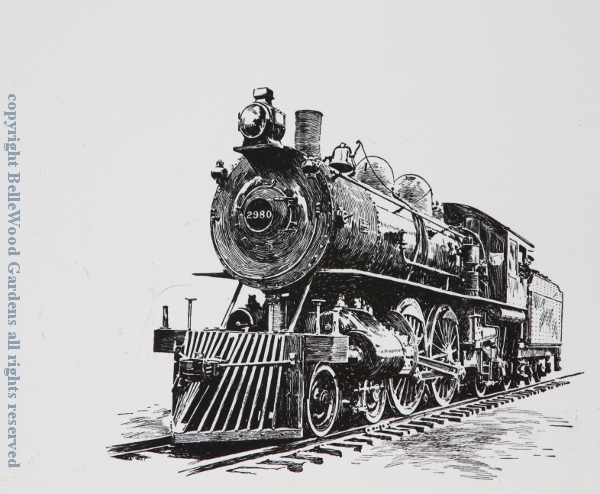 Come, all aboard, for a look at the 2017 Holiday Train Show. Today is the press preview, and the very last tweaks and embellishments are taking place. Members Open Day is Friday, 18 November. The public opening is Saturday, 19 November 2016 and remains open until 16 January 2017.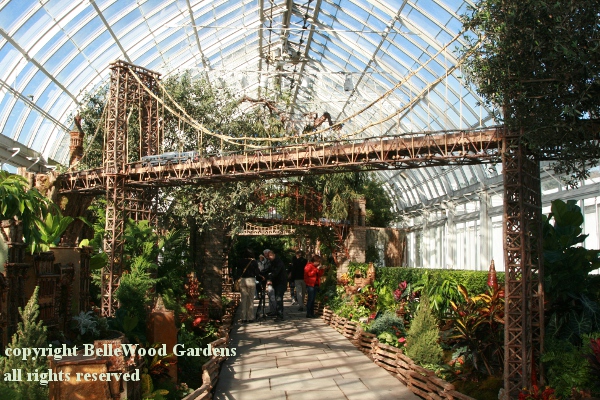 The exhibition gallery of the Enid Haupt Conservatory, a crystal palace that for this event is filled not just with plants but with botanical architecture that creates replicas of actual buildings and bridges from seeds and pods, berries and acorns and pinecones, leaves and twigs and bark and fungi.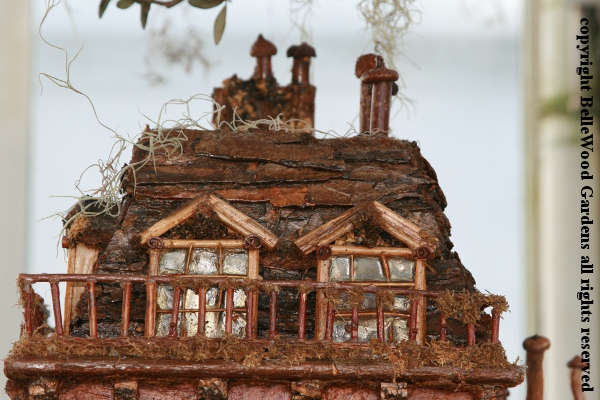 Just look at the detail of this brownstone building's attic.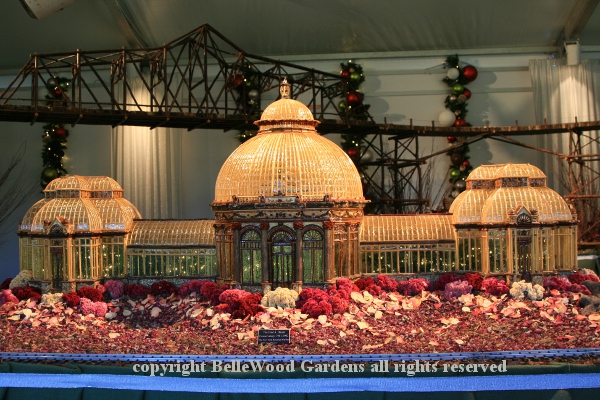 We enter through a holiday space with baubles and garlands. And stare at the conservatory we are about to enter. Fractal geometry, symmetry in terms of scale, not left hand / right hand. And several trains are in motion, looping around and overhead.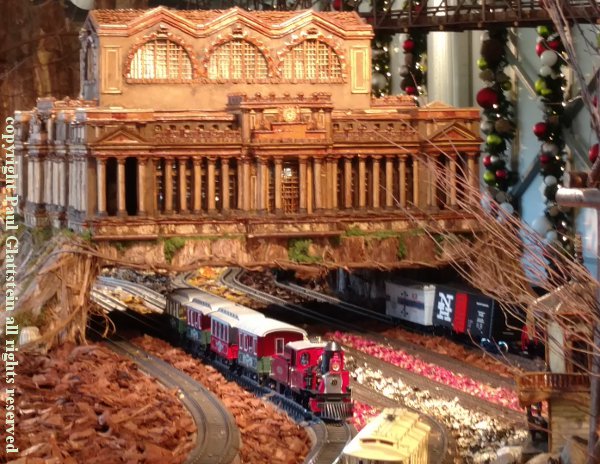 Grand Central Station with multiple tracks and multiple trains.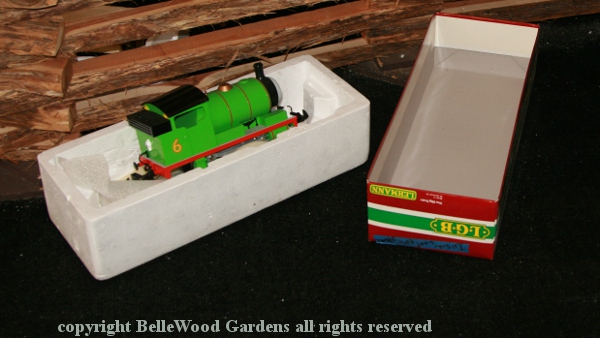 These trains are G scale, larger than the perhaps more familiar Lionel trains of your childhood. LGB is the acronym for Lehmann Gross Bahn - the "Lehmann Big Railway" in German.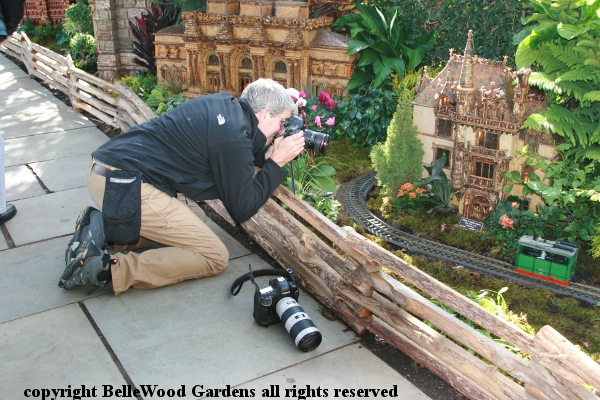 But to really appreciate all the fine details you must shrink yourself down . . .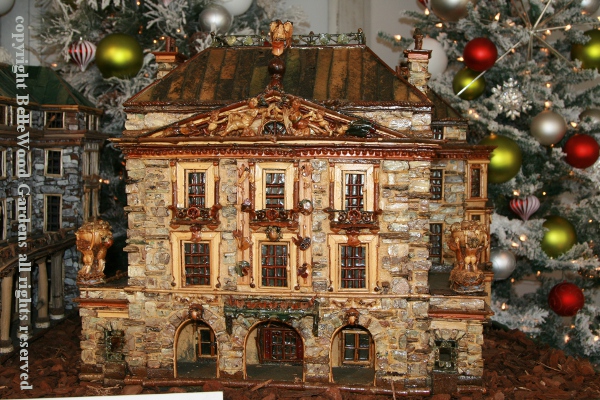 There's a "How do they do that?" display that explains how the buildings are created
using Kykuit, the Rockefeller estate in Sleepy Hollow as its model.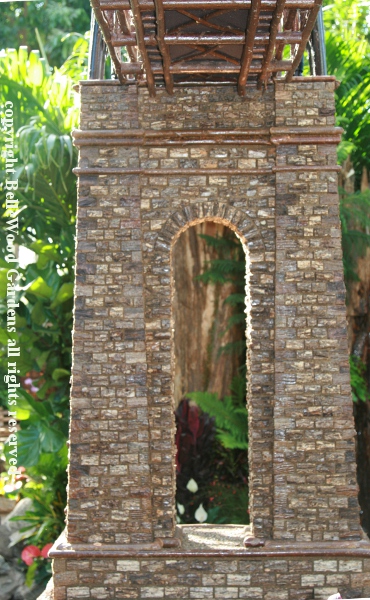 No toothpick-about-to-topple flimsy structures here. They're quite sturdy,
like these bridge supports that do support the trains running overhead.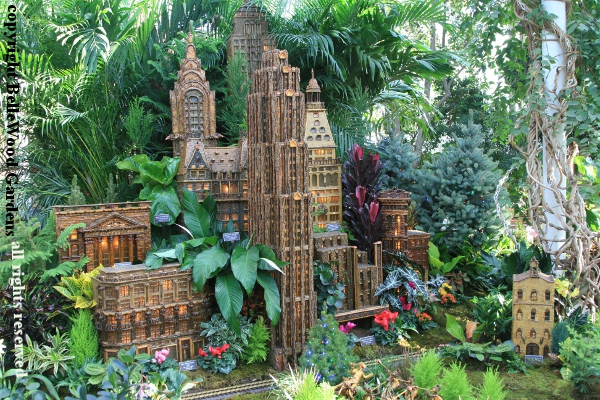 Some buildings are displayed every year, like Rockefeller Center.
And something new is always added. I'll show you, just be patient.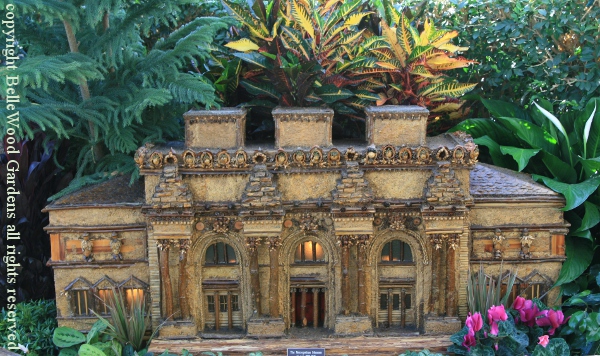 The Metropolitan Museum of Art is one of my favorites.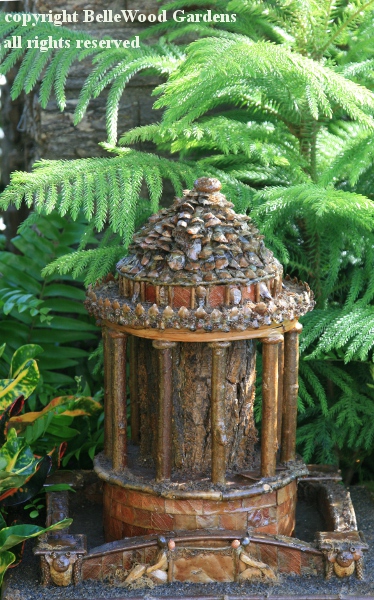 Or perhaps you'd like something
more modest in scale, such as Grant's Tomb.
Or the welcoming form of the Statue of Liberty,
the Mother of Exiles, as she raises her torch.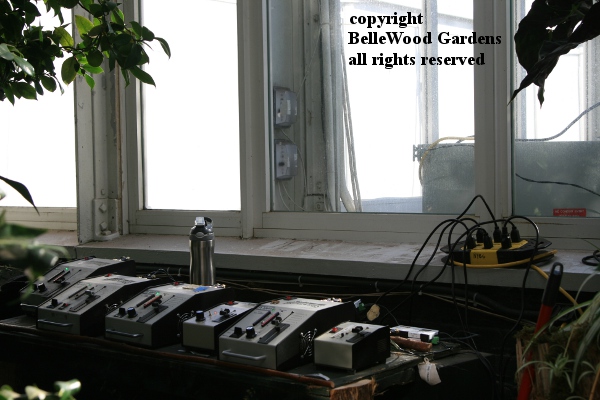 The trains are carefully controlled for timing and speed to ensure
that visitors are provided with wonderful activity at every turn.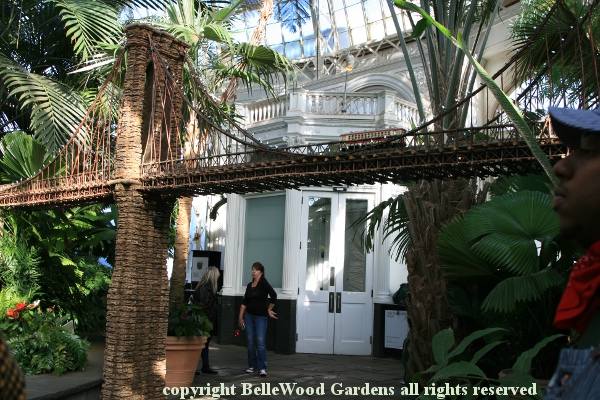 This year the 30 foot long Brooklyn Bridge is in the 90 foot tall dome of the Palm Court.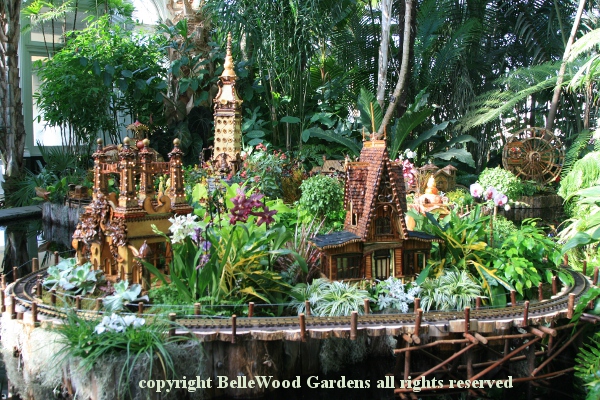 Which is where several of Coney Island's iconic structures are displayed
such as the Luna Park Central Tower (love the dolphins) and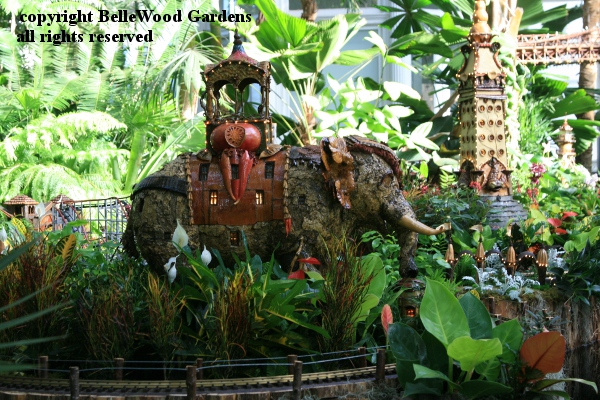 the Elephantine Colossus, a 19th century hotel.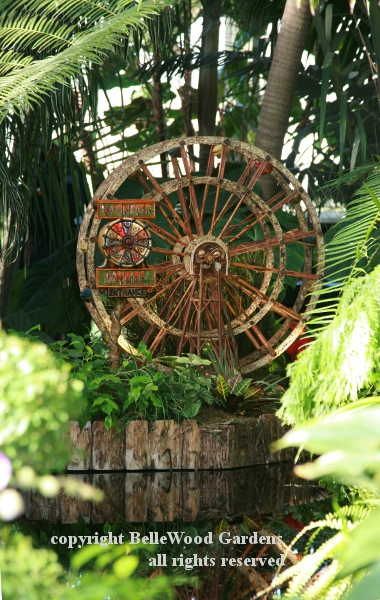 And the Wonder Wheel. This was very tricky
because, you see, it actually rotates!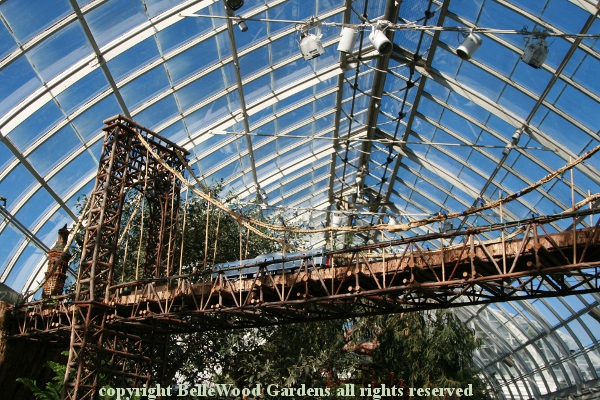 It's wonderful, it's magical, it appeals to young and old.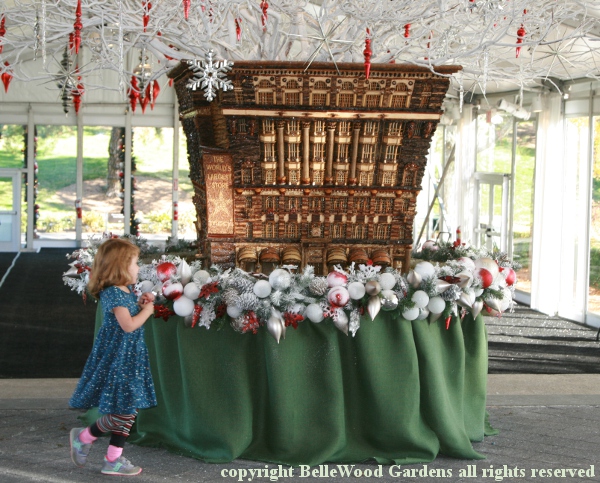 Release your inner child and come to revel in the holiday magic of the trains
and buildings where elves and fairies would appreciate the city within the city.
The New York Botanical Garden is open Tuesday through Sunday from 10:00 a.m. to 6:00 p.m., and selected Mondays: December 19 and January 2 & 16. It is closed all day November 24 (Thanksgiving) and December 25 (Christmas); it closes at 3:00 p.m. on December 9 and 24. All-Garden Pass tickets start at $20 for adults and $10 for children 2 to 12, and differ during certain peak times and weekends. The Garden strongly recommends advance timed tickets, which are available here The Garden can be reached by car, and there is a Metro-North Railroad stop just across from the Garden.
---
Back to Top
---
Back to November 2016
---
Back to the main Diary Page