.
Garden Diary - December 2016
---
If you have any comments, observations, or questions about what you read here, remember you can always Contact Me
All content included on this site such as text, graphics and images is protected by U.S and international copyright law.
The compilation of all content on this site is the exclusive property of the site copyright holder.
---
December
---
Gingerbread Houses at the County Library
Sunday, 11 December 2016
---
What shall we bake for Christmas? There's fruitcake, of course, filled with candied fruit and brandy soaked raisins, and drenched in brandy too. But fruitcake is a fruitcake is a fruitcake. It is what it is. Gingerbread, now, gingerbread can be architectural, as in gingerbread houses. There's a charming display at the county library on Route 12 in Flemington, New Jersey that's on show through December 31st.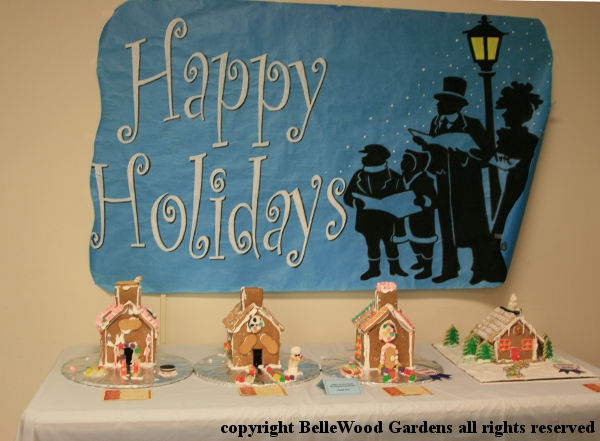 The contest form has a recipe for construction grade gingerbread made with 10 cups all-purpose flour, 1 pound of softened butter or margarine, 3 cups sugar, 1 1/2 cups water, 1 Tablespoon baking soda, 2 Tablespoons dark corn syrup, and 2 Tablespoons each ground ginger, ground cinnamon, ground cloves, and ground cardamom. If you do not plan to eat the house, just double the quantity of cinnamon and ginger (4 Tablespoons each) instead of also using cardamom and cloves. Cardamom is expensive.
Measure flour, set aside. Combine sugar and butter in another bowl and set aside. Combine water and remaining ingredients in a saucepan and bring to boil. Pour over butter and sugar, stirring until sugar is dissolved. Add flour, one cup at a time. Be sure to blend well with each addition. Dough will be quite soft. Store, well covered, in refrigerator, overnight. Make a model of your house from cardboard to use as templates when cutting the dough.
Let come to room temperature while preheating oven to 375 degrees Fahrenheit. Roll dough on lightly floured surface to 1/4 inch thickness. Bake for 15 to 17 minutes or until browned. Use royal icing as adhesive to hold your house together, and to decorate it. Royal icing is made from 3 large egg whites, at room temperature together with 3/4 teaspoon cream of tartar and 1 pound 0X confectioners sugar (sifted to remove any lumps before using.) Mix on high for 7 to 10 minutes, until very stiff. Use as soon as possible as royal icing dries quickly to a very hard consistency. Keep well covered until each portion is used.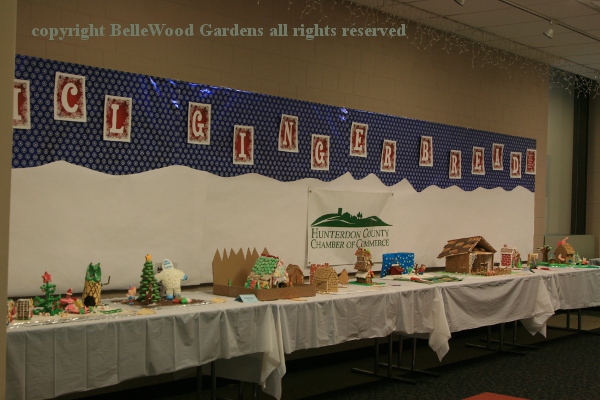 Just look at what the "architects" of all ages,
working individually or as a family, have made.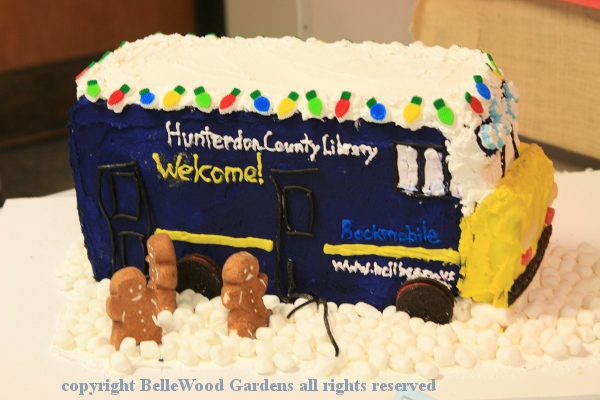 Not a house but very appropriate: it's a gingerbread bookmobile
made by bookmobile driver Karen Case.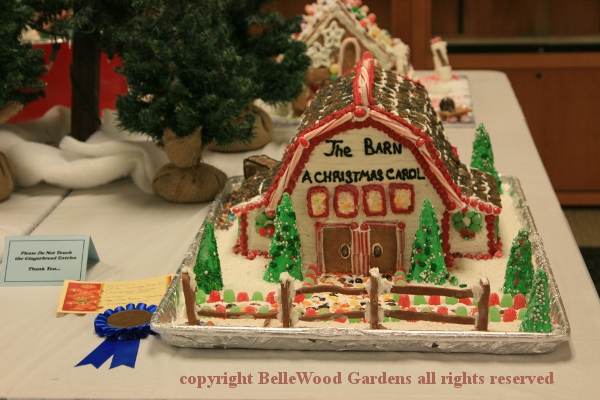 Complete with evergreen trees and pretzel fence, The Barn was a prize winner.
It's a sweet time of year. Where else? Why, at the Fudge Shoppe of course.
Cindy Lou Who's house in Whoville, with the Grinch struggling to get in.
Here's a neat and tidy cottage, well kept by Snow White
when she lived there with the kindly seven dwarfs.
So many sweets and candies on the cottage and its roof,
and strewn on the ground. Watch out, Hansel and Gretel!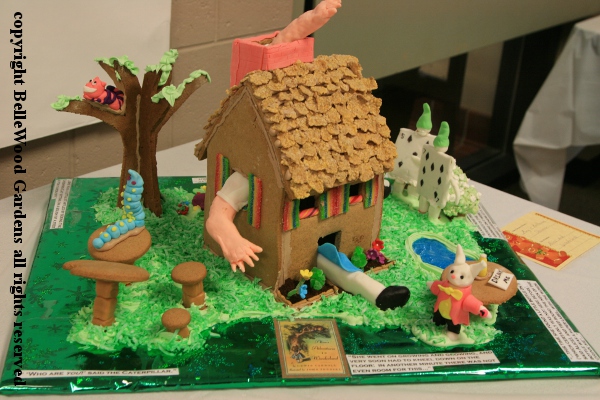 Alice found the mushroom that was labeled "eat me." And now
she doesn't fit into the gingerbread cottage any more!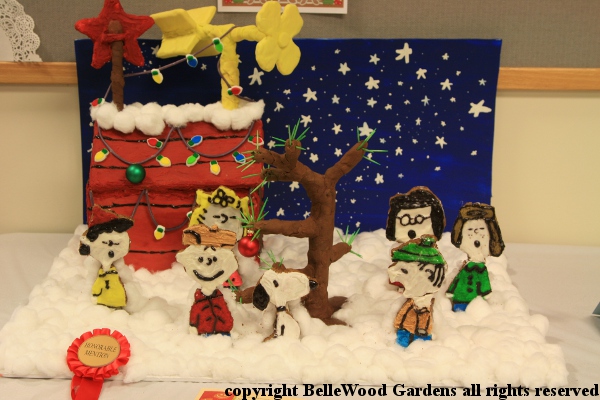 "Hark the Herald Angels Sing." And its the real meaning of Christmas for
Charlie Brown, Linus, Lucy, Sally, and Snoopy, and the whole gang.
---
Back to Top
---
Back to December 2016
---
Back to the main Diary Page