.
Garden Diary - August 2016
---
If you have any comments, observations, or questions about what you read here, remember you can always Contact Me
All content included on this site such as text, graphics and images is protected by U.S and international copyright law.
The compilation of all content on this site is the exclusive property of the site copyright holder.
---
August
---
Hydrangea How-To
Wednesday, 24 August 2016
---
August. It's a time when such annuals as zinnias and marigolds and petunias are flowering prodigiously, along with summer bulbs like dahlias. But when it comes to shrubs, it's roses. And hydrangeas. Now, hydrangeas are easy enough to grow but they can be confusing to flower. Today the Tohickon Garden Club had an excellent lecture by Bruce Crawford, director of Rutgers Gardens that explained the what, why, and how-to of growing hydrangeas.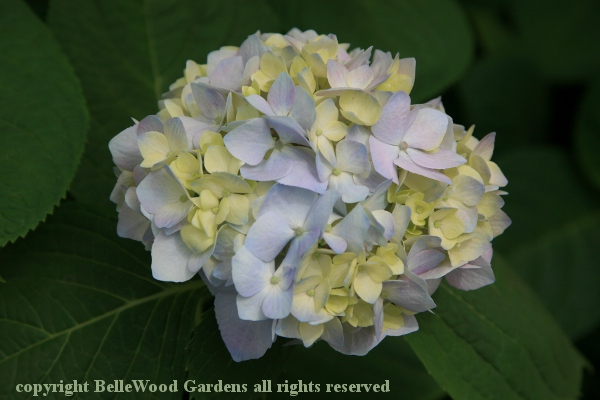 His first point - where do hydrangeas originate? There are two species native to the United States: Hydrangea arborescens, native to the northeastern United States, and H. quercifolia, native to the southeastern United States, both popular garden plants. The other species are found in China, Japan, and Korea. And it is here that problems arise in their cultivation. If the species originate in coastal, maritime climates they are used to milder growing conditions than those species found at higher elevations. This has an effect not only on their overall hardiness, but whether they bloom on new growth (like roses) or on the previous year's growth (like rhododendrons.) In the latter instance a severe winter or mis-timed pruning removes the buds and that year's flowers.
Let's look at some of these wonderful summer shrubs
happy in sun or shade, reasonably deer resistant,
offering some excellent additions to the garden.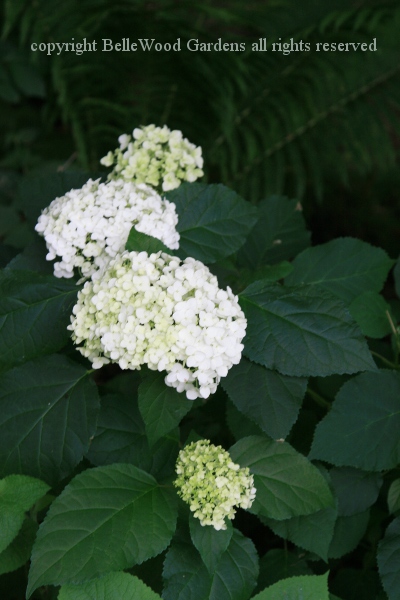 'Annabelle' is a Hydrangea arborescens cultivar. Excellent as a specimen in my woodland garden, and lovely in a mass planting as the flower age to green at Willowwood Arboretum.
.
Our other native, the oak leaf hydrangea, has superb fall color.
"Mophead" is the common name for Hydrangea macrophylla, big leaf hydrangeas with only sterile flowers, resulting in spectacularly large clusters of flowers. There is a genetic component determining if flower color will be pink or blue. Soil pH also has an effect - acid / low pH influences a shift towards blue while higher / alkaline pH takes flower color towards pink.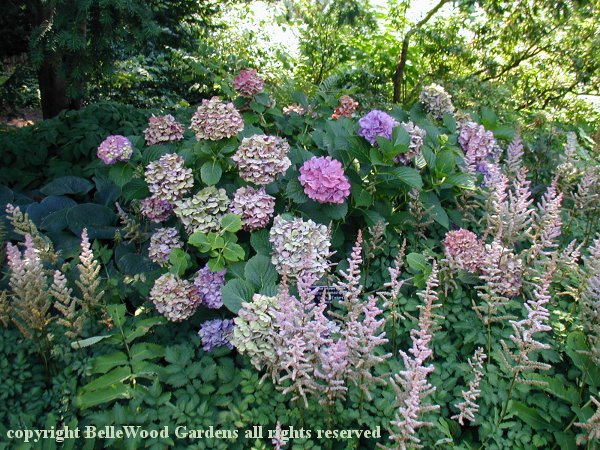 Hydrangea 'Glowing Embers' has pink flowers that age to a sunset purple tint. Since it sets buds in autumn for next summer's crop of flowers is should be pruned just after the flowers fade. Here at the New York Botanical Garden it is paired with an astilbe for a pleasing contrast of shape that balances the similar color.
Also at the New York Botanical Garden, a 2012 exhibition in the Enid A. Haupt Conservatory focused on the artist Monet. The lush, flower filled gardens featured hydrangeas, delphiniums, bearded iris, and more.
Lacecap hydrangeas retain the modest, more deeply colored fertile flowers in the center
of each truss, with an edging of several larger, showier, but sterile flowers as an edging.
'Libelle' is a very attractive lacecap cultivar of H. macrophylla.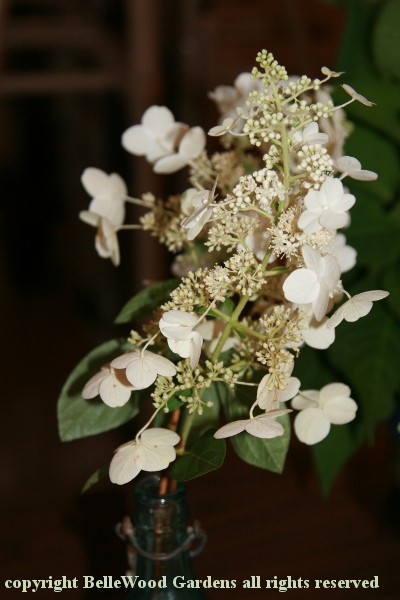 In addition to mophead and lace cap, some hydrangeas have paniculate flower heads. Not shown here, the oak leaf hydrangea, H. quercifolia, has this type of flower head.
Hydrangeas are also lovely as cut flowers.
For more information look for Hydrangeas, A Gardener's Guide by Toni Lawson-Hall and Brian Rothera, published by Timber Press. An older book (last century, in fact, and from "across the pond") with good background and information on cultivation, propagation, pot culture, and forcing is The Hydrangeas, 5th, revised edition by Michael Haworth-Booth, published by Constable and Company Ltd, London, 1984.
---
Back to Top
---
Back to August 2016
---
Back to the main Diary Page