.
Garden Diary - March 2016
---
If you have any comments, observations, or questions about what you read here, remember you can always Contact Me
All content included on this site such as text, graphics and images is protected by U.S and international copyright law.
The compilation of all content on this site is the exclusive property of the site copyright holder.
---
March
---
Making Maple Syrup at Howell Living History Farm
Saturday, 5 March 2016
---
I'm at the Howell Living History Farm today. Had an interesting, informative time at the Winter Kitchen. Now I'm walking over to where the Open Hearth Cooking event is happening.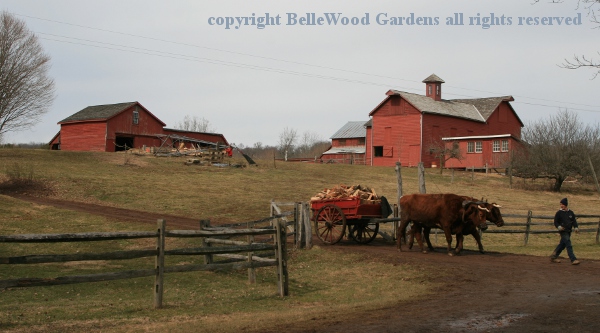 But what's this - where might the ox cart of firewood be going?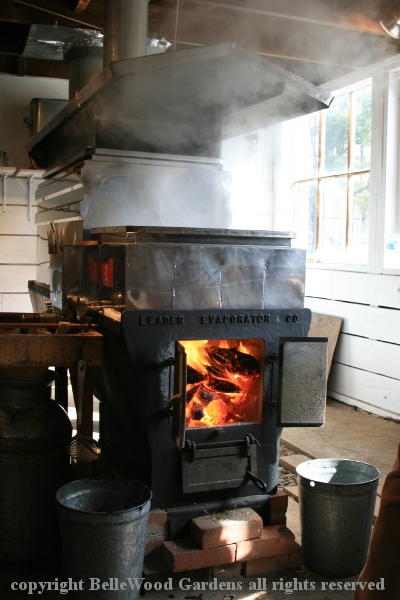 Over to the sugar shack, where sap is boiled down to maple syrup.
It takes a lot of firewood to reduce 40 gallons of sap to 1 gallon of syrup.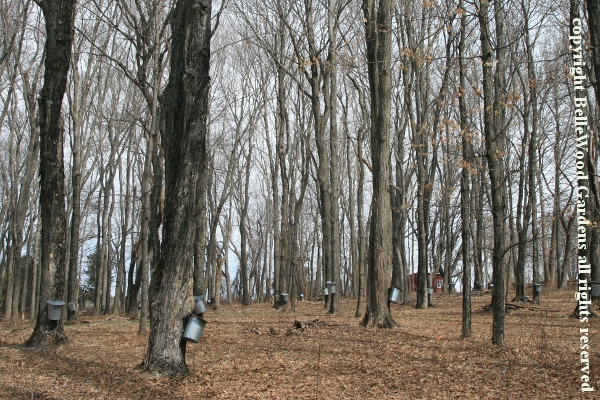 The farm has a traditional sugar bush, where sap is collected in buckets.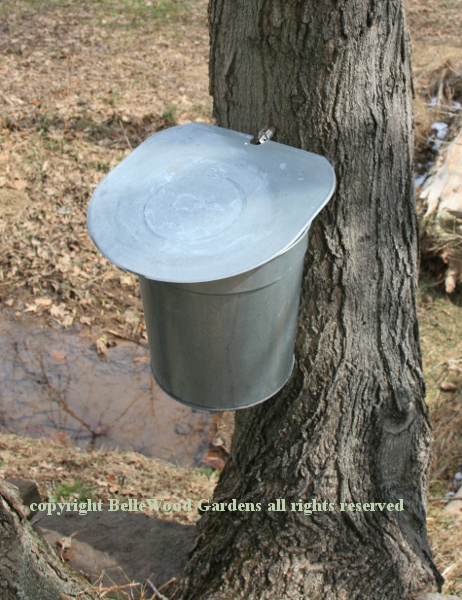 One to 3 lidded buckets per tree, depending on its girth.
The spile both holds the bucket and drips the sap into it
The lid keeps debris and rain from contaminating the sap.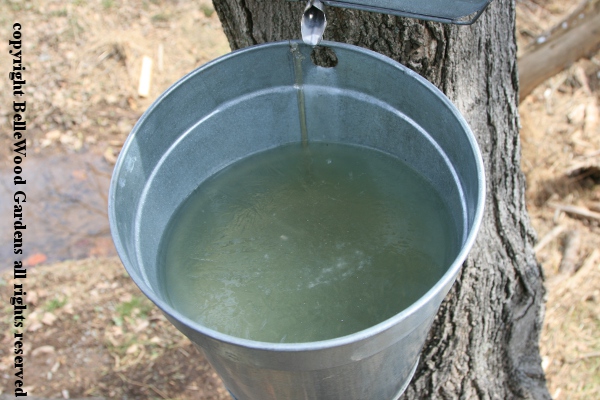 Drip, drip, drip. The sap flows quite well under the right conditions - sunny days of 40 / 45 degrees Fahrenheit with chilly nighttime temperatures well below freezing at 25 degrees Fahrenheit. Sugaring usually has about a six week time frame. Once temperatures are higher and the sugar maple trees begin to bud it is time to pull the spiles and stop. I prefer the darker grades of maple syrup since the flavor is more intense. Yummy on pancakes, glaze for a ham or on salmon, for specialty cookies, in cake frosting, wonderful ice cream. Costly, but worth it.
And now we know where the ox cart of firewood (one on many) was going.
---
Back to Top
---
Back to March 2016
---
Back to the main Diary Page