.
Garden Diary - April 2016
---
If you have any comments, observations, or questions about what you read here, remember you can always Contact Me
All content included on this site such as text, graphics and images is protected by U.S and international copyright law.
The compilation of all content on this site is the exclusive property of the site copyright holder.
---
April
---
Making Lumber
Saturday, 30 April 2016
---
Late last year the Howell Living History Farm did some logging with horses. These were trees that had come down in several years ago in SuperstormSandy. And today Scott Stephens (of Sawmill & Horse Logging business in Brodheadsville, Pennsylvania) has brought his portable sawmill to the farm, to turn some logs into lumber.
This is how it was done, back in the1890 to 1910 time period of Howell farm. Contractors with portable engines and sawmills would come through Pleasant Valley, making lumber from the well seasoned, cut down trees that had been growing in woodlots. Today's event sees the use a portable sawmill to cut lumber for barn repairs and restoration projects - logs turned into barn beams, siding, and floorboards for horse stalls. Smaller wood becomes firewood for the kitchen stove, or might become pegs for use in barn framing. And, planning for the far future, plant replacement trees in the farm's woodlot.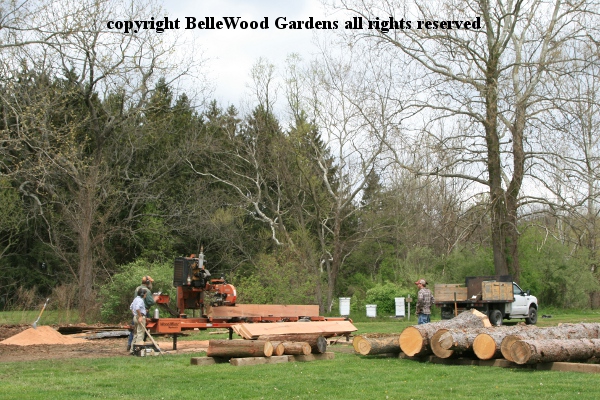 Logs lined up, awaiting their turn to be lifted on the Wood-Mizer's hydraulic craddle.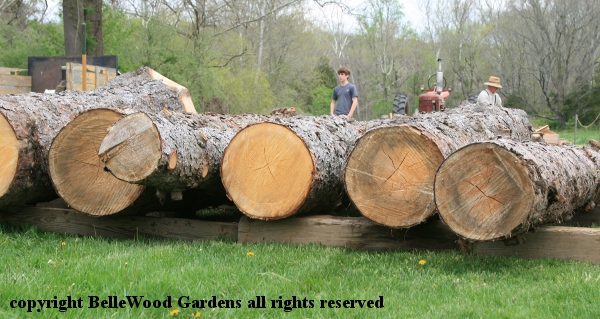 Softwood pine logs, mostly, and a hardwood oak or two.
First cuts remove the slabwood and bark.
Horizontal cuts, adjusted for thickness to make boards or beams.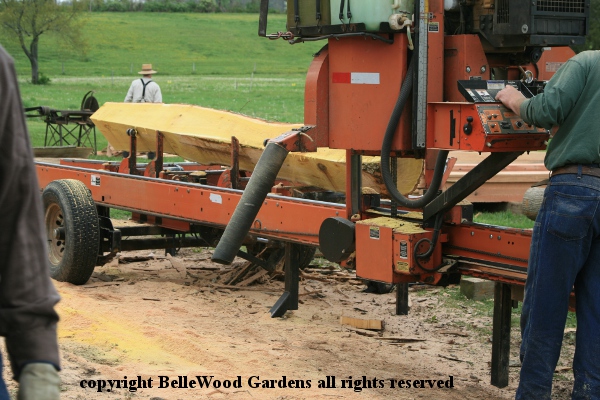 The yellow color of this wood tells me that this is an Osage orange log, Maclura pomifera. Rot resistant, burns hot, and its usefulness for bow making gives it the common name of bois d'arc. At home I have a beautiful, shallow platter turned from Osage orange, that over the years has aged to a honey brown.
Cutting a board.
Stacking another board on the pile of boards and beams.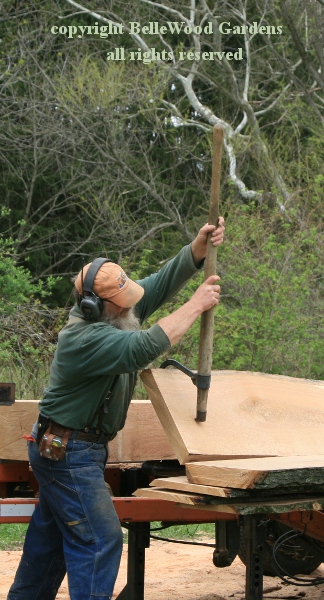 Using a peavey to flip a heavy board onto the hydraulic craddle.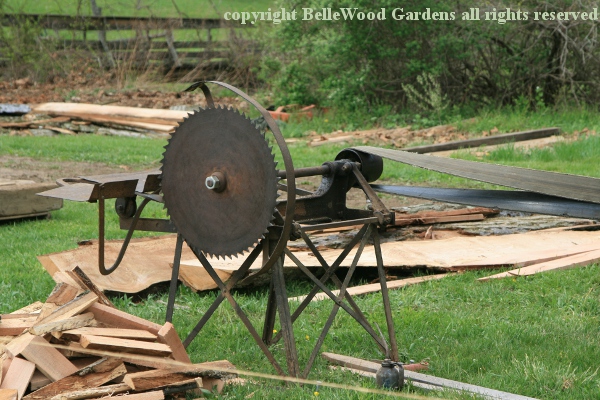 It may be old but this circular saw still works.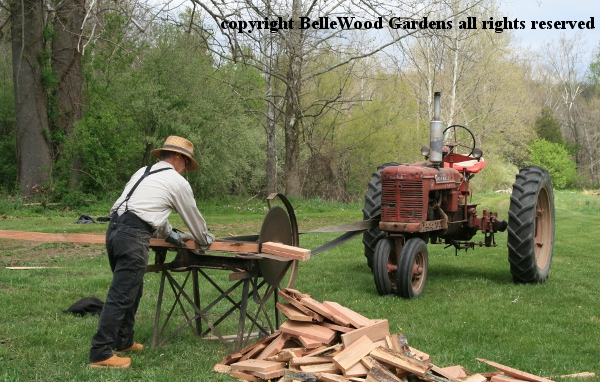 Using a belt hooked up to an older Farmall tractor (the twist keeps the belt from flapping around excessively) these boards are being cut into shorter lengths.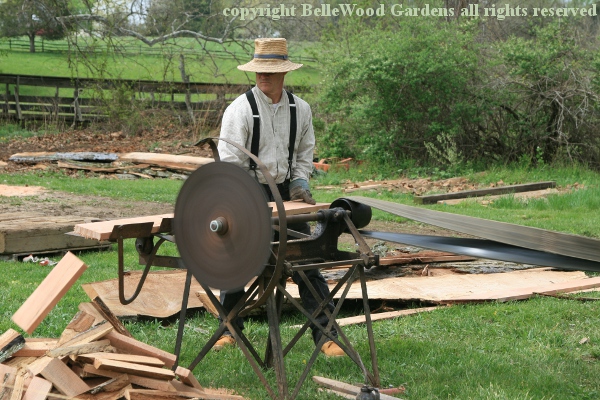 .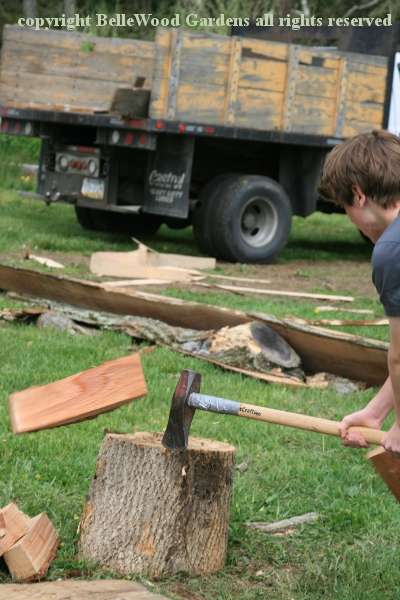 Slab wood being split into firewood with an axe.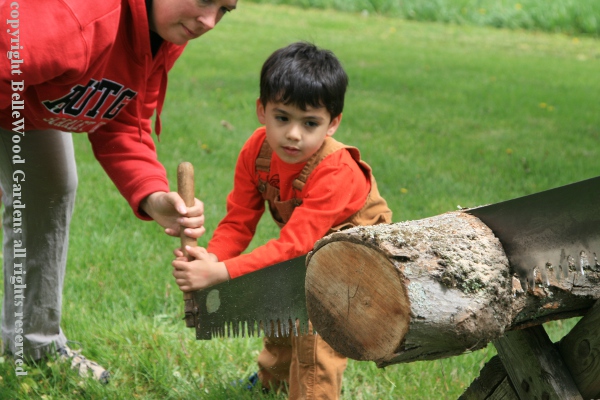 The littlest helper is working the old-fashioned way, cutting rounds with a two-man saw. They'll be split into firewood, used to make wheel chocks and also barn peg blanks.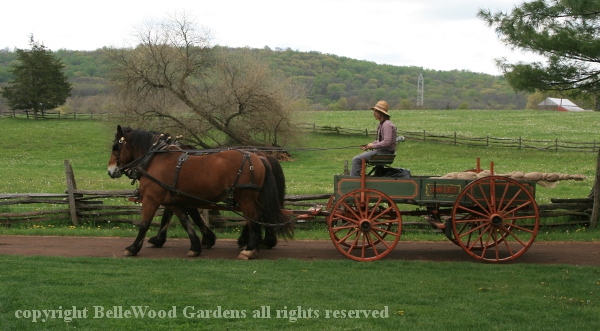 Two young oak trees in the wagon, to be planted as replacements for one oak tree log. Two for one is a prudent way to go. At a minimum, it will be 35 to 40 years before an oak could be cut for lumber. Softwood conifers - pine and spruce for example - grow more quickly and are often cut for pulpwood at a younger, smaller size. Regardless of final use, the trees in a planned, managed hardwood woodlot are often thinned on a regular basis. The poles have other uses - making charcoal for example, and the thinning provides space for the remaining trees to grow. In these times of intant gratification it is a great idea to teach the young visitors to Howell that looking to the future is a prudent idea.
---
Back to Top
---
Back to April 2016
---
Back to the main Diary Page