.
Garden Diary - August 2016
---
If you have any comments, observations, or questions about what you read here, remember you can always Contact Me
All content included on this site such as text, graphics and images is protected by U.S and international copyright law.
The compilation of all content on this site is the exclusive property of the site copyright holder.
---
August
---
Blacksmith and Farrier at Howell Living History Farm
Saturday, 6 August 2016
---
Last Saturday I was at Howell Living History Farm to watch them threshing wheat. As well, this was the weekend of the Mercer County 4-H fair. There were chickens and pigeons and a pair of ducks, rabbits and a Guinea hen, goats and sheep, arts and crafts. And a blacksmith, demonstrating his craft.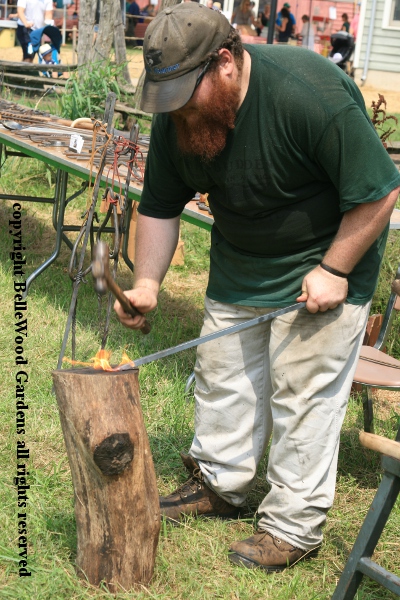 Daniel Lapidow was making small decorative items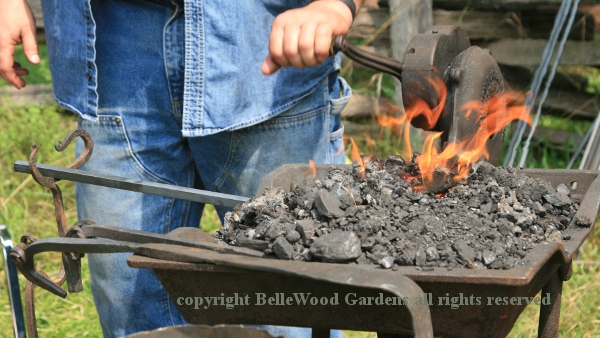 with a soft coal forge (it's easier to fire up than anthracite coal.)
.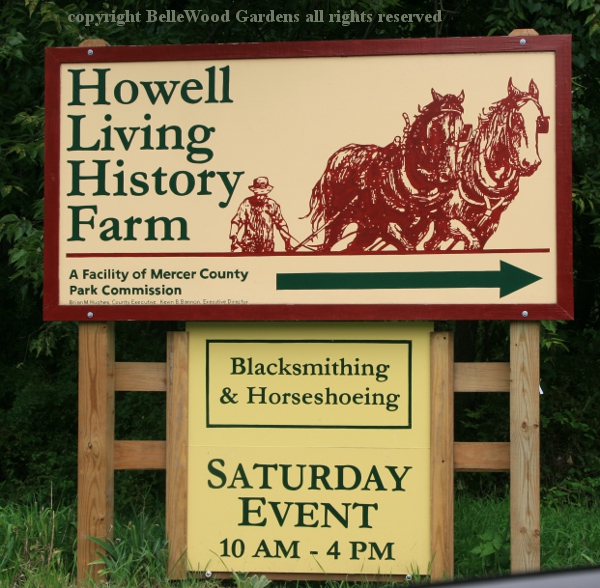 So when I learned that Daniel would be back this Saturday,
and also a farrier - another visit was clearly in order.
Daniel was already at work when I walked up from the visitors center.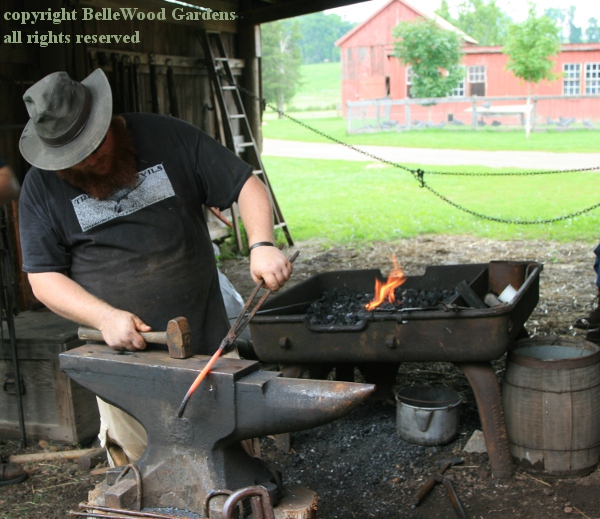 .
There is so much I didn't know about anvils. For example,
it should be mounted so the blacksmith's hand just rests on it.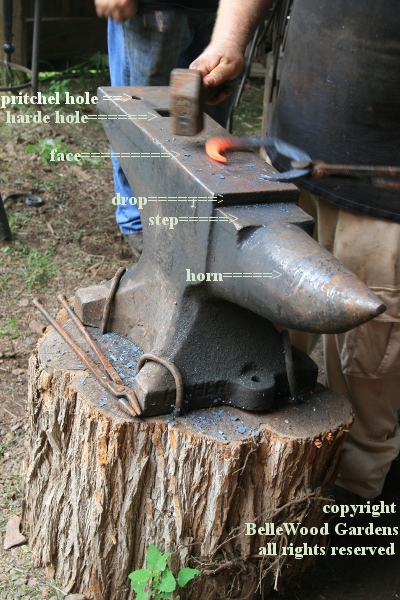 And there are names for all the different parts of an anvil.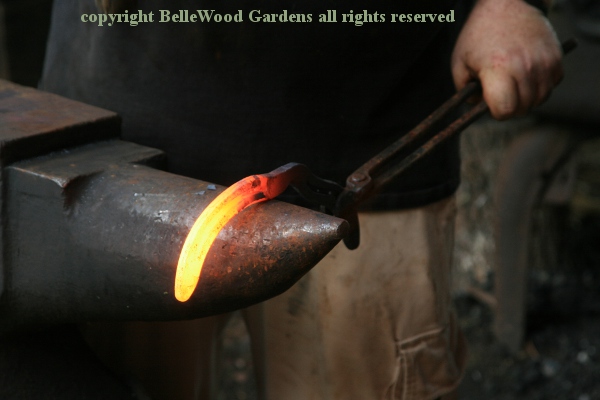 This 600 pound Fisher anvil has seen a lot of red hot work, and still good for more.
Cast iron with a nice stout steel face, producing a quiet sound but very lively rebound.
It's even entirely possible it was manufactured "close to home" in Trenton, New Jersey.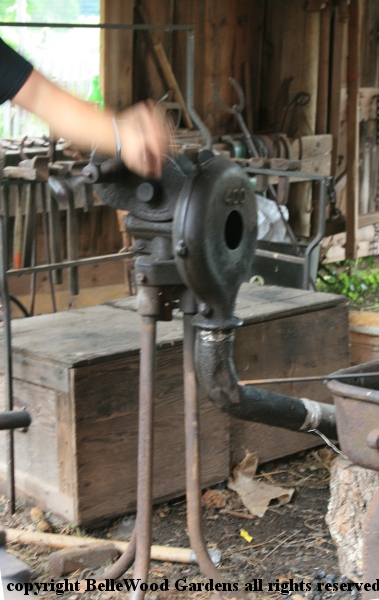 An assistant cranks the tuyere's handle around,
forcing air into the forge filled with anthracite coal.
Well read books offering ideas and options and how-to details.
These beautiful examples of wrought ironwork are not for the beginner.
Firey heart of the forge. Roman Vulcan, Hestaphos of the Greeks,
Wayland the Smith of Norse mythology . . . here's to the blacksmith
who forges hard metal into useful tools and beautiful ornaments.
Blacksmith. Farrier. Are they the same? Are they different? Yes, and yes. Expertise comes with practice. A blacksmith could make horseshoes and a farrier might do smith work. Perhaps the biggest difference - a skilled farrier does more than just nail shoes onto a horse's hoof. He also trims and shapes the hoof as necessary, and deals with issues such as hoof cracks.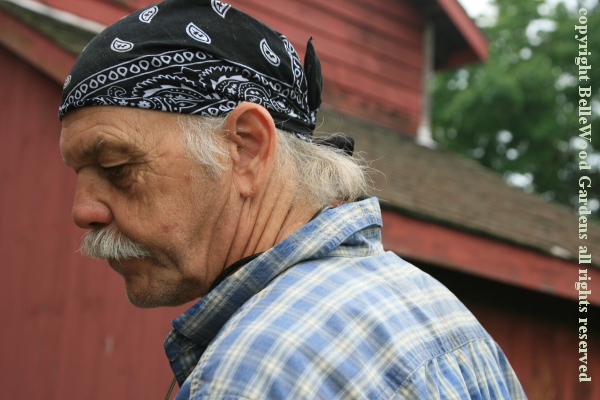 Charles Napravnik, farrier.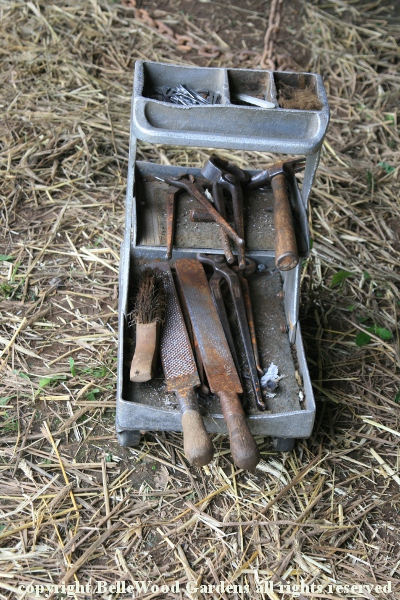 The farrier's tool chest.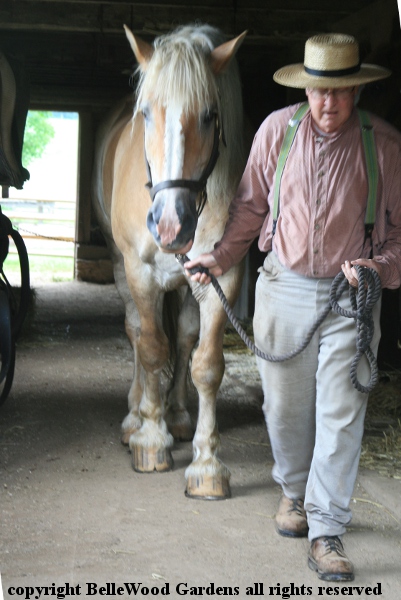 Jack is lead out of the barn. His shoes do not click when he walks
so they're still tight. But maybe his hooves - like our fingernails -
have grown, need trimming. Perhaps pull the shoes and re-use.
Charles, wearing his leather apron, examines the shoe and foot while
Jack patiently stands. He was shod just 5 weeks ago and all is good.
It's usually 6 weeks or so between shoeing. Charles will be back, later.
My friend Ann, who has had horses, has horses now, had this to say about farriers: "Those guys deserve more respect and credit than most people realize. Many horses are not that well behaved and can be a hazard to work with. Add to that hot summers and freezing winters, muddy hooves and biting flies and they earn every penny!!"
---
Back to Top
---
Back to August 2016
---
Back to the main Diary Page