.
Garden Diary - November 2016
---
If you have any comments, observations, or questions about what you read here, remember you can always Contact Me
All content included on this site such as text, graphics and images is protected by U.S and international copyright law.
The compilation of all content on this site is the exclusive property of the site copyright holder.
---
November
---
A Visit to the Van Nest Hoff-Vannatta Farmstead
Saturday, 5 November 2016
---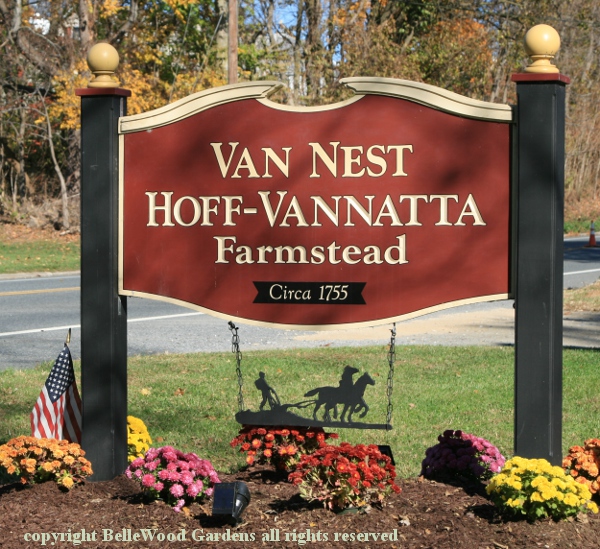 My friend Bill and I are off to the Van Nest Hoff-Vannatta Farmstead.
Perfect autumn weather - clear blue skies with sunshine, modest breezes, and autumn trees in shades of gold and orange with an occasional splash of scarlet. An excellent day for an outing. Apparently a goodly number of other people had the same idea . . . The outdoor Autumn Open Day happenings were accessible. Indoors, not so much.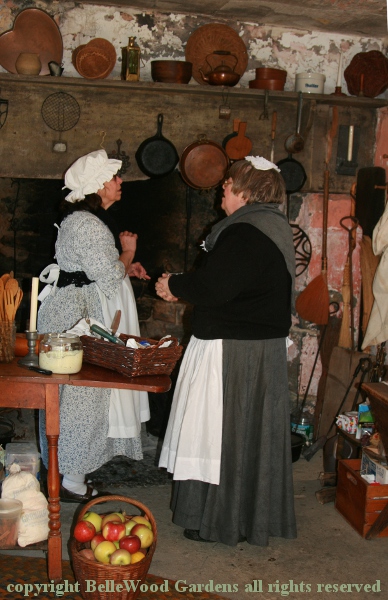 Open hearth presentations in historical kitchens fascinate me. Cooking over an open fire takes a level of expertise I do not have. Likely we've all burned marshmallows. But preparing real food? Not even the same as hamburgers on a barbecue grill. This kitchen is well furnished with kettles and Dutch ovens, all sorts of pots and pans and implements.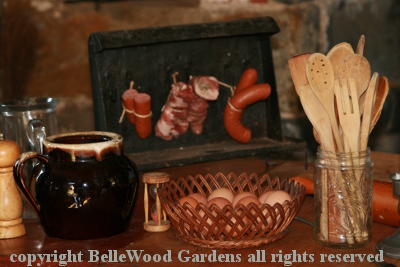 . . .
And two good hausfrauen to demonstrate cooking sausages with the use of a reflector. A raisin studded dough is rising in a bowl on a table set to one side. The kitchen also has a number of 21st century visitors on a treasure hunt, searching for items on their check list (a wire frame toasting device, for one, and a salt box for another.) Many people waving pieces of paper and asking "Is this it?" for a crowded space.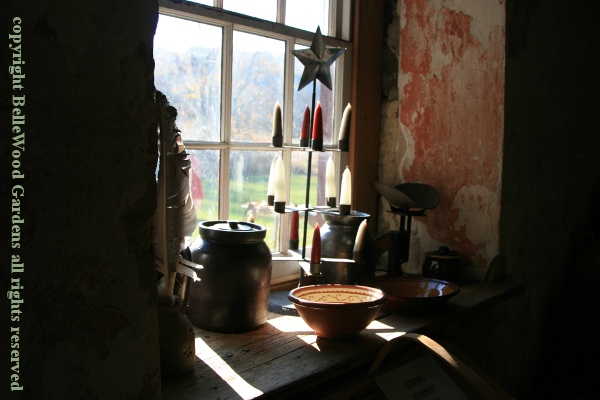 I headed outside, pausing by this still life with candles on the deep sill of a window.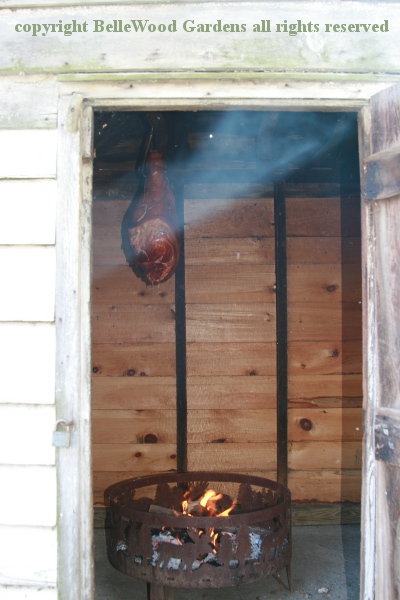 Smoke was rising, wreathing its way out past the door of the smokehouse.
The door was briefly opened so I might peer inside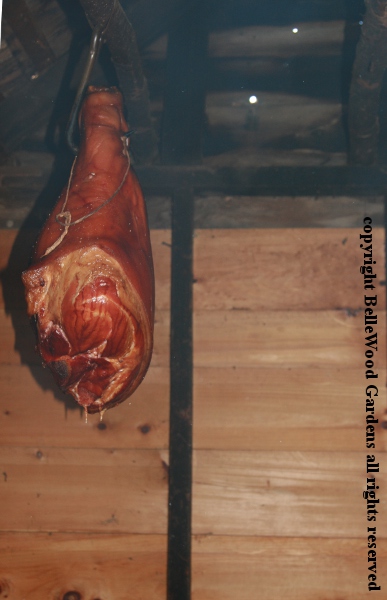 at a fine ham slowly turning a rich mahogany color as it
hangs in smoke from the applewood smouldering below.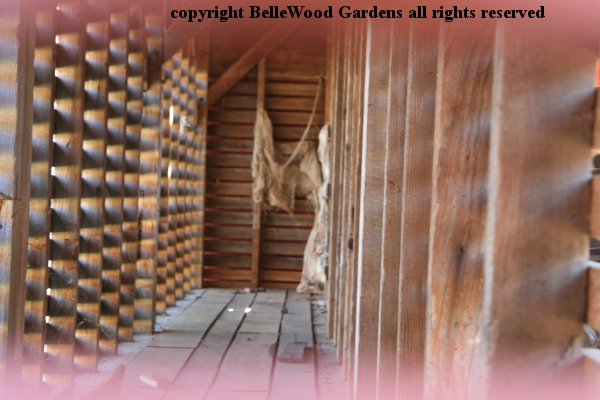 I peek through the space between slats in a corn crib. The openings
allow field corn, still on the cob, to dry and remain dry while stored.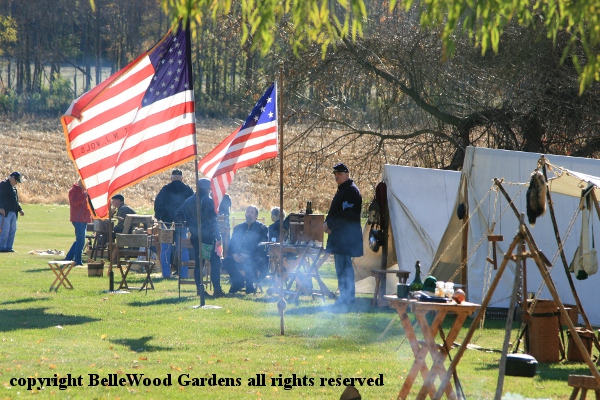 There's an encampment of uniformed Revolutionary and Civil War period reenactors.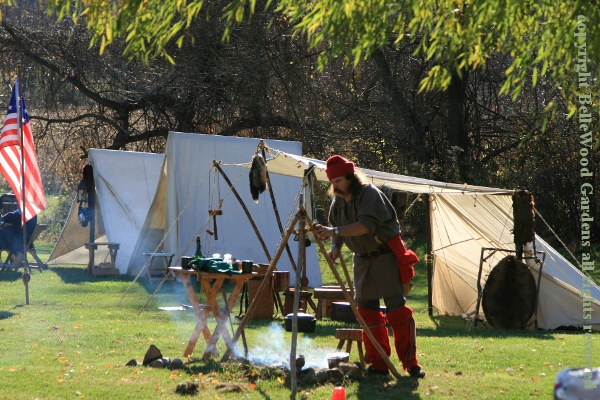 And a voyageur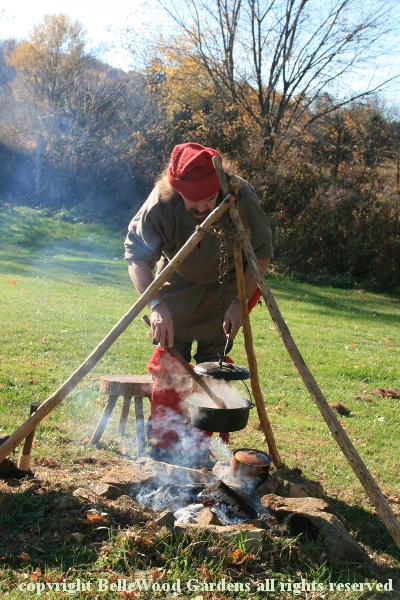 cooking a thick porridge or some sort of bean stew.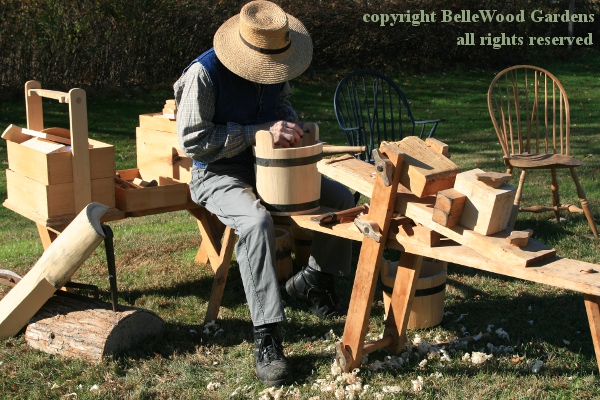 There were people working with wood. These useful small handmade wooden household objects (as distinct from furniture) are called treen, literally meaning "of a tree." Here a cooper is at work. Held in place with hoops, the tapered and beveled staves fit together and form a bucket. He's drilling a hole for a rope handle.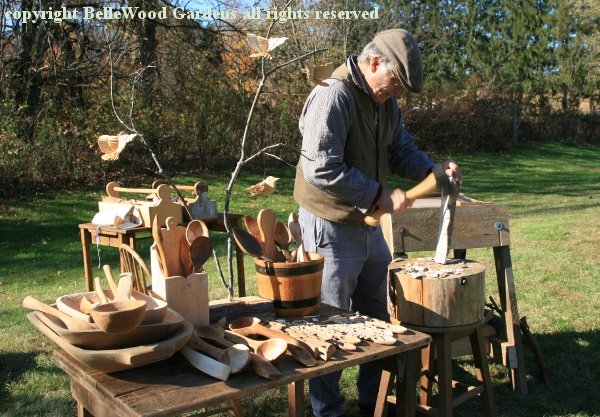 Another maker is using a hatchet to rough out
a spoon from half of a small soft maple log.
He has some very intricate spoons on display. Lovely to see.
But they don't look like something I would use in my kitchen.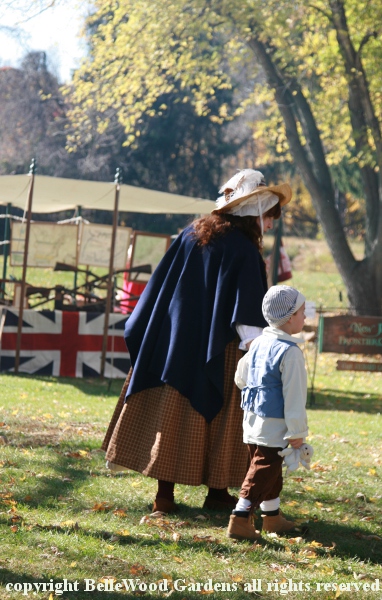 A lovely day to travel back in time
with the farmstead and its inhabitants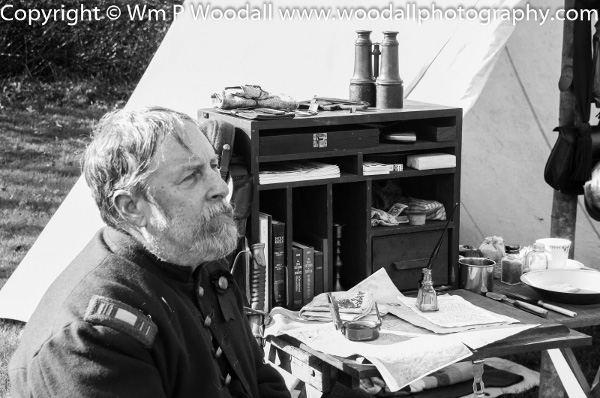 and walk among those who study to return to those times past.
---
Back to Top
---
Back to November 2016
---
Back to the main Diary Page