.
Garden Diary - September 2016
---
If you have any comments, observations, or questions about what you read here, remember you can always Contact Me
All content included on this site such as text, graphics and images is protected by U.S and international copyright law.
The compilation of all content on this site is the exclusive property of the site copyright holder.
---
September
---
The Garden at Federal Twist: A Prairie Style Garden
Wednesday, 28 September 2016
---
Much of the time, gardens are visited in spring and summer, but rarely in autumn which is a wonderful season. Enjoy ornamental grasses at their peak, late blooming flowers at their stately best. Fruits on trees and shrubs, seed pods from earlier flowering perennials, and leaves begin their shift from green to golden hues. Off we go to the Garden at Federal Twist! Who we? The Tohickon Garden Club. Lay this trip on me, since I suggested it at last year's planning meeting. I've been visiting James Golden's New Jersey garden for several years, and wanted to share with the Pennsylvania club's members.
I'm neither daft, nor an outlier in my admiration for this garden. It's featured in the September 2016 issue of Gardens Illustrated, and has a 4 page spread in Better Homes and Gardens October 2016 issue. Not least, on Saturday, 8 October it will be open to the public for the Garden Conservancy's Open Days Program.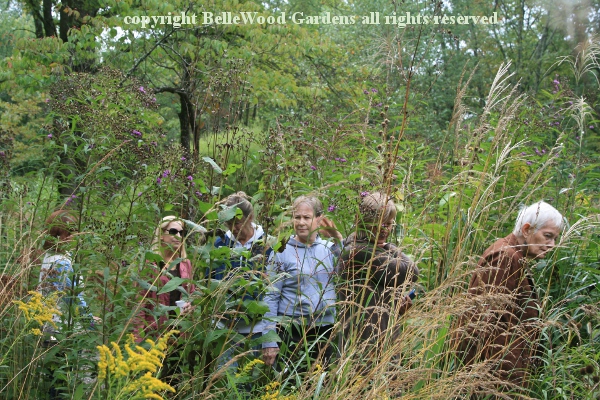 So come, let's make a visit to an embracing garden where
the supersize and stately plants lean in to touch you.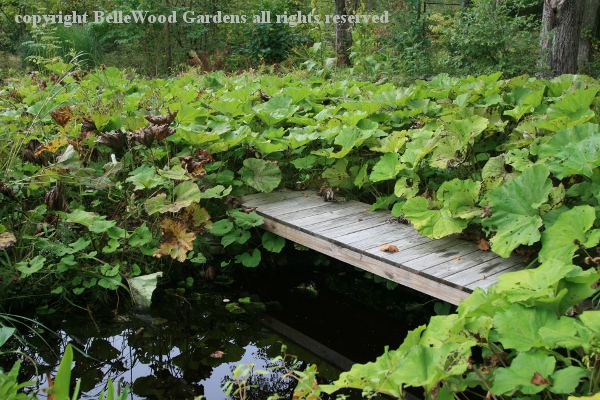 The site which has become this garden was originally a swampy place, with field cedars, Juniperus virginiana, in the drier bits. Trees were cut. A long pond was dug. Petasites japonica now thrives there. But I'm digressing.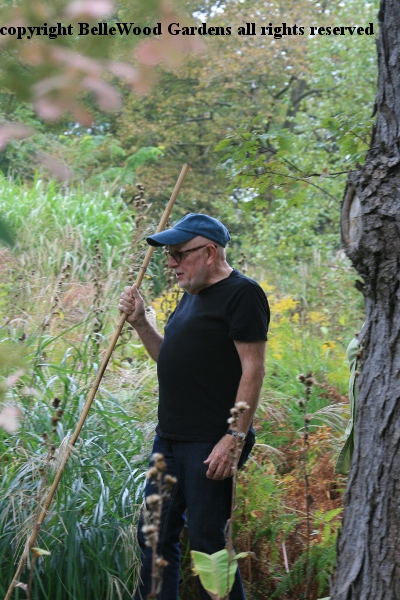 James Golden, the garden dreamer and creator, first tried to incorporate native prairie grasses. They failed to thrive. Prairie grasses, you see, expect deep organic soil (10 feet deep, in many places.) Which the garden cannot provide. Instead, James has substituted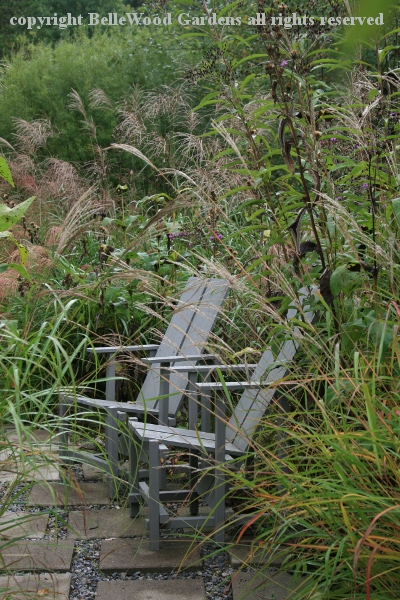 Japanese maiden grasses, Miscanthus sinensis cultivars.
There are paths that twist among the plants, disguised,
each sinuous trail invisible from another.
Tohickon Garden Club members bushwhacking amongst the junglelike grasses and prairie plants. A vivid scarlet red Calder-esque mobile creates a focal point, for wanderers and strays.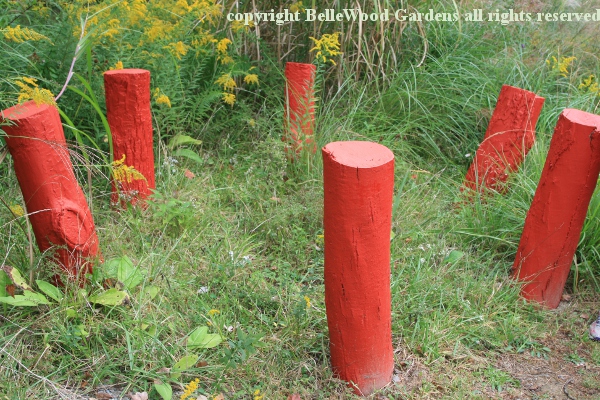 Nor is the mobile the only art in the garden.
A loose, open circle of equally vivid red posts
Other pieces are subtle in feel.
An empty bowl squats among some grasses.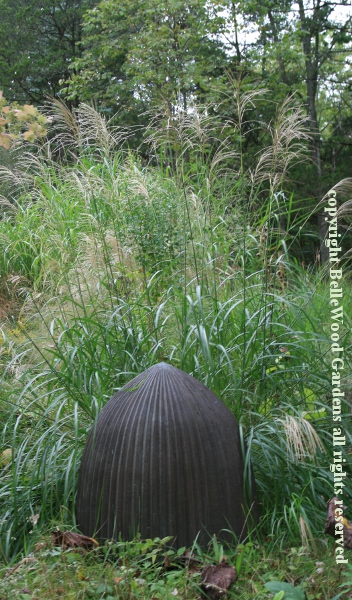 A weathered metal shape suggests some magnified seed pod.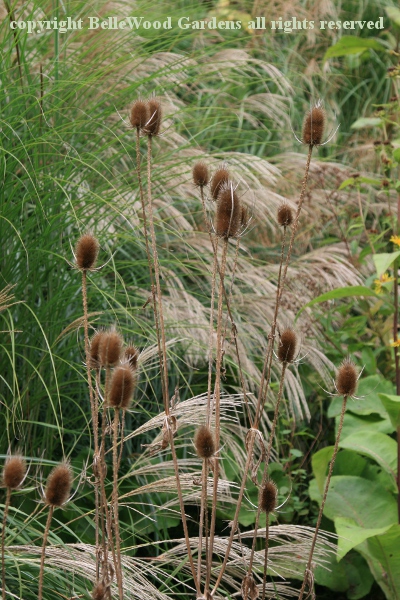 Teasel and grasses have a quiet, understated harmony.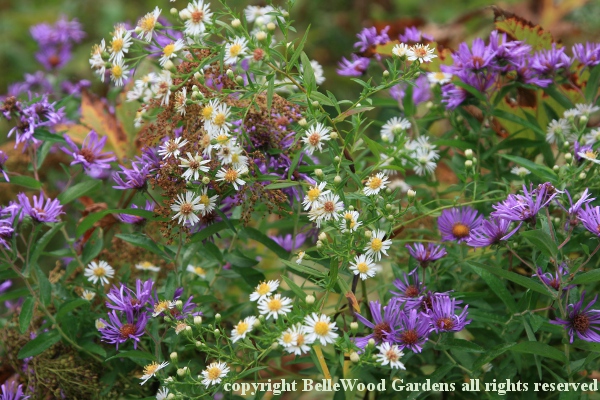 Asters may be "Michaelmas daisies" in the UK.
Here, they're sine qua non of our native wildflowers.
More color appears with moisture-loving pink turtlehead, Chelone lyonii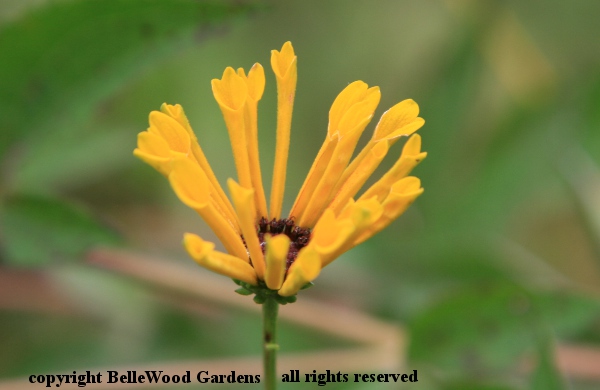 and the spoonlike petals of Rudbeckia 'Henry Eilers'.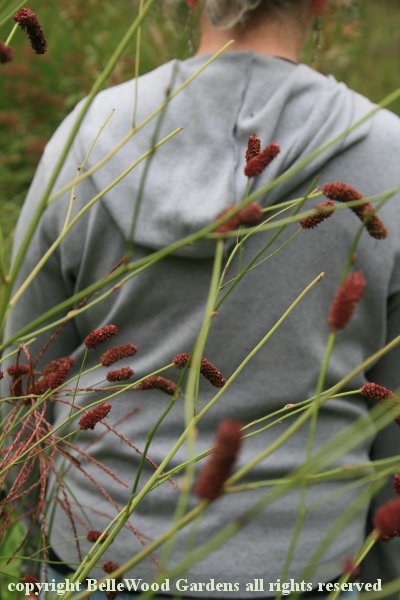 One of James' favorites, Canadian burnet, Sanguisorba canadensis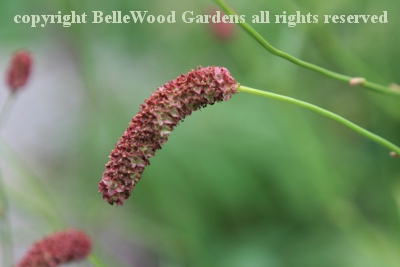 .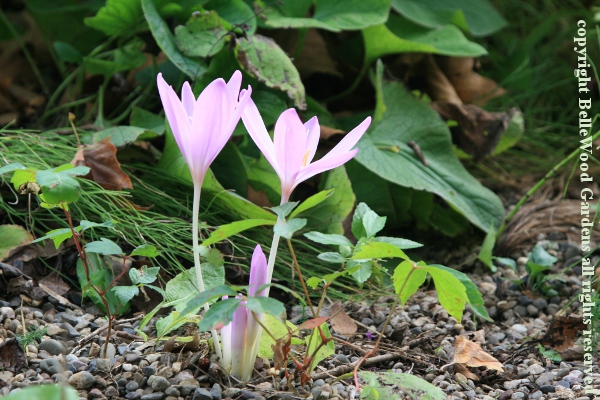 Up near the house, a favorite of mine, Colchicum speciosum.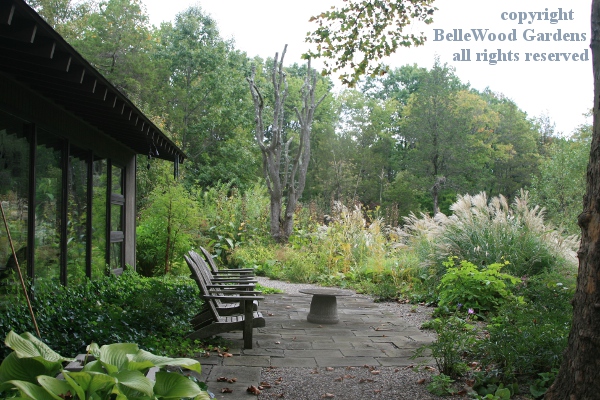 Adirondack chairs on the patio behind the house, to overlook the garden
and enjoy how wonderful it can be, autumn in the Garden at Federal Twist.
---
Back to Top
---
Back to September 2016
---
Back to the main Diary Page