.
Garden Diary - July 2016
---
If you have any comments, observations, or questions about what you read here, remember you can always Contact Me
All content included on this site such as text, graphics and images is protected by U.S and international copyright law.
The compilation of all content on this site is the exclusive property of the site copyright holder.
---
July
---
Getting Potted
Wednesday,27 July 2016
---
It's the fourth Wednesday of the month. So what? Why, that means the Tohickon Garden Club is having its monthly meeting. This month, we're going to Russell Gardens Center in Churchville, Pennsylvania. I'm carpooling with three friends which makes for a lovely, conversation-filled ride. It's summer, it's hot, the demonstration / lecture on planting container gardens is outside. Everything is set up in the shade, and there is a lovely breeze. It being the garden club, we need to start the meeting with refreshments. The hostesses for this month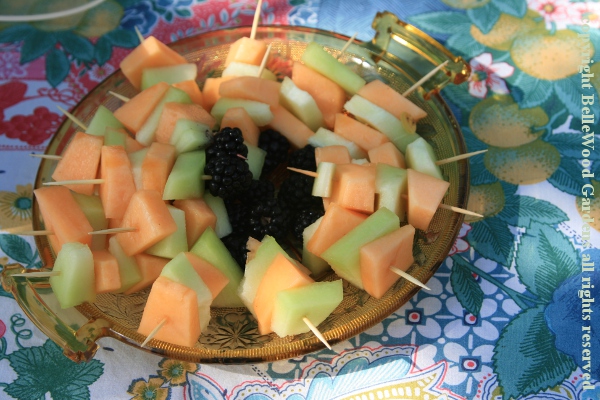 made delicious, refreshing melon and berry skewers,
transported in picnic coolers so they'd remain chilled.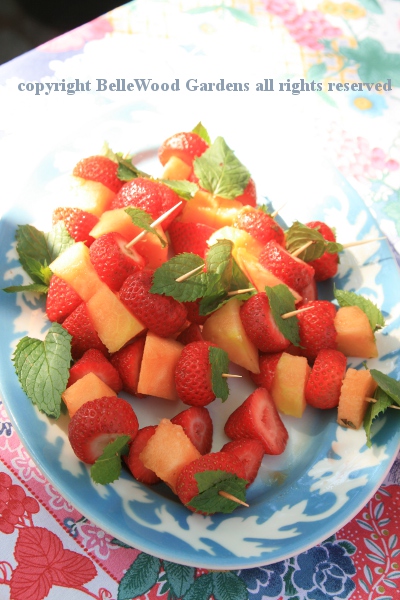 .
There were planted containers available for sale. I admired this dragon wing begonia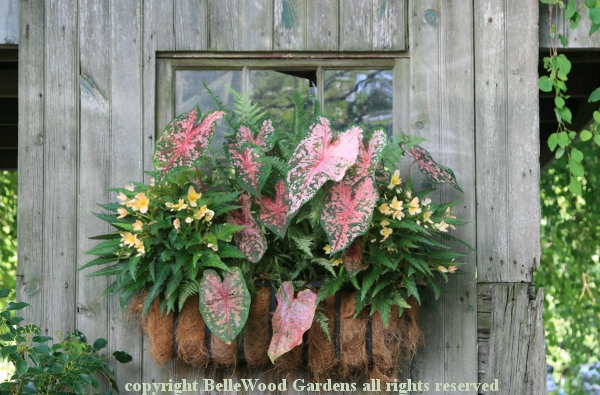 And a window box with caladiums, ferns, and yellow begonias.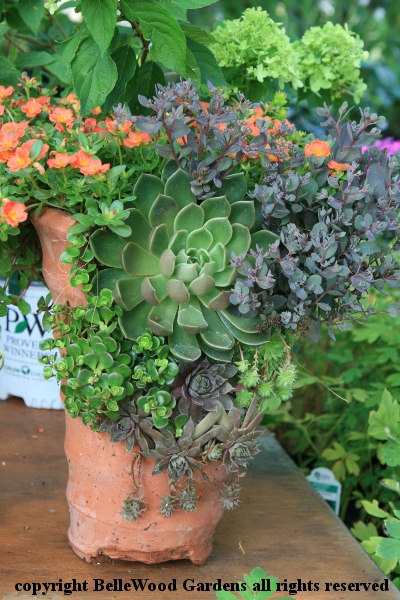 I was especially impressed with this tall terra cotta pot with
succulents. Some sort of strawberry jar, I suppose.
Think again. Diane Taylor, one of our two presenters, explained that it is
a broken pot! Anyone reading this who has not broken a terra cotta pot?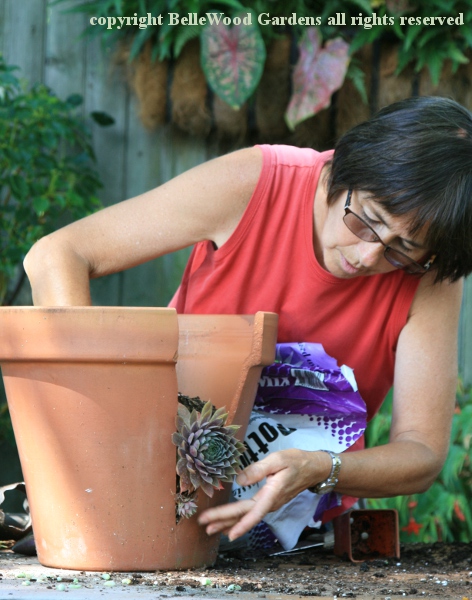 Cover the drainage hole, add some potting mix, and start with a large hen and chicks
at the bottom of the break. If needed, use a little coir to keep the soil where it belongs.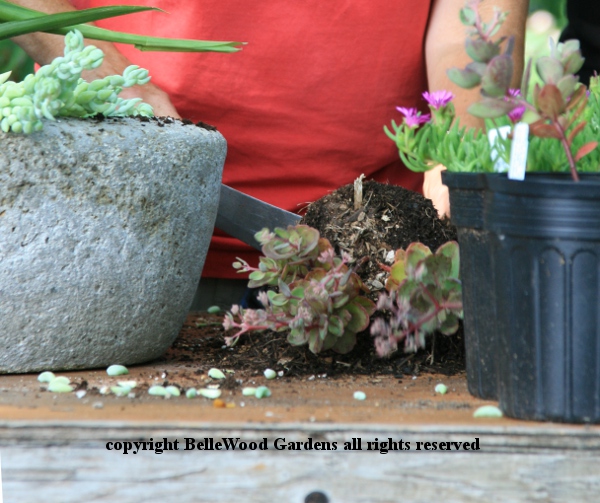 Choose additional succulents (nice to have a nursery's worth to choose from)
and trim the root ball as necessary so it will fit, leaving room for other plants.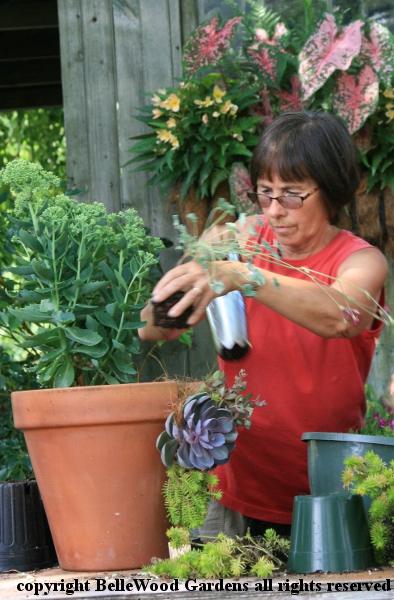 A bulb planter is ideal for making
the correct size hole for 4-inch pots.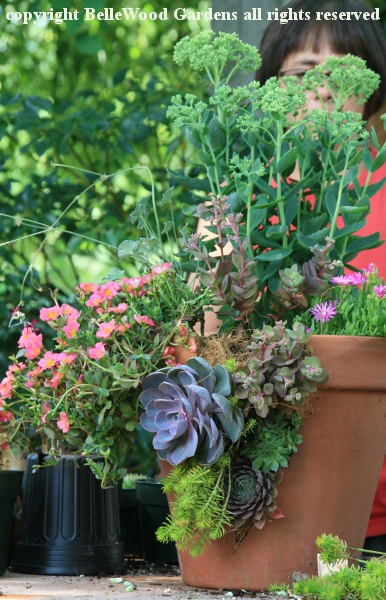 Done. Attractive right now and a couple more months
of summer weather to go while it can be enjoyed outdoors.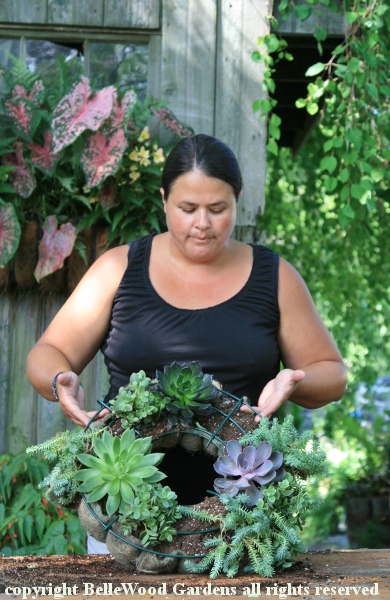 Melissa LeVan, Diane's daughter, shows us how to make
a living wreath. Line the form with fiber sheet moss "stuff"
and start planting. Florists pins can help hold trailing plants.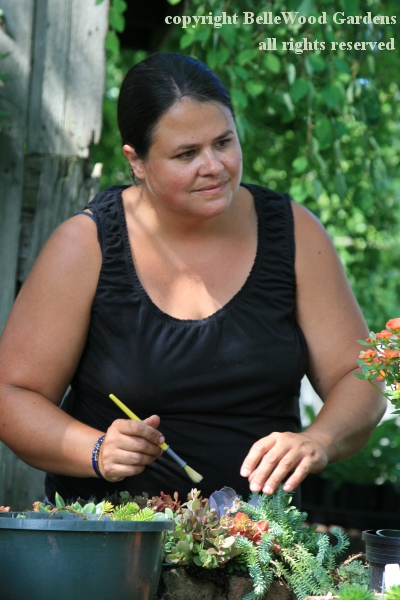 And a small artist's brush is used to tidy potting mix off the plants.
Onward to Bryn Athyn Cathedral
About half the group went for lunch at Blue Sage Vegetarian Grille. And after lunch about half of that group went for a brief garden visit and stroll around Bryn Athyn Cathedral. The club had visited once before, as you can see here.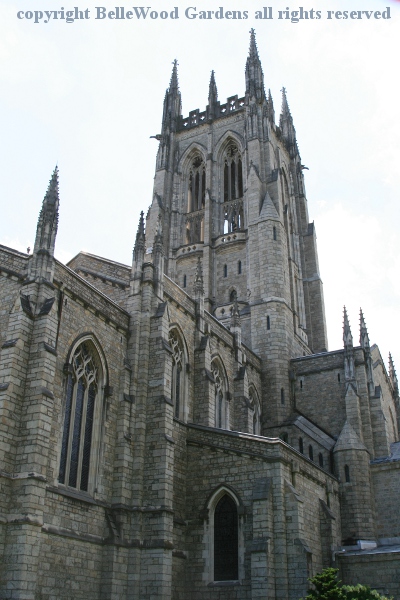 Bell tower at the quiet church.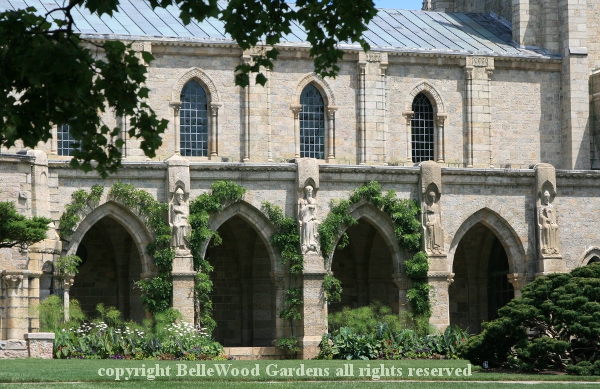 I assume these are statues of saints at the cloister.
But no idea who Swedenborgians think are saintly.
No matter. We're here to see the plants and gardens.
Crepe myrtle and perennials. Peaceful. Beautiful.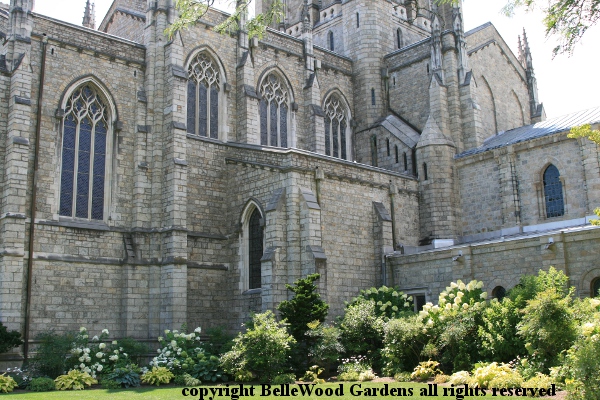 Color themed white border of shrubs and perennials.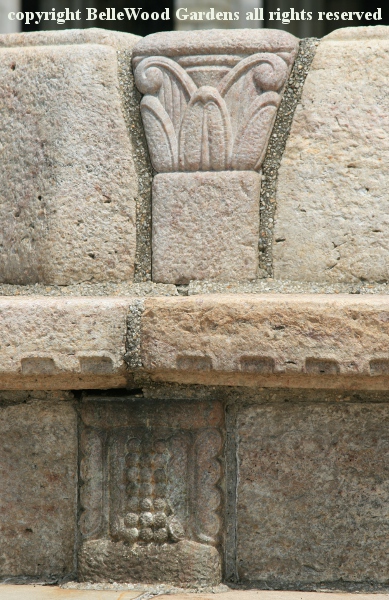 Beautiful detail in the stonework.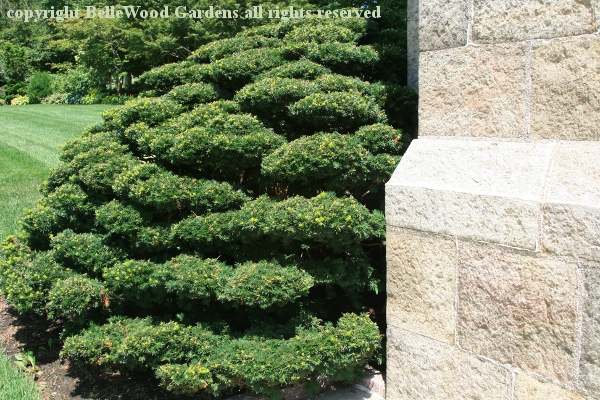 Elegantly done cloud pruned yew in the Japanese style.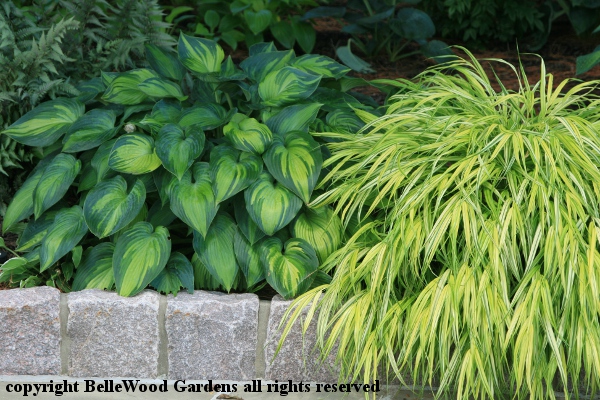 Numerous hosta, well grown. (No deer.) Here one is paired with
Japanese wind combed grass, Hakonechloa macra 'Aureola'.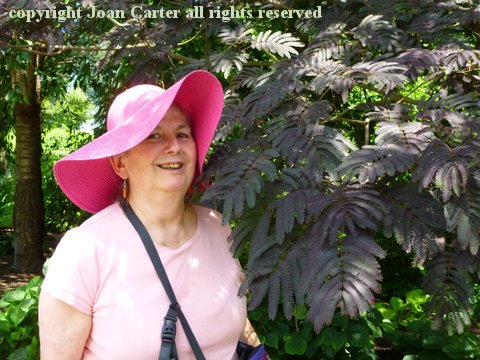 And here I am paired with the dark leaved form of mimosa
Albizia julibrissin 'Chocolate'.
What a good day, spent in gardens, with friends.
---
Back to Top
---
Back to July 2016
---
Back to the main Diary Page