.
Garden Diary - December 2016
---
If you have any comments, observations, or questions about what you read here, remember you can always Contact Me
All content included on this site such as text, graphics and images is protected by U.S and international copyright law.
The compilation of all content on this site is the exclusive property of the site copyright holder.
---
December
---
18th Century Dutch Christmas at Bouman Stickney Farmstead Museum
Sunday, 4 December 2016
---
Now that it is December all sorts of seasonal / holiday events are filling up the calendar. Wait a minute - didn't I just say that yesterday? All sorts of events filling the calendar. Today is a celebration at the Bouman Stickney Farmstead Museum in Readington Township, New Jersey, celebrating Christmas in the 18th century Dutch manner, with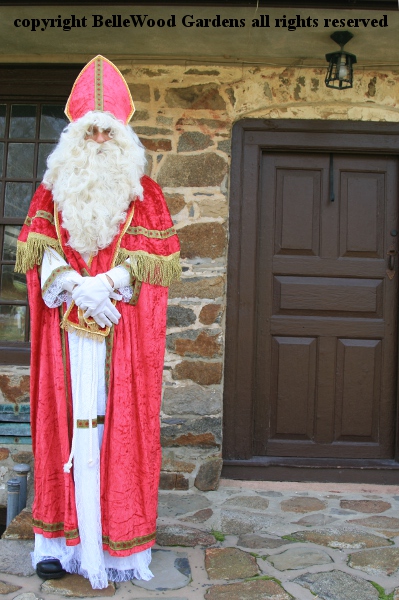 Sinterklaas, St Nicholas. In the Netherlands December 5th is the day for exchanging gifts. The good saint came from Spain on a steam boat. He has a white horse - I asked where was the horse. "Oh," said Sinterklaas, "it's cold. He's in his stable."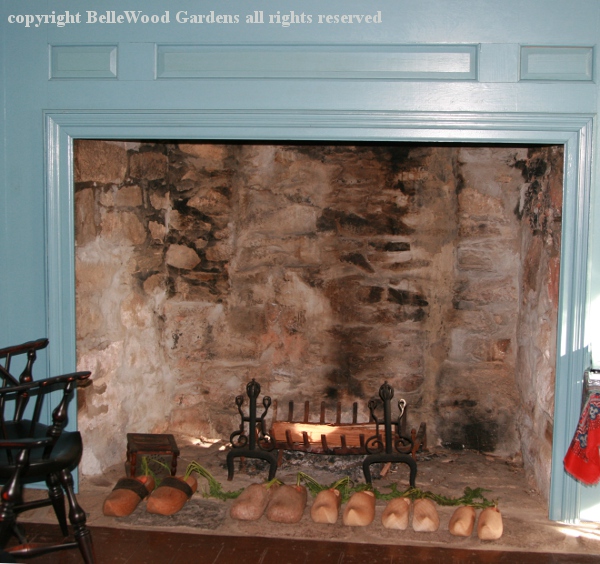 But the klompen lined up by the fireplace have carrots for him.
Lovely music, seasonal favorites such as The Holly and the Ivy, played by Ridley and Anne Enslow on violin and hammered dulcimer. They described their clothing - his shoon with silver buckles, stockings held up with garters, ruffled frills at wrist and neck, tricorn hat atop his peruke. His lady wears a shift beneath her stays, then an under-petticoat. Next, her pockets, tied round her waist. And a petticoat (what today we would call a skirt) over all the under layers. Beautiful music and sweet voices begin again, with Auld Lang Syne,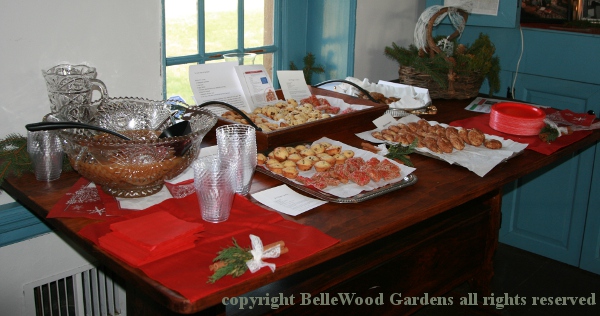 A table of refreshments, cider and a variety of homemade Dutch cookies.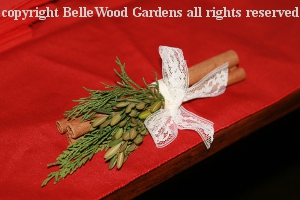 . . .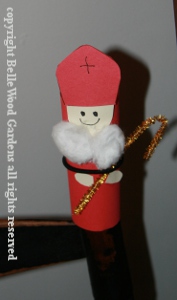 A closer look at cinnamon sticks and greenery that decorate the table
and a charming children's craft sinterklass.
Visitors may also make a spicy fragrant pomander from a clementine and cloves take home,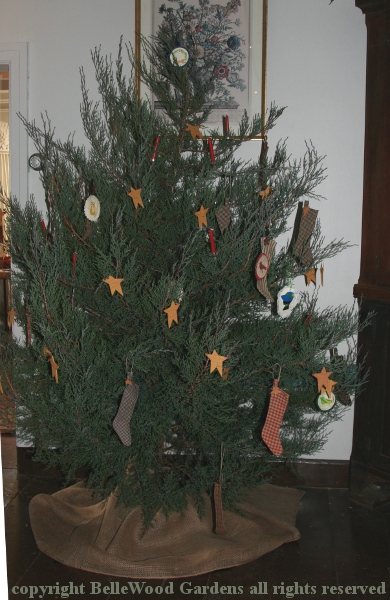 A field cedar, cut and brought indoord to decorate, simply, for the holiday.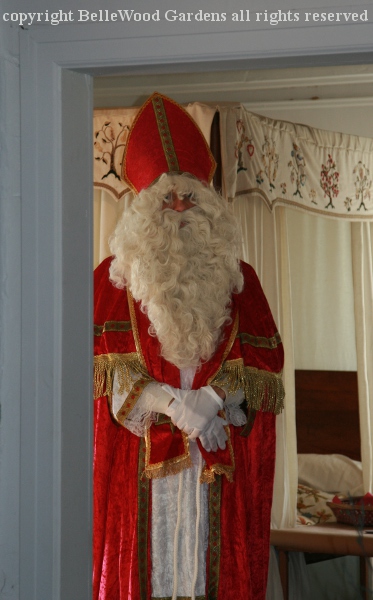 So tall a man, Sinterklaas had to bend his head or else he would have
knocked off his tall red mitre as he came through the doorway.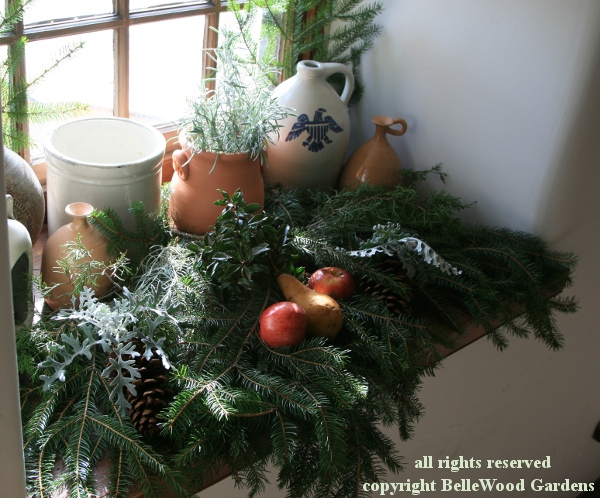 Down the steep and winding stairs to the kitchen, passing
a window with deep sill decorated with fruit and greenery.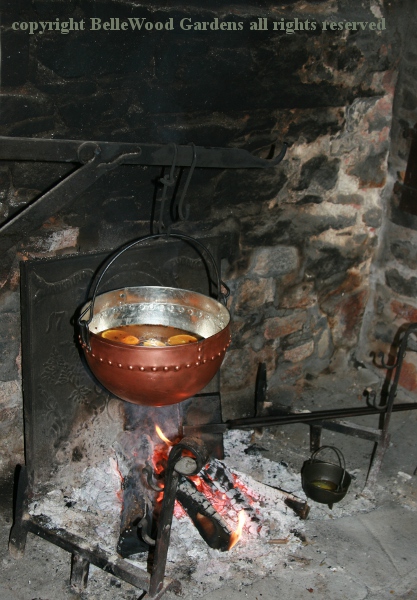 Cider with citrus and spices, mulling in a kettle hung over the fire.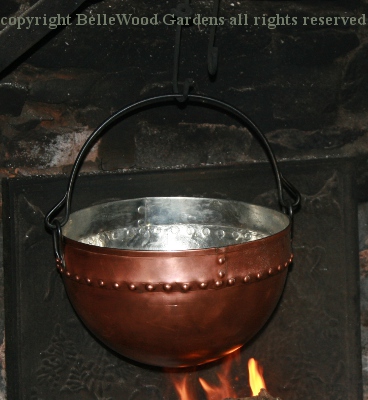 To give it its proper name, the kettle is a Dutch hemispherical kettle made by Peter Goebel at his Goose Bay workshops. He makes them in two sizes, of which this is the larger one. The lid was custom made for Bev Altrath.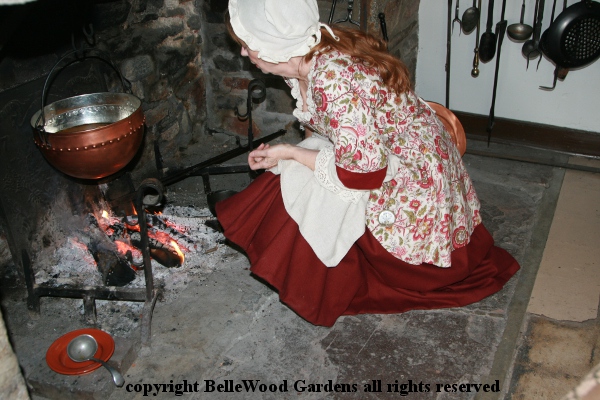 Checking the hearth fire.
Bev Altrath and Arlene Soong are demonstrating authentic 18th century Dutch cooking using the Farmstead's original open hearth. They're mulling cider, also waffles (tricky, that, with a long-handled waffle iron heated in the flames), and - the best - making pressed gingerbread cookies in traditional molds.
Here's the recipe. It uses breadcrumbs and claret wine, sugar and spices.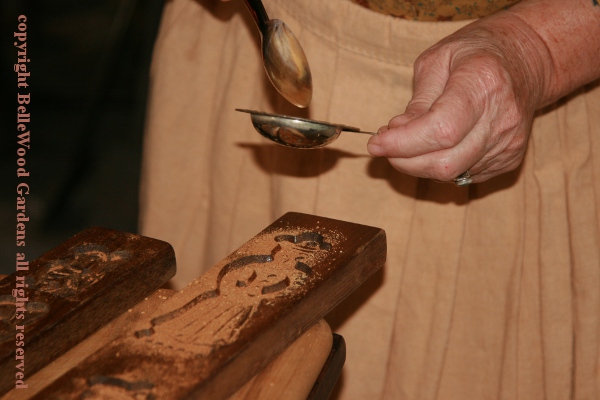 The beautiful, intricate molds are dusted with cinnamon and ginger.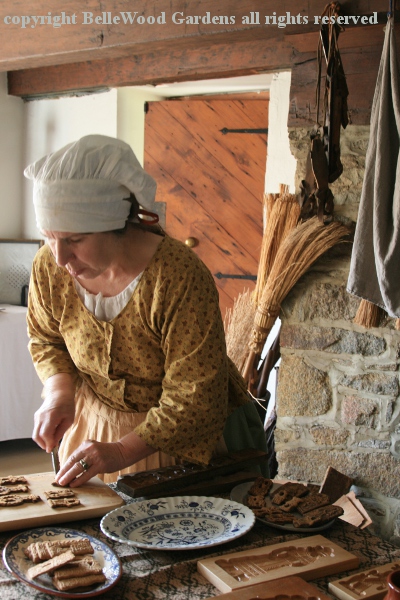 The cooled gingerbread is firmly pushed into the mold, then
turned out. Any raggedy bits are carefully trimmed away.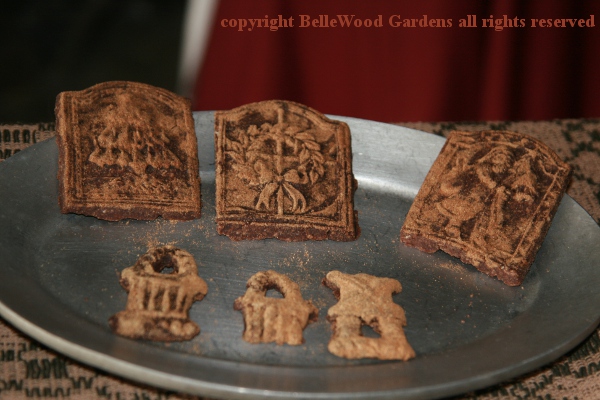 What beautiful and intricate molded gingerbread!
Music floats down the stairs. Flames dance in the hearth. Rich smell of spices. Quiet conversation about cooking and cookies and Christmas. The riches of the season at the Bouman Stickney Farmstead Museum. An 18th century Dutch Christmas.
---
Back to Top
---
Back to December 2016
---
Back to the main Diary Page