.
Garden Diary - October 2015
---
If you have any comments, observations, or questions about what you read here, remember you can always Contact Me
All content included on this site such as text, graphics and images is protected by U.S and international copyright law.
The compilation of all content on this site is the exclusive property of the site copyright holder.
---
October
---
Ladew Topiary Garden
Saturday, 17 October 2015
As we were eating dinner last night my hostess Beth said that if I would like to visit Ladew Gardens (renown for its topiary) we could manage a little over an hour-long visit in the morning. Ladew, you see, is in Monkton, Maryland which is on the way to Norrisville where I'm scheduled to give a lecture on Saturday. Now any day in a garden, no matter how poor, is better than the best day doing something else. So the excellent opportunity to spend some time in this renown garden will be delightful. Have not been to Ladew for many, far too many years.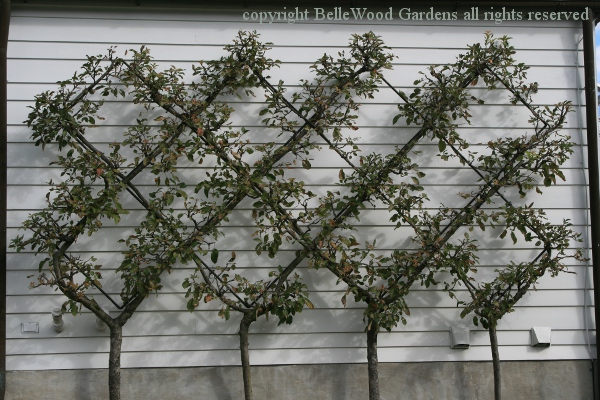 As we walk from the parking lot to the visitor's center I pause admire these espallier fruit trees, an ancient and traditional art. The trees are trained into flat two-dimensional forms, lovely for decorative purposes, but also practical - perhaps if space is limited and also the wall serves as a microclimate, reflecting more sunlight and can extending the growing season by retaining additional warmth.
If espallier is two dimensional, then topiary is three dimensional, with the foliage and twigs of trees and shrubs clipped and trimmed into clearly defined shapes. At its absolutely most basic, you can think of a hedge as topiary. But I tend to think of it as a type of living sculpture.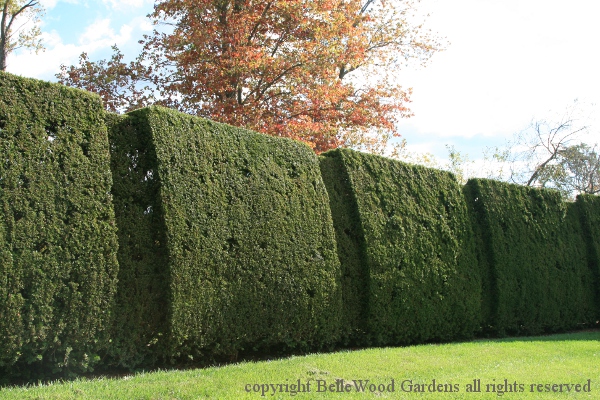 Here is a magnificent green hedge, closely sheared into an architectural wall.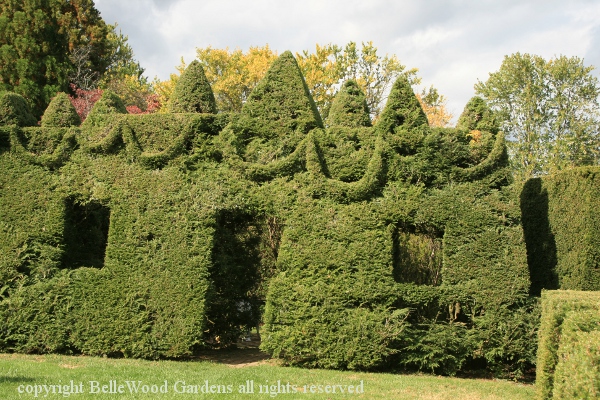 Or, do you prefer this room, walled in living greenery and embellished with a garland.
I'm not sure what to call this. It looks like a top hat. Winston Churchill's top hat. Well maintained, that's for sure.
The most renown, Ladew's most famous topiary, the most famous single piece of classical topiary on this continent, is a hunt - complete with horse and rider clearing the gate of a well-clipped hedge, pack of hounds belling after the fox. (Fox is across the paved path, blending into the shadows.)

Here's a better view of the huntsman and hounds.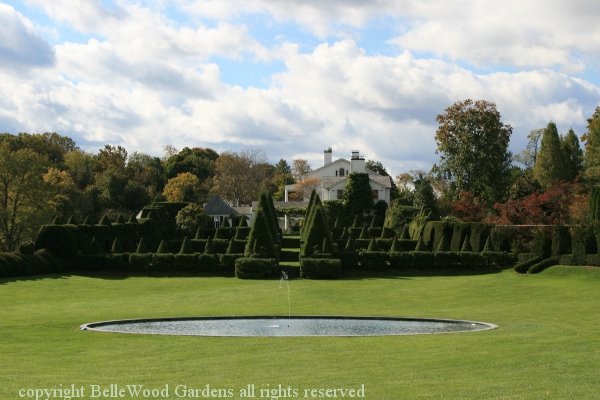 There are smaller, intimate garden "rooms." And there are vistas, such as this view of the house, glimpsed from across the large, concave, two-acre Great Bowl lawn with its oval fountain pool, with the topiary swans (just out of view, to the left) swimming on waves made by sculpted yew hedges.
One of the swans, swimming on the billowing waves of another hedge.
So much to see. And just over an hour. Time to walk on.
---
Back to Top
---
Back to October 2015
---
Back to the main Diary Page