.
Garden Diary -January 2015
---
If you have any comments, observations, or questions about what you read here, remember you can always Contact Me
All content included on this site such as text, graphics and images is protected by U.S and international copyright law.
The compilation of all content on this site is the exclusive property of the site copyright holder.
---
January
---
Saturday, 31 January
January Snow
We get more snow after the new year than before. I keep repeating my mantra, that every day is another day closer to Spring. The days are getting longer. But . . . . we're not there yet. It's been snowing. It is still cold, very cold. We've had night temperatures down to single digits, Fahrenheit.
Cold enough that there's ice on the Delaware River.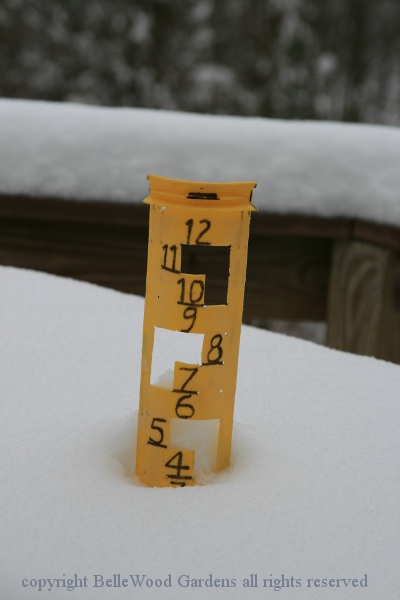 24 January, 4 inches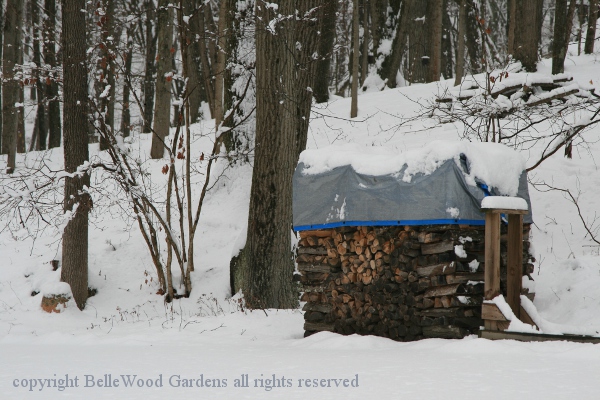 There's ample firewood. This pile is surplus to requirements - we start the winter with about 3 full cords cut, split, and stacked under cover outside the basement door. From there it moves indoors to a basement wood storage rack. Then upstairs to a smaller wood rack near the wood burning stove. So each piece is moved multiple times. Paul estimates that every winter between cutting, moving, splitting, stacking, and shifting it that he moves 54 tons of firewood.
The saying is that wood heats you multiple times - first when you cut it, next when you split it, again when you stack it, and lastly, why, lastly is when you burn it.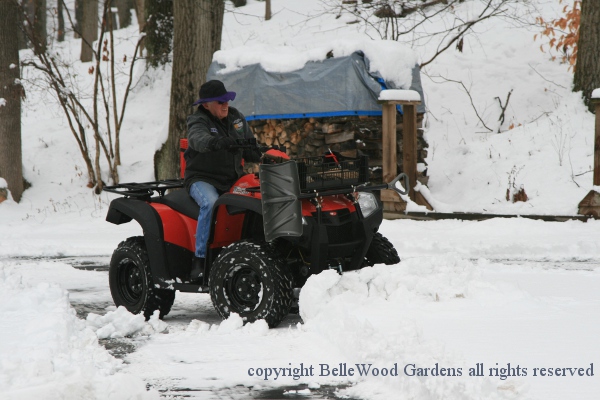 Now that he has a plow for the ATV Paul clears the driveway if the snow is not too deep.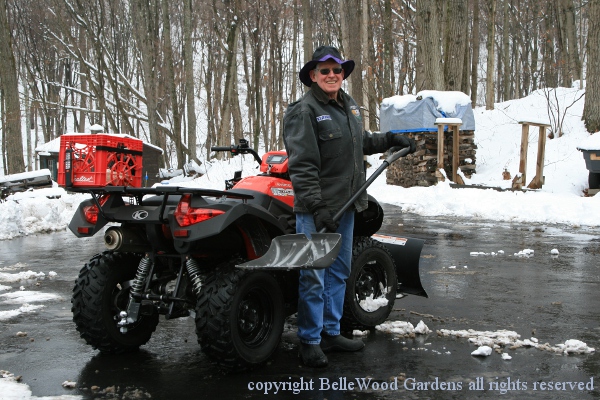 Nice job!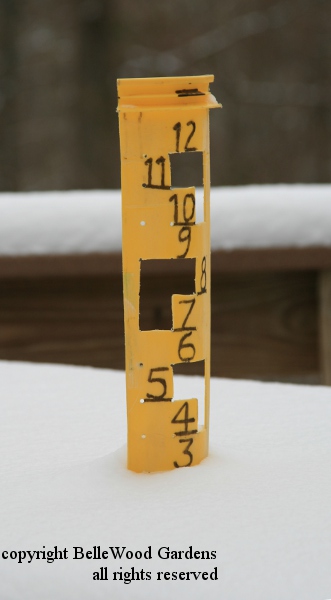 Then a few days later, on 27 January, we got another storm. He'd cleared the table the snow gauge sits on so this is in addition to the previous 4 inches.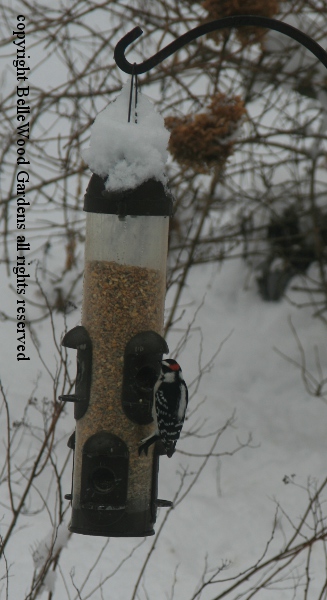 Birds are thronging around the feeder, especially the smaller ones such as titmice and chickadees, goldfinches and juncoes, nuthatches and downy woodpeckers. I feed a mix of sunflower seeds with hulls removed, peanut hearts, and fine cracked corn. The various sparrows, ground feeders, especially like the corn.
A group of deer came through in the storm, drifting along uphill just off the edge of the lawn behind the house. I took this picture through the door onto the deck.
So tell me, why would anyone think that, next week, a groundhog would be able to predict the weather, more winter or early Spring? They're all at least 5 feet underground, hibernating. Breathing just once or twice a minute and their heartbeat also very slow. Come on. Wake them up from a nice winter nap (who even knows if groundhogs dream, what they might they then be dreaming of) and all you'll get is a grumpy critter who is sure to curse us with more winter. Stop dragging them out of a burrow in Punxsutawney Pennsylvania. Dream your own sunny thoughts. Keep repeating to yourself, "It's another day closer to Spring."
---
Back to Top
---
Back to January 2015
---