.
Garden Diary - October 2015
---
If you have any comments, observations, or questions about what you read here, remember you can always Contact Me
All content included on this site such as text, graphics and images is protected by U.S and international copyright law.
The compilation of all content on this site is the exclusive property of the site copyright holder.
---
October
---
Corn Harvest at the Howell Living History Farm
Saturday, 31 October 2015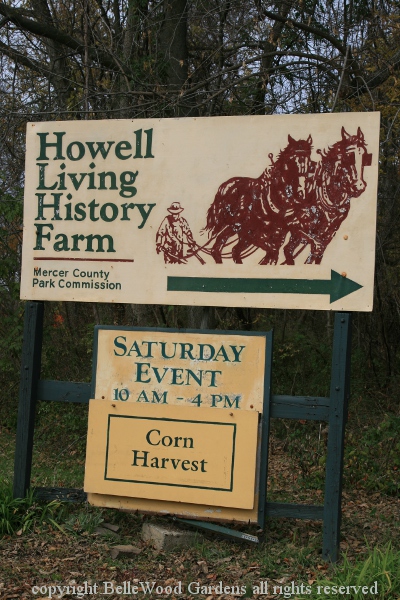 Off to the Howell Living History Farm for another of their wonderful Saturday events. No, not the corn maze, though that's an on-going October happening. It's the corn harvest. We're narrowing in. Not sweet corn, for that is a summer time treat. This is the harvesting of dent corn, matured and dried on the stalk, to be used for animal feed. And, also, ground into corn meal to be baked into tasty cornbread and other delicious dishes: corn pone, johnnycakes, Indian pudding, and more.
Pumpkins spread under the pine trees behind the visitors center.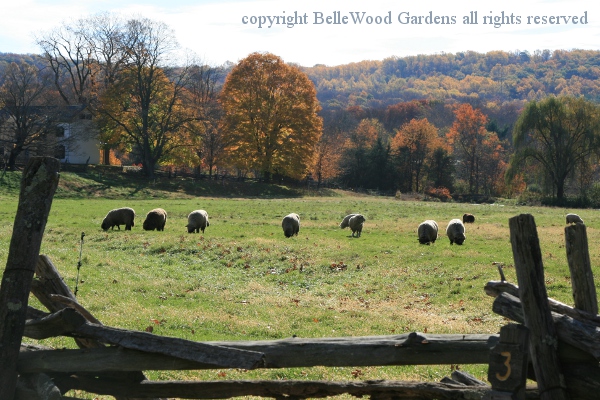 Woolly sheep, industriously grazing in the field as we walk up to the barns and buildings.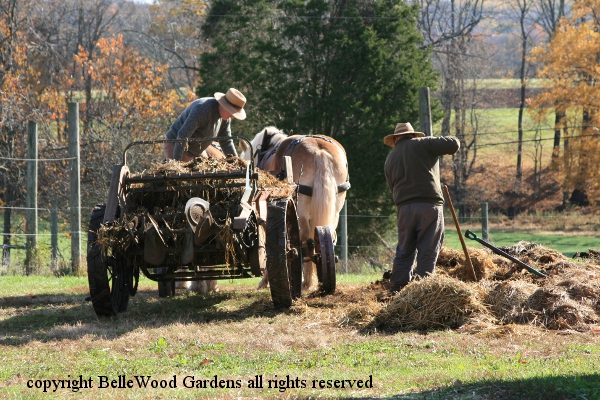 Two men, busily forking old stable bedding and manure into the spreader.
Dung spread on the field, they're returning to the barn for another load. Amusingly, as the men said "Hello" to us the team took the opportunity to hear it as "Whoa" and came to a stop.
Visitors of all ages busily picking corn. Two ears to a stalk. Pull off, then husk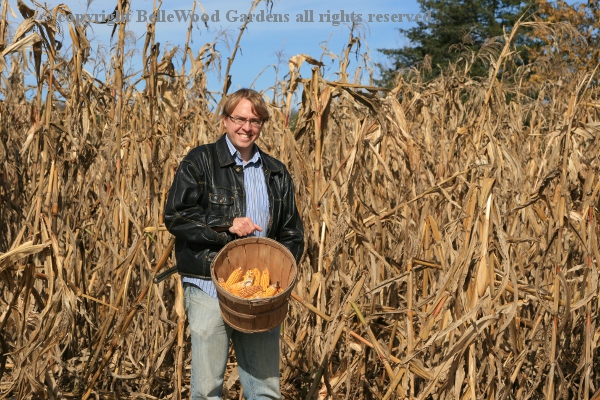 and toss them into a basket. Empty it into the wagon, then go back and pick some more.
Most of the corn is yellow. There are a few that have red kernels. What's this? The farmer used to toss a handful or two of red corn seed into the hopper when sowing the field. Then, at harvest time, whoever found a cob with red kernels got a treat. Usually, it would be a young man looking for the boon of a kiss from his sweetheart. Alas, the youngsters helping with today's harvest who hear this folk tradition think that's yucky. Wait a few years, I think to myself.
As well as the yellow (and red) dent corn, Howell also grows some of the multicolored flint, or Indian corn. Today its use is mostly as autumnal, Thanksgiving, decorations, three ears wired together and hung on a front door.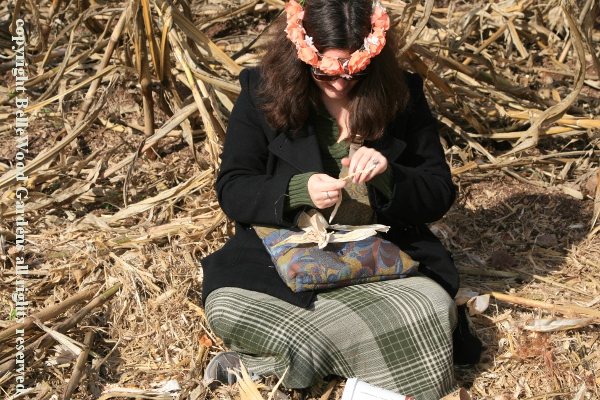 Even the husks striped off the cob has uses. They're the traditional wrapper for tamales, made with steamed masa (smooth ground corn with pork or chicken, maybe cheese, chilies and seasonings). And save a few husks to make into a corn doll.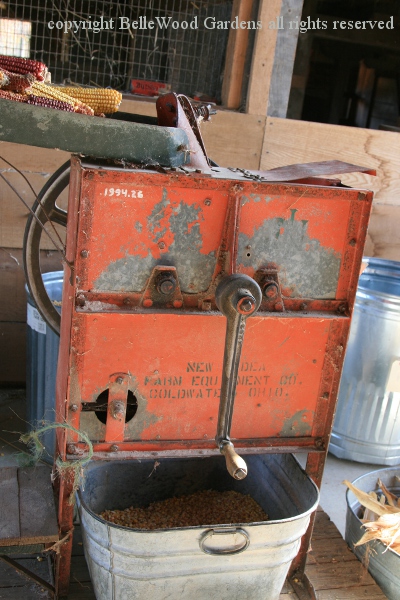 Next step. Bring the wagon load of corn down to the barn to run it through the corn sheller.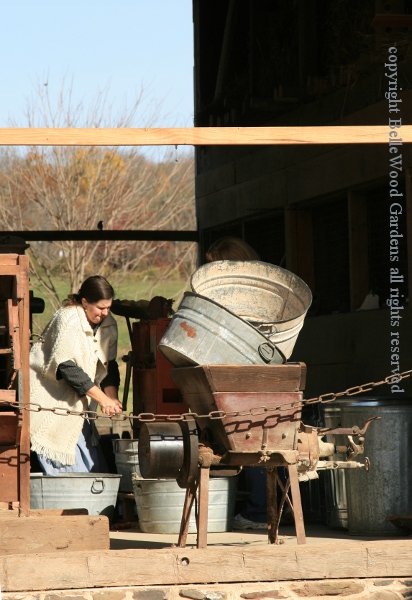 The machine strips the kernels off the cob. But it is hard work to crank the machine!
Lunch at Howell always has a dish or two that ties in with the day's focus. Today there are squares of cornbread, free for the sampling. And, very modestly priced, a delicious chicken and corn chowder. Perfect on a late October day.
We finish our lunch, enjoy some more conversation. Woody, Paul, and I begin to stroll back to our cars in the parking lot but . . . . I spot this behemoth piece of equipment. What is it?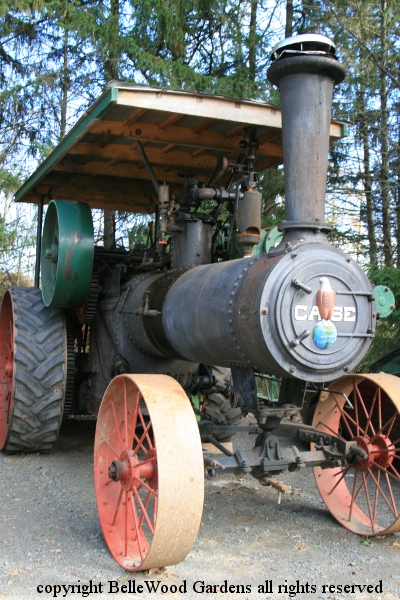 Oh my goodness! It is a J. I. Case steam powered traction engine. It is huge. It looks (and surely must be) powerful. If it resembles a locomotive, that's because it has a locomotive-style boiler that burns wood or coal. Case was the undisputed leader in steam power. Steam power did have a drawback - if a farmer wanted to plow a field, he had to plan ahead. It takes two hours from the time fuel in the firebox is lighted until enough steam is produced to move the wheels. And just like a locomotive it took two men to operate it - one man steering and one to keep the fire going and add more water as necessary. Don't know if this one runs. The boiler will have to be inspected for safety. If it is good to go I do want to be there!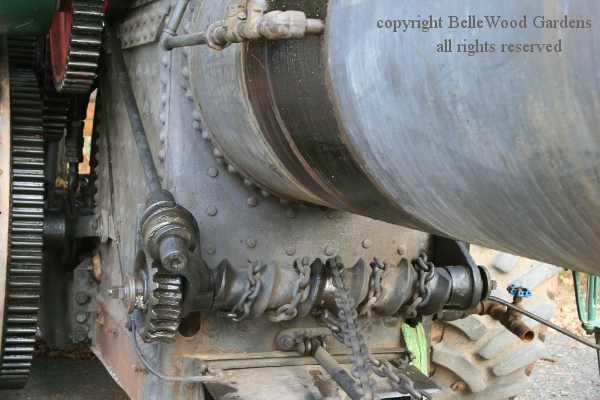 Magnificent! Sculptural. A piece of art.
UPDATE: I asked Reinhold, my good friend and go-to answer man at Howell if he could tell me anything about the Case traction engine. His prompt and informative reply here:
"Yes, I can tell you more about the Case steam engine. The steam engine was build in 1907 by Jerome Increase Case (aka. J.I. Case) in Racine , Wisconsin. At that time they were the biggest manufacturer of steam engines. And they are still in business ( Case backhoes, tractors, etc)
"Our steam engine was in a barn fire once and was pulled out of the burning barn into the woods where it was sitting for quite a few years. It ended up with the previous owner, Alan Samuelson, before Alan sold it to the farm. It is a 65 HP engine meaning 65 HP at the flywheel, about 20-25 HP at the drawbar. . . . If I remember correctly, the boiler maximum pressure is 125 PSI, regular operation pressure at 80-100 PSI. The little whistle (signaling whistle) was on the steam engine in the old days, the big one is a locomotive whistle ( Southern 3; and belongs to me.)
The steam engine runs, it is inspected yearly, and is owned by the farm ( meaning Mercer County.) For that reason we can only operate it on the farm (and New Jersey) . . . . We would need a different inspection in PA or any other state.
"The last time the engine was run was beginning of August during 4H fair. We normally try to run it twice a year . . . . Not sure if this year santa is comng on a steam engine drawn wagon . . . ."
Always something fascinating at Howell Living History Farm.
And often something serendipitous too.
---
Back to Top
---
Back to October 2015
---
Back to the main Diary Page