.
Garden Diary - December 2015
---
If you have any comments, observations, or questions about what you read here, remember you can always Contact Me
All content included on this site such as text, graphics and images is protected by U.S and international copyright law.
The compilation of all content on this site is the exclusive property of the site copyright holder.
---
December
---
Christmas Dinner
Friday, 25 December 2015
---
Just the two of us, a quiet evening. A country dinner, I decided, for our Yule-tide / Christmas feast. So two days ago I pulled about 3 pounds of boneless venison haunch out of the freezer to slow thaw in the refrigerator. I'll call it a daube, sounds so much more elegant than stew. Spaetzle for the carbohydrate, broccoli for the green vegetable. And as I have an assortment of fresh mushrooms - chanterelles, believe it or not foraged in the Pacific Northwest and sold fresh at Costco. Shiitake, and flower mushrooms (huagu) from the Asian Market. I'll make duxelles, and then do something with them.
So. Late in the morning I cubed the venison, attentively watched by Mr Poe. That black cat does love venison. Make a simple marinade of crushed juniper berries and black peppercorns, and some red vermouth. Add the venison cubes to the bowl, stir around, and refrigerate, covered with plastic wrap. Stir around every 60 to 90 minutes.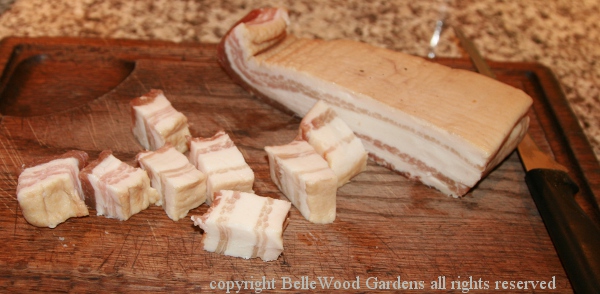 Cube the smoked bacon I bought at Ramsayburg Homestead the other weekend. Brown over moderate heat to render some fat. Remove when well brown and set aside.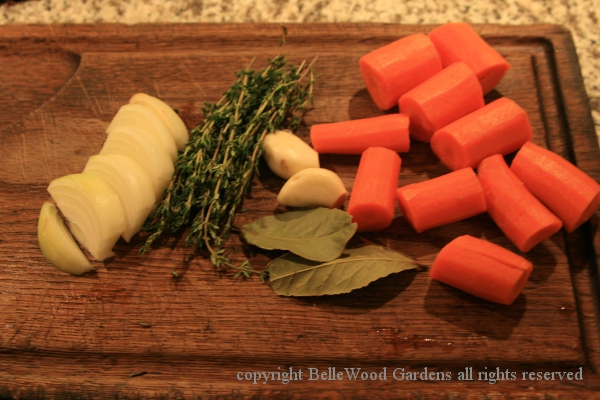 Set aside the aromatics of fresh thyme, a couple of bay leaves, and some garlic. Saute carrots and onion. When onions are soft and carrots are somewhat browned, set aside. Drain venison cubes, reserving the liquid. Toss venison with flour. Brown in batches. Add some light olive oil if more is needed. When all the meat is browned empty casserole. Add marinade and scrape up the fond. Return carrots and onion and garlic. Add meat. Add a cup and a half of crushed tomatoes. (I used some I had jarred back in September.) Distribute thyme sprigs and bay leaves. Add some good homemade stock if needed so liquid is just below meat. Cover, and cook in a slow, 300 degree Fahrenheit oven for about 90 minutes.
Defrost some phyllo dough. Melt butter. One sheet at a time, brush phyllo with melted butter. Fold in half lengthwise, brush with butter. Repeat. Place a generous tablespoon of duxelles down from short end of pastry. Roll, tucking in the sides and place seam on bottom. Brush with melted butter. Make three more. Place in an oven-proof dish. Raise oven temperature to 350 degrees and bake for 20 to 25 minutes until golden brown.
Instead of spaetzle I decided to make nockerl. Need a better recipe, these were too dense in the center. Steam broccoli.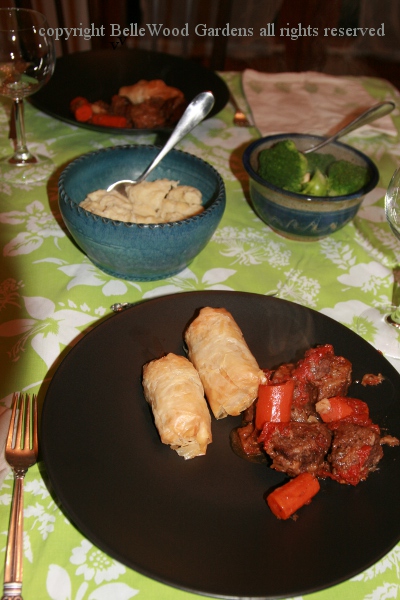 Warm dishes, then plate.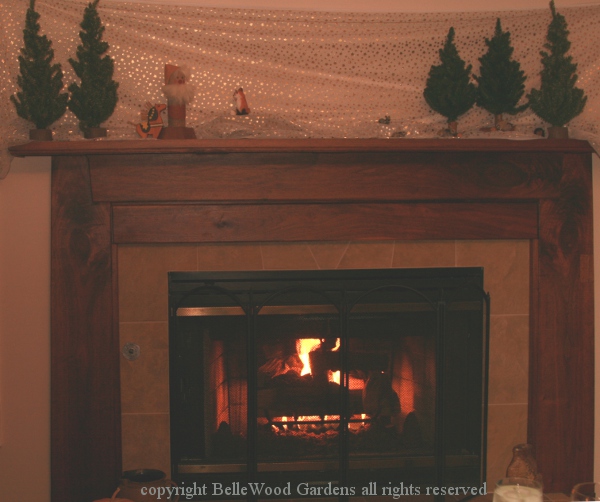 It may be only gas but adds a pleasant ambience for our Yule dinner. And really, who wants to carry logs, dribbling bark, over the dining room carpet, then schlepp ashes out afterwards.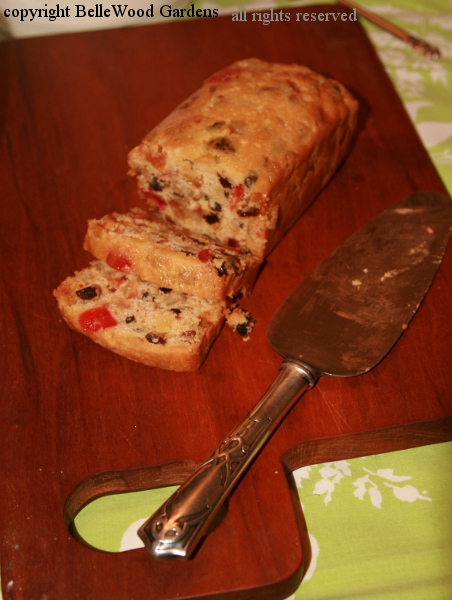 A leisurely meal, with fruitcake in conclusion.
I enjoy the cooking. And also the eating.
The cleanup? Not so much.
I like to cook for leftovers. And leftover venison will be quite nice for hash.
---
Back to Top
---
Back to December 2015
---
Back to the main Diary Page