It's another garden visit by the Tohickon Garden Club. We're off to Well Sweep Herb Farm. It's a gray and somewhat foggy day but no matter, any day in a garden is better than one that's not (in a garden, that is.) We meet, car pool, and off we go.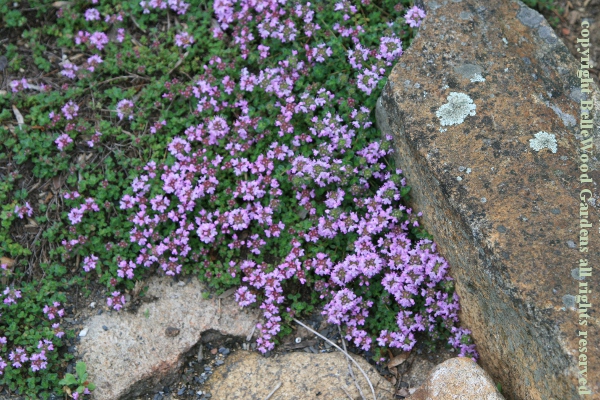 Of course, what we'll see at the herb farm are herbs, such as this
aromatic, floriferous mat of creeping thyme, Thymus serpyllum.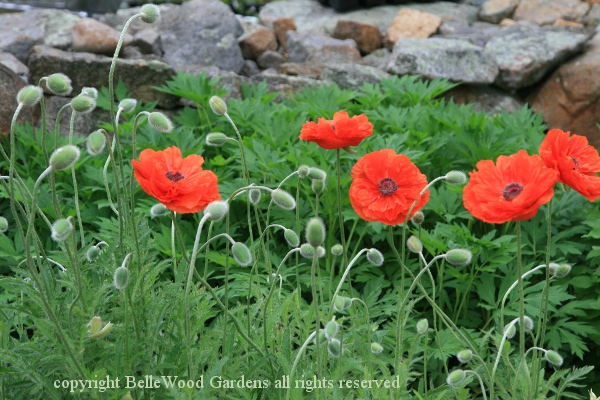 This beautiful Papaver orientale is one of the first flowers we see.
The vibrant color of its tissue thin petals is especially luminous in the soft light.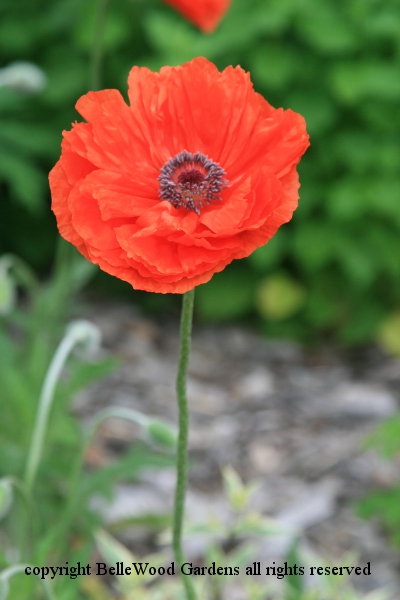 .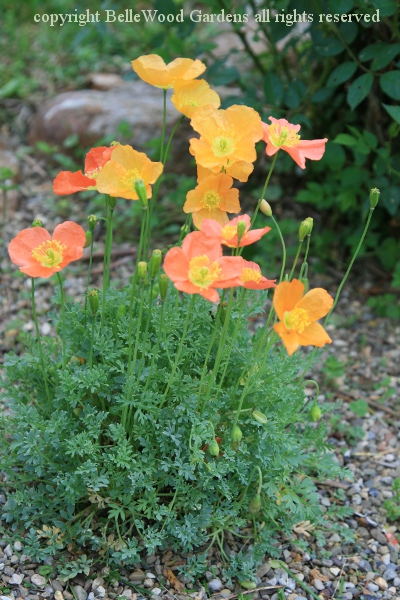 Another poppy, dainty on its own and even more so in comparison.
It is P. alpinum, happily growing in the lean soil of the rock garden.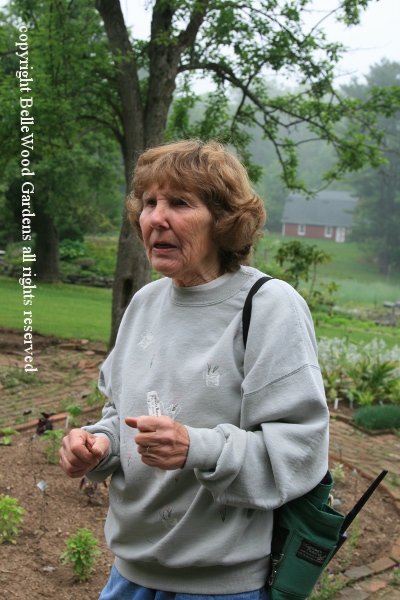 Louise is giving us a wonderful tour, complete with stories
of when she and Cy bought the property and created the herb farm,
details about the herbs and their culinary and healing properties.
There's a marvellous ornamental garden, complete with knot garden
and topiaries, just now coming from the greenhouses into the garden.
The interlacing diamonds of germander hedging really took a beating
last winter. New plants will fill the gaps and they'll soon fill in the parterres.
Lambs ears create a silver border on each side of the brick path. Why lambs ears?
Because even at night their luminous color highlights the way to the outhouse.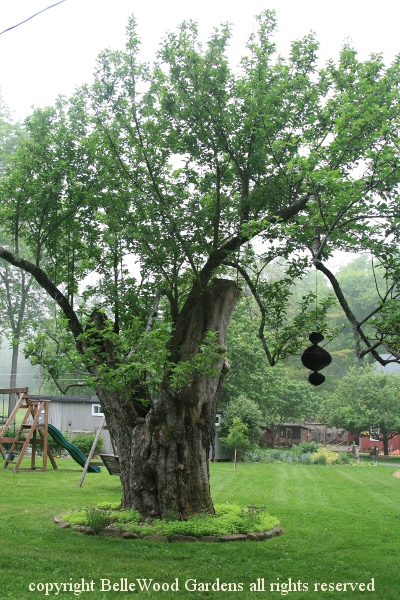 Herbs, perennials, vegetables are plants that Cy and Louise introduced to the property. This venerable apple tree, 150 years old and still fruitful, predates their tenancy. Cy peels and cores the apples while watching television. Louise then freezes them for pies and cobblers later in the year.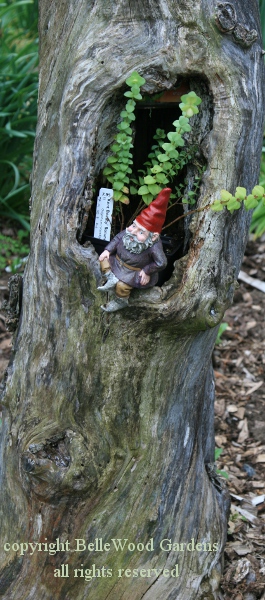 There are fairies in the garden. Gnomes too, comfortably at home in a hollow tree stump.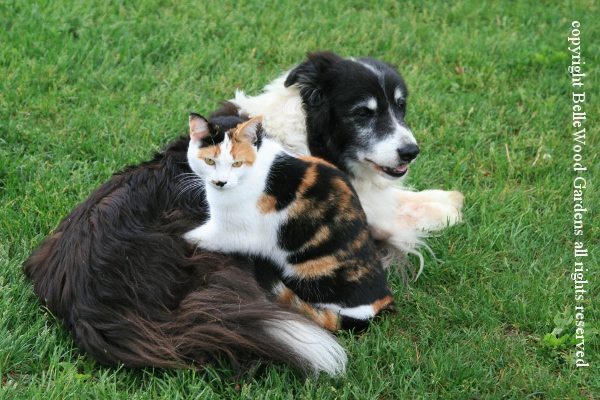 Speaking of comfortably at home, one of the Well Sweep calico cats
give a massage to her elderly friend.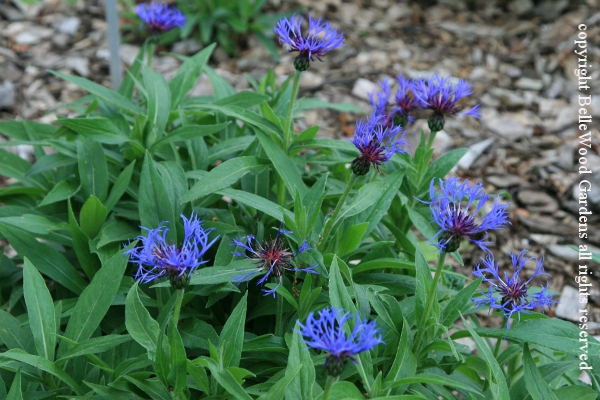 Feathery petals of Stokes aster, Stokesia laevis, like anemones in a tidal pool.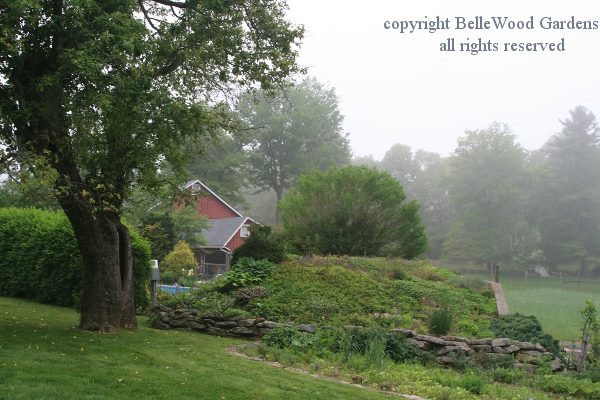 See that glimpse of blue between the apple tree and that mound? In the early days, when Louise was working off site and their children were young a relative offered to use his construction equipment and dig a swimming pool for them. Very welcome it was then, and still delightful on a hot summer day after hard work in the garden. But it is the mound of dirt I want to elaborate on. Before the hole was even excavated, they built a concrete block room. Then the soil was mounded over it. And that room is still in use as a root cellar, storing produce from their garden from autumn harvest through to when the garden is again productive the next spring. Forethoughtful, weren't they just!
This is not my first visit to Well Sweep Herb Farm. You can see a couple of other seasons, other years here, and here.
---
Back to Top
---
Back to May 2014
---