.
Garden Diary - February 2014
---
If you have any comments, observations, or questions about what you read here, remember you can always Contact Me
All content included on this site such as text, graphics and images is protected by U.S and international copyright law.
The compilation of all content on this site is the exclusive property of the site copyright holder.
---
February
---
Sunday, 9 February 2014
Mushrooms and Pasta
It's the yearly mushroom cooking demonstration and tasting of the New Jersey Mycological Association. We're fortunate in that once again Luke Smithson, executive catering chef Jamie Hollander Gourmet Food, will be our presenter. He's an NJMA member, loves mushrooms, and even goes foraging for them himself. Not in February though, and especially not this year which shall go down in the record books as the winter of '14. Cannot remember when last I was the garden, snow covered and white as things are, currently. But thanks to Phillips Mushroom Farm and their year-round cultivation of mushrooms we're in good shape.
Such as these magnificent royal trumpet mushrooms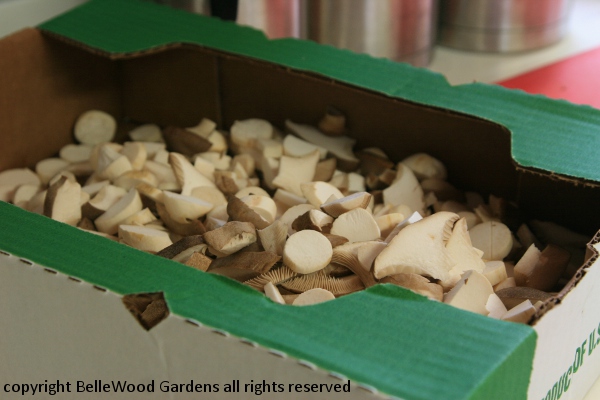 here nicely prepared and ready for use in one of Luke's recipe.
He has several people assisting him with the necessary slicing / dicing / chopping / preparation of ingredients.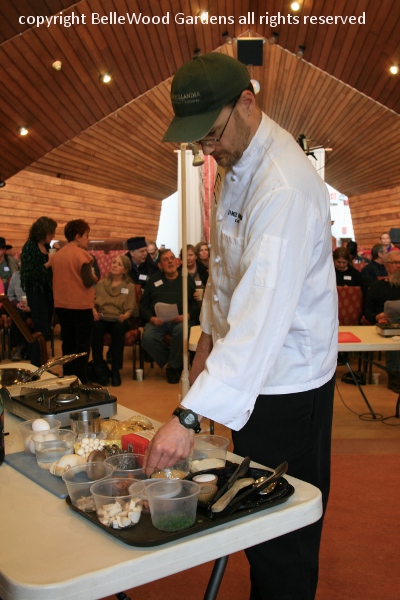 Just about ready to begin. Luke checks over the mise en place. A French phrase, it means "putting in place" and refers to organizing and arranging the ingredients that a cook will require for the about to be prepared dish. Ingredients are measured out, washed, chopped, and placed in individual bowls. Equipment, such as spatulas and blenders, are prepared for use, and ovens are preheated.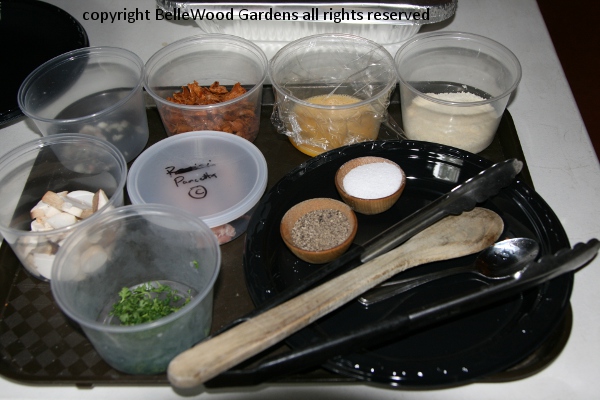 .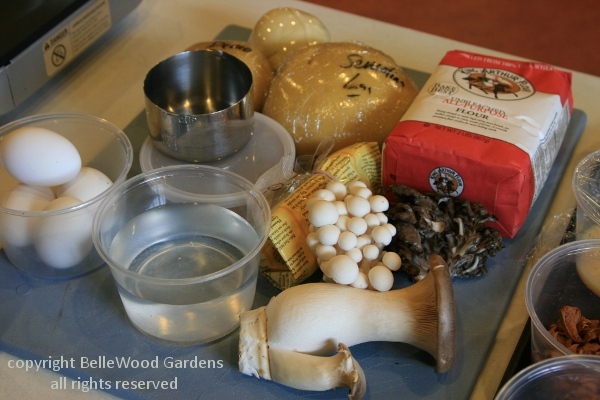 Mushrooms and pasta. First, make the pasta. The list of ingredients is pretty simple: wheat flour, semolina flour, egg, olive oil, and water. Once prepared, the dough should rest, tightly covered, for 30 minutes, allowing the gluten strands to more fully develop.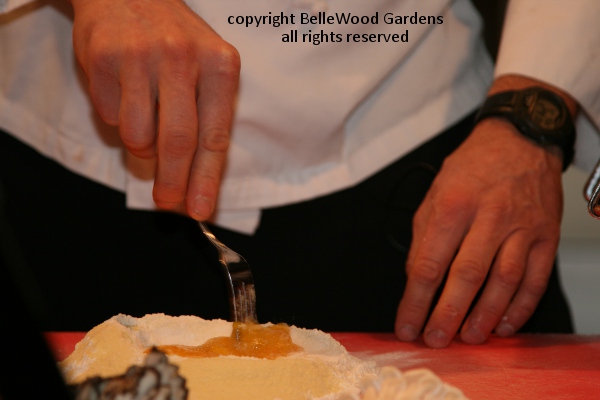 Measure out the flour. Make a hollow in the center. Add the eggs and use a fork to gently whisk together, along with the olive oil and a little water. The water is a variable, depending on how dry the flour might be, which depends on the type of flour, when it was milled, and the season (spring or winter wheat.)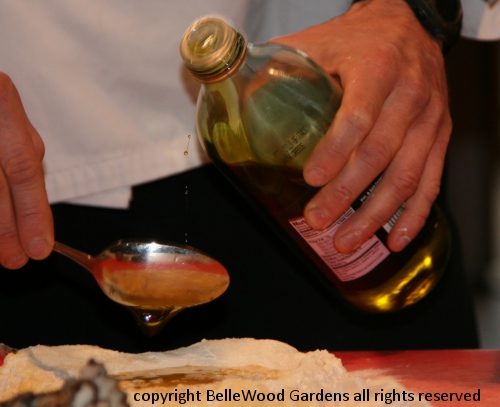 .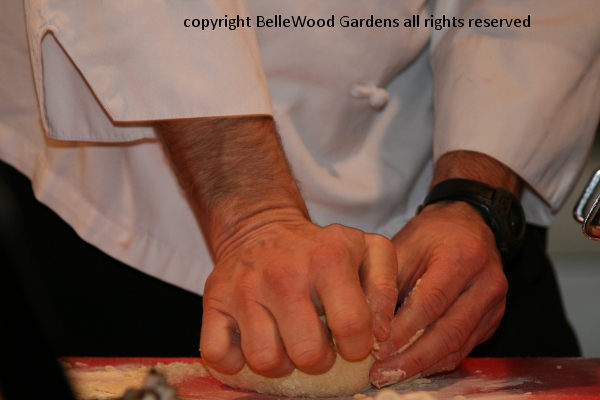 When all is mixed together, knead the dough for approximately 6 minutes, until the dough is pliable and soft. Lightly film with olive oil, wrap in plastic, let it rest.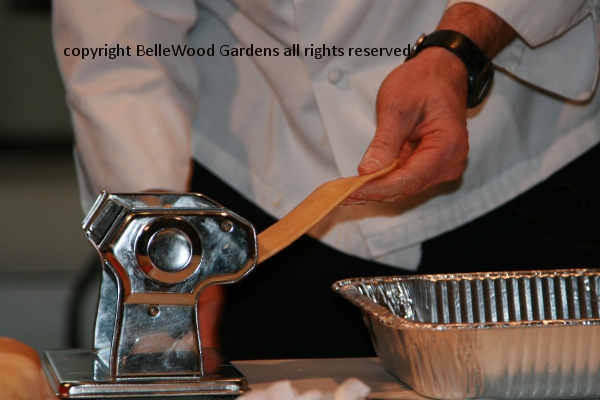 Luke had his previously prepared dough, so was able to proceed directly to rolling it out. Using a hand cranked pasta machine he began with the widest setting
and worked down through several stages to reach the desired thinness.
A cutter on the pasta machine sliced the dough into linguine. Luke was ready (think mise en place) to prepare the chanterelle carbonara. The chanterelles were foraged last year. He cleaned them, tore into appropriate sizes, and froze them on large jelly roll pans. IQF (means Individually Quick Frozen) and then vacuum pack, still frozen, and back into the freezer. And they'll still be frozen when used in this recipe.
Add some olive oil to a sauté pan, add pancetta cut into thin strips, and cook until crispy. Remove pancetta and about half the fat. Add chanterelles to the pan and cook until they begin to caramelize. When the mushrooms go into the sauté pan, the pasta goes into the boiling water. When mushrooms are nearly done, add minced shallots and the previously cooked pancetta back to the pan. About 4 minutes from the time they went into the water the linguine will be almost cooked.Drain, saving some of the starchy cooking water. Add reserved pancetta fat to the sauté pan, followed by the hot pasta, cooked chanterelles / pancetta / shallot mixture, and the reserved pasta cooking water. Stir well, over heat, for about a minute. Take off heat, add beaten eggs and Parmesan cheese, and chopped parsley.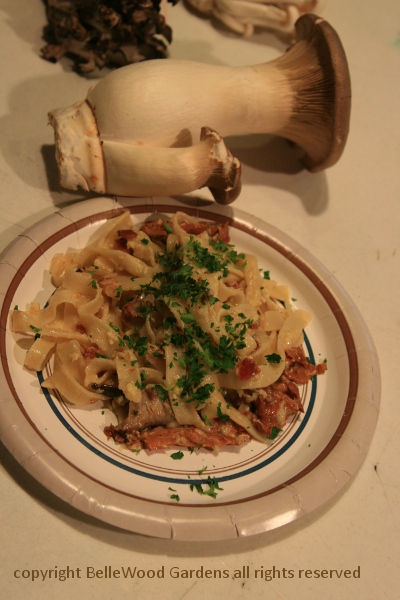 Samples devoured, appreciatively, by the enthusiastic audience.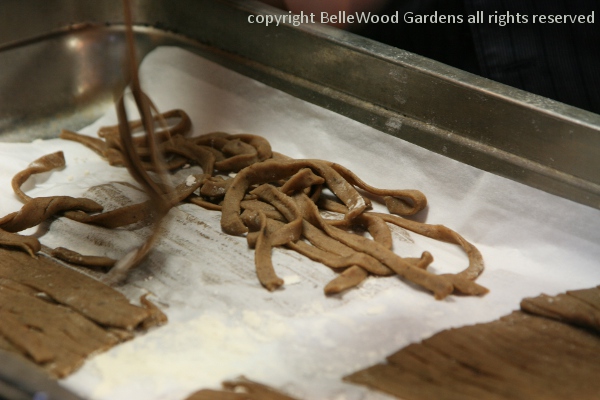 The next dish incorporated mushrooms in the actual pasta dough,
in this case powdered dry porcini, about 20% by volume.
Porcini pasta in a porcini reduction. Dried porcini, refreshed in warm water for about 30 minutes. Strain, reserving liquid. Tomatoes, canned at this time of year but fresh when they're in season. Interestingly, in response to a question from the fascinated audience, Luke said that when cooking for clients he skins the tomatoes, but at home he would simply dice the tomato after removing the seeds and gelatinous pulp.
---
Back to Top
---
Back to February 2014
---