.
Garden Diary -December 2014
---
If you have any comments, observations, or questions about what you read here, remember you can always Contact Me
All content included on this site such as text, graphics and images is protected by U.S and international copyright law.
The compilation of all content on this site is the exclusive property of the site copyright holder.
---
December
---
Thursday, 11 December 2014
Fanciful Gingerbread at the Frelinghuysen Arboretum
So off my friend Joan and I went, this afternoon, off to the Frelinghuysen Arboretum in Morristown, New Jersey. It's a gray, chilly day with spatters of sleety snow / rain. Fortunately we have no intention of wandering around the grounds to admire their winter decorations and diversity of trees. No, not at all. We're there

to see the 23rd exhibition of fantastic gingerbread houses.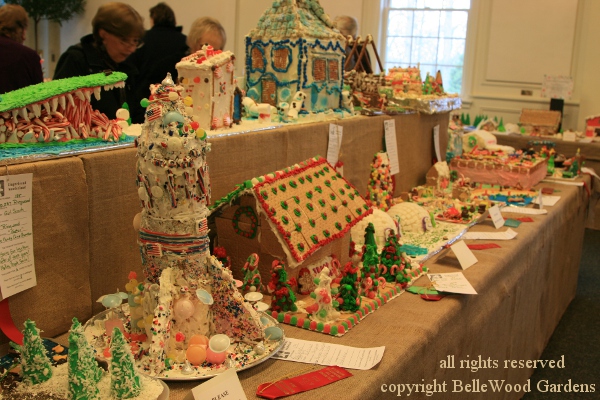 And it is indeed incredible. Tables, two levels high, with an aisle between each pair of tables so we can wander up and down, pause and admire, comment to each other, point out details, and enjoy. There are classes for families, for adults. Children and school / scouting groups. There will be judging, and we call all vote for "peoples choice."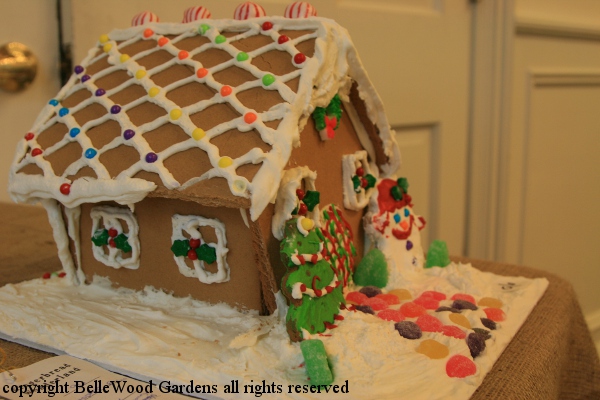 Some are very simple and basic, maybe made from "gingerbread house kits." Even so, some of the more traditional gingerbread cottages have clearly been put together with care and attention to detail. Amazing what can be done with royal icing and a handful of candy or two.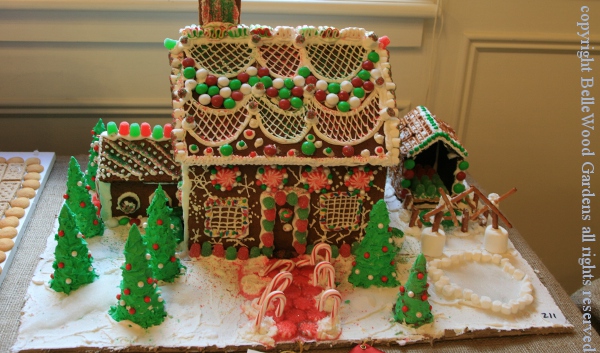 .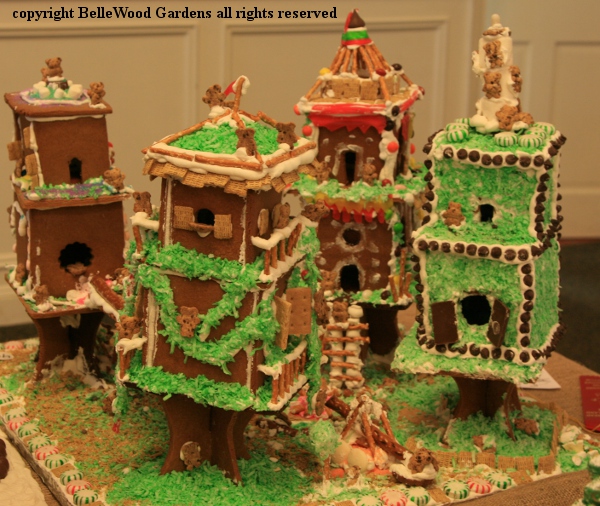 Not content with a simple cottage, a cottage with outbuildings, some landscaping - this entry is an ewok village.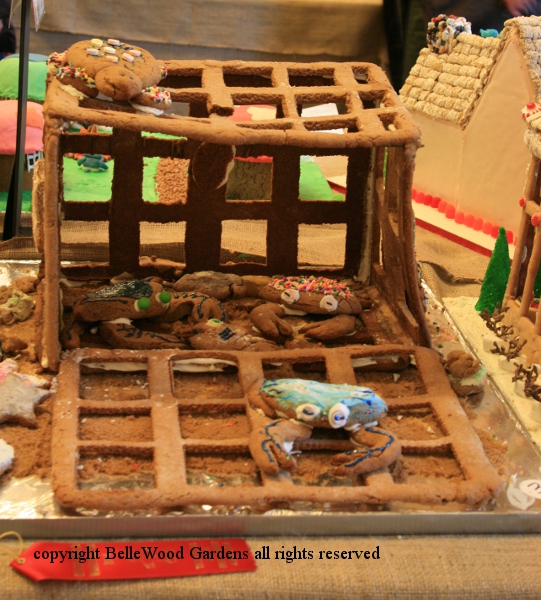 Gingerbread is malleable, with all sorts of possibilities open to the imaginative builder. Not a cottage, this is a crab trap. Complete with crabs. But the roof is sagging and breaking. Maybe it should have had pretzels as reinforcing bars . . . .
Joan and I were both entranced with this horse and sleigh. This family entry took more than 200 hours to complete. The bridge, the sleigh, and the big tree are made from gingerbread. The people and animals are made from fondant. Animals? The big tree is filled with birds and animals.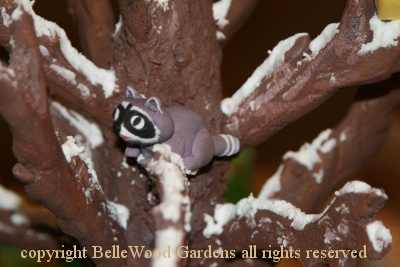 Like this wide-eyed raccoon. UPDATE This entry deservedly won the Peoples Choice award in the family category.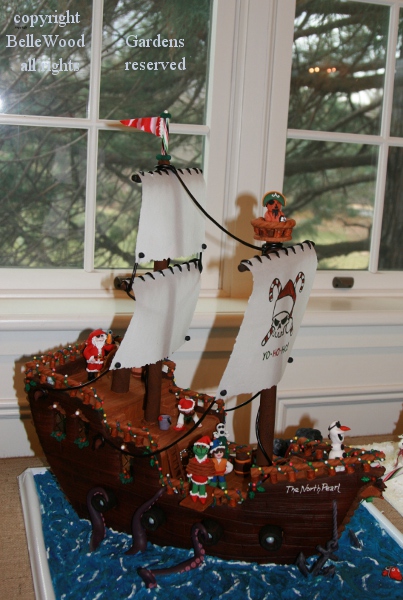 The pirate ship entranced us. The more we looked, the more there was to see.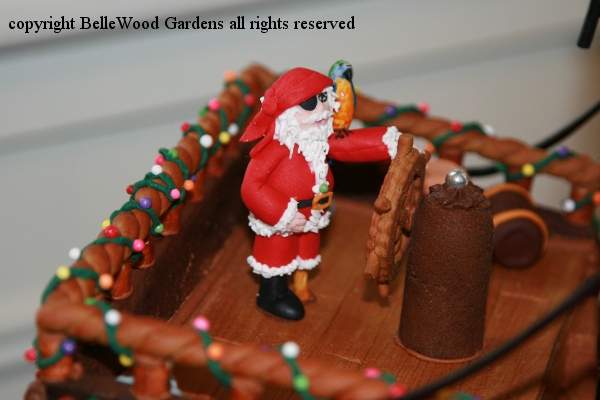 Not only is the captain, complete with pirate patch, dressed as Santa Claus.
He has a peg leg, and a parrot!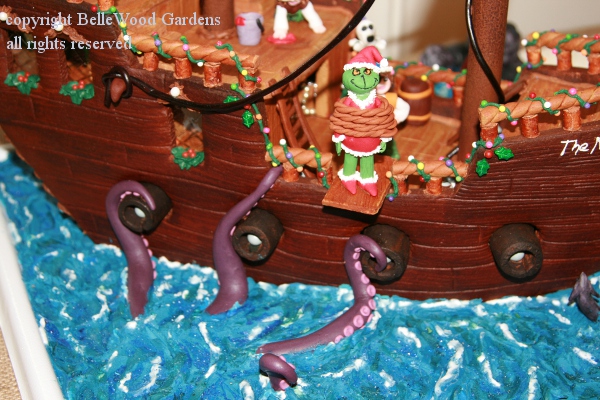 The grinch is walking the plank, into the waiting tentacles of a purple octopus. Attention to detail is incredible: holly leaves and berries, strings of holiday lights around the railings, right down to cannonballs in the gun barrels. UPDATE Little wonder that this is the entry that won the People's Choice award in the adult category.
Cathedral of Vasily the Blessed in Moscow, here interpreted in gingerbread. Two year's ago this same person entered a different cathedral (go here and scroll down.) The architectural style in unmistakable.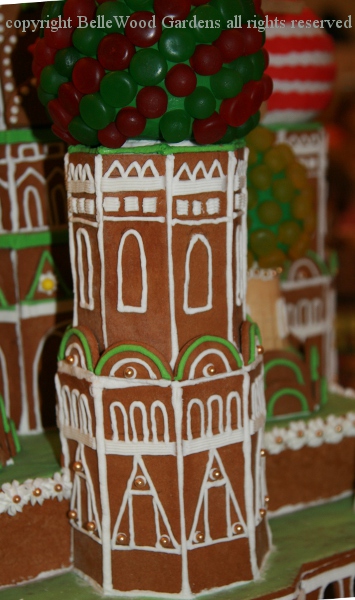 As is the attention to detail, carefully expressed with more than 100 hours of careful meticulous labor. How to choose between the different entries . . . . difficult, to be sure.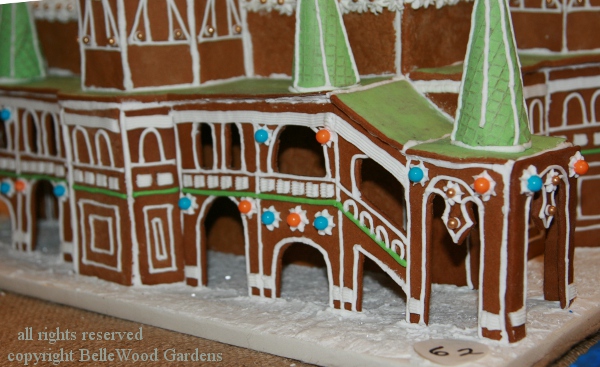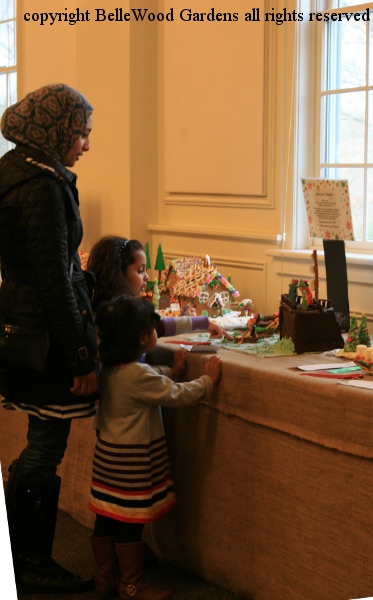 Fortunately, we're here to enjoy ourselves. It's a wonderful event for visitors of all ages, friends and family enjoying a holiday outing.
---
Back to Top
---
Back to December 2014
---