.
Garden Diary -October 2014
---
If you have any comments, observations, or questions about what you read here, remember you can always Contact Me
All content included on this site such as text, graphics and images is protected by U.S and international copyright law.
The compilation of all content on this site is the exclusive property of the site copyright holder.
---
October
---
Wednesday, 1 October 2014
The Garden at Federal Twist
My first visit to the Garden at Federal Twist was just about a year ago, in October 2013. I've been back since then, this summer for example. So when I was thinking of places to take Betsey, my October WWOOFer, of course this was one of the first places that came to mind. Native plants that thrive with the conditions of soil and moisture natural to the site. Definitely sustainable.
By the calendar it is autumn. Plants still have some of summer's greenery. Ornamental grasses have their plume-like seed heads, capturing light and nodding over a narrow path.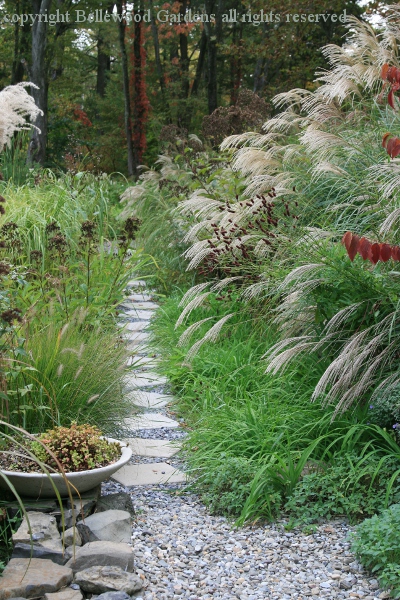 .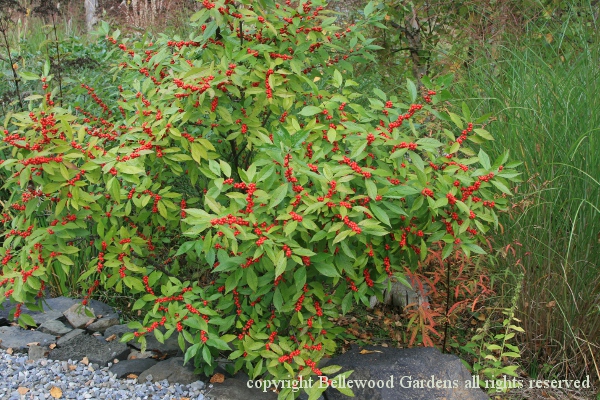 Autumn is a fruitful season. Winterberry holly, Ilex verticillata, has emerged from its simple green of summer to display vivid red berries like drops of sealing wax, obvious even before the leaves turn yellow and fall. Birds don't care for the berries, not until there isn't much else to eat. So there is a lengthy period of display (unlike flowering dogwood, Cornus florida, which will be stripped in an afternoon as robins carbo-load for their migration to warmer places.)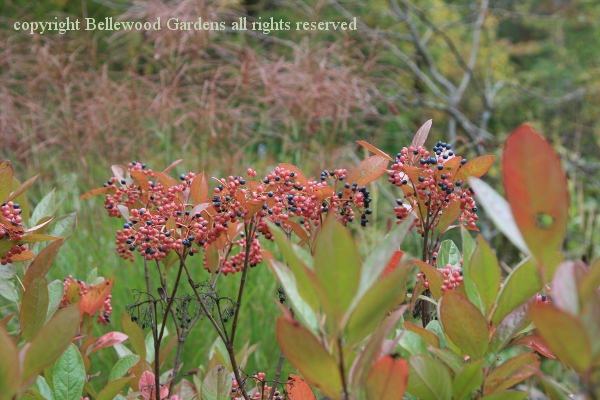 Viburnum 'Winterthur' caught in transition, red berries ripening to dark blue.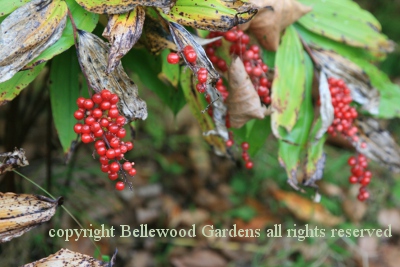 Perennials are also heavily in fruit. Here, one of our charming native woodland plants, Smilacina racemosa, false Solomon's seal, so heavily in berry that the stems nod over towards the ground.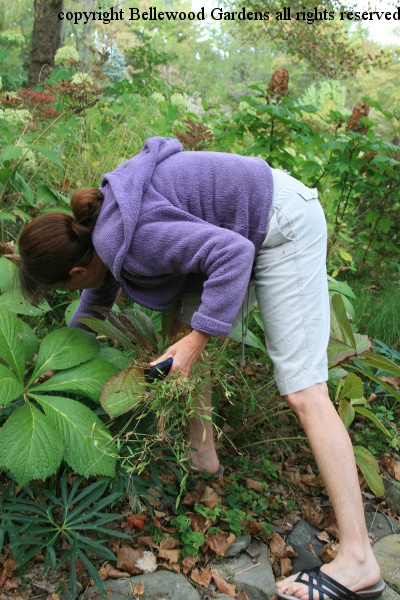 Betsey has been busily weeding at BelleWood Gardens, tackling the endless quantities of invasive Japanese stilt grass, Microstegium vimineum. So it was only natural for her to go after some she noticed here.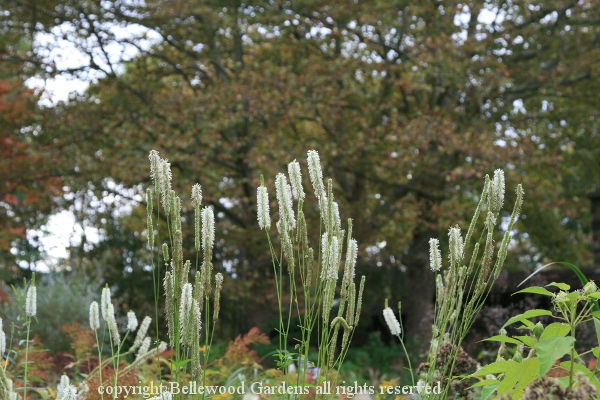 A few perennials lend late flowers to embellish the landscape. Sanguisorba canadensis, Canadian burnet, fires up its white candle-like wands of flowers to light up the landscape.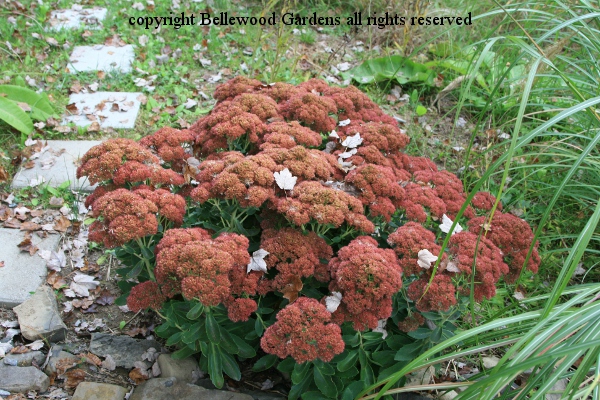 And the stout deep rose pink broccoli-like flowers of Sedum spectabile catch falling leaves, one by one.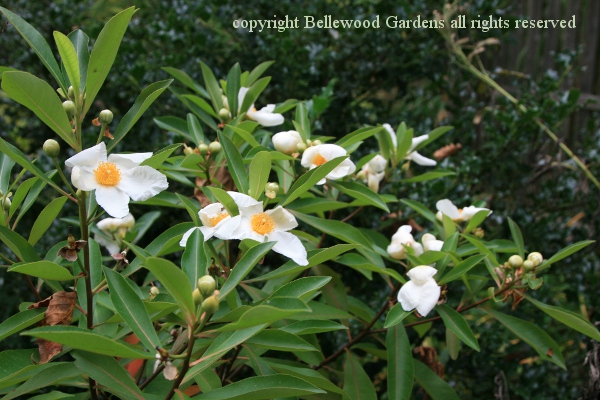 But what's this? Not Franklinia, as I first thought. Enthusiastically (and with good reason) James tells me that this is xGordlinia grandiflora. Grand flowers indeed. It is an interspecific cross between Franklinia, a native species found once by John Bartram in the southeastern United States and then never seen in the wild again, and Gordonia, a species native to Southeast Asia. What a beautiful flower at any time, especially so as the year winds down in autumn.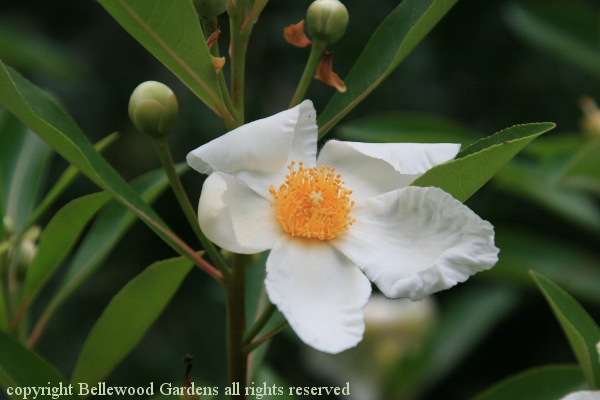 .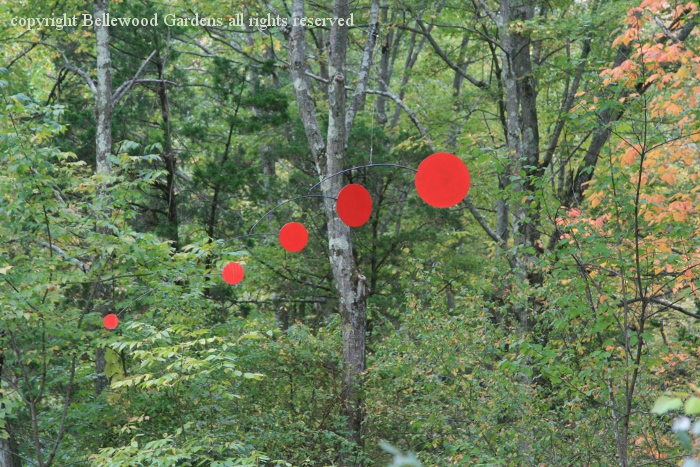 Color in the garden. A stately Calderesque mobile twists in the little wind. Scarlet is the color of choice to accent the Garden at Federal Twist. Red daylilies. Red berries. Red art work.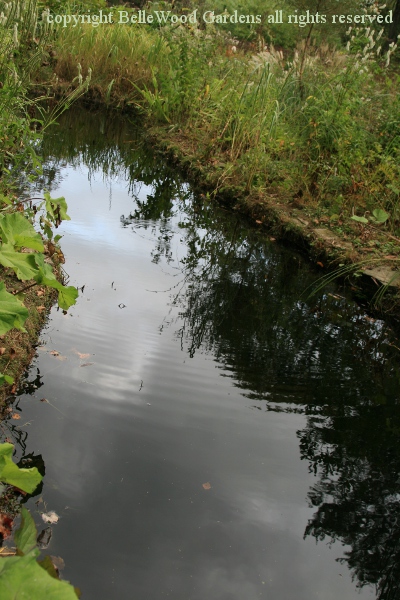 UPDATE: Saturday, 22 November 2014. As we were strolling around the garden last month James mentioned that he had thought of building a bridge across the long pond, near the middle. Ever one to offer suggestions I protested that that would visually chop it in half. Better, I thought, to make a narrow bridge / deck / dock - whatever you care to name it - across one end. This idea really appealed to him, I could tell. I wondered if as soon as Betsey and I departed James would be off to a lumber yard.
Not immediately, but off he did go. Here's the result -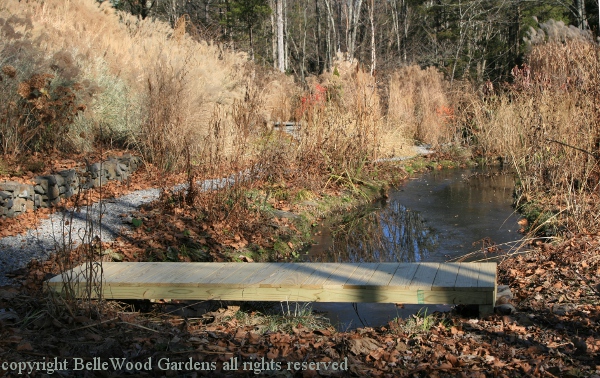 Now the question is what color to stain it. Oh well, that can probably wait until Spring.
---
Back to Top
---
Back to October 2014
---