.
Garden Diary - September 2014
---
If you have any comments, observations, or questions about what you read here, remember you can always Contact Me
All content included on this site such as text, graphics and images is protected by U.S and international copyright law. The compilation of all content on this site is the exclusive property of the site copyright holder. All images are the property of BelleWood Gardens unless otherwise so noted. These images are not available for reuse either electronically or in print without written permission from Judy Glattstein.
---
September
---
Sunday, 7 September 2014
Sheep, Fleece, and Fiber Show
It's the weekend of the 20th Annual Garden State Sheep Breeders Association Sheep and Fiber Show. Sheep, of course, many, many breeds of sheep, and other fiber animals such as angora goats, angora rabbits, even alpacas. Fleece. Yarn, in both natural colors and rainbow hues. Spinning wheels, spindles, stuff, and more stuff. Demonstrations of shearing and herding. Everything sheep-y.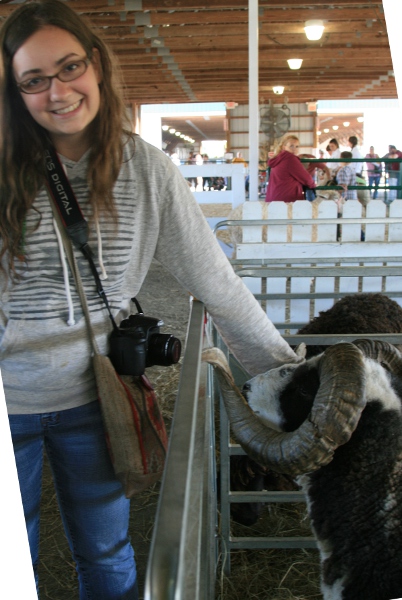 Jacob's sheep with their spotted coats and impressive horns. If only two, they curl like this handsome ram JoAnna is petting. If four horns, the additional two are straight.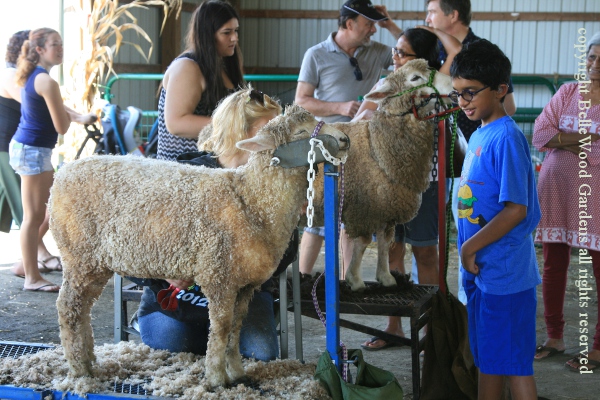 Sheep need to be prepared for the show ring. If it is a breed show, there's very little that's allowed to be done to the animal. If it's a handling class then the sheep can be tidyed up, not sheared but clipped for appearances.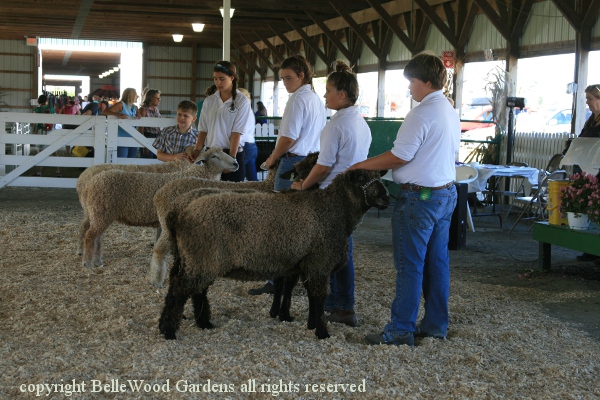 Into the show ring. This is a class for junior handlers, probably 4-H members who were doing much the same thing at the big fair just last month. The handlers are experienced. And by now the sheep are too. It makes a difference if they stand calmly, legs positioned just so.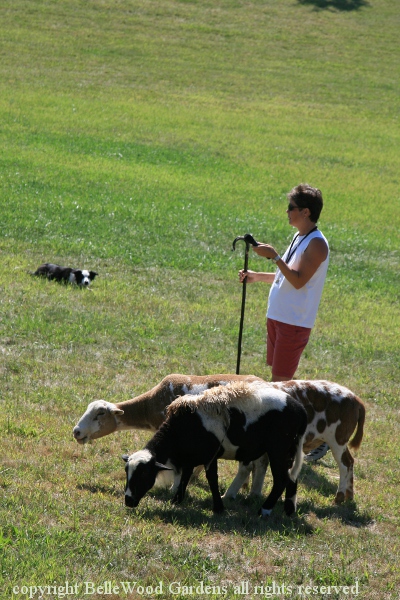 The sheep herding event, wherein a border collie directs the sheep across a filed, dog directed by the handler, is always great fun. Pam Davies of Out of the Dog House LLC is presenting four of her eight dogs, working three of her hair sheep. Why hair sheep? They shed, do not need to be shorn and so are popular with people who want sheep to give their dogs some herding time. All the while, between demonstrating this dog and that, Pam gives good, lucid explanations and descriptions: her childhood on a Welsh hill farm, the traditions of sheep herding, working dogs - all the while with a clear pleasure and knowledge of working dogs on sheep.
Pam's advice is to put a pup on sheep at four months, but only to see if he's keen. Train for "good citizenship" such as sit, stay, come - necessary for alldogs. Sheep herding would then begin at 9 or 10 months. From more mature to youngest her dogs are Jet ,then Dilys, Teilo, and 11 month old Celt. He's only been working sheep for a few months but is he eager! All the dogs are vociferously eager to herd sheep - when she's working a dog with whistle commands the ones in their crates in the SUV are yelping, "Let me out so I can herd too!"
.
A placid angora bunny, peacefully laying in a hat box. Is he being petted? No, he's being plucked. These rabbits have long, fine fur. Rather than shearing, they're plucked. Ouch! you say. Nope, they shed, and the loose hair can deftly be plucked. Blue-eyed bunny stares at me.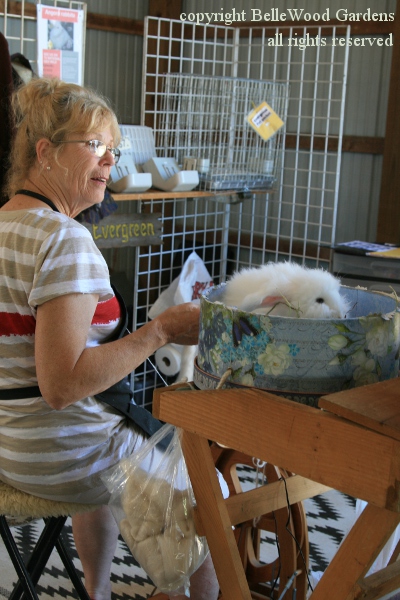 Gather a handful, twist a few fibers onto the yarn already started. Work the wheel, spinning the yarn, plucking more as needed. Experience makes it look oh so very simple.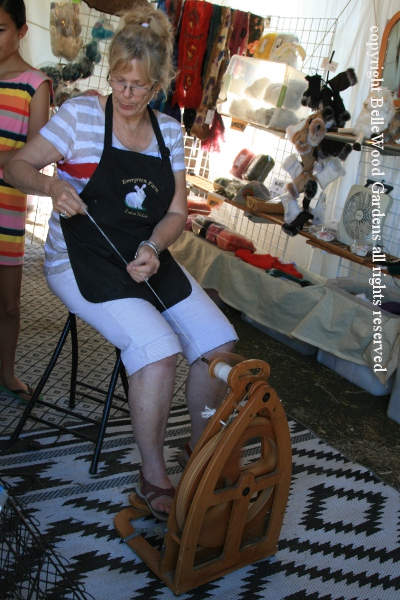 Louise Walsh loves her rabbits. At one point she had thousands of 'em in her rabbitry in Taunton, Massachusets. She even developed the Giant Angora breed. Today she's showing off a few, demonstrating the plucking and spinning of the fine, soft fiber and answering questions. For more information about angora rabbits and her fiber art classes go to Evergreen Farm.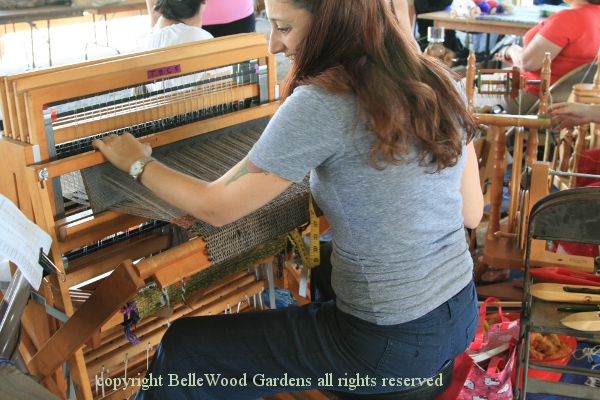 People knitting. People crocheting. Even people weaving.
There's an event called The Shepherd's Lead. It goes like this: You wear something knit / crocheted / woven from animal fiber. Extra points if you made it yourself but it could have been made by someone else. You need to lead an animal of the same kind (unless it is an angora rabbit, in which case you could carry it.) It needn't be your animal, you could borrow it. Extra points if it is the same animal from which your garment was made. Points for the animal's handling / behavior. And extra points if the animal is wearing something that accessorizes what you are wearing.
Last year the event was rather poorly entered, with only three in the adult class. So I figured I'd borrow an animal and wear something my mother knit for me. Wait for it . . .

photograph courtesy of JoAnna Contarino
First there is a class for junior handlers. Several entrants.
One was this adorable little shepherdess.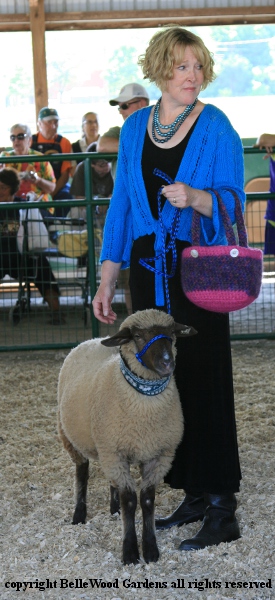 photograph courtesy of JoAnna Contarino
Ten entrants in the adult class. Stiff competition. Just look at this elegant model and the beautiful drape of her evening sweater. The felted handbag may not quite match but the model's style is impeccable. Like to see one of the New York City Fashion Week models come down the runway leading a sheep with the same aplomb!

photograph courtesy of JoAnna Contarino
A quiet moment in the show ring. Well behaved little sheep with a spiffy flower on his neck. His handler is wearing a beautifully crafted knitted cardigan, matching fingerless wristlets, and a perhaps not quite matching fedora knit of yarn from a Jacob's sheep. Best in class, deservedly so.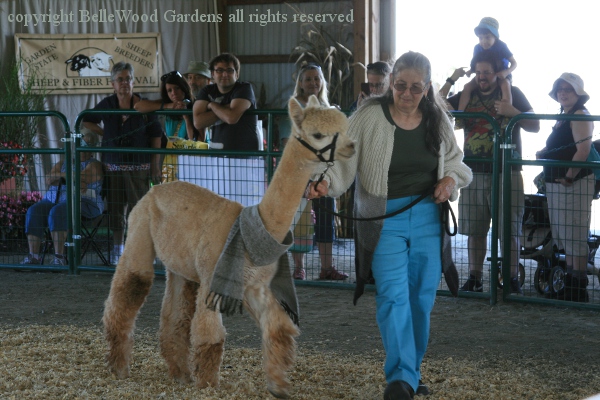 photograph courtesy of JoAnna Contarino
Here's me, leading Snowman, a huacaya alpaca. Back story goes like this: when my brother was in Peru some years ago he sent me alpaca yarn. My mother knit me this wonderful sweater-coat in natural shades of black, dark grey, light gray, and white. Woods Edge Wool Farm graciously leant me this alpaca. Snowman is wearing a soft, gray, woven scarf of alpaca yarn. He was a little nervous, so before the class we walked up and down the aisles of the barn, outside the barn, back indoors. Our turn came, and we paraded around the ring. While the judges conferred, Snowman and I would make little circles in place. He's such a good boy. We may not have won but in a way I think the two of us were best in show.
A good time was had by all. For more about sheep and the show look at last year's entries here.
---
Back to Top
---
Back to September
---