.
Garden Diary - May 2014
---
If you have any comments, observations, or questions about what you read here, remember you can always Contact Me
All content included on this site such as text, graphics and images is protected by U.S and international copyright law.
The compilation of all content on this site is the exclusive property of the site copyright holder.
---
May
---
Monday, 5 May 2014
Divide and Multiply
Once a year the Tohickon Garden Club has a plant sale. It's part of a larger event, and a major fund raiser for the club. Plants are bought in at a discount, for sale to attendees. Plus, members donate plants for the sale. That's always welcome because they bring in the largest profit. Members are cajoled, coaxed, entreated to donate plants. Please, they're asked, donate plants. Pot them up early so they look good by the time the sale rolls around. And a label is always appreciated. Some members do respond while others are, alas, noticeable more by their absence than their participation.
This year, it's different. We're having a Divide and Multiply workshop in May, well in advance of the sale in July. What's that, divide and multiply? Backwards, isn't it? Not quite. We'll get together, bringing good plants from our gardens in excess of what's needed / wanted. We'll divide them up, pot them nicely, then take an assortment home to be cared for until sale time. It's fun. AND, everyone gets some new plant to bring home as a lagniappe.
Ann volunteered the use of her barn (plus some well aged horse manure to incorporate into the prepared-in-advance potting mix.) Coffee and tea provided, but we brown bagged our lunches.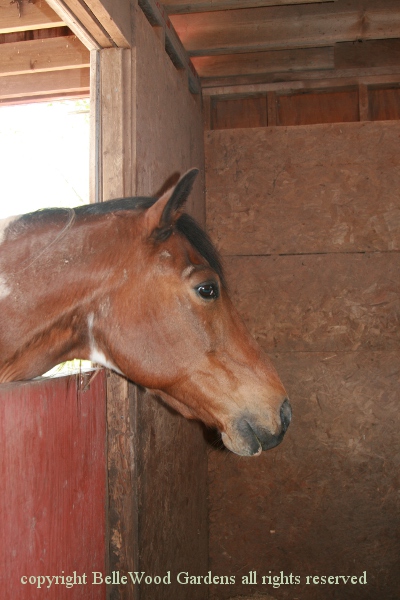 Jazzy checked things out just in case there were some interesting, edible plants
There are two ways to multiply plants. First, from seed. A great way to produce lots of plants but with one caveat. If the seed has been saved from your own plants the offspring might be somewhat different from the parent plants. Those bees fly from flower to flower, don't you know, and genetic recombination can produce somewhat variable offspring. Sexual recombination. Seed from a marigold can only produce marigolds but they might be taller, different color, or some other variation on a theme of "marigold."
Asexual propagation, on the other hand, is a type of cloning. Plants are divided, grown from cuttings, tissue culture, whatever, and the pieces are identical to the plant you started with, with very few exceptions. So that's what we're doing today. We're cloning, making more plants by diving what we've got.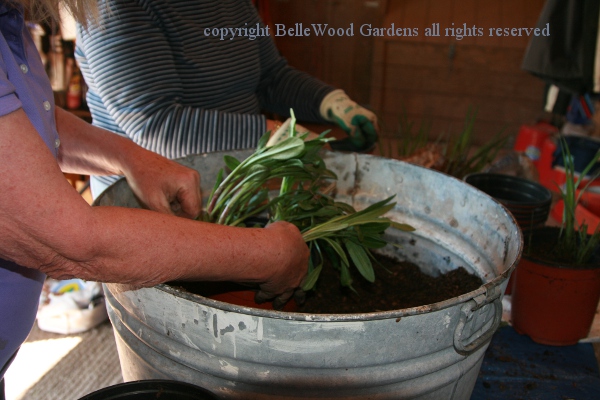 Some plants come apart very easily. Dig, gently twist apart, and voila -
more than the one you started with. A commercial propagator might divide
into more numerous, smaller divisions to grow on for future sales. Instead, we
made fewer but larger divisions that will look great in just a couple of months.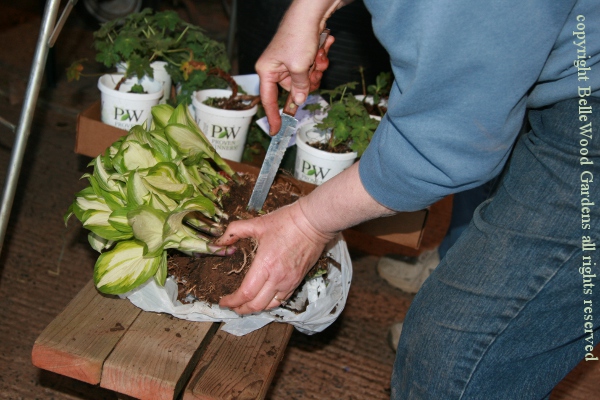 Some plants, such as this hosta, have a dense rootstock. A knife
makes quick work of dividing such plants in order to multiply them.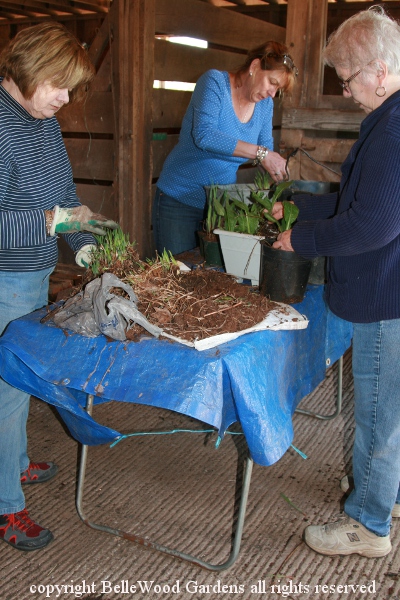 Busy ladies at work.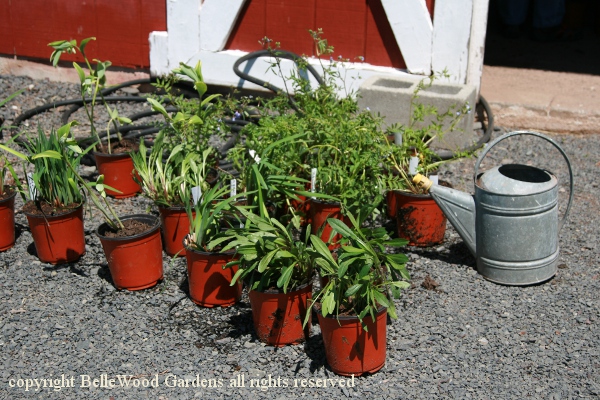 Plants nicely potted up, shifted out of the work area and given a thorough watering.
A few hours good work and cars are loaded up for the trip home.
A good feeling of accomplishment, we all had fun, and even got
a new plant or two to enjoy in our own gardens. Win / win.
This year the Tinicum Arts Festival will be held July 12th and13th,
at Tinicum Park in Erwinna, Pennsylvania. Do come.
---
Back to Top
---
Back to May 2014
---